Tag Archive
activity
art
artist
Canada
children
city
community
contest
country
craft
display
downtown
drive i-95
Drivei-95
drivei95
entertainment
event
family
festival
Florida
food
free
fun
game
historic
History
house
Island
live
local
Museum
music
national
North Carolina
performance
prize
Restaurant
roadtrip
shop
show
tour
travel
travelblogger
USA
world
Grab your spoons and mark your calendars for Scooper Bowl – all-you-can-eat Ice Cream Festival.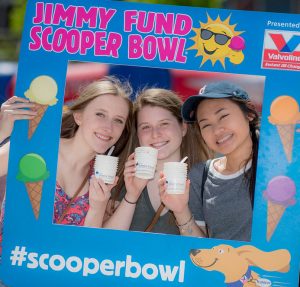 Celebrating its 36th year in 2018, the Scooper Bowl is now a three-day event that dishes out 20 tons of the summer's finest ice cream to more than 40,000 ice cream lovers from across the nation. Enjoy a lot of great entertainment and fun activities at this country's largest all-you-can-eat ice cream festival.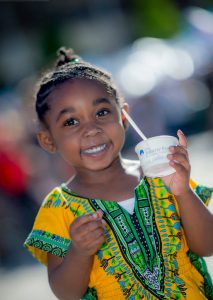 What is most impressive about the ice cream festival is that all ice cream companies donate all the ice cream, labor, scoopers, and products needed to make the event happen each year. Though they are competitors for 51 weeks of the year, during the first week of June they come together to create an event that is now known as the "unofficial start of summer" in New England.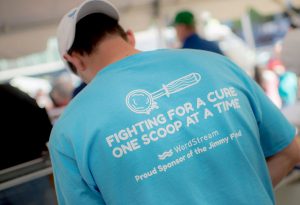 Made possible by the generous contributions of the industry's largest ice cream companies, the Scooper Bowl has raised more than $6.3 million in the past 35 years for cancer research and patient care at the world-renowned Dana-Farber Cancer Institute.
Get Your Tickets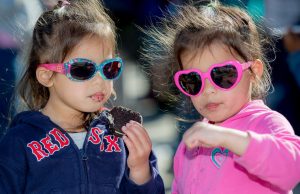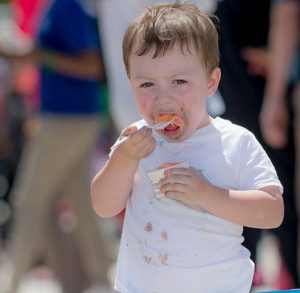 *Pricing will increase at the door – Kids under 3 are free
Whether you're a visitor to the area or professional ice-cream-eater, you play a huge part their our mission to conquer cancer.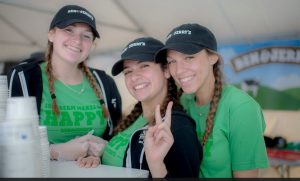 Ice Cream Flavors
Baskin-Robbins
Boston Cream Pie
Cannoli Be With You
OREO® 'n Caramel
Triple Grape Ice
Beckon Ice Cream (formerly Minus the Moo) – Thursday only, lactose-free
Vanilla
Chocolate
Espresso
Sea Salt Chocolate Chip
Mint Chip
Chocolate Candy Crunch
Strawberries & Sweet Cream
Black Raspberry
Confetti
Ben & Jerry's
Gimme Smore™
Caramel Almond Brittle non-dairy
AmeriCone Dream®
Chocolate Shake It™
Breyers
Nautral Vanilla
Oreo® Cookies & Cream
Mint Chip
Edy's
Birthday Cake
Dulce
Rainbow Sherbet
Friendly's
Triple Caramel Peanut Heaven
Hunka Chunka PB Fudge®
Rockin' Poppin'™ Cotton Candy
Cookies 'N Cream
Black Raspberry
Haagen-Dazs
Chocolate Salted Fudge Truffle Non-Dairy
Hood
Hood® New England Creamery Limited Edition Chocolate Churro
Hood® New England Creamery Limited Edition Purple Panda
Hood® Coffee Cookies 'n Cream
Hood® Chocolate Chip Cookie Dough
Lactaid – lactose-free
Lactaid® Cookies 'n Cream
Lactaid® Mint Chocolate Chip
Lactaid® Mocha Almond Chip
Lactaid® Salted Caramel
Rosev Dairy Foods
Coconut
Rum Raisin
Purple Cow
Twisted Sea Turtle
Vice Cream
Afternoon Delight
Bourbon Mash
L'Orange A Trois
Minted
Higher Grounds
Yasso

Stick Bars:

Pistachio Brittle
Fudge Brownie
Coconut Caramel
Chocolate Chip
Chocolate Peanut Butter Chip
Scoops:

Party Animal  Mint Championchip
Rolling in the Dough
Caramel Pretzelmania
Coffee Brownie Break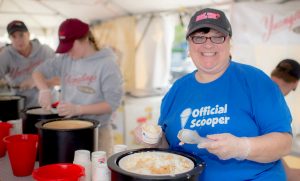 Location: City Hall Plaza, 1 City Hall Square, Boston, MA 02201
Date: June 5 – 7, 2018
Time: Noon – 8pm
scooperbowl.org
For Regional Accommodations, Restaurants & Attractions: bostonusa.com
Ready for some homemade ice cream? Lucky you, it's that time again for the annual Ice Cream Churn-Off at Ashantilly Center. What a tasty idea, combining everyone's favorite dessert with a fundraiser benefiting the nonprofit Ashantilly Center.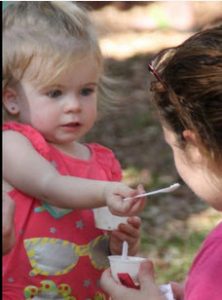 Competitors will vie for awards for a people's choice, best individual ice cream and the best ice cream from a business or organization. The competition is opened to everyone, adults and youth alike, so churners bring your churn and your primo recipe – but no raw eggs allowed, and Ashantilly will provide ice and salt.
If consuming the coveted ice cream is more your speed, you are welcome to bring your own chairs and find a shady spot to enjoy the frozen dessert and the live music. A $5 donation gets samplers two tastings, and ice cream lovers can purchase additional samples – 3/$5.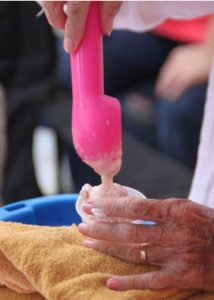 Ice cream doesn't get fresher than this! There's also Free lemonade and popcorn and great raffle prizes and live music.
Location: Ashantilly Center, 15591 GA Hwy 99, Darien, Georgia 31305
Date: Sun, Sept. 3, 2017
Time: 4PM – 6PM
Tel: 912 437-4473
ashantillycenter.org/ashantilly-events/33-10th-annual-churn-off
For Regional Accommodations, Restaurants & Attractions: visitdarien.com
Celebrate Canada's 150th birthday by visiting the our home and native land. Parks Canada is offering all Canadians a FREE 2017 Discovery Pass so there will be no cost to visit any of their sites. You have the option of visiting 148 locations everywhere in the country. You probably think  they're all about national parks but Parks Canada is way more than that – their mandate includes marine conservation areas and national historic sites.
You could visit the wreck of the HMS Erebus and HMS Terror in Nunavut, view Canada's highest peak, Mount Logan in Kluane National park, ice fields in Jasper, our country's birthplace within the fortifications of Quebec, Alexander Graham Bell's inventions,  walk amongst the flower pot rocks on the ocean floor in the Bay of Fundy, Haida Heritage sites, or even Anne of Green Gables' writer, Lucy Maude Montgomery's house.
Here's a challenge: See how many of their iconic red Adironack chairs you can find and Instagram them. If you want to drool – and – plan ahead, get copies of the National Geographic books Guide to the National Parks of Canada and Guide to the National Historic Sites of Canada.
Yes, you can camp, but you can also reserve a yurt, a goutte d'Ô which resembles a water droplet, a micro cube, large modern houses called oTENTiks or be one of the first to sleep in a hanging Cocoon in Cape Breton.
www.parkscanada.gc.ca
Tel: 888-773-8888
Odysseo, the horse centric show, is awesome family entertainment which will WOW every member. If you can imagine taking Cirque du Soleil up a notch by marrying it with a team of gifted equestrians, this would be their offspring.
The show has acrobats, blade-running acrobats and horse acrobats – each team outdoing the other in their antics. However, at the same time, all the way through you will see members giving each other the high five in appreciation of each other's work. Sweet.
There are raucous horses racing through jumps and quiet ballet-like riderless horses dancing to the whims of their female horse whisperer, Elise Verdoncq.
The carousel pole acrobatics is  a charming setting for the melange of horse and rider/acrobat but the white fabric/rope acrobatic act is the perfect "10" for each of the costume designer, set designer, lighting, and the acrobats themselves.
It's hard to imagine it fitting into a tent setting, but horses appear on mountaintops, in ice caves, the woods, walking down hills, galloping as fast as the wind and even and splashing in a waterfront finale.
Don't wait, book tickets now.  Great idea for Dad for Father's Day.
Location: Odysseo White Big Top at the corner of the Metropolitan & Decarie Boulevards
1425 Dion Street, Montreal (QC), H4N 2C3
Tel: 866-999-8111
Dates: June 17-July 19
www.cavalia.net
www.facebook.com/cavalia