Tag Archive
activity
annual
art
artist
Canada
children
city
community
contest
country
craft
display
downtown
drive i-95
Drivei-95
drivei95
entertainment
event
family
festival
Florida
food
free
fun
game
historic
History
house
Island
live
local
Museum
music
national
North Carolina
prize
Restaurant
roadtrip
shop
show
tour
travel
travelblogger
USA
world
Wilson, NC Exit 121: The North Carolina Whirligig Festival is a 2-day hometown annual arts and crafts festival features arts of the region, including the giant Whirligigs created by late local artist, Vollis Simpson. Like the whimsical outsider art, the Wilson Whirligig Festival,  in Historic Downtown Wilson, is a community celebration of people and art in motion.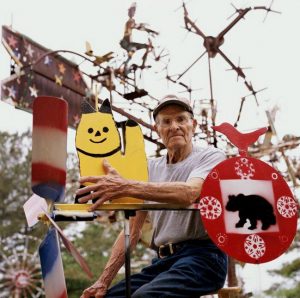 The Vollis Simpson Whirligig Park is hosting their Grand Opening the Thursday before the festival weekend, Nov. 2nd starting at 4 pm.
With Over 200+ vendors, 3 stages of live entertainment, a showcase of local and interactive art,  delicious food, beer gardens, Non-Profit organizations, free Whirli-Kidz Zone, Special events, 5K Whirli-Run, Whirli-Kidz Stage & Choir, Cup Cake Challenge, Photo Contest. New this year is a Ninja Whirligig Warrior Zone where you can meet local American Ninja Warriors, watch them compete and get a chance to test out the course yourself.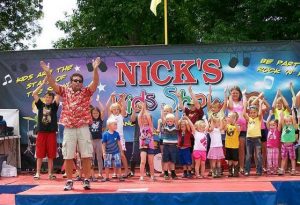 The ever popular cake dive is back, Sun @4pm: witness the festival's messiest event, a "dive" into a large 10 ft x 10 ft anniversary cake for a variety of prizes.
Touch-A-Truck is a fun event for the whole family, allowing children three + an all access pass to explore, climb and touch city of Wilson trucks and emergency response vehicles. Kids can sit in vehicles, honk the horn and talk with the equipment operators. Horn free hours will be offered throughout the day for kids with noise sensitivity.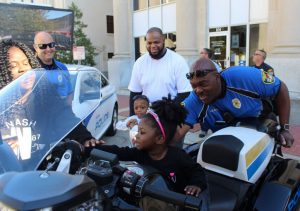 Douglas Street will transform into a space to build, create, and envision. With Brick Scholars, Greenlight, and Imagination Station Science & History Museum. Kids five + will be able to make Lego creations, even a whirligig! Showcase your creation with the onsite photo booth.
It's a colorful 2-day celebration that sparks creativity in the people of Wilson, so get inspired and take part in the community's largest celebration. (rain or shine)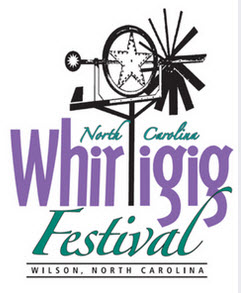 Location: Historic Downtown Wilson,NC 27893
Dates: Nov 4 – 5, 2017
Times:  Sat, Nov 4 -10 am – 5 pm , Sun, Nov 5  noon – 5 pm
Tel: 252-289-9650
whirligigfestivalnc.org
For Regional Accommodations, Restaurants & Attractions: wilson-nc.com
How appropriate to house an aviation museum at the oldest continuously operated airport in the world, The College Park Aviation Museum, an affiliate of the Smithsonian Institution.
The first person to greet you is Wilbur Wright -who else? This animatronic man tells you how he came to this airfield in 1909 to teach military officers how to fly. The gallery contains historic and reproduction aircraft associated with the history of the airfield, highlighting the display of unique aircraft and artifacts and tells the story of the airport's many 1st in flight to today.
College Park Aviation Museum is family-friendly and filled with hands-on, interactive exhibits for children of all ages. Touch, explore, and sit in the cockpit of their "Imagination Plane", a 1939 blue Taylorcraft. Fly away in a 1911 Model B Flight Simulator where you can fly over this airport using hand controls and state-of-the-art visuals. Visit their hands-on room to learn about flight and to dress like a pilot.
Look for exhibits on the first US Postal Air flight in 1918 and the first controlled helicopter flight by H. Berliner. The airport runway is just out side the rear glass windows of the museum, so you can watch take-offs or landings as today's pilots take to the sky.
Location: College Park Aviation Museum, 1985 Corporal Frank Scott Drive, College Park, MD 20740
Hours: Daily 10am – 5pm (Closed Sun, Jan 1st)
Tel: 301- 864- 6029
collegeparkaviationmuseum.com
For Regional Accommodations, Restaurants & Attractions:
visitmaryland.org/city/college-park
 Four centuries of dollhouses are on display in Concord at The Art & Mystery of the Dollhouse exhibit featuring many of the finest representations in both public and private collections. Admirers young and old will appreciate the chance to step into that intriguing miniature universe at the new presentation at the Concord Museum, on view until Jan. 15.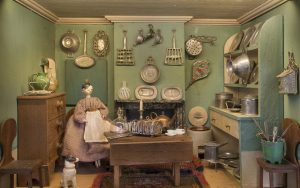 Explore tiny worlds that capture life's detail and the imagination through dollhouses and miniatures from the 17th through early 20th centuries show the evolution of dollhouses from treasures for wealthy adults to colorful playthings for children. This captivating exhibition explores the tiny worlds that capture life's detail and stimulate the imagination.
Highlights include an extremely rare dollhouse from 1695, and an array of 19th- and 20th-century doll homes from The Strong National Museum of Play,  View "room dollhouses" that celebrate interior design history and play with a hands-on Hape dollhouse. There is even a celebrity doll in attendance — Melissa Shakespeare, the doll of children's author and illustrator Tasha Tudor.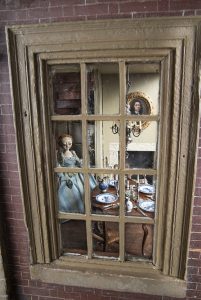 The Concord Museum will be hosting an array of special programs throughout the exhibition months includes a hands-on room box building workshop, story times with dollhouse-inspired crafts and gallery talks led by specialists in the world of miniatures.
Location: Concord Museum, 200 Lexington Road, Concord, MA 01742
Dates: Until  January 15, 2017
Hours: til December Mon–Sat, 9–5pm; Sun., 12–5pm
January Mon–Sat 11–4pm, Sun. 1–4pm                         Tel: 978-369-9763
concordmuseum.org/art-and-mystery-of-the- dollhouse.php
For Regional Accommodations, Restaurants & Attractions:
concordchamberofcommerce.org/visitor-information
Photo Credit: Photos by Gavin Ashworth
picture 1 – Camden House; England, dated 1838; Private Collection: This house includes all its original furnishings, including a copy of T. Goode's miniature edition of The History of England (1837). Camden, now part of London proper, was in 1838 a suburb with housing developed for working people. The Cratchet family of Charles Dickens' Christmas Carol (1843) lived in Camden. The house first came to America in 1964.
picture 2 -Georgian House; England, 1720-1730; Private Collection: This oak dollhouse on stand is in the form of an early Georgian country house. When it was owned by pioneering dollhouse collector Vivien Greene, the house included a clockwork (wind-up) ghost. The ghost intrigued the young Prince Charles when he saw the house in the first (1955) major exhibition on the subject of early dollhouses.