Tag Archive
activity
art
artist
Austria
Canada
children
city
CostSaver
display
Drivei-95
drive i-95
entertainment
Europe
event
exhibit
family
festival
Florida
food
France
free
fun
historic
History
landmark
live
local
London
Museum
music
performance
Restaurant
roadtrip
shop
show
sights
sightseeing
tour
tourist
Trafalgar
travel
travelblogger
USA
view
world
.
Gletschergarten Lowendenkmal is massive heartrending stone relief which was carved to remember the Swiss Guards who were massacred in 1792 during the French Revolution when defending Louis XVI. Swiss Guards were and are famous as brave sentries. Today, they still surround the Pope. When the revolutionaries stormed the Tuileries Palace in Paris, more than 800 were killed during the fighting, after surrender, or died in prison of their wounds. 300 lucky survived because they were with the detachment which King Louis XVI had sent to Normandy to escort grain convoys. Two surviving Swiss officers went on to become senior ranked guards for Napoleon.
In 1880, Mark Twain had this to say about it " His size is colossal, his attitude is noble. His head is bowed, the broken spear is sticking in his shoulder, his protecting paw rests upon the lilies of France. Vines hang down the cliff and wave in the wind, and a clear stream trickles from above and empties into a pond at the base, and in the smooth surface of the pond the lion is mirrored, among the water-lilies.
Around about are green trees and grass. The place is a sheltered, reposeful woodland nook, remote from noise and stir and confusion ­and all this is fitting, for lions do die in such places, and not on granite pedestals in public squares fenced with fancy iron railings. The Lion of Lucerne would be impressive anywhere, but nowhere so impressive as where he is."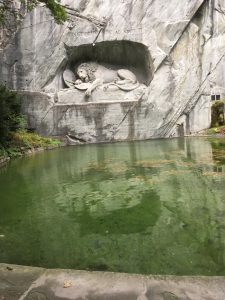 The paved walkways of Savannah's scenic Forsyth Park will spring to life at the 37th annual SCAD Sidewalk Arts Festival.
Watch as talented SCAD artists, alumni and high school students create colorful chalk masterpieces and compete for coveted prizes in a tradition that's nearly as old as the university itself.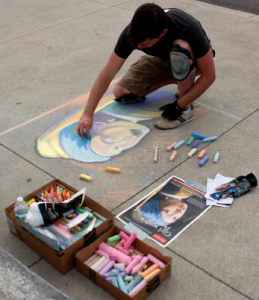 In addition to the sidewalk art, visitors can also see the art of tableaux vivants, or "living pictures" in which actors and models will silently depict a scene as if in a photo. Chalk distribution begins at 10am, drawing at 11am, with judging and results announced in the afternoon.
Who needs technology; discover just how much a simple piece of chalk can inspire.  Be amazed and mesmerized at the colorful chalk designs these artists produce on chalked-up squares along the sidewalks that weave through Forsyth Park.
Families are encouraged to bring their own chalk and let their little ones color on the squares that are not being used as part of the festival.
Free, fun and impressive, go out and be inspired, and maybe even draw a masterpiece of your own.

Location: Forsyth Park, Between Drayton and Whitaker streets, Savannah 31401
Date: Apr 28, 2018
Time: –
Tel: 800-869-7223
scad.edu/sidewalkarts
For Regional Accommodations, Restaurants & Attractions: visitsavannah.com