Tag Archive
activity
art
artist
Austria
Canada
children
city
CostSaver
display
Drivei-95
drive i-95
entertainment
Europe
event
exhibit
family
festival
Florida
food
France
free
fun
historic
History
landmark
live
local
London
Museum
music
performance
Restaurant
roadtrip
shop
show
sights
sightseeing
tour
tourist
Trafalgar
travel
travelblogger
USA
view
world
Celebrate the season at historic Newburyport Spring Festival, a tradition upheld for over 30 years on Memorial Day Weekend.  Enjoy great live music, art, fine crafts, activities for kids, and food from Newburyport's outstanding restaurants at this 2-day FREE festival featuring entertainment for the whole family -rain or shine.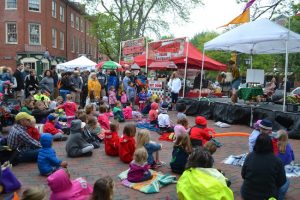 Sunday -Entertainment
10:30am-11:15am in Market Square -Bryson Lang – Comedy Juggler – audiences will see a family-friendly show and an energetic personality performing inventive and clever routines that mix comedy, audience participation, ball spinning, flying sombreros, ball bouncing, fire-juggling, well-crafted timing, huge spinning bouncing rings, giant Beach Balls, improv, and a few surprises.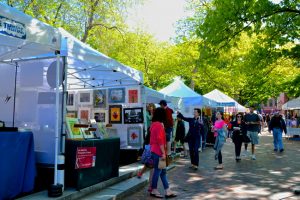 10am, 12pm, and 2pm -Theater in the Open – Flash Mob on Inn Street
Live Music
1pm – 4pm  Live Music in Market Square – 617 Band – Covering your favorite party and dance hits!
11pm, 1pm, 3pm – 30 min sets on Inn Street – Zach Field Drum Studio
Art
"Emerging at Any Age" – A group of Newburyport's finest senior artists from just starting out to artists that have had long careers in art. Gallery will be on Pleasant Street.
Monday Entertainment
Kids Entertainment from 10:30-11:30am in Market Square – Reptile Show
Come and meet some of the friendliest reptiles in New England. Brought to you by Zoo Creatures/New England Reptile, they will teach you about some most impressive animals. From giant snakes to prehistoric lizards, you can learn, touch, hold and hug.
Live Music in Market Square
Eagle in the Attic – Newburyport band performing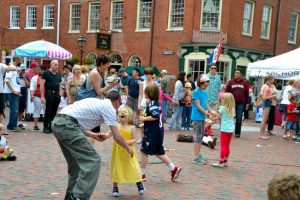 Location: Downtown Newburyport, Market Square, Newburyport, MA 01950
Date: Sun  May 28 – Mon May 29, 2017
Hours: 10am – 5pm
Tel: 978-462-6680
newburyport.com/events-in-newburyport/
For Regional Accommodations, Restaurants & Attractions: newburyportchamber.org
Bring Your Own Improv's Family Friendly Comedy Show is a rarity – a comedy club that you can bring your kids to.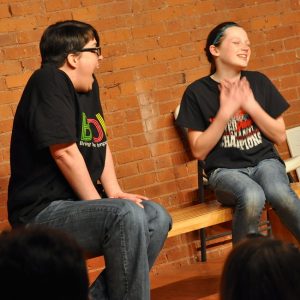 Bring Your Own Improv (BYOI) is now in its 10th season and family-friendly comedy shows are Fridays at 7pm. This interactive improv show welcomes voluntary audience participation, of all ages.
The format is similar to "Who's Line is it Anyways" where different games and scenes are set up. The troupe asks for audience input, the actors put their own spin on scenes, and the action changes constantly,  so no two performances are ever the same. They encourage you to participate in one of three ways: Applaud at a scene you like, yell out fantastic suggestions, or if you feel you're ready,  jump up and get involved with the performers on stage.
So if anyone in your family wants to flex their comic muscles or would just like partake and play along, the clever and creative cast will support you.  No worries, they only choose volunteers with hands up .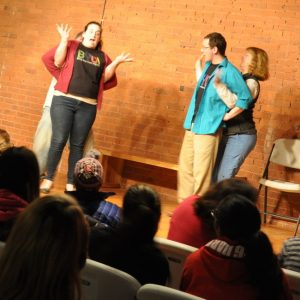 Why not start your weekend off with some laughs, the players are pros and know how to keep the audience entertained.  Sit back and chuckle your cares away with this fun, inexpensive night out with the family. This is a hidden gem if you're looking for something to do while on a family vacation in the Providence or Newport area. There's also a Late Night Comedy Show (PG-13) Fridays at 9pm.
For a list of all shows: bringyourownimprov.com/Shows.htm
Location: Warwick Center for the Arts, 3259 Post Rd., Warwick, RI 02886
Dates:  March Family-Friendly Shows –  Fri, Mar 3, 10, 17, 24, 31, 2017
Time: 7 – 8:30pm
Tel: 401-261-7678
bringyourownimprov.com
goprovidence.com/event/bring-your-own-improvs-family-friendly-comedy-show/29118/
For Regional Accommodations, Restaurants & Attractions: goprovidence.com
Providence, RI Exit 21: Three days of amazing national & local improv talent at The 13th Annual Providence Improv Festival taking place in the heart of downtown Providence on September 22-24, 2016.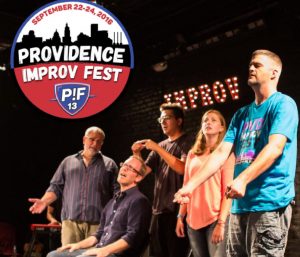 This year's Fest will feature top improv comedy troupes from throughout the country including Susan Messing and Rachael Mason as "The Boys". The FEST remains dedicated to showcasing a broad spectrum of theater artists who excel at creating scenes, characters, and situations in the moment offering shows by top performers in the local, regional, and national improv comedy scenes.
Be a part of the festival, rub elbows with some incredible performers, partake in the workshops, after-parties and other fun events at their downtown theatre spaces. Experience some of the world-class food, art, and entertainment that Providence can offer within an intimate and picturesque cityscape.
Location: AS220
95 Empire Street, Providence, RI
115 Empire Street, Providence, RI
Providence, RI 02903Dates: September 22 – 24, 2016
Times: Various check schedule
Tel: 401-241-9556
providenceimprovfest.com
For Regional Accommodations, Restaurants & Attractions: goprovidence.com
Photo credit – David Rickerby