Tag Archive
activity
art
artist
Austria
Canada
children
city
CostSaver
display
Drivei-95
drive i-95
entertainment
Europe
event
exhibit
family
festival
Florida
food
France
free
fun
historic
History
landmark
live
local
London
Museum
music
performance
Restaurant
roadtrip
shop
show
sights
sightseeing
tour
tourist
Trafalgar
travel
travelblogger
USA
view
world
The 44th Annual Cherry Blossom Festival is a celebration of spring commemorating the planting of 72 Yoshino Japanese Cherry Blossom trees in 1973.  Hanami (cherry blossom) viewing, has been a Japanese custom since the 7th century when the aristocrats enjoyed the transient beauty of  looking at sakura (cherry trees). Sakura is a symbol of Japan, and it's said that there are over 400 varieties of cherry trees in Japan.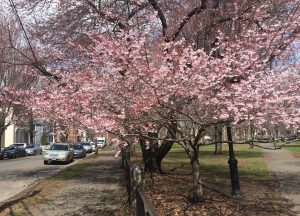 The longstanding tradition of the Cherry Blossom Festival,  takes place  in New Haven's Historic Wooster Square, and offers something for everyone in the family, including your 4 -legged family member.
Enjoy free entertainment including music, dancing, shop a flea market, food, a children and family area that includes puppet shows, arts and crafts, face painting and activities from the Peabody Museum, New Haven Free Public Library's Readmobile and a raptor-rescue organization  -Horizon Wings.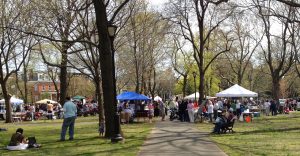 There is a Pet Friendly area, with New Haven Animal Shelter, Greater New Haven Cat Project, Little Shop of Howlers, Pups Without Partners and Veterinary Wellness Center.
With so much to do don't forget the main attraction, enjoying the scenic view of the early blooming cherry blossoms. This family-friendly festival is a great and inexpensive way to bring in spring.
Location: Wooster Square, New Haven, CT 06511
Date: Sun., April 23, 2017
Time: 12 – 5pm
Tel: 203-777-1371
historicwoostersquare.org/cherryblossomfestival.html
For Regional Accommodations, Restaurants & Attractions: visitnewhaven.com
Bring Your Own Improv's Family Friendly Comedy Show is a rarity – a comedy club that you can bring your kids to.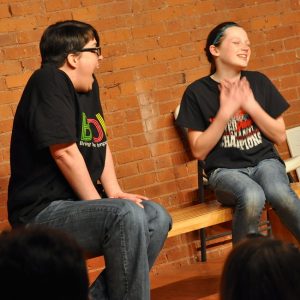 Bring Your Own Improv (BYOI) is now in its 10th season and family-friendly comedy shows are Fridays at 7pm. This interactive improv show welcomes voluntary audience participation, of all ages.
The format is similar to "Who's Line is it Anyways" where different games and scenes are set up. The troupe asks for audience input, the actors put their own spin on scenes, and the action changes constantly,  so no two performances are ever the same. They encourage you to participate in one of three ways: Applaud at a scene you like, yell out fantastic suggestions, or if you feel you're ready,  jump up and get involved with the performers on stage.
So if anyone in your family wants to flex their comic muscles or would just like partake and play along, the clever and creative cast will support you.  No worries, they only choose volunteers with hands up .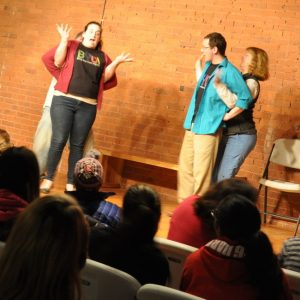 Why not start your weekend off with some laughs, the players are pros and know how to keep the audience entertained.  Sit back and chuckle your cares away with this fun, inexpensive night out with the family. This is a hidden gem if you're looking for something to do while on a family vacation in the Providence or Newport area. There's also a Late Night Comedy Show (PG-13) Fridays at 9pm.
For a list of all shows: bringyourownimprov.com/Shows.htm
Location: Warwick Center for the Arts, 3259 Post Rd., Warwick, RI 02886
Dates:  March Family-Friendly Shows –  Fri, Mar 3, 10, 17, 24, 31, 2017
Time: 7 – 8:30pm
Tel: 401-261-7678
bringyourownimprov.com
goprovidence.com/event/bring-your-own-improvs-family-friendly-comedy-show/29118/
For Regional Accommodations, Restaurants & Attractions: goprovidence.com
Why not have loads of belly laughs on your next trip? There are a few ways to cut costs and take in the hysterical Montreal Just for Laughs comedy festival inexpensively. Here's all the FREE events:
On July  21st, Weird Al Yankovic is doing a free outdoor concert as part of  "The Mandatory World Tour". The Scène Vidéotron will be presenting various free activites at 7pm every day and shows at 9pm.
The Street Arts Festival has acts performing for free in and around Place des Arts. Starting at 1 pm each day, the colorful Place de la famille le Lait will offer its load of shows and activities including a merry-go-round for kids and all the family
Also for your family entertainment, the Labyrinthe V8 will be open from 6pm during weekdays and from noon during weekends.
Every night from 4pm-3am, the Melting Pot, set on the Esplanade de la Place des Arts, invites party goers to enjoy great music presented by various international DJs.
From July 23rd to July 25th, the Zoofest Festival will take place on the Parterre des artistes. Nicknamed Le Spot, this 3-days outdoor celebration will feature the craziest, funniest and talented emerging artists.
At the Le Mondial des Jeux Loto-Québec set on Maisonneuve Blvd, you can get to play various table games and board games. In the center of the Complexe Desjardins, you are invited to discover and play the latest and the classic video games. Plus, you will have the opportunity to show off your skills in friendly competitions. Kids and grown-ups will also be able to show their talents at the Complexe Desjardins in a drawing contest.
www.hahaha.com
http://mondialdesjeux.com/en/

TICKET DEALS
The best deal by far is the OFF-JFL pass. It costs $49.50 and you get to choose 3 tickets to any of the 100 or so OFF-JFL shows. Also included is that each day from July 22-25, you get an additional free ticket for an OFF-JFL show.
OFF-JFL has a lineup of artists performing at smaller venues where the shows are much more intimate, The lineup this year is absolutely incredible. I really laughed at Ethnic Show headliners Alonzo Bodden, Ahmed Ahmed and Gina Yashere who are on this list.
There are a number of package deals for tickets. There are the tourism packages in which you can stay overnight in a hotel, be right downtown in the midst of all the action, and take in the Gala of your choice starting at only $200 (for 2). There are also multi-show passes available which cuts costs.
Last minute tickets can be purchased at the box office on the corner of Jeanne Mance and Sainte-Catherine.
FOOD

Bouffons! Mtl is a gourmet novelty set on Sainte-Catherine street so festival-goers have the chance to experience a full range of new flavors that will definitely live up to anyone taste buds. Meet chefs, enjoy local products and taste delish dishes from the best food-trucks in the city. The festivities will start at noon every day, inside and outside. For the inside action, look for the Bouffons sign near Clark.
At the Melting Pot on the Esplanade de la Place des Arts, there will be a DJ set every evening and look for the 2 for 1 deal on the burger trio. At Arthur,  during Happy Hour 5-7, you can find 2 for one liquid deals.