Tag Archive
activity
art
artist
Canada
children
city
community
contest
country
display
Drivei-95
drive i-95
entertainment
Europe
event
family
festival
Florida
food
free
fun
game
historic
History
house
Island
live
local
Museum
music
national
North Carolina
performance
prize
roadtrip
shop
show
sightseeing
tour
tourist
Trafalgar
travel
travelblogger
USA
world
The 44th Annual Cherry Blossom Festival is a celebration of spring commemorating the planting of 72 Yoshino Japanese Cherry Blossom trees in 1973.  Hanami (cherry blossom) viewing, has been a Japanese custom since the 7th century when the aristocrats enjoyed the transient beauty of  looking at sakura (cherry trees). Sakura is a symbol of Japan, and it's said that there are over 400 varieties of cherry trees in Japan.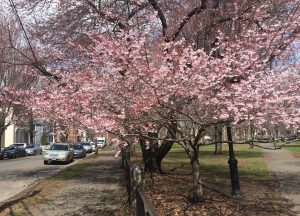 The longstanding tradition of the Cherry Blossom Festival,  takes place  in New Haven's Historic Wooster Square, and offers something for everyone in the family, including your 4 -legged family member.
Enjoy free entertainment including music, dancing, shop a flea market, food, a children and family area that includes puppet shows, arts and crafts, face painting and activities from the Peabody Museum, New Haven Free Public Library's Readmobile and a raptor-rescue organization  -Horizon Wings.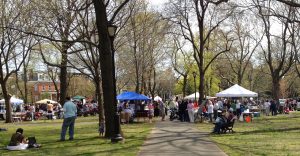 There is a Pet Friendly area, with New Haven Animal Shelter, Greater New Haven Cat Project, Little Shop of Howlers, Pups Without Partners and Veterinary Wellness Center.
With so much to do don't forget the main attraction, enjoying the scenic view of the early blooming cherry blossoms. This family-friendly festival is a great and inexpensive way to bring in spring.
Location: Wooster Square, New Haven, CT 06511
Date: Sun., April 23, 2017
Time: 12 – 5pm
Tel: 203-777-1371
historicwoostersquare.org/cherryblossomfestival.html
For Regional Accommodations, Restaurants & Attractions: visitnewhaven.com
If you are heading out to Ottawa to skate on the Rideau Canal and to enjoy Canada's capitol, leave some time to explore the Canadian Museum of Nature, their first national museum, completed in 1912.
The Beaux Arts building was recently renovated and is now fronted by a towering glass atrium. That's where we found the arts and crafts action. Perhaps leave that for the end, after you've had a chance to watch "Exploding Geology", the tornado demonstration, walk through the large bird display (and play on the interaction boards),  swoon over the 1200 gorgeous minerals, rocks and meteorites , meet the 10-metre blue whale, enjoy the full size mammal gallery (look for the reindeer), go face to face with a triceratops,  or spy on the tarantula.
Kids of any age and their parents will enjoy their day. If you have time there are two movies, "Nature Unleashed" and "3D Dinosaur" but our gang liked the interactive museum more. Special exhibits coming up will show off Ikebana, Japanese floral design, Flora of the Canadian Arctic and in the summer, the Hidden Lives of Ants.
Trivia buffs should note that this Canadian Museum of Nature  served as home to Canada's House of Commons and Senate following the fire that destroyed the Centre Block of Parliament in 1916.
Location: 240 McLeod St., Ottawa, Canada
Phone: 613-364-4021
www.nature.ca
Amsterdam is fun, hopping, bustling with bikes, museums, cafe life, canals and history. After a day of all that stimulation, it's a blessing to come back "home" to the Okura Hotel, a 4o-year old sea of tranquility. Fabulous sleek design (love those light fixtures) and super friendly service.
Sure it has a pool and sauna but also a jet lag program, a hairdressing salon, cooking school, shoe shine service, a florist – and – half of all the Michelin starred restaurants in Amsterdam (one French and one Japanese). Best new secret in town is the new sunny Michelinesque cafe, Serre, facing the canal and cheffed by some of the staff from Ciel Bleu. So, the food has all the quality, sauces and presentation of its sisters but at prices you can afford – 35 Euros for a tasting menu or a giant bento box with 9 surprise dishes inside.
www.okura.nl