Tag Archive
activity
art
artist
Canada
children
city
community
contest
country
craft
display
downtown
drive i-95
Drivei-95
drivei95
entertainment
event
family
festival
Florida
food
free
fun
game
historic
History
house
Island
live
local
Museum
music
national
North Carolina
performance
prize
Restaurant
roadtrip
shop
show
tour
travel
travelblogger
USA
world
Imagine the setting, Henry Flagler's Gilded Age estate in Palm Beach, a National Historic Landmark, the epitome of elegance and sophistication.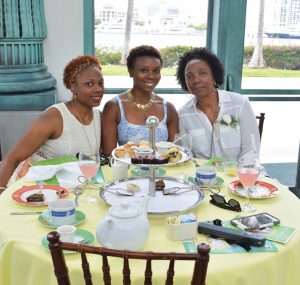 The celebration of Mother's Day began during the Gilded Age when in May of 1914 Congress established Mother's Day as a national holiday. In the spirit of this tradition, the Flagler Museum invites all mothers and their families to enjoy a Mother's Day weekend celebration in the Café des Beaux-Arts. In honor of Mother's Day, each mother will receive a special flower corsage.
The Museum's Café des Beaux-Arts will open specially for Mother's Day weekend on Saturday, May 12th, from 11:30 am to 2:30 pm, and Sunday, May 13th from 12:00 pm to 3:00 pm. Tickets include museum admission (and tax, gratuity), so your family can explore the famed Whitehall mansion and get a taste for some of the finer things in turn-of-the-century life.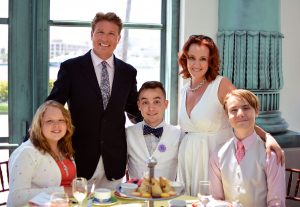 Space is limited so advance ticket purchase is required. flaglermuseum.us/museum-store/mothers-day-tea-tickets
Photo Courtesy of: © Flagler Museum
Location: One Whitehall Way, Palm Beach, FL 33480
Date & Time: Sat., May 12, 11:30am -2:30pm, Sun, May 13, 12pm – 3pm
Tel: 561- 655-2833
flaglermuseum.us
For Regional Accommodations, Restaurants & Attractions: thepalmbeaches.com
Join Savannah Scavenger Hunt author, Chris Sergi, to discover the wonders of the nation's largest National Historic Landmark District.
Sergi pulls together little-known facts, visual treats, and enticing tidbits of history in this scavenger hunt designed for all ages to enjoy.
From underground tunnels used by pirates for treasure transport to mausoleums and stained glass windows, the city abounds with secrets and trivia for all to discover.
Great family fun. Tickets must be purchased in advance. For Tickets: Add to cart
Location: Savannah Tour of Homes & Gardens, 123 East Broughton St, Savannah 31401
Date: Sat, Mar 24, 2018
Time: 12:30 – 2pm
Tel: 912- 234-8054
savannahtourofhomes.org
For Regional Accommodations, Restaurants & Attractions: visitsavannah.com
College students know pizza; a staple for them while living on or off campus. Over the years, this landmark for pizza in Maine, Pat's Pizza,  has become a favorite of University of Maine students offering delicious and affordable pizzas that won't disappoint. In fact, with deep roots in the community, it has been said that an education at the University is not complete without a Pat's Pizza.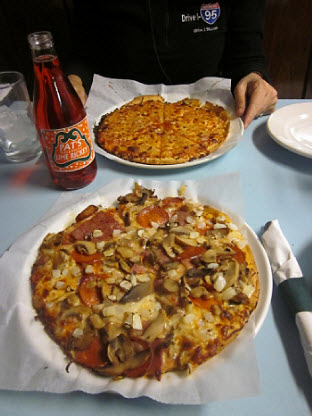 Opened in 1931, and still churning out 700 pizzas a night, this 2nd generation family business (now with 19 locations) is famous in Maine. Step into over 50 years of history with this old time pizzeria, at their original location, with its original Formica counters and slate foot rests.
The thin, soft, light crust melts in your mouth, and the toppings are put on evenly so that there's a taste in every bite. Made with freshest ingredients, 35 toppings like: specially made pepperoni, pine nuts, hot dog, kielbasa, zesty olives or eggplant, there is a pizza just for you! They even make gluten-free pizzas or double -dough pizzas.
The Pat's Combo is the most popular pizza with pepperoni, mushrooms, and Cotto salami on it. Not to mention the mouth-watering calzones, spaghetti and meatballs, sub sandwiches, wraps, salads and a Maine favorite red skin hot dogs too. Wash it down with Pat's own brand of sodas: strawberry, root beer, orange, grape, cream or Stan and Sandra's favorite – raspberry Lime Rickey, or try the local Moxie brand, made in Maine.
Buon appetito!
Location: 11 Mill Street, Orono, ME 04473
Hours: Mon-Fri 7am – 12am, Sat-Sun 7am – 1am
Tel: 207-866-2111
patspizzaorono.com/
For Regional Accommodations, Restaurants & Attractions: visitbangormaine.com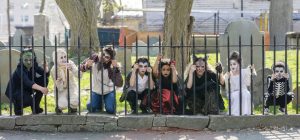 Salem, MA Exit 47 to route 114: Salem is synonymous with Halloween and you are invited to a month long Halloween party. Throughout the entire eerie month of October, Salem offers the ultimate Halloween experience filled with fun, goosebumps worthy
entertainment.
Monsters of all shapes and sizes are welcome. Kicking off with "movie monsters" themed Haunted Happenings Grand Parade on Thursday, Oct 6th, "Wicked Wednesday" family programs, Tales & Tombstones Trolley Tours and so much more.  Hundreds of events for all ages are scheduled during October.
Surrender to the spell of Salem, check out the information below from haunted houses, historic landmarks, hotels and lodging, restaurants and taverns to costume parties, ghost tours, historic tours, events, psychic and tarot readings, witch and magical shops and transportation.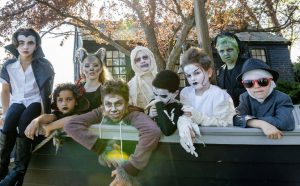 Photo credits: John Andrews Photography

Location: Various
Date: Oct 5 – 31
Tel: 978-744-0004
salemhalloweencity.com
hauntedhappenings.org
For Regional Accommodations, Restaurants & Attractions: merrimackvalley.org
salem.org
Gari Melchers Home and Studio – Belmont, typical of the Federal style, is over 200 years old. In 1916, renowned artist Gari Melchers and his wife Corinne bought the residence, and no expense was spared in the improvements to their country home.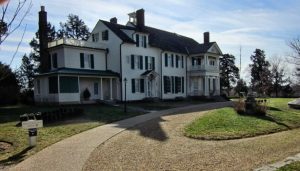 The Melchers accumulated a varied collection of antique furniture and carpets, fine china, paintings and prints by old masters on their extensive travels abroad. The grounds cover 27 acres of gardens, and you get to visit Gari's huge studio too. Upon Corinne's death in 1955, the estate was left to Virginia, and all of their personal possessions, including his beautiful paintings, remain as if they just left.
The Stafford County Visitor Center is in the interestingly stocked gift shop. The property, which is operated by the University of Mary Washington, is both a Virginia Historic Landmark and a National Historic Landmark.
The Belmont Photo Exhibit "Through a Lens" – Belmont Portrayed: Through a Lens, an exhibition of photographs depicting the buildings, grounds and gardens of Gari Melchers Home and Studio at Belmont,  is open to the public on and will be on view  until May 21.
The selection of 21 photos by 12 artists was chosen by Belmont Director David Berreth to represent a variety of photographic approaches to visually interpreting the 19th-century estate and its surroundings.
Location: Gari Melchers Home & Studio Belmont, 224 Washington St, Falmouth, VA 22405
Hours: Apr 1 – Oct 31, daily 10 – 5pm,  From Nov 1- Mar 31, daily 10 – 4 pm
Tel: 540-654-1015
GariMelchers.org
For Regional Accommodations, Restaurants & Attractions: co.stafford.va.us
fredericksburgva.com/VisitFredericksburg
Imagine an Easter Egg Hunt on the grounds of the glorious Flagler Museum…The Gilded Age estate was a 55-room winter retreat built in 1907 as a wedding present for Henry Flagler's 3rd wife Mary Lily Kenan Flagler. Today, Whitehall is a National Historic Landmark and is open to the public as the Flagler Museum, featuring guided tours, changing exhibits, and special programs.
Children are invited to hunt for more than 8,000 eggs on the Museum's Lawn and in the Cocoanut Grove. The Museum grounds will be sectioned off into age-appropriate areas so everyone, including toddlers, will have an opportunity to participate.
When the Museum gates open at 9am  children  will be visited by the Easter Bunny. Don't forget your camera as this is a great photo-op with the Bunny and the grandeur of the museum as a backdrop. There will be an Easter Craft Activity Table, where children can engage in Easter-themed art projects, face painting, balloon sculptures, and play a game of Bean Bag Toss.
The egg hunt begins promptly at 10am. The Easter Egg Hunt for children age four and under will be held on the Southeast Lawn with 3,500 hidden eggs. For kids ages five and older the Hunt is in the Cocoanut Grove with 4,500 hidden eggs.  Look for the golden egg to win a special prize.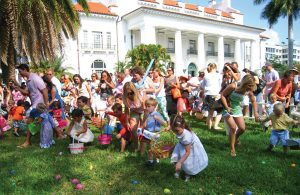 To purchase tickets: flaglermuseum.us/programs/easter-egg-hunt
Photo Courtesy of: © Flagler Museum
Location: Flagler Museum, One Whitehall Way, Palm Beach, FL 33480
Date: Sat, April 15, 2017
Time: Gates open at 9am.The egg hunt begins at 10am
Tel: 561-655-2833
flaglermuseum.us
For Regional Accommodations, Restaurants & Attractions: thepalmbeaches.com
What better place to learn a piece of Manassas history than with a Cemetery Tour. Learn about "Important Citizens who Influenced Prince William County History". The Manassas City Cemetery tour is a biographical tour of our predecessors which allows you to discover their contributions to society.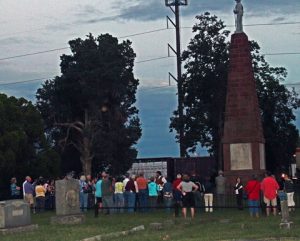 The Ladies Memorial Association of Manassas (later to become the United Daughters of the Confederacy) created the Confederate Cemetery in 1867 on one acre of donated land. The land was given to hold the remains of Confederate soldiers "scattered over the Plains."
Although the Bull Run Ladies Association reburied the remains of soldiers found on the battlefield in the Groveton Cemetery, there were many other remains recovered throughout Manassas. In 1911, the Association placed a bronze statue of a Confederate Soldier "At Rest" on the brownstone monument that had been dedicated in 1889. Legend has it that the soldier faces east to guard against attack from Washington.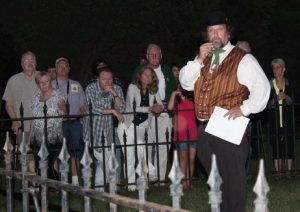 Each year for the cemetery tour a different theme is used. Tragic deaths (murders or accidents), women, cemetery architecture are just a few from the past. This year focuses on County and Community leaders: Sheriffs, politicians, school administrators,… This tour is done with the greatest respect to the cemetery and its "inhabitants".
To purchase tickets visit: manassasechoes.com, or call 703-368-1873
Location: Manassas Confederate Cemetery, 9317 Center St., Manassas, VA 20110
Date: Fri, March 17, 2017
Time: 8pm – 9:30 PM
Tel: 703-257-8265
manassasmuseum.org
For Regional Accommodations, Restaurants & Attractions: manassascity.org
The  23rd Annual Nights of Lights festival turns the city of St. Augustine into a dazzling holiday display, glowing with holiday magic – from the ground to the rooftops. Selected by National Geographic in 2011 and 2012 as one of the ten best holiday lighting displays in the world, St. Augustine's Night of Lights features three millions tiny white lights that create a magical atmosphere in the Nation's oldest city.
Tracing its origins to the Spanish tradition of displaying a white candle in the window during the Christmas holidays, the spectacular lighting reflects the city's 450-year history and illuminates the beautiful setting for lasting holiday memories.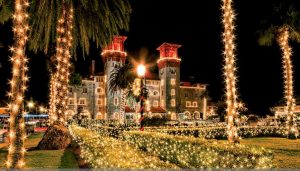 Many historic landmarks and locations are beautifully ablaze during Nights of Lights. The waters of Matanzas Bay glow from the nightly reflections of lights strewn along the bay walk and displayed on the Bridge of Lions. The Plaza de la Constitucion shines from the top of trees and throughout the famous center of St. Augustine's historic district. The Guilded-Age Hotel Ponce de Leon, now the campus of Flagler College, is outlined in lights. And the Lightner Museum, once a resort hotel also built by Flagler, is lit so brilliantly that it is a favorite among visitors.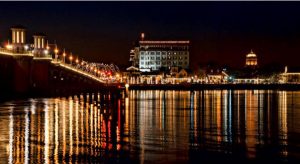 The trains and trolleys offer special seasonal tours that take you through the best areas of Nights of Lights, and there are also a variety of specialty tours; everything from walking to horse-and-carriage tours, and even tours to see the lights from the water and from the air. This holiday season don't miss St Augustine's Night of Lights.
Photos Courtesy of FloridasHistoricCoast.com
Location: Plaza de la Constitucion, 106 King Street, St. Augustine, FL 32084
Dates: Daily until Jan. 31, 2017
Tel: 800-653-2489
floridashistoriccoast.com/nights-lights
For Regional Accommodations, Restaurants & Attractions: floridashistoriccoast.com
This is Donald Trump's Mar-a-Lago Club in Palm Beach. You can normally not see it from the road due to the high hedges, but when Trump hosted a press conference here concerning his nomination, the hedges were trimmed, and we were able to get this view. It was originally built by Marjorie Merriweather Post.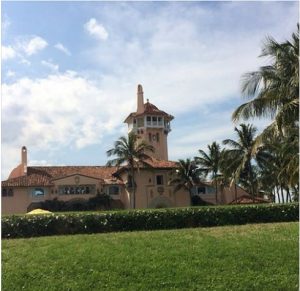 Pope Francis (born Jorge Mario Bergoglio) was born in the Flores neighborhood of Buenos Aires. You see the church where he worshipped and where he felt a calling to devote his life to God.
Twice on Saturdays and Sundays, a 3-hour FREE government-sponsored Papal Circuit bus tour takes you past 24 landmarks of his life: the tree-shaded street of his middle class childhood home (531 Membrillar, where his parents, Regina Maria Sivori and Mario Bergoglio raised their 5 children), the plaza where he played soccer, his school, his barber (where he also received pedicures!), his favorite newsstand, and the Metropolitan Cathedral which he presided over as an archbishop.