Tag Archive
activity
annual
art
artist
Canada
children
city
community
contest
country
craft
display
downtown
drive i-95
Drivei-95
drivei95
entertainment
event
family
festival
Florida
food
free
fun
game
historic
History
house
Island
live
local
Museum
music
national
North Carolina
prize
Restaurant
roadtrip
shop
show
tour
travel
travelblogger
USA
world
As you enter the side door of the Surratt House Museum you are walking in the path of John Wilkes Booth the night he killed President Lincoln, since he came here to retrieve a rifle, field glasses and supplies for his run from the law.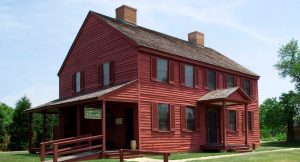 Built in 1852, this was a tavern, an inn, a post office and a polling place. It was a safe house for the Confederate underground. The massive search for Booth led them here to Mary Surratt's house, and as a result she was tried in a military court and convicted of conspiracy to assassinate the President. On July 7, 1865 Mary Surratt was the first woman to be executed by the federal government.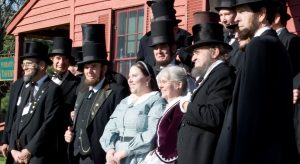 In your visit to this famous house, a docent in 1860's period clothing walks you through the typical middle class home.  History buffs can make reservations for the 12-hour "Escape Route" bus tour. Many of the same roads and houses used by Booth are still in existence and are visited on this excursion which is narrated by nationally-recognized authorities on the Lincoln assassination and John Wilkes Booth's flight.  Tour Dates for 2018: Apr 14, 21, 28 and Sept 8, 15, 22.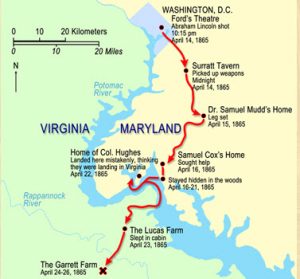 If you're in the Clinton area Sat, Dec 2 – Sun, Dec 10, stop by the Surratt House Museum for their special Christmas program- An Old Fashioned Holiday: Bringing Christmas Past to Christmas Present, celebrating the Christmas of yesteryear amid period decorations, special exhibits and seasonal histories. On the weekend of December 9 and 10, return to enjoy special activities for all ages, cookies, cider, and holiday discounts in the museum's gift shop.
Location: Surratt House Museum, 9118 Brandywine Road, Clinton, MD 20735
Hours: Wed – Fri 11am – 3pm, Sat -Sun 12 – 4pm
The Surratt House Museum is closed from Dec 12th to Jan 17th.
Tel: 301-868-1121
surrattmuseum.org
For Regional Accommodations, Restaurants & Attractions: visitprincegeorgescounty.com
If you're a fan of architecture and design you'll want to check out The Gropius House. Walter Gropius, the founder of the highly influential Bauhaus School and one of the most prominent architects of the 20th century designed this striking home in 1938 after moving from Germany to Massachusetts to teach at Harvard's Graduate School of Design.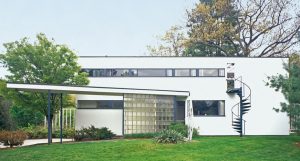 Modest in scale, the house was revolutionary in impact. It combined the traditional elements of New England architecture — wood, brick, and fieldstone, with innovative materials rarely used in domestic settings at that time: glass block, acoustical plaster, and chrome banisters, along with the latest technology in fixtures.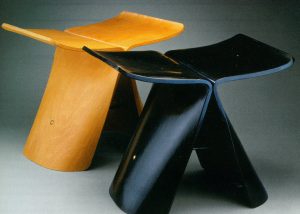 At the Gropius House, Bauhaus ideals remain alive, and throughout Gropius's life, he and his wife Ise continued to add newly designed furnishings that reflected their belief in the marriage of design and industry.  In keeping with Bauhaus philosophy, every aspect of the house and its surrounding landscape was planned for maximum efficiency and simplicity of design.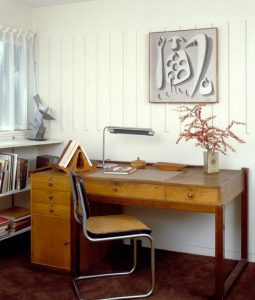 Two years after Mrs. Gropius's death in 1983, the Gropius House opened as a historic house museum. The house contains a significant collection of furniture designed by Marcel Breuer  and fabricated in the Bauhaus workshops. The house also contains works by Eero Saarinen, Joan Miró, and Herbert Bayer that were given as gifts to Walter Gropius. With all the family possessions still in place, the house has an cohesiveness rarely found in house museums.
All images are "Courtesy of Historic New England."
Location: Gropius House. 68 Baker Bridge Road, Lincoln, Mass. 01773
Dates: Sat and Sun, until May 31
Hours: 11 – 4pm, Tours on the hour
Tel: 781-259-8098
historicnewengland.org/historic-properties/homes/Gropius%20House
For Regional Information, Restaurants & Attractions: merrimackvalley.org
If you are interested in Civil War History and conspiracy  theories then the Surratt House Museum is a must for you.
Historic Surratt House has national significance due to its role in the dramatic events surrounding the Lincoln assassination conspiracy and the involvement of Mary Surratt.
As you enter the side door of this house, you are walking in the path of John Wilkes Booth the night he killed President Lincoln, since he came here to retrieve a rifle, field glasses and supplies for his run from the law. Mrs. Surratt became the first woman put to death by the United States government for her complicity.
The house was built in 1852 as a middle-class farm home for the family of John and Mary Surratt. It was more than a family home – the Surratt House also served as a tavern, public dining room and hotel for traveling gentlemen. Outside, the house was the focal point of a 300-acre plantation. A livery stable and nearby blacksmith shop serviced travelers, and in 1854 a post office was added to the tavern, serving the new area of "Surrattsville". With the advent of the Civil War, the tavern became a clandestine Confederate safe house.
At the Surratt House Museum visitors take a guided tour from an
experienced docent in period clothing. Guests will not only learn of the
dramatic events surrounding the Lincoln assassination, but will learn about
daily life during the mid-19th century.
Location: 9118 Brandywine Road, Clinton, 20735
Hours: Wed thru Fri, 11am-3pm and Sat & Sun, 12 noon- 4pm . The last tour beings one half-hour before closing.
Tel: 301- 868-1121
surrattmuseum.org
For Regional Accommodations, Restaurants & Attractions: www.visitprincegeorges.com