Tag Archive
activity
art
artist
Austria
Canada
children
city
CostSaver
display
drive i-95
Drivei-95
entertainment
Europe
event
exhibit
family
festival
Florida
food
France
free
fun
historic
History
landmark
live
local
London
Museum
music
performance
Restaurant
roadtrip
shop
show
sights
sightseeing
tour
tourist
Trafalgar
travel
travelblogger
USA
view
world
Many of us enjoy a light read to while away a lazy summer afternoon. At the Hudson Village Theatre, you don't even have to read to have fun – you can just listen and watch as four women meet, mingle and moan – and become a family of friends.
The director, Ellen David, takes this (Jessie) Jones (Nicholas) Hope (Jamie) Wooten delightful script and gently guides the dynamic quattro of actors as they learn "what is holding you back from one's past and self-imposed limitations towards a compelling future".  This could be any one of us.
The performers David chose are as well cast and strong as the four sides of a square. Randa Covington (Jane Wheeler) has defined herself by her work, and doesn't know how to re-define herself beyond that. She tries to hold on to her safe proper business countenance, but is weighed down by feeling second best in her family. Marlafaye (Lisa Bronwyn Moore) gets the classic "dumped for a younger woman" part, so feelings of anger and rejection are keeping her from moving forward. "I swear the older you get the harder it is to jump start a new life", she says.
Dot (Kathleen Fee), the oldest of the bunch, has just lost her husband, the only man she has known, and with whom she had planned to retire. She has no idea how to figure out what comes next. Her subtle acting is deliciously wonderful as she delivers many funny zinger lines. Paula Costain as Jinx moves and talks with the right zippy attitude to convince them, as their new "life coach", to go (as David says)" beyond their comfort zone to a brave new world where they eventually find themselves". Jinx reminds us that her older sister (now incapacitated with dementia) taught her that "it's the happy in life that counts".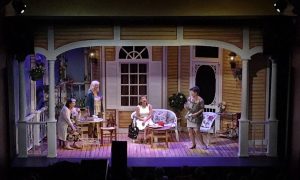 The set by Jean-Claude Olivier is a comfortable porch, so the women have an informal place to gently and liquidly reveal their sagas. As this is a "Sipping Society", drinking props (by Lea Robertson) were a fun challenge due to the many iterations of serving different kinds of alcohol. Marlafaye once toasted, "Girls, here's to living single and drinking doubles".
There were more costume changes than you would expect (by Elisabeth De Medeiros), creating a fashion show which helped define the scenes and the forward movement of their lives.
Jamie Wooten, one of the playwrights, was a writer for The Golden Girls, so the quality of their patter and the giggly one-liners is in the same genre of that hysterical show.  When Marlafaye sees Randa's house for the first time she opines, "Yeah, sure is a pretty place. Everything's so neat and clean. I'm not like that. Instead of cleaning my house, I just turn off the lights".  When Randa comments on drinking mead, "This really isn't so horrible", Marlafaye responds, "The very words I said on my wedding night".  Marlafaye also says,  "Sex is like a brownie – when it's good it's really good. And when it's bad….it's still pretty good!".
Andrea Romaldi, the artistic director writes, "friendships are our lifelines and support structures. Good friends cheer us, challenge us, bewilder us and irritate us, but ultimately they support and help us grow into our best selves". Head out to Hudson and lift a glass to friendship.
Location: 28 Rue Wharf, Hudson, QC J0P 1H0
Phone: 450- 458-5361
Dates: til July 22
https://villagetheatre.ca/
Why not have loads of belly laughs on your next trip? There are a few ways to cut costs and take in the hysterical Montreal Just for Laughs comedy festival inexpensively. Here's all the FREE events:
On July  21st, Weird Al Yankovic is doing a free outdoor concert as part of  "The Mandatory World Tour". The Scène Vidéotron will be presenting various free activites at 7pm every day and shows at 9pm.
The Street Arts Festival has acts performing for free in and around Place des Arts. Starting at 1 pm each day, the colorful Place de la famille le Lait will offer its load of shows and activities including a merry-go-round for kids and all the family
Also for your family entertainment, the Labyrinthe V8 will be open from 6pm during weekdays and from noon during weekends.
Every night from 4pm-3am, the Melting Pot, set on the Esplanade de la Place des Arts, invites party goers to enjoy great music presented by various international DJs.
From July 23rd to July 25th, the Zoofest Festival will take place on the Parterre des artistes. Nicknamed Le Spot, this 3-days outdoor celebration will feature the craziest, funniest and talented emerging artists.
At the Le Mondial des Jeux Loto-Québec set on Maisonneuve Blvd, you can get to play various table games and board games. In the center of the Complexe Desjardins, you are invited to discover and play the latest and the classic video games. Plus, you will have the opportunity to show off your skills in friendly competitions. Kids and grown-ups will also be able to show their talents at the Complexe Desjardins in a drawing contest.
www.hahaha.com
http://mondialdesjeux.com/en/

TICKET DEALS
The best deal by far is the OFF-JFL pass. It costs $49.50 and you get to choose 3 tickets to any of the 100 or so OFF-JFL shows. Also included is that each day from July 22-25, you get an additional free ticket for an OFF-JFL show.
OFF-JFL has a lineup of artists performing at smaller venues where the shows are much more intimate, The lineup this year is absolutely incredible. I really laughed at Ethnic Show headliners Alonzo Bodden, Ahmed Ahmed and Gina Yashere who are on this list.
There are a number of package deals for tickets. There are the tourism packages in which you can stay overnight in a hotel, be right downtown in the midst of all the action, and take in the Gala of your choice starting at only $200 (for 2). There are also multi-show passes available which cuts costs.
Last minute tickets can be purchased at the box office on the corner of Jeanne Mance and Sainte-Catherine.
FOOD

Bouffons! Mtl is a gourmet novelty set on Sainte-Catherine street so festival-goers have the chance to experience a full range of new flavors that will definitely live up to anyone taste buds. Meet chefs, enjoy local products and taste delish dishes from the best food-trucks in the city. The festivities will start at noon every day, inside and outside. For the inside action, look for the Bouffons sign near Clark.
At the Melting Pot on the Esplanade de la Place des Arts, there will be a DJ set every evening and look for the 2 for 1 deal on the burger trio. At Arthur,  during Happy Hour 5-7, you can find 2 for one liquid deals.