Tag Archive
activity
art
artist
Austria
Canada
children
city
CostSaver
display
Drivei-95
drive i-95
entertainment
Europe
event
exhibit
family
festival
Florida
food
France
free
fun
historic
History
landmark
live
local
London
Museum
music
performance
Restaurant
roadtrip
shop
show
sights
sightseeing
tour
tourist
Trafalgar
travel
travelblogger
USA
view
world
.
Les Invalides or Hôtel des Invalides is a vast complex of buildings in Paris including museums and monuments relating to the military history of France. As per its name it was originally built by Louis XIV as a hospital and a retirement home for war veterans. Pictured here is the Dôme des Invalides, a large church, the tallest in Paris which contains the tombs of some of France's war heroes, most notably Napoleon.
The complex had 15 courtyards for military parades. At the church, attendance was mandatory. Louis XIV also commissioned his architect Mansart to construct a separate royal chapel referred to as the Église du Dôme from its most striking feature (pictured). By combining a royal chapel with a veterans' chapel, the King and his soldiers could attend mass at the same time while entering the place of worship though different entrances, as prescribed by court etiquette at that time.
I'd like to think the gentleman sitting there (in the wheelchair and on the bench) are two of our veteran heros..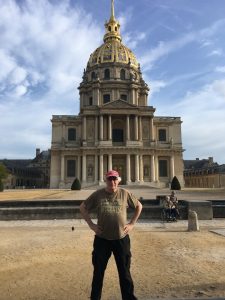 The 2nd annual Clean Water PaddleFEST in Annapolis is to celebrate and bring awareness to clean up efforts in Spa Creek while enjoying a day full of fun.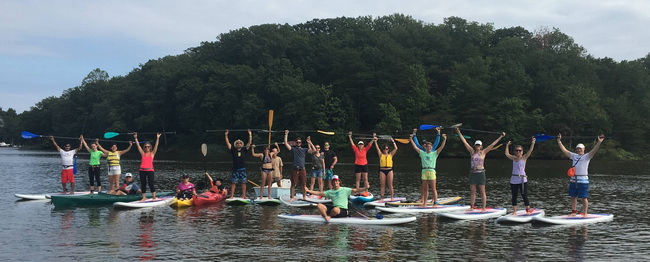 Paddle at your own pace or take a guided on-water tour of Spa Creek. Guided tours available at 2pm. See educational stops along Spa Creek detailing conservation efforts which aim to make it again fishable and swimmable. Afterwards attend the Eco-Fest with informative exhibits from area environment groups with plenty of activities for kids.
All human powered paddlers and vessels are welcome to attend. Bring your own craft or use a stand up paddle board or kayak from Capital SUP. There will be a mass paddle and foot show of support for clean water in Spa Creek at 12 noon, on and in the water around the Spa Creek bridge.
Fun activities and prizes for all ages. Kid and dog friendly. All proceeds benefit Spa Creek Conservancy.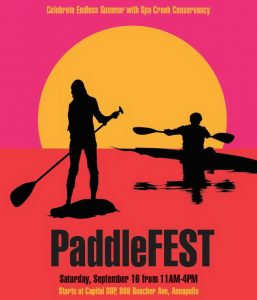 Your ticket includes:
On-water guided or self tour
Food BBQ beverages
Wine and beer
Event tee shirt
Admission to EcoFEST
Dry Bags to first 200 ticket holders
Live Music from 1-3pm
Location:Capital SUP on Spa Creek, 808 Boucher Avenue, Annapolis, MD 21403
Date: Sat, Sept 16, 2017
Time:  11  – 4pm
spacreek.net/index.php/events/special-events
For Regional Accommodations, Restaurants & Attractions: visitannapolis.org