Tag Archive
activity
art
artist
Canada
children
city
community
contest
country
display
Drivei-95
drive i-95
entertainment
Europe
event
family
festival
Florida
food
free
fun
game
historic
History
house
Island
live
local
Museum
music
national
North Carolina
performance
prize
roadtrip
shop
show
sightseeing
tour
tourist
Trafalgar
travel
travelblogger
USA
world
Walk into a medieval  fairytale and experience what a spring festival might have been like in 12th century Nottingham England. Fantasy takes flight when you step back to the past at Robin Hood's Faire. Witness singing, dancing and magic throughout the faire, listen to old world music performed live on stage and in the streets and watch Robin Hood and his Merry Men stop Prince John's villainy.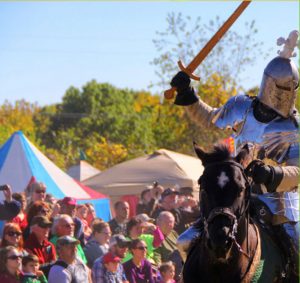 This amusing and colorful festival offers continuous themed entertainment throughout the day and some special events including:  The Mayor of Nottingham's Bingo Brunch, Princess Tea Time, Archery & Archery Tag, Opening Ceremony, Daily Tournaments, Paragon Jousting, parade, Prince John's Plot and join the Merry Men interactive show. For a complete schedule of events: robinhoodsfaire.com/shops-and-crafts/show-information/show-schedule/
The Faire has featured weekends, with activities geared to themes:
May 13, 14 – Pet Weekend– Open up a whole new world for your pet when you attend Robin Hood's Faire "Pet Weekend". Participate in daily contests with your pet to win prizes or just watch shows, shop, and enjoy the day. robinhoodsfaire.com/may-13-14-pet-weekend/
May 20-21 – Fantasy & Fairies Weekend- Anything is possible with fairy magic as visitors from a variety of places and times are pulled from the future and past to Robin Hood's Faire. Come as you are or consider dressing as a fairy or play someone from history or the future. robinhoodsfaire.com/fantasy-fairy-weekend-may-20-21/
May 27, 28, 29 – Bromance & Brew Weekend-What could be better than hanging out with your guy friends, competing against each other in manly contests, and sharing a cold craft brew? Guys will enjoy this weekend and  ladies, Sunday is a vow renewals with Friar Tuck.  robinhoodsfaire.com/bromance-brew-weekend-may-27-28-29/
Robin Hood's Faire runs every Saturday, Sunday, and Memorial Day from May 13-29, 2017 (11 am to 7pm). Tickets to the festival are available at the Faire on all days of the show. All food, drink, and games are cash only.
Location: North Haven Fairgrounds, 300 Washington Ave, North Haven, CT 06473
Dates: May 13 — 29, opened Sat, Sun & Memorial Day
Hours: 11– 7pm
Tel: 860-478-5954
robinhoodsfaire.com
For Regional Accommodations, Restaurants & Attractions: visitnewhaven.com
Every other shop in Bruges, it seems, is a chocolate shop – 50 or so but who's counting?  Bruges, known for its medievalness, has a playful side when it comes to tourist museums, with one for chocolate and another for fries. The chocolate museum started out as a private collection of everything to do with the history and making of chocolate.
You will learn that milk chocolate is 45% sugar, and that when chocolate made its way to Europe by the Spanish explorers, it was a drink with a secret recipe for making it – til the 1800's. The process of conching was invented around then, which made it possible to create hardened chocolate for eating. You can see the cups they drank it in, and they sure were super-sized. Fries with that?
Chips (fries) were  created in the US in 1852 in Saratoga, NY all because of a dissatisfied customer. When he complained to George Crum about his potato, Mr Crum sliced it into little pieces to annoy him. Instead he loved it! French fries were possibly misnamed during WWII when American soldiers, hearing Belgians eating fries and talking French, thought they were French food.
Potatoes around the world are covered too – see if you can find the pink and purple ones. If all this fry talk has gotten you a bit hungry, don't worry, there's a fries shop in the basement where you can have them with the traditional mayonnaise or pickle sauce, mustard or curry ketchup.