Tag Archive
activity
annual
art
artist
Canada
children
city
community
contest
country
craft
display
downtown
drive i-95
Drivei-95
drivei95
entertainment
event
family
festival
Florida
food
free
fun
game
historic
History
house
Island
live
local
Museum
music
national
North Carolina
prize
Restaurant
roadtrip
shop
show
tour
travel
travelblogger
USA
world
Dubbed the "World's Largest Motorcycle Event," Bike Week is a 10-day event filled with high-octane street festivals, concerts, motorcycle races, bike shows, rallies, manufacturer showcases and more.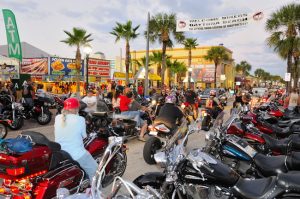 Established more than seven decades ago, nowadays over 500,000 motorcyclists make it an annual pilgrimage. Motorcycle enthusiasts from around the world enjoy spring riding in Daytona Beach along historic Main Street and Beach Streets, Scenic A1A Highway or through the best of old Florida, the Ormond Beach Scenic Loop.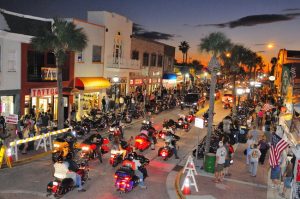 There will be celebrating at Daytona International Speedway, Bruce Rossmeyer's Destination Daytona, the U.S. 1 corridors in Daytona Beach and Ormond Beach, and at Riverfront Park in downtown Daytona Beach.
With so many events taking place, use the calendar below to make sure that you don't miss anything.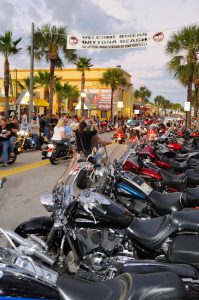 OFFICIAL BIKE WEEK CALENDAR OF EVENTS:
Photo Credits: Daytona Beach Area CVB
Location: Various
Dates: March 9 – 18, 2018
Times: various
Tel: 386-255-0981
officialbikeweek.com
For Regional Accommodations, Restaurants & Attractions: daytonabeach.com
November is peak season for cotton farmers and downtown Dunn was once known as the largest wagon cotton yard in the country. During the festival, the local cotton gin, that until recent years was located in downtown, offers free tours through the gin so that everyone can see cotton production unfolding before them. Shuttles are offered from the festival site to the gin and back every half hour.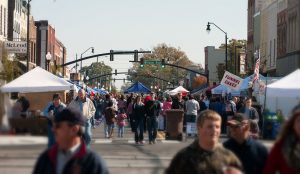 The Festival has two stages for entertainment: featured bands take the Main Stage throughout the day and festival goers also enjoy dancing and karaoke on the second stage. Highlights also include food and craft vendors, Kiddie Land, Petting Zoo and Antique Tractor Show . The event also coincides each year with the Dunn Shriner's Car Show, where over 100 antique and custom cars compete for best in show.
Location: Downtown Dunn , NC 28334
Date: Sat Nov 5, 2016
Time: 10 – 4 pm
Tel: 910-892-3282
nccottonfestival.com
For Regional Accommodations, Restaurants & Attractions:
dunntourism.org
The swooping architecture of the building and jaw-dropping 17 metre-high domed ceiling of Canada Hall are visions you will not easily forget after you have visited the newly named Canadian Museum of History (was Canadian Museum of Civilization), which covers Canadian life from AD 1000 to 2000.
From now until Sept 28, 2014,  you can enjoy the informative exhibit about Snow and the ingenious ways in which  Canadians have adapted to difficult winter conditions, from sleighs to snow removal. You can participate in a fun quiz at the end.
The museum is a playground for all, as the Children's Museum takes the kids on travels around the world – including a passport to stamp in each country. All kinds of imaginative play from driving a bus, motorcycle, ship or camel to running a shop, putting on a puppet show, living in a pyramid, moving heavy boxes using a winch, or booking a trip can all be tried out.


In the main galleries, visitors see a Viking family arriving in Newfoundland around AD 1000,  discover New France through a farmhouse, inn, hospital, shoemaker's shop and visit a voyageur camp, a lumber camp, a Métis campsite, British military living quarters and a Maritime shipyard. There's a stroll past shops  along the main street of a small town in late 19th-century Ontario.
Learn about life in a turn-of-the-century prairie railway station and yard, a Saskatchewan grain elevator, an authentic Ukrainian church, a Chinese hand laundry and a 1920s Alberta oil derrick. You can even sit in Yellowknife's Wildcat Cafe, the town's first restaurant and a popular gathering spot for prospectors, bush pilots, miners and trappers.
If you love animals, leave time for the up close and personal movie, Kenya 3-D about a safari through Africa.
Location: 100 Laurier St., Gatineau, Quebec K1A 0M8
Phone: 819-776-7000 or 800-555-5621
www.civilization.ca