Tag Archive
activity
art
artist
Canada
children
city
community
contest
country
craft
downtown
Drivei-95
drive i-95
drivei95
entertainment
event
family
festival
Florida
food
free
fun
game
historic
History
house
i95
Island
live
local
Museum
music
national
North Carolina
prize
Restaurant
roadtrip
shop
show
street
tour
travel
travelblogger
USA
world
Richmond International Film Festival (RIFF) brings more than 150 international cutting edge films to RVA, plus industry panels, Q&As, live musical performances, red carpet awards, and entertainment mixers that usher the spirit of Hollywood into Virginia's  Bowtie Cinemas, various music venues, and the historic Byrd Theater, a venue touted by USA Today as "one of the top 10 places to still see a movie in splendor in the United States."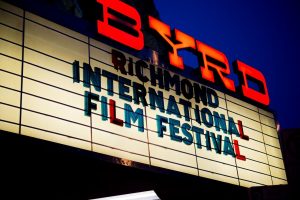 With more than 20 countries represented, the RIFF Official Selection consists of a diverse range of films (features and shorts), music videos, and screenplays across all genres.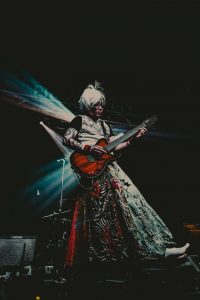 RIFF is known for placing a heavy focus on music each year. The 2018 Festival will again include more than 50 music performances, industry networking events, panels, music business roundtable discussions, industry mixers, and more. On top of providing great entertainment from some of the music industry's hottest talent, RIFF utilizes this area as a platform for filmmakers and musicians to forge new working relationships. Top awards will be given out across a variety of music categories during the annual red carpet awards.
2018 Special guests include: Kate Bosworth, Michael Polish, Danny Glover, Lee Aronsohn, Rene Balcer & Carolyn Hsu-Balcer.
It's a one-of-a-kind festival honoring some of the most singularly entertaining projects on the international film scene.
Location: Various
Date: Mon, Apr 23, 2018 – Sun, Apr 29, 2018
Tel: 804-219-0675
rvafilmfestival.com
For Regional Accommodations, Restaurants & Attractions: visitrichmondva.com
The holiday season would not be complete stepping back into the Victorian era in Fayetteville Christmas tradition. Ever wish for a simpler time, when the pace of life wasn't hectic and families still enjoyed spending evenings together? Roll back the clock with Fayetteville for A Dickens Holiday.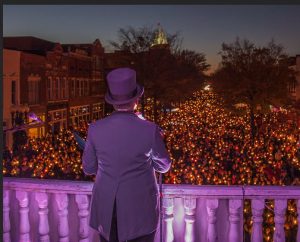 Horse drawn carriages roll up and down Hay Street, carrying shoppers the old fashioned way by merchants, artisans and vendors of all sorts of delightful treats. Joyful children pose with Father Christmas for memory laden pictures. Savor the inviting aroma of cider and gingerbread permeating the chilly air.
Throughout the day, sounds of the season fill the air as carolers and musicians stroll among the crowd. There is Ebenezer Scrooge himself, pursued by the ghost of Jacob Marley. Perhaps you will be greeted by Tiny Tim and his family.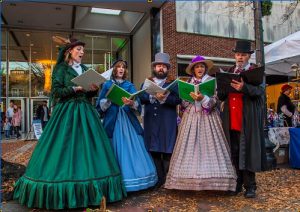 As darkness approaches and the clock reaches 5pm,  join the townspeople for the candlelight procession to the Market House, followed by fireworks. After the fireworks, the festivities continue until 9pm. Enjoy this truly unique experience and create some lasting memories with your loved ones.
Photo Credit: Wick Smith
Location: Historic Downtown Fayetteville, Hay Street – Fayetteville, NC 28301
Date: Fri,  Nov 24, 2017
Time: 1pm – 9pm
Tel: 910-323-1776
theartscouncil.com/dickensmain
For Regional Accommodations, Restaurants & Attractions: visitfayettevillenc.com
Ahoy Mateys! For over 300 years, people of all ages have searched for Captain Kidd's treasure.  Sunday, June 11th, 2017 is Pirates Day in Milford.  Join Captain Kidd and his crew as they sail into Milford Harbor, 'kidnap' Mayor Blake and "take over" downtown Milford.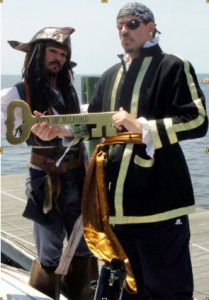 For the 13th annual Cap'n Kidd Treasure Hunt, participants will pick up a downtown treasure map, a strand of pirate beads, and a booty bag at Lisman Landing or by the Gazebo on the Green. Take part in the scavenger hunt by following the clues listed on the map, decipher the clue that matches the stop, and fill up your booty bags with treasures galore at the participating Pirate Stops.  Don't forget to get your map stamped for a chance to win a treasure chest of prizes. Here's a clue…Only the places displaying Pirate Flags will have the loot you seek.
There will be pirate-themed activities for children on the Green by the Gazebo, and  live, local bands for everyone to enjoy. Be sure to keep a look out for more crew members for great photo ops and  join Cap'n Kidd and his motley crew for a spectacular pirate parade.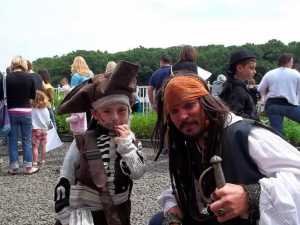 So put on your best pirate garb, learn how to talk like a pirate, and search for Cap'n Kidd's treasure. Matey, don't miss this fun, family-friendly adventure, brimming with special treasures and pirate bustle all day long … or be prepared to walk the Plank!  AAARRRGGGG…
Cap'n Kidd Pirates Day Treasure Hunt:
SUNDAY, JUNE 11th, 2017 Noon to 5:00 PM (subject to change)
Pirates Day

11:30 AM – 1:00 PM Map Distribution Lisman Landing (can also be picked up at the Gazebo – after 1 pm pick up at Gazebo on the Green only)
11:00 AM – 1:00 PM  Tim Payson & Friends
12:00 PM  Cap'n Kidd, Captain Jack, colorful pirates and pirate ship arrive at Harbor/Lisman Landing
12:15 PM   Mayor Benjamin G. Blake greets crowd, kicks off event
12:00 PM –  2:00 PM  Map Distribution continues by the Gazebo on the Green
12:30 – 2:00 PM  Pirate Rock Painting with Rock On Pirate Girls By the Gazebo on the Green  * Proceeds benefit the Get In Touch Foundation
1:00 PM  Milford Volunteers Ancient Fife and Drum Corps – Park by Café Atlantique
1:30 – 2:00 PM  Katie Gillick, musician/composer – Gazebo on the Green
2:30 – 3:00 PM  Pirates Parade on the Green by the Gazebo – everyone invited to join in
2:00 – 3:00 PM  The Elwoods (Classic Rock/Blues) Gazebo on the Green
2:30 – 3:30 PM  Pirate-related Kiddie Activities by the Gazebo on the Green and story-time by Friends of the Milford Library
3:00 – 4:00 PM  The Elwoods (Classic Rock/Blues) Gazebo on the Green
4:00 – 5:00 PM  Drop off completed maps at the DMBA Exhibit by the Gazebo on the Green, for a chance to win a Treasure Chest of prizes (one adult winner & one child winner will be chosen); event closes promptly at 5:00 PM
Location: Lisman Landing or Gazebo on the Green, Downtown Milford, CT 06460
Date: Sun, June 11th, 2017
Hours: noon – 5pm
Tel:  203-745-4946
downtownmilfordct.com/copy-of-wine-trail
For Regional Accommodation, Restaurants & Attractions: milfordct.com
Don't miss the annual Market Square Day, this year celebrating it's 40th anniversary. Created to commemorate the renovation and beautification of downtown Portsmouth – and, in particular, Market Square. Most of Downtown Portsmouth will be vehicle-free and pedestrian-friendly from 9am 'til 5pm, with an estimated crowd of 60,000-80,000 people walking through downtown Portsmouth.
It's an all day street festival with vendors cooking delicious food, artisan booths selling handcrafted jewelry, accessories, art and  pottery by artists, craftspeople and merchants – many from the Seacoast area. Two performance stages feature local and regional musicians, where you can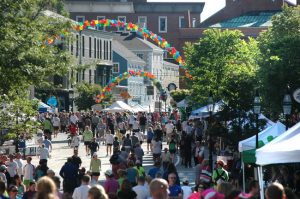 enjoy live bands and other great entertainment.
The day 'kicks off' with the Market Square Day 10K Road Race at 9am. The Start Line is in Market Square – from that point, 2,000 runners and competitive walkers make their way around town finishing at Historic Strawbery Banke.
Take this opportunity to enjoy everything that Portsmouth has to offer.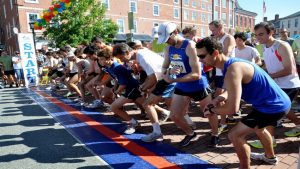 Remote Festival Parking
Pro Portsmouth runs a Free Shuttle Bus Service from 8:00am – 4:30pm on Market Square day.
To Remote Festival Parking – Fox Run Mall:
95 North, Exit 4 – To 4 & 16 – Take Exit 2 and follow the Festival Parking signs to the overflow lot (across lot and Mall Road)
95 South, Exit 5 – To 4 & 16 – Take Exit 2
Free shuttle service (Yellow school buses) transport you to the Festival area –
8:00am – 4:30pm.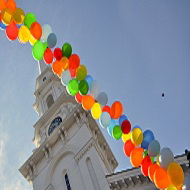 Location: Market Square, Portsmouth, NH 03801
Date: Sat, June 10th, 2017
Hours: 9am – 4pm
Tel: 603-433-4398
proportsmouth.org/MarketSquareDay.cfm
For Regional Accommodations, Restaurants & Attractions: portsmouthchamber.org
What do you get when you assemble authors, scientists, and leading innovators alongside outstanding artists? The International Festival of Arts & Ideas – a 15-day festival of performing arts, lectures; dynamic public programs to captivate, entertain, and motivate a diversity of communities.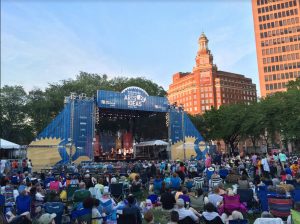 Each June, the Festival takes over the theaters, open spaces, and courtyards of New Haven, Connecticut with performances and dialogues that tickle the senses, engage the mind, and inspire the soul. More than 80% of festival programs are completely free to the public, including events that feature some of the most influential jazz, classical, dance, and theater artists of our time.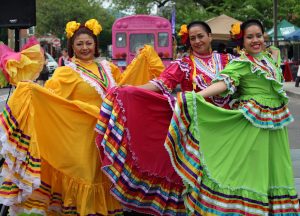 This year will feature an array of world-premiere theater performances, internationally renowned musicians, modern dance, circus theater, weighty discussions on contemporary issues, food and bicycle tours. Be empowered through the rhythms of BLACK GIRL: Linguistic Play, healed through the communal music of (Be)longing, and surprised by international premieres from China, cutting-edge, retro-tech experiences of Manual Cinema, and LEO's gravity defying theatrics.  In addition, more than a dozen new performances and experiences in ALTAR'd Spaces surrounding the New Haven Green, the Big Read, The Wailers and Rusted Root… the line up is bounteous!
Photo Credits:New Haven Green – Judy Sirota, Pop Up Fair – Haven Anderson
Location: Town Green and various venues throughout the city
Downtown New Haven, CT 06510
Dates: June 3- 24, 2017
Hours: Various
Tel: 203-498-1212
artidea.org/festival
For Regional Accommodations, Restaurants & Attractions: visitnewhaven.com