Tag Archive
activity
art
artist
Austria
Canada
children
city
CostSaver
display
Drivei-95
drive i-95
entertainment
Europe
event
exhibit
family
festival
Florida
food
France
free
fun
historic
History
landmark
live
local
London
Museum
music
performance
Restaurant
roadtrip
shop
show
sights
sightseeing
tour
tourist
Trafalgar
travel
travelblogger
USA
view
world

If you love to read, then this event is definitely for you. Want to meet authors and learn of the inspiration for their works? Book 'Em North Carolina is national event that brings together brings together more than 75 authors, publishers, literary agents and publicists under one roof for one common cause; to promote literacy.

Book 'Em NC Writers Conference and Book Fair is open to readers of all ages. There are book readings and events scheduled for children from pre-school to teens, panel discussions and talks for writers trying to break into the field and  lectures and events for readers of various genres, including mysteries, romance, true adventure, historical, biographical, …
Authors will sell and sign their books, participate in panel discussions and talks, network and interact with fans one-on-one. Headlining authors include: poet LeJuane Bowen and fictional author Jill McCorkle.
A series of talks occur between 10 – 3 pm and include:
Writers Conference – for aspiring or published authors of all ages and levels
The Children's Corner – readings for younger children, arts and crafts and special activities
Panel Discussions and Talks – for readers of various fiction and nonfiction genres, including autobiographical, biographical, historical, mystery/suspense, romance, fantasy, paranormal, science fiction, horror, true crime and others
Each talk begins on the hour and feel free to attend one or all of the talks throughout the day.
The purpose of The Book 'Em Foundation and this event is to raise public awareness of the link between high crime rates and high illiteracy rates. The Book 'Em Foundation was co-founded by suspense author P.M. Terrell. Proceeds from the Book 'Em North Carolina book fair will go directly to increasing literacy in Robeson County, North Carolina and to reducing crime in the area.
 This event is FREE and open to the public.
Location: Robeson Community College, 5160 Fayetteville Rd, Lumberton, NC
Date: Sat, Sept 23, 2017
Time: 9:30 – 4pm
Tel: 910-272-3362
bookemnc.org
For Regional Accommodations. Restaurants & Attractions: lumberton-nc.com
 Four centuries of dollhouses are on display in Concord at The Art & Mystery of the Dollhouse exhibit featuring many of the finest representations in both public and private collections. Admirers young and old will appreciate the chance to step into that intriguing miniature universe at the new presentation at the Concord Museum, on view until Jan. 15.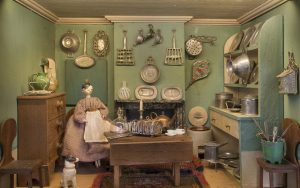 Explore tiny worlds that capture life's detail and the imagination through dollhouses and miniatures from the 17th through early 20th centuries show the evolution of dollhouses from treasures for wealthy adults to colorful playthings for children. This captivating exhibition explores the tiny worlds that capture life's detail and stimulate the imagination.
Highlights include an extremely rare dollhouse from 1695, and an array of 19th- and 20th-century doll homes from The Strong National Museum of Play,  View "room dollhouses" that celebrate interior design history and play with a hands-on Hape dollhouse. There is even a celebrity doll in attendance — Melissa Shakespeare, the doll of children's author and illustrator Tasha Tudor.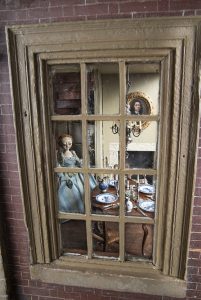 The Concord Museum will be hosting an array of special programs throughout the exhibition months includes a hands-on room box building workshop, story times with dollhouse-inspired crafts and gallery talks led by specialists in the world of miniatures.
Location: Concord Museum, 200 Lexington Road, Concord, MA 01742
Dates: Until  January 15, 2017
Hours: til December Mon–Sat, 9–5pm; Sun., 12–5pm
January Mon–Sat 11–4pm, Sun. 1–4pm                         Tel: 978-369-9763
concordmuseum.org/art-and-mystery-of-the- dollhouse.php
For Regional Accommodations, Restaurants & Attractions:
concordchamberofcommerce.org/visitor-information
Photo Credit: Photos by Gavin Ashworth
picture 1 – Camden House; England, dated 1838; Private Collection: This house includes all its original furnishings, including a copy of T. Goode's miniature edition of The History of England (1837). Camden, now part of London proper, was in 1838 a suburb with housing developed for working people. The Cratchet family of Charles Dickens' Christmas Carol (1843) lived in Camden. The house first came to America in 1964.
picture 2 -Georgian House; England, 1720-1730; Private Collection: This oak dollhouse on stand is in the form of an early Georgian country house. When it was owned by pioneering dollhouse collector Vivien Greene, the house included a clockwork (wind-up) ghost. The ghost intrigued the young Prince Charles when he saw the house in the first (1955) major exhibition on the subject of early dollhouses.
The Prince William 5k Turkey Trot and 1 Mile Fun Run is a family friendly and festive celebration of Thanksgiving Day.  The race theme  being: "Trot, Eat, Sleep!" These high energy amusing races highlight Prince William County as a healthy, fun, and active community.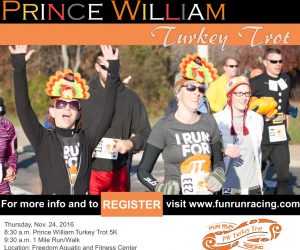 Participants are encouraged to wear their best Thanksgiving themed gear: Pilgrim, Pocahontas, Turkey, Pie, Native American and Colonial. This event will be full of festivities and most importantly tons of fun including music, best costume awards, and a chance to win a Golden Ticket: All runners receive a FRR finish line envelope, the random Golden Ticket awards – "Willy Wonka" style–  featuring a mystery gift.
Top 5 men and women receive Running Store Gift Cards – $100/$75/$50/$25/$25.
100 pumpkin pie Duck Donuts are randomly given to 100 lucky race finishers.
1 Mile Fun Run/Walk: The one mile fun run-walk is a low key non-timed event. The 1 mile race is geared toward the youth, however, runners of all ages and abilities are welcome and beginners are encourage to attend.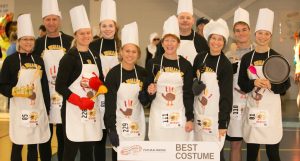 Stay Warm! The Freedom Aquatic & Fitness Center has graciously opened its facility so participants and spectators can stay 'warm' both pre and post-race. A DJ will play music from 8:00-10:30.
Location: Freedom Aquatics & Fitness Center, 9100 Freedom Center Blvd., Manassas, VA 20110
Date: Sat,  Nov 26, 2016
Time: 8:30 a.m. Prince William Turkey Trot 5K , 9:30 a.m. 1 Mile Run/Walk
funrunracing.com/the-pw-5k-turkey-trot
For Regional Accommodations, Restaurants & Attractions: discoverpwm.com