Tag Archive
activity
art
artist
Canada
children
city
community
contest
country
craft
display
downtown
drive i-95
Drivei-95
drivei95
entertainment
event
family
festival
Florida
food
free
fun
game
historic
History
house
Island
live
local
Museum
music
national
North Carolina
performance
prize
Restaurant
roadtrip
shop
show
tour
travel
travelblogger
USA
world
Dinosaur Revolution is a traveling exhibition staged  at the Delaware Museum of Natural History. This is a creative learning experience within a maze setting. The interactive maze is mentally and physically engaging and offers a fun and hands-on way to explore the fascinating prehistoric world of dinosaurs.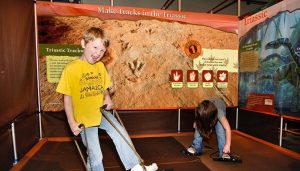 Uncover the facts, fictions, and fossils of Dinosaur Revolution as visitors can experience reptilian role-play activities by LIVING LARGE. Undertake three Mesozoic Missions spanning 150 million years that dinosaurs ruled the Earth and mimic dinosaur behavior; become a junior paleontologist and find evidence of dinosaur doings while learning why dinosaurs are one of the most successful survivors in earth's history; and unearth a shocking discovery: dinosaurs may not be extinct!
Dinosaur Revolution blends learning and play, inviting visitors to investigate all things dinosaur while challenging your knowledge, presenting new discoveries, and debunking popular myths.
Location: Delaware Museum of Natural History, 4840 Kennett Pike, Wilmington, DE 19807
Dates: until – May 29, 2017
Hours: Mon – Sat: 9:30 – 4:30pm, Sun: Noon – 4:30pm
Tel: 302-658-9111
delmnh.org/event/dinosaur-revolution
For Regional Accommodations, Restaurants & Attractions: visitwilmingtonde.com
Walking through the streets of Prague, you will come across the Astronomical Clock. Each hour, the wooden figures of apostles appear in the windows and some of the sculptures move. When the apostles finish their story, the golden rooster crows and shakes its wings, the bell rings and the clock chimes the hour.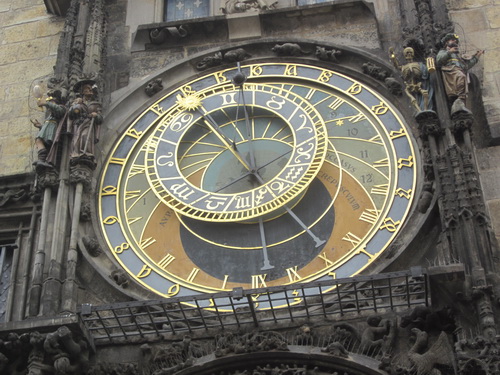 An urban myth which went on for centuries was that when the Prague Councillors found out that the 15th century clock maker Hanus (Jan of Ruze) was going to make another clock, they became jealous and blinded him. However in 1961, the real artist was discovered in an old document which described the astronomical dial and says it was made by Mikulas of Kadan in 1410.
In Prague we learned about Wenceslas I, or Svatý Václav in Czech, who was the duke of Bohemia from 921 until his assassination in 935, purportedly in a plot by his own brother, Boleslav the Cruel.
In the optional excursion of Medieval Prague, you get to see the Gothic St. Vitus Cathedral, the biggest and most important church in the Czech Republic. It's located in Prague Castle and contains the tombs of many Bohemian kings and Holy Roman Emperors as well as the St. Wenceslas Chapel.
Due to the popularity of some books which elevated Wenceslas I to a place of heroic goodness and resulted in his being elevated to sainthood, was posthumously declared king, and then became the patron saint of the Czech state. He is that one and only "Good King Wenceslas" of the popular song which is a Saint Stephen's Day carol written in 1853. over 900 years after he lived.
His death in September 935 (or perhaps 929) was committed by a group of nobles allied with Wenceslas' younger brother Boleslav. Boleslav invited Wenceslas to a feast, they quarreled, and 3 of his buddies murdered Wenceslas on his way to church. Boleslav thus succeeded him as the Duke of Bohemia.
Since 2000, the feast day of Saint Wenceslas (September 28) is a public holiday in the Czech Republic, celebrated as Czech Statehood Day.
On the Cosmos optional excursion, one is wowed by the grandeur of the St. Wenceslas Chapel in St. Vitus Cathedral where his relics are kept. The room, built between 1344 and 1364, has walls encrusted with over 1,300 semi-precious stones and paintings about the Passion of Christ. The upper part of the walls have paintings about the life of St Wenceslas, and in the middle is a Gothic statue of him.
There is a small door with seven locks in the chapel, which leads to the Crown Chamber containing the Czech Crown Jewels, which are displayed to the public only once every (circa) eight years. Seven different people have seven keys.