Tag Archive
activity
art
artist
Canada
children
city
community
contest
country
craft
display
downtown
drive i-95
Drivei-95
drivei95
entertainment
event
family
festival
Florida
food
free
fun
game
historic
History
house
Island
live
local
Museum
music
national
North Carolina
performance
prize
Restaurant
roadtrip
shop
show
tour
travel
travelblogger
USA
world
Grab your spoons and mark your calendars for Scooper Bowl – all-you-can-eat Ice Cream Festival.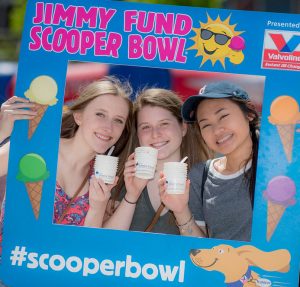 Celebrating its 36th year in 2018, the Scooper Bowl is now a three-day event that dishes out 20 tons of the summer's finest ice cream to more than 40,000 ice cream lovers from across the nation. Enjoy a lot of great entertainment and fun activities at this country's largest all-you-can-eat ice cream festival.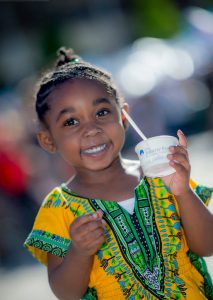 What is most impressive about the ice cream festival is that all ice cream companies donate all the ice cream, labor, scoopers, and products needed to make the event happen each year. Though they are competitors for 51 weeks of the year, during the first week of June they come together to create an event that is now known as the "unofficial start of summer" in New England.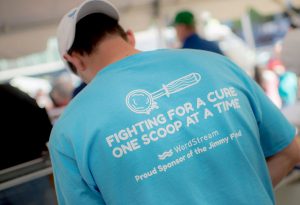 Made possible by the generous contributions of the industry's largest ice cream companies, the Scooper Bowl has raised more than $6.3 million in the past 35 years for cancer research and patient care at the world-renowned Dana-Farber Cancer Institute.
Get Your Tickets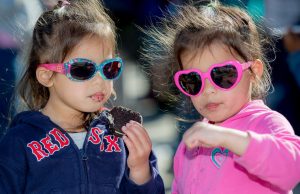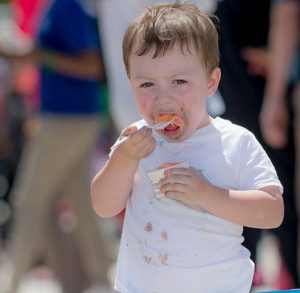 *Pricing will increase at the door – Kids under 3 are free
Whether you're a visitor to the area or professional ice-cream-eater, you play a huge part their our mission to conquer cancer.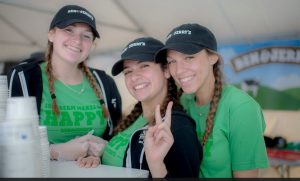 Ice Cream Flavors
Baskin-Robbins
Boston Cream Pie
Cannoli Be With You
OREO® 'n Caramel
Triple Grape Ice
Beckon Ice Cream (formerly Minus the Moo) – Thursday only, lactose-free
Vanilla
Chocolate
Espresso
Sea Salt Chocolate Chip
Mint Chip
Chocolate Candy Crunch
Strawberries & Sweet Cream
Black Raspberry
Confetti
Ben & Jerry's
Gimme Smore™
Caramel Almond Brittle non-dairy
AmeriCone Dream®
Chocolate Shake It™
Breyers
Nautral Vanilla
Oreo® Cookies & Cream
Mint Chip
Edy's
Birthday Cake
Dulce
Rainbow Sherbet
Friendly's
Triple Caramel Peanut Heaven
Hunka Chunka PB Fudge®
Rockin' Poppin'™ Cotton Candy
Cookies 'N Cream
Black Raspberry
Haagen-Dazs
Chocolate Salted Fudge Truffle Non-Dairy
Hood
Hood® New England Creamery Limited Edition Chocolate Churro
Hood® New England Creamery Limited Edition Purple Panda
Hood® Coffee Cookies 'n Cream
Hood® Chocolate Chip Cookie Dough
Lactaid – lactose-free
Lactaid® Cookies 'n Cream
Lactaid® Mint Chocolate Chip
Lactaid® Mocha Almond Chip
Lactaid® Salted Caramel
Rosev Dairy Foods
Coconut
Rum Raisin
Purple Cow
Twisted Sea Turtle
Vice Cream
Afternoon Delight
Bourbon Mash
L'Orange A Trois
Minted
Higher Grounds
Yasso

Stick Bars:

Pistachio Brittle
Fudge Brownie
Coconut Caramel
Chocolate Chip
Chocolate Peanut Butter Chip
Scoops:

Party Animal  Mint Championchip
Rolling in the Dough
Caramel Pretzelmania
Coffee Brownie Break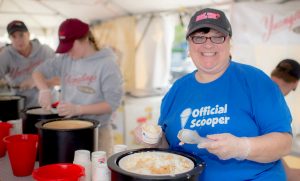 Location: City Hall Plaza, 1 City Hall Square, Boston, MA 02201
Date: June 5 – 7, 2018
Time: Noon – 8pm
scooperbowl.org
For Regional Accommodations, Restaurants & Attractions: bostonusa.com
The National Cherry Blossom Festival is one the nation's most cheerful springtime celebration. The 2018 Festival, March 20 – April 15, includes four weeks of events featuring diverse and creative programming promoting traditional and contemporary arts and culture, natural beauty, and community spirit.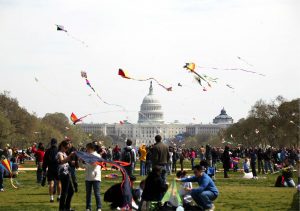 The National Cherry Blossom Festival is kicking off kite season. Held on the grounds of the Washington Monument near 17th Street and Constitution Avenue NW in Washington, DC, the Blossom Kite Festival is family-friendly, free and open to the public.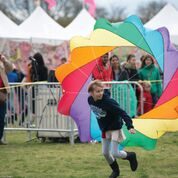 The seventh annual Blossom Kite Festival showcases the creativity of kite makers and skill of fliers from across the US and other countries through a variety of competitions and demonstrations, Rokkaku Battles and the Hot Tricks Showdown. Bring your own kites or children can make a kite at an activity station (while supplies last) to fly on the Public Field. Kites will also be available for purchase onsite.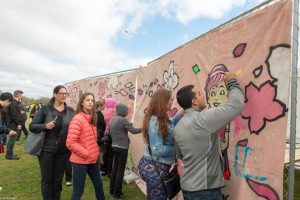 Photo Credit: National Cherry Blossom Festival
2018 Activity Schedule:
Competition and Demonstration Field
Kick-Off Parade…………………………….…………………………..10:00 AM
Kite Ballets & Demos…………………………………………….10:30 AM – 11:00 AM
Adult Kite Makers Competition……………………………….11:00 AM – 12:00 PM
Wind Jammers and Wings Over Washington…………….12:00 – 12:30 PM
Demonstrations…………………………………………………….……12:30 – 1:30 PM
Hot Tricks Showdown…………………………………………….1:30 – 2:30 PM
Rokkaku Battle………………………………………………………2:45 – 3:30 PM
Wind Jammers and Wings Over Washington………………3:30 – 4:00 PM
Kite Arch and Awards……………………………………………..4:00 – 4:30 PM
Family Field
Practice Fly for Youth Kite Makers……………………………10:30 – 11:00 A
Youth Kite Makers Competition……………………………….11:00 AM – 12:00 PM
Youth Kite Makers Awards………………………………………12:00 – 12:30 PM
Blossom Build-off Competition………………………………..12:30 – 1:45 PMBol Races………………………………………………………………2:00 – 4:30 PM
Location: Grounds of the Washington Monument, near 17th St NW and Constitution Ave., Washington, DC 20006
Date: Sat., March 31st, 2018 (Rain Date: Sun., April 1st, 2018)
Time: 10 AM – 4:30 PM
Tel: 877-442-5666
nationalcherryblossomfestival.org
Join Savannah Scavenger Hunt author, Chris Sergi, to discover the wonders of the nation's largest National Historic Landmark District.
Sergi pulls together little-known facts, visual treats, and enticing tidbits of history in this scavenger hunt designed for all ages to enjoy.
From underground tunnels used by pirates for treasure transport to mausoleums and stained glass windows, the city abounds with secrets and trivia for all to discover.
Great family fun. Tickets must be purchased in advance. For Tickets: Add to cart
Location: Savannah Tour of Homes & Gardens, 123 East Broughton St, Savannah 31401
Date: Sat, Mar 24, 2018
Time: 12:30 – 2pm
Tel: 912- 234-8054
savannahtourofhomes.org
For Regional Accommodations, Restaurants & Attractions: visitsavannah.com
Brunswick Rockin' Stewbilee takes place annually at Mary Ross Waterfront Park, recognizing Brunswick, Georgia as the birthplace of the original Brunswick Stew. As the oft-told tale goes, a slave cook named Jimmy Matthews created the concoction in 1828. Nearly two centuries later, the original meat – squirrel – is out and, today, chicken, is in.

Each year, cooking teams from near and far compete to see who has the best stew, in a cook-off where the culinary skills and secret recipes are challenged by amateur and professional chefs, vying for the coveted Peoples' Choice and Judges' Award.
In addition to stew tasting there will be loads of other fun family activities. The day long event begins with the 5k Road Race followed by the Pet Supplies Plus Pooch Parade, Live Entertainment, The Kid's Junior Stewbilee Central Fun Zone, Classic and Antique Car Show, Arts & Crafts displays and of course, sampling of the Best Brunswick Stew in the nation.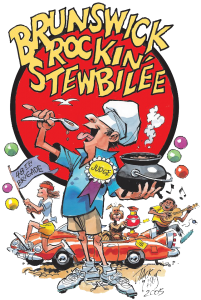 Schedule:
9am – Motor Cycle Ride
10am – Live Music – Pier Pressure
10:15am – Pooch Parade
12:15pm – Live Music – 3 Day Weekend
11am – 2pm – Brunswick Rockin' Stew Tasting
Location: Mary Ross Waterfront Park, Bay & Gloucester Street, Brunswick, GA 31520
Date: Sat, Jan 27th, 2018
Time: 9am – 2pm
Tel:  912-996-4593
stewbilee.com
For Regional Accommodations, Restaurants & Attractions: goldenisles.com
on't miss the 10th Anniversary Military Bowl presented by Northrop Grumman Corporation, benefiting the USO of Metropolitan Washington-Baltimore (USO-Metro), a military support organization. Kick off is on Thursday, Dec. 28 at 1:30 pm at Navy-Marine Corps Memorial Stadium in Annapolis matching a team from the Atlantic Coast Conference (ACC) against an opponent from the American Athletic Conference (AAC) and will be televised nationally on ESPN.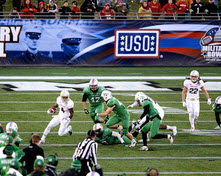 The game day festivities kicks off  at 9:30 am with one of Annapolis' newest traditions: the Military Bowl Parade, featuring The world-famous Budweiser Clydesdales.  They will lead the parade procession – along with Medal of Honor recipients, mascots, and team bands – from City Dock in downtown Annapolis to the Navy-Marine Corps Memorial Stadium as part of the many special events throughout the day.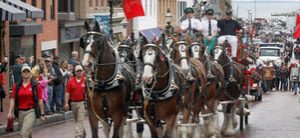 The Official Military Bowl Tailgate kicks off in the Blue Lot on the west side of Navy-Marine Corps Memorial Stadium. Admission to the tailgate is free and will feature music, games, food & beverages from fantastic Annapolis restaurants, and exciting giveaways for the first arrivals. In addition, there's also the 3rd Annual Bud & Burger Battle (held from 10:30 am-12:30 pm) where you can sample some of Annapolis' favorite burgers before voting for your favorite.
Fan Bowl Week in Annapolis:
Wednesday, December 27
Thursday, December 28
For more than 70 years, the USO (United Service Organizations) has been the way for the American people to say thank you to our nation's service men and women and their families.
To purchase tickets: militarybowl.org/tickets/#!
Location: U.S. Navy-Marine Corps Memorial Stadium, 550 Taylor Avenue, Annapolis
Date: Thurs, December 28, 2017
Time: Kick off 1:30 (doors open at 12:00)
Tel: 202-776-2919
militarybowl.org
For Regional Accommodations, Restaurants & Attractions: visitannapolis.org
Explore the decadent delights of the nation's oldest city on this indulgent tour of St. Augustine's finest chocolate creations. The VIP 'ALL THINGS CHOCOLATE' Tasting Tour is an especially delectable way to learn more about St. Augustine's historic district, where you will get to experience the most unique chocolate selections that St Augustine has to offer.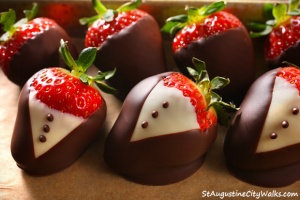 Aside from the sheer decadence, you'll discover how chocolate played a pivotal role in influencing the history and culture of the New World, while seeing unique points of interest along the way. Imagine taking in the delicious antiquity of the old city while indulging in one of man-kinds most beloved ancient tasting treasures along the way.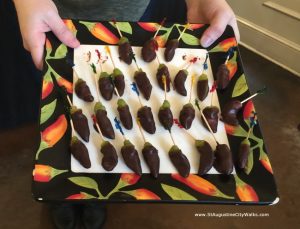 This 2+ hour tour departs from Tour St. Augustine Inc., located downtown at 4 Granada Street, on select weekend dates. Tour departs at 1 pm (check in 15 mins prior) and advance reservations are required. Visit here to book a tour.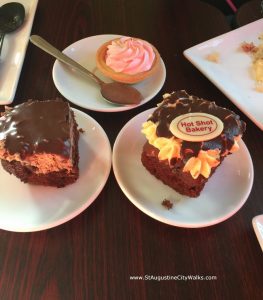 Location: The tour departs from Tour St. Augustine, 4 Granada Street, St. Augustine, FL 32084
Date and Time: The first Saturday of the month in 2017 at 1:00 pm (Aug 5, Sept 2, Oct 7, Nov 4, Dec2)
Tel: 904-825-0087
staugcitywalks.com
For Regional Accommodations, Restaurants & Attractions: floridashistoriccoast.com
Celebrate our nation's independence with Savannah Riverboat Cruises' special Fireworks Cruise on Tuesday, July 4, 2017. Relax and enjoy the sights and sounds of a city founded in 1733.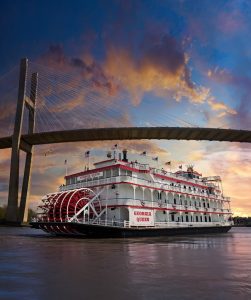 During the one-and-a-half hour cruise, guests can dance to the music of the riverboat DJ spinning their favorite tunes and see a spectacular waterfront fireworks display. Each riverboat has two climate-controlled decks for comfort and an outdoor deck for viewing. A cash bar and snack bar will be available during the cruise.
Boarding starts at 8:30pm, sailing begins at 9 pm and the riverboat returns at 10:30 p.m. For more information about the Fourth of July Fireworks Cruise, call the Savannah Riverboat Cruises at (912) 232-6404 or click here to visit their website.
Location: Savannah Riverboat Cruises, 9 East River Street, Savannah, GA 31412
Date: Tues, July 4, 2017
Hours: 9pm -10:30pm (Boarding at 8:30pm)
Tel:  912-232-6404      
savannahriverboat.com
For Regional Accommodations, Restaurants & Attractions: savannah.com
If you are heading out to Ottawa to enjoy our nation's capitol, leave some time to explore the Canadian Museum of Nature. It's the perfect place for all ages of the family to enjoy themselves. The brainy kids (or adults) can soak up extensive details about nature while the playful gang can pull levers or turn knobs in a deep sea sub,
learn on many touch screens, or even dance around in front of  the endothermy camera checking out their colorful "hotspots".
Everyone is awed by the the 19.8-metre blue whale skeleton in the Water Gallery but keeping going further in. All the way in the back are many interactive games for young and old alike: make believe areas for the wee ones, a board game along a wall,  animal jigsaw puzzles on touch screens, word games, etc.  
Gawk at the dinosaur fossils or walk amongst the fleshed-out dinosaur creatures for photo ops with kids. In the Vale Earth Gallery swoon over the 1200 gorgeous minerals, rocks and meteorites. Our 5 1/2-year-old couldn't get enough of the joystick which controls a huge earth or the button to start the volcano.
Sure there's a full size mammal gallery but the 11, 8 and 5 1/2 year-olds all stayed longer in the small Nature Live space where they oogled the cases of walking stick bugs in different camouflage colors and thicknesses. How many of you have come face to face with a tarantula? Then they listened intently as a docent showed fossils which were indigenous to Ottawa.
If you have time there are two 3D movies, "Prehistoric Planet 3D and Micro-Monsters 3D" (both too scary for the 5 1/2 -year old) but our gang liked the interactive museum more.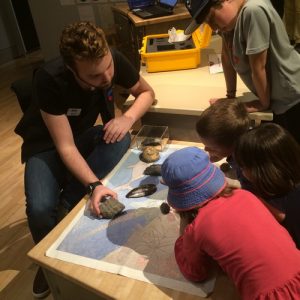 The famous Bird Gallery, with  one of the most extensive collections of Canadian birds in the world re-opened June 1. A special exhibit on now is Ultimate Dinosaurs June 11-September 5 and then upcoming is Reptiles: The Beautiful and the Deadly, October 6-April 2 .
A brand new Arctic Gallery will be unveiled on June 23 which is set to explain how the arctic is changing, including plants, animals and people of the area plus scientific research. Outside, three new ecozones will be shown off on June 17 including a woolly mammoths and an "iceberg".
I'd like to give a thumbs up to the friendly security guards who answered questions informatively and helped to point out nearby bathrooms and water fountains.
Canadian Museum of Nature, a Beaux Arts building, was our first national museum, completed in 1912. Trivia buffs should note that this building  served as home to Canada's House of Commons and Senate following the fire that destroyed the Centre Block of Parliament in 1916.
Location: 240 McLeod St., Ottawa
Phone: 613-364-4021
www.nature.ca