Tag Archive
activity
annual
art
artist
Canada
children
city
community
contest
craft
downtown
Drivei-95
drive i-95
drivei95
entertainment
event
family
festival
Florida
food
free
fun
game
historic
History
house
i95
Island
live
local
Museum
music
national
North Carolina
prize
Restaurant
roadtrip
shop
show
street
tour
travel
travelblogger
USA
world
It is no coincidence that this unique event is being held in Fayetteville, close to Fort Bragg, one of the largest military bases in the free world.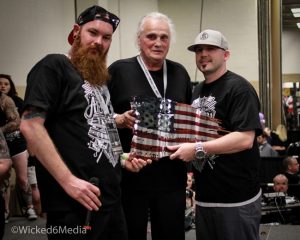 The goal of the All American Tattoo Convention is to give some of the best tattoo artists in the world the opportunity to showcase their talents to some of the bravest heroes in the world, all while raising money to assist soldiers with PTSD, and other combat related injuries, veterans and families of soldiers.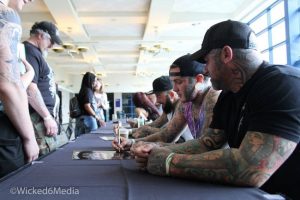 Tattoos and the US armed forces have a history dating back as far as the early 1900's. There are countless inked active duty and war veterans. Tattoos and body art can tell a story that words fail to provide, giving these veterans an outlet to express themselves and show the pride in being a part of something bigger than themselves.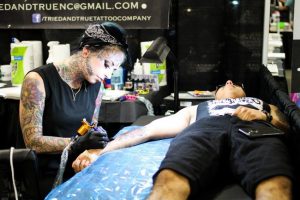 Just a few of the many special events being planned include: Tattoo Contest, All Veteran Parachute Team, Air Born Aerial Performers and Fitness, Emcee Johnny "Awesome" Ivey, Ms. All American Pin-Up Contest and Fayetteville Roller Derby Rogue Rollergirls.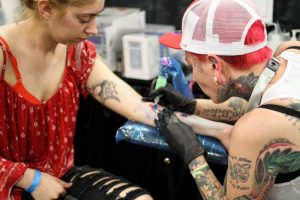 Refer to the website for all artist, vendor and event information.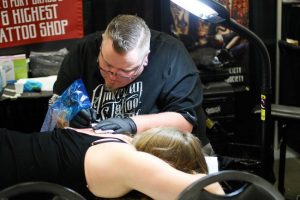 This is just not a Military event, everyone is invited so go out and support our troops while  experiencing all that this three-day convention has to offer. To buy- Tickets
Location: The Crown Complex Expo Center, 131 E. Mountain Dr., Fayetteville, NC 28306
Dates:  April 13-15th, 2018
Times: Fri, Apr 13th, 2pm – 11pm, Sat, Apr 14th, 12pm – 11pm, Sun, Apr 15th, 12pm -8pm
Tel: 910- 850-2566
allamericantattooconvention.com
For Regional Accommodations, Restaurants & Attractions: visitfayettevillenc.com
Rumba on the Lumber 2018, a festival of food, movement, music and the arts, consisting of two days of events in historic downtown Lumberton with over 4000 people in  attendance.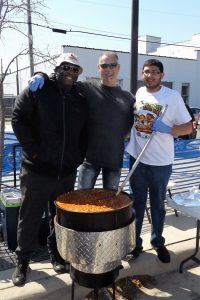 Many wonderful annual events will once again be front and center, including: The Rumba on the Lumber Festival with live music, vendors, Rumba Cross fit Games Exhibition, and the Lumbee River EMC Free Kidzone, 5K, 10K, fun run/walk, 100K ride, 20-Mile adventure ride,  Chili Cookoff and a bicycle rodeo.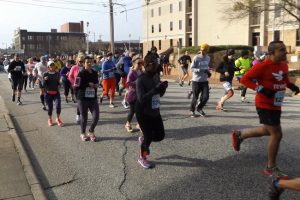 Many festival-goers agree, it's all about the chili. More than two dozen teams bring their most coveted recipes. Teams prepare a minimum of 10 gallons of chili and dole out free samples of their creations. The teams will be competing for prizes including the best tasting, Spiciest Chili, Strangest ingredient and Best chili cooking outfits. Don't miss the fun!
Saturday- Downtown Plaza/ 3rd Street:
Francophiles and Lafayette enthusiasts, this concert is for you.  On Jan. 11, the Fayetteville Symphony will explore the area's heritage with the concert "The French Connection." The first chamber concert of the season at St. John's Episcopal Church will feature the Fayetteville Symphony String Quartet as they perform Ravel's String Quartet, a piece that is a cornerstone composition of French Impressionism.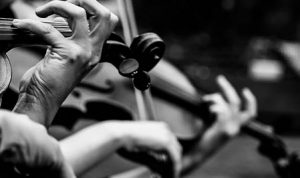 Founded in 1956, the Fayetteville Symphony Orchestra holds the distinction of being the oldest continuously-funded community orchestra in North Carolina. Fifty-one years later, their mission remains: To Educate. To Entertain. To Inspire.
Location: St. John's Episcopal Church, 302 Green Street, Fayetteville, NC 28301
Date: Thurs, Jan 11, 2018
Time: 7:30 – 9:30 pm
Tel: 910-433-4690
www.fayettevillesymphony.org/2017-2018-concerts
For Regional Accommodations, Restaurants & Attractions: visitfayettevillenc.com
The holiday season would not be complete stepping back into the Victorian era in Fayetteville Christmas tradition. Ever wish for a simpler time, when the pace of life wasn't hectic and families still enjoyed spending evenings together? Roll back the clock with Fayetteville for A Dickens Holiday.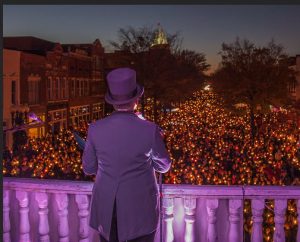 Horse drawn carriages roll up and down Hay Street, carrying shoppers the old fashioned way by merchants, artisans and vendors of all sorts of delightful treats. Joyful children pose with Father Christmas for memory laden pictures. Savor the inviting aroma of cider and gingerbread permeating the chilly air.
Throughout the day, sounds of the season fill the air as carolers and musicians stroll among the crowd. There is Ebenezer Scrooge himself, pursued by the ghost of Jacob Marley. Perhaps you will be greeted by Tiny Tim and his family.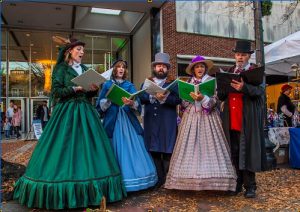 As darkness approaches and the clock reaches 5pm,  join the townspeople for the candlelight procession to the Market House, followed by fireworks. After the fireworks, the festivities continue until 9pm. Enjoy this truly unique experience and create some lasting memories with your loved ones.
Photo Credit: Wick Smith
Location: Historic Downtown Fayetteville, Hay Street – Fayetteville, NC 28301
Date: Fri,  Nov 24, 2017
Time: 1pm – 9pm
Tel: 910-323-1776
theartscouncil.com/dickensmain
For Regional Accommodations, Restaurants & Attractions: visitfayettevillenc.com
Wilson, NC Exit 121: The North Carolina Whirligig Festival is a 2-day hometown annual arts and crafts festival features arts of the region, including the giant Whirligigs created by late local artist, Vollis Simpson. Like the whimsical outsider art, the Wilson Whirligig Festival,  in Historic Downtown Wilson, is a community celebration of people and art in motion.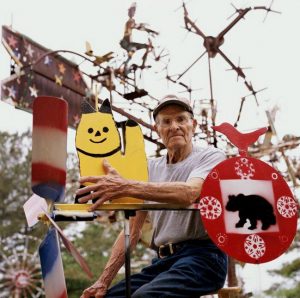 The Vollis Simpson Whirligig Park is hosting their Grand Opening the Thursday before the festival weekend, Nov. 2nd starting at 4 pm.
With Over 200+ vendors, 3 stages of live entertainment, a showcase of local and interactive art,  delicious food, beer gardens, Non-Profit organizations, free Whirli-Kidz Zone, Special events, 5K Whirli-Run, Whirli-Kidz Stage & Choir, Cup Cake Challenge, Photo Contest. New this year is a Ninja Whirligig Warrior Zone where you can meet local American Ninja Warriors, watch them compete and get a chance to test out the course yourself.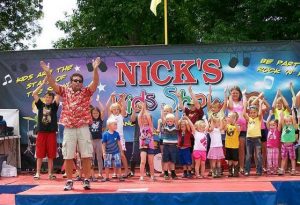 The ever popular cake dive is back, Sun @4pm: witness the festival's messiest event, a "dive" into a large 10 ft x 10 ft anniversary cake for a variety of prizes.
Touch-A-Truck is a fun event for the whole family, allowing children three + an all access pass to explore, climb and touch city of Wilson trucks and emergency response vehicles. Kids can sit in vehicles, honk the horn and talk with the equipment operators. Horn free hours will be offered throughout the day for kids with noise sensitivity.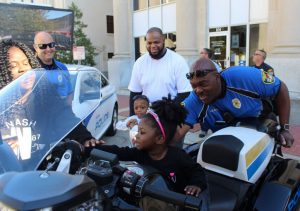 Douglas Street will transform into a space to build, create, and envision. With Brick Scholars, Greenlight, and Imagination Station Science & History Museum. Kids five + will be able to make Lego creations, even a whirligig! Showcase your creation with the onsite photo booth.
It's a colorful 2-day celebration that sparks creativity in the people of Wilson, so get inspired and take part in the community's largest celebration. (rain or shine)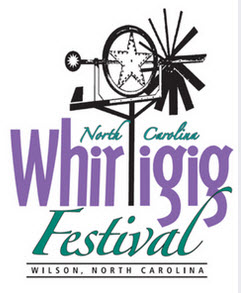 Location: Historic Downtown Wilson,NC 27893
Dates: Nov 4 – 5, 2017
Times:  Sat, Nov 4 -10 am – 5 pm , Sun, Nov 5  noon – 5 pm
Tel: 252-289-9650
whirligigfestivalnc.org
For Regional Accommodations, Restaurants & Attractions: wilson-nc.com
The 19th annual North Carolina Cotton Festival  takes place in Downtown Dunn on November 4, 2017. This family-fun event draws more than 10,000 people each year and is a celebration of the farmer and in particular the cotton farmer and their contributions as well as the cotton farming and harvesting heritage that plays an important role in the Dunn area.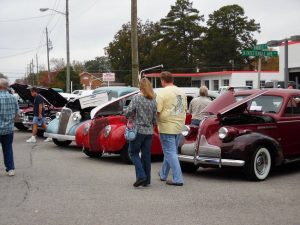 November is peak season for cotton farmers and downtown Dunn was once known as the largest wagon cotton yard in the country. During the festival, the local cotton gin, that until recent years was located in downtown, offers free tours through the gin, allowing you to see cotton production up close and personal. Shuttles are offered from the festival site to the gin every half hour.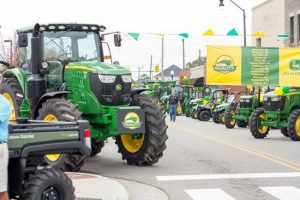 The event covers over 16 city blocks and offers entertainment on 2 stage featuring a variety of music, carnival rides and games, a classic car show -where over 100 antique and custom cars compete for best in show, petting zoo, Kiddie Land, Antique Tractor Show, over 125 vendors showcasing commodities like cotton, needle work, fabric, food and crafts.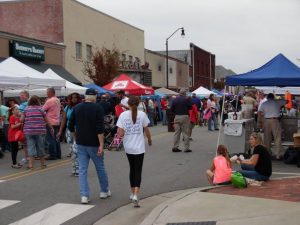 FREE admission, lots of downtown shopping at some interesting shops, freebies and family fun for all ages.
Location: Downtown Dunn
Date: November 4, 2017
Time:10am – 4pm
Tel: 910-892-3282
nccottonfestival.com
For Regional Accommodations, Restaurants & Attractions: dunntourism.org
The 10th Annual Eastern Carolina BBQ Throwdown is a professional cooking competition based on KCBS categories (chicken, pork ribs, pork & beef brisket). Awards include Grand Champion, Reserved Grand Champion, and People's Choice Award. Cash awards, trophies and plaques awarded up to 10th place in each category. There will be 58 opportunities to win.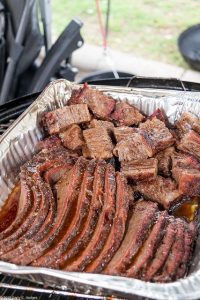 The Friday night Kick Off Party includes a Kick Off Concert featuring Who's Bad- The Ultimate Michael Jackson tribute band  held in downtown Rocky Mount. KCBS representatives will be present and competition judging starts at noon on Saturday, October 14, using the blind judging technique. This is a party you don't want to miss, with plenty of delicious food, beverages, and great entertainment. Bring your lawn chairs or blankets and come have some fun.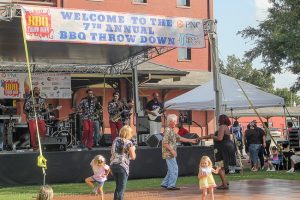 Schedule of Events:

Friday & Saturday, October 13-14, 2017
10th annual Eastern Carolina BBQ Throw Down (Competition)
Includes: People Choice
Friday, October 13th (12pm – 8:30 pm)
BBQ Kick Off Party (Train Station Lawn) 5:00 pm – 8:30 pm
Who's Bad Michael Jackson tribute band 6:30 pm (Train Station Lawn)
Saturday, October 14th (10:00 am – 6 pm)
Food Vendors, Commercial Vendors, Exhibitors, Live Music
Location: 101 Coastline St, Downtown Rocky Mount,NC  27804 – in front of the Helen P. Gay Historic Rocky Mount Train Station
Date & Time: Fri, Oct. 13 – Sat, Oct. 14, 2017
Time: Fri 12 pm – 8 pm, Sat 10 am – 6 pm
Tel: 252-972-1159
downtownrockymount.com/events/eastern-carolina-bbq-throwdown
For Regional Accommodations, Restaurants & Attractions: rockymounttravel.com
The small town of Benson, North Carolina, with a population of around 3500, will swell to approximately 30,000 come September 21-24, 2017 when the 68th Annual Benson Mule Days Celebration, which honors the farmer's best friend, the mule, is

sponsored by the Benson Area Chamber of Commerce.
This festival is filled with family fun and activities for everyone young and old. The weekend is packed with rodeos, a mule pulling contest, arts and crafts, vendors, street dances, carnival rides, camping, parades, bluegrass shows and more.
Friday, visitors can enjoy many events including the Mule Competitions held in the Chamber Park and Arena. They will see mule coon jumping, a mule race, Best of Show and many other events.  If you haven't seen a mule competition this is a must see for the whole family.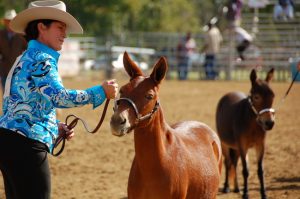 Saturday is a big day at Benson Mule Days as thousands of spectators grapple for a place to sit or stand to observe the one of the biggest parades in North Carolina. Bands, floats, Shriner units, classic cars, antique tractors, unique entries, beauty queens, and hundreds of horses, mules, buggies, wagons make their way down Main Street of Benson beginning at 10am.
There are three rodeos of which the first begins on Friday night followed by a Saturday night and Sunday afternoon performance. A new event this year are Mule Day Dances. After the rodeos on Friday and Saturday nights, kick up your heels at the Chamber Park.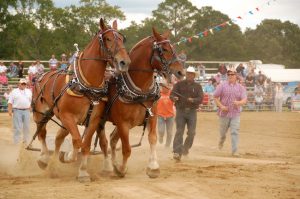 Get a complete schedule of events- here
Location: Various – see schedule
Date: Sept 21-24, 2017
Hours: Various – see schedule
Tel: 919-894-3825
bensonmuledays.com
For Regional Accommodations, Restaurants & Attractions: johnstoncountync.org

If you love to read, then this event is definitely for you. Want to meet authors and learn of the inspiration for their works? Book 'Em North Carolina is national event that brings together brings together more than 75 authors, publishers, literary agents and publicists under one roof for one common cause; to promote literacy.

Book 'Em NC Writers Conference and Book Fair is open to readers of all ages. There are book readings and events scheduled for children from pre-school to teens, panel discussions and talks for writers trying to break into the field and  lectures and events for readers of various genres, including mysteries, romance, true adventure, historical, biographical, …
Authors will sell and sign their books, participate in panel discussions and talks, network and interact with fans one-on-one. Headlining authors include: poet LeJuane Bowen and fictional author Jill McCorkle.
A series of talks occur between 10 – 3 pm and include:
Writers Conference – for aspiring or published authors of all ages and levels
The Children's Corner – readings for younger children, arts and crafts and special activities
Panel Discussions and Talks – for readers of various fiction and nonfiction genres, including autobiographical, biographical, historical, mystery/suspense, romance, fantasy, paranormal, science fiction, horror, true crime and others
Each talk begins on the hour and feel free to attend one or all of the talks throughout the day.
The purpose of The Book 'Em Foundation and this event is to raise public awareness of the link between high crime rates and high illiteracy rates. The Book 'Em Foundation was co-founded by suspense author P.M. Terrell. Proceeds from the Book 'Em North Carolina book fair will go directly to increasing literacy in Robeson County, North Carolina and to reducing crime in the area.
 This event is FREE and open to the public.
Location: Robeson Community College, 5160 Fayetteville Rd, Lumberton, NC
Date: Sat, Sept 23, 2017
Time: 9:30 – 4pm
Tel: 910-272-3362
bookemnc.org
For Regional Accommodations. Restaurants & Attractions: lumberton-nc.com
Young girls love the Soffe line of casual athletic wear, but there's apparel for everyone else here too. Soffe is an all-American lifestyle activewear brand that makes sizes for the entire family including; toddlers, girls, juveniles, youth, juniors, women, and men including big and tall. 
In solid colors, there's varsity pants, jackets, hoodies, t-shirts, sweatshirts, running shorts, windbreakers, cheerleading clothing, ranger shorts and more.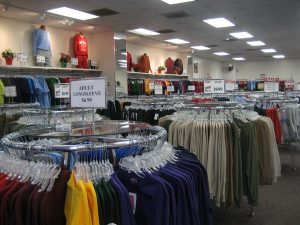 It's an  outlet store, so pricing can go from $1 pieces of clothing piled in giant cardboard boxes to $29.99 on the racks. If you're  lucky you might arrive when they've opened the back warehouse room to the public. Then men, women and children might score their well-made clothing for the amazing price of $1-$3. Sandra loaded up the last time that she was there.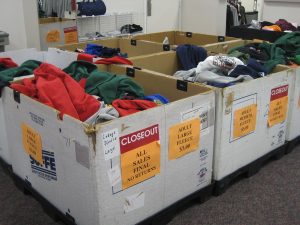 The Soffe juniors' line has been strong in the brand's cheer-leading apparel but has expanded to include  yoga, dance and running. Be sure to check out their performance wear, which features technical fabrics.
Their outstanding quality stems from their roots as a distributor to the military. This line is tough, durable and dependable, and it is designed to channel America's original athlete: the soldier.
There's another location in Smithfield at Exit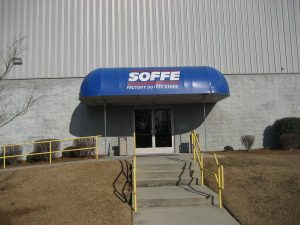 95 next door to JR,
49F Dr M.L.K. Jr. Way, Selma, NC 27576
919- 965-0062
Location: Soffe Outlet Store, 1005 Dunn Rd, Fayetteville 28312
Hours: Fayetteville: Mon – Sat 9:30 – 5:30, Sun – closed
Smithfield: Mon – Sat 10 – 6, Sun 12 – 6
Tel: 910-483-1776
soffe.com
For Regional Accommodations, Restaurants & Attractions: visitfayettevillenc.com