Tag Archive
activity
art
artist
Austria
Canada
children
city
CostSaver
display
Drivei-95
drive i-95
entertainment
Europe
event
exhibit
family
festival
Florida
food
France
free
fun
historic
History
landmark
live
local
London
Museum
music
performance
Restaurant
roadtrip
shop
show
sights
sightseeing
tour
tourist
Trafalgar
travel
travelblogger
USA
view
world
Grab your spoons and mark your calendars for Scooper Bowl – all-you-can-eat Ice Cream Festival.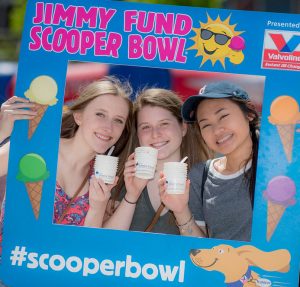 Celebrating its 36th year in 2018, the Scooper Bowl is now a three-day event that dishes out 20 tons of the summer's finest ice cream to more than 40,000 ice cream lovers from across the nation. Enjoy a lot of great entertainment and fun activities at this country's largest all-you-can-eat ice cream festival.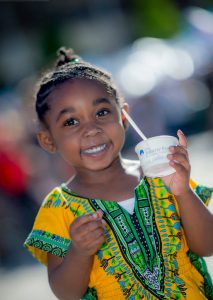 What is most impressive about the ice cream festival is that all ice cream companies donate all the ice cream, labor, scoopers, and products needed to make the event happen each year. Though they are competitors for 51 weeks of the year, during the first week of June they come together to create an event that is now known as the "unofficial start of summer" in New England.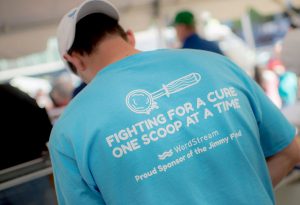 Made possible by the generous contributions of the industry's largest ice cream companies, the Scooper Bowl has raised more than $6.3 million in the past 35 years for cancer research and patient care at the world-renowned Dana-Farber Cancer Institute.
Get Your Tickets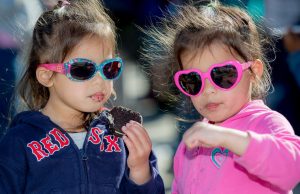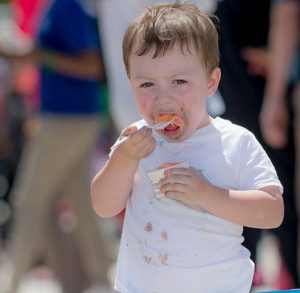 *Pricing will increase at the door – Kids under 3 are free
Whether you're a visitor to the area or professional ice-cream-eater, you play a huge part their our mission to conquer cancer.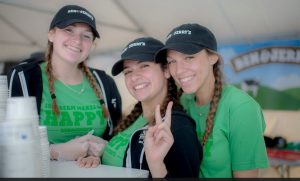 Ice Cream Flavors
Baskin-Robbins
Boston Cream Pie
Cannoli Be With You
OREO® 'n Caramel
Triple Grape Ice
Beckon Ice Cream (formerly Minus the Moo) – Thursday only, lactose-free
Vanilla
Chocolate
Espresso
Sea Salt Chocolate Chip
Mint Chip
Chocolate Candy Crunch
Strawberries & Sweet Cream
Black Raspberry
Confetti
Ben & Jerry's
Gimme Smore™
Caramel Almond Brittle non-dairy
AmeriCone Dream®
Chocolate Shake It™
Breyers
Nautral Vanilla
Oreo® Cookies & Cream
Mint Chip
Edy's
Birthday Cake
Dulce
Rainbow Sherbet
Friendly's
Triple Caramel Peanut Heaven
Hunka Chunka PB Fudge®
Rockin' Poppin'™ Cotton Candy
Cookies 'N Cream
Black Raspberry
Haagen-Dazs
Chocolate Salted Fudge Truffle Non-Dairy
Hood
Hood® New England Creamery Limited Edition Chocolate Churro
Hood® New England Creamery Limited Edition Purple Panda
Hood® Coffee Cookies 'n Cream
Hood® Chocolate Chip Cookie Dough
Lactaid – lactose-free
Lactaid® Cookies 'n Cream
Lactaid® Mint Chocolate Chip
Lactaid® Mocha Almond Chip
Lactaid® Salted Caramel
Rosev Dairy Foods
Coconut
Rum Raisin
Purple Cow
Twisted Sea Turtle
Vice Cream
Afternoon Delight
Bourbon Mash
L'Orange A Trois
Minted
Higher Grounds
Yasso

Stick Bars:

Pistachio Brittle
Fudge Brownie
Coconut Caramel
Chocolate Chip
Chocolate Peanut Butter Chip
Scoops:

Party Animal  Mint Championchip
Rolling in the Dough
Caramel Pretzelmania
Coffee Brownie Break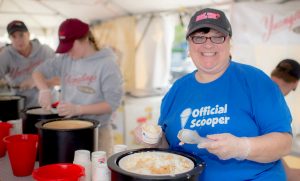 Location: City Hall Plaza, 1 City Hall Square, Boston, MA 02201
Date: June 5 – 7, 2018
Time: Noon – 8pm
scooperbowl.org
For Regional Accommodations, Restaurants & Attractions: bostonusa.com
College students know pizza; a staple for them while living on or off campus. Over the years, this landmark for pizza in Maine, Pat's Pizza,  has become a favorite of University of Maine students offering delicious and affordable pizzas that won't disappoint. In fact, with deep roots in the community, it has been said that an education at the University is not complete without a Pat's Pizza.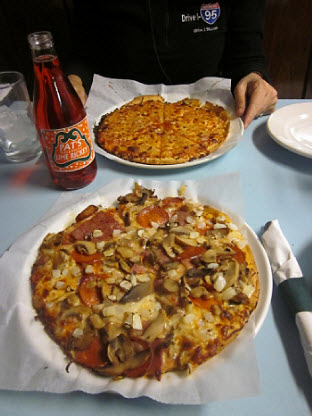 Opened in 1931, and still churning out 700 pizzas a night, this 2nd generation family business (now with 19 locations) is famous in Maine. Step into over 50 years of history with this old time pizzeria, at their original location, with its original Formica counters and slate foot rests.
The thin, soft, light crust melts in your mouth, and the toppings are put on evenly so that there's a taste in every bite. Made with freshest ingredients, 35 toppings like: specially made pepperoni, pine nuts, hot dog, kielbasa, zesty olives or eggplant, there is a pizza just for you! They even make gluten-free pizzas or double -dough pizzas.
The Pat's Combo is the most popular pizza with pepperoni, mushrooms, and Cotto salami on it. Not to mention the mouth-watering calzones, spaghetti and meatballs, sub sandwiches, wraps, salads and a Maine favorite red skin hot dogs too. Wash it down with Pat's own brand of sodas: strawberry, root beer, orange, grape, cream or Stan and Sandra's favorite – raspberry Lime Rickey, or try the local Moxie brand, made in Maine.
Buon appetito!
Location: 11 Mill Street, Orono, ME 04473
Hours: Mon-Fri 7am – 12am, Sat-Sun 7am – 1am
Tel: 207-866-2111
patspizzaorono.com/
For Regional Accommodations, Restaurants & Attractions: visitbangormaine.com
P.P. Cobb General Store and Delicatessen was opened in 1860, by the first postmaster, Peter Paul Cobb.  Cattle drives passed by during the day and fisherman on the pier stocked up.
You can still eat here and stock up with their eclectic mix. You can grab a carton and make your own 6-pack of  hard- to-find sodas: Cheer Wine, Rebel Soda, Black Lemonade, Kama Sutra, Boylan's or 500 kinds of artisanal beers (San Miguel, Turbo Dog, Avalanche, Stouts).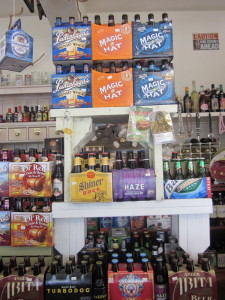 Kids young and old will have fun at the candy stand: Boston Baked Beans, Zagnuts, Gold Rocks, red waxy lips, candy cigarettes, Double Bubble, waxy bottles of sugary liquid, and newer larvets or crick-ettes, insects in amber candy, and cookie dough nibbles.
The husband and wife team open for breakfast (homemade sausages, omelettes) or lunch. There's homemade soups: roasted red peppers and sweet potato (can't take off menu), creamy leek and potato, beef barley, and sandwiches on homemade bread, 10 paninis and 4 wraps.
Finish the meal with coffee, tea (iced green tea, genmai cha), homemade cookies, shakes (ginger custard), smoothies, root beer floats, or green tea ice cream. For a local taste try Florida fruit wines: orange, grapefruit and mango. If you need some there's also soap made by Cherokees in Arizona.
Hours:  M-Sat 8:30-6, Sun 10-4
Location: 100 Avenue A, Fort Pierce
www.ppcobbgeneralstore.com
Tel:  772-465-7010
Laurent Gerbaud, Belgian chocolatier, was so good that he was sent to Shanghai for the World Expo to show off the sweet talents of his country. However, when he got there he soured on chocolates. Gerbaud discovered that the Chinese were not  used to so much sugar so making use of his creative skills he revised his recipes and started to work on tart and bitter tastes.
He searches purveyors for ingredients such as South African Barrrydale apricots, Persian cranberries, Turkish figs, pepper, spicy ginger  and orange peel, and mixes them with his dark dark 70 % chocolate recipe using  chocolate from Madagascar and Ecuador. The Turkish figs are crunchy, chewy and just slightly sweet. One with Greek pistachios blends salt, sweet (milk chocolate) and nut crunch. There's a salute to Belgians love for specoloos (gingerbread) by rolling a truffle in the crumbs.
Gerbaud is really a chocolate pusher because once you get addicted to his intense flavor combos, it is very hard to go back to sweetened chocolate.