Tag Archive
activity
art
artist
Canada
children
city
community
contest
country
craft
display
downtown
drive i-95
Drivei-95
drivei95
entertainment
event
family
festival
Florida
food
free
fun
game
historic
History
house
Island
live
local
Museum
music
national
North Carolina
performance
prize
Restaurant
roadtrip
shop
show
tour
travel
travelblogger
USA
world
There's only a few more weeks for the whole family to appreciate the delightful and amusing summer long exhibition at the Ormond Memorial Art Museum & Garden. The Four Footed & Fanciful Art Exhibit showcases the work of three artists who create whimsical animal creatures.
Take a walk though the imagination of artists Adonna Khare, Cindy Burkett and Don Nedobeck and enjoy the fanciful creatures they capture.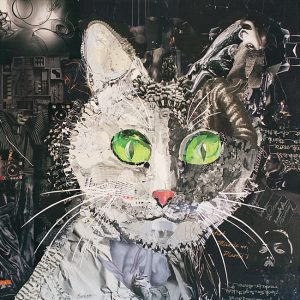 The exhibit features the artistic talents of California artist Adonna Khare, who creates large scale pieces using a carbon pencil. She was the winner of a $200,000 People's Choice prize at Art Prize.  Cindy Burkett, from New Smyrna Beach, creates intricate collages from recycled magazines and other materials for her collages that draw viewers in to find their surprising secrets and Don Nedobeck, a DeLand artist who creates fun animals, especially big fluffy cats, that he calls "caricatures in watercolor" and he has produced three children's books.                                  "Cats Eyes" collage by Cindy Burkett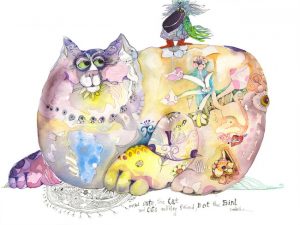 Hurry in because the exhibit only runs through Sept. 9.  Admission is free with a $2 per person suggested donation.
"Ornate Cat and Bert" Watercolor and ink by Don Nedobeck
Location: Ormond Memorial Art Museum & Garden, 78 East Granada Blvd, Ormond Beach, FL 32176
Date – until Sept 9, 2018
Time: Mon – Fri 10am – 4pm, Sat & Sun noon- 4pm
Tel: 386-676-3347
ormondartmuseum.org
For Regional Accommodations, Restaurants & Attractions: daytonabeach.com
Dubbed the "World's Largest Motorcycle Event," Bike Week is a 10-day event filled with high-octane street festivals, concerts, motorcycle races, bike shows, rallies, manufacturer showcases and more.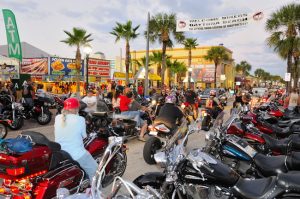 Established more than seven decades ago, nowadays over 500,000 motorcyclists make it an annual pilgrimage. Motorcycle enthusiasts from around the world enjoy spring riding in Daytona Beach along historic Main Street and Beach Streets, Scenic A1A Highway or through the best of old Florida, the Ormond Beach Scenic Loop.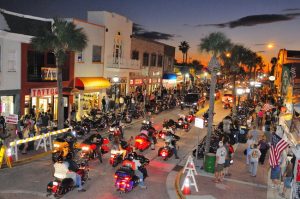 There will be celebrating at Daytona International Speedway, Bruce Rossmeyer's Destination Daytona, the U.S. 1 corridors in Daytona Beach and Ormond Beach, and at Riverfront Park in downtown Daytona Beach.
With so many events taking place, use the calendar below to make sure that you don't miss anything.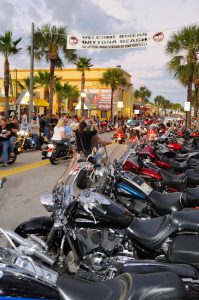 OFFICIAL BIKE WEEK CALENDAR OF EVENTS:
Photo Credits: Daytona Beach Area CVB
Location: Various
Dates: March 9 – 18, 2018
Times: various
Tel: 386-255-0981
officialbikeweek.com
For Regional Accommodations, Restaurants & Attractions: daytonabeach.com
Treat your dog to Dogapalooza, a very popular, dog-friendly afternoon at the Ormond Memorial Art Museum. Revel in the joyful family-friendly celebration of the human-animal bond throughout the museum, the gardens and parking lot, giving dogs trees, shade and lots grass to roll around on.
This festival features tons of fun dog activities including FREE puppy photo experience, doggie art project -where your dog creates the art,  FREE dog nail clipping, obedience demonstrations and some fun music mixed by DJ.
There will be a canine costume contest which includes categories: best in Show, Best Pop Culture Reference, Best Duo (Dog + his human),  and Best Ensemble (more than 1 Dog). Don't forget to take advantage of doggie babysitting that will be offered for short-term visits to check out the art in the museum.
Enjoy delicious food, drinks and a great casual dog-themed afternoon with dogs and dog lovers alike that will have you begging for more.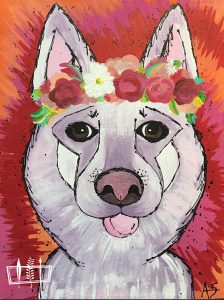 Well-behaved dogs on leashes are welcome as are their human companions.  All proceeds benefit  Sophie's Circle pet food pantry. Admission is a $2 donation.
Painted by Daytona Beach Artist Amy Holzer
Location: Ormond Memorial Art Museum & Gardens, 78 East Granada Blvd, Ormond Beach, FL 32176
Date: Sat, Jan 7, 2017
Hours:  2  – 4 PM
Tel: 386-676-3347
ormondartmuseum.org/event/dogapalooza/2016-10-22_200pm
For Regional Accommodations, Restaurants & Attractions: daytonabeach.com