Tag Archive
activity
art
artist
Canada
children
community
contest
country
display
drive i-95
Drivei-95
drivei95
entertainment
Europe
event
family
festival
Florida
food
free
fun
game
historic
History
house
Island
live
local
Museum
music
national
North Carolina
performance
prize
Restaurant
roadtrip
shop
show
sightseeing
tour
Trafalgar
travel
travelblogger
USA
world
The first annual Make Music Connecticut, a free, wild and wonderful mix of over 250 free outdoor musical events, will make its debut on Thursday, June 21.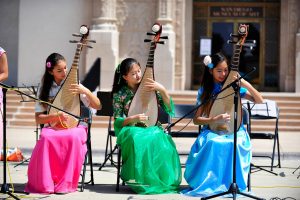 Modeled after a Parisian tradition (Fête de la Musique) that began in 1982 as a tribute to the Summer Solstice.  Each June 21st Paris is filled with musicians of all kinds performing on sidewalks, lawns, balconies, in parks, etc. for anyone to enjoy at no cost.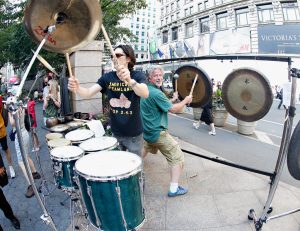 Make Music Connecticut is part of Make Music Day, a global music celebration that takes place on the summer solstice each year and brings people of all ages and skill levels together to make music. This year, more than 70 U.S. cities and the entire state of Connecticut will host thousands of Make Music performances across the country as part of the world's largest annual music event.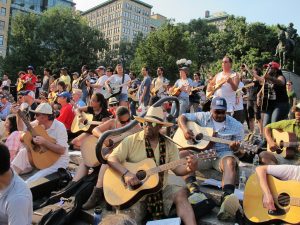 Featuring musicians of all abilities and music from any genre.  Sidewalks, parks, front porches, and public spaces throughout the region will become stages for local musicians to perform and for all to enjoy. Each region will have its own ambiance. This will be a day packed with more than 250 free musical events happening with concerts on streets, sidewalks, and parks around the state.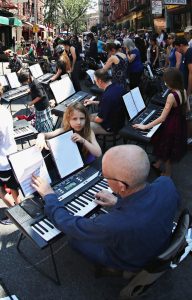 Community Jam Sessions, Dueling Drums, Battle of the Bands are some of the featured events. For a full schedule of events: MakeMusicCT.org
Location: Numerous locations throughout Southeastern CT
Date: June 21, 2018
Time: Various – see schedule
Tel: 860-460-5236
makemusicday.org/southeasternct
If you are an animal lover, this show is for you. Popovich Comedy Pet Theater is a family-oriented blend of the unique comedy and juggling skills of Gregory Popovich, and the talents of his furry costars.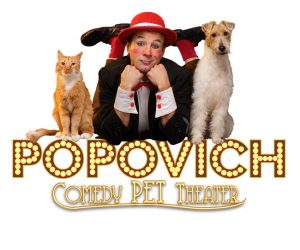 Featuring European-style circus extravaganza including physical comedy, juggling, acrobats from the Moscow Circus, along with mimes, contortionists and jaw dropping juggling by internationally acclaimed award winner Gregory Popovich. There are more than 30 pets in the show, including highly intelligent dogs, house cats, a variety of birds and a miniature horse, each one has been rescued from animal shelter. The animals show off their dexterity in a variety of unbelievable stunts and skits, including "The Dog Classroom," "The Amazing House-Cats," and "The Animal Train Station."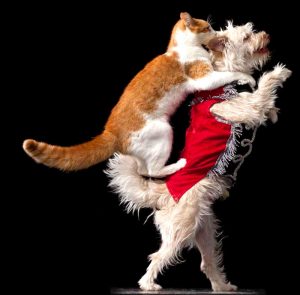 Popovich, a fifth generation circus performer who learned early on how to develop strong bonds with animals, has rescued a majority of his performers from shelters all over the country, and has transformed them into Las Vegas stars. He is a gold medal winner in Paris, France and a special award winner in Monte Carlo. Gregory and his pets were finalists on "America's Got Talent", were guests on TV shows with Jay Leno, David Letterman, Craig Ferguson and was a feature on Animal Planet. Do not miss this opportunity to see this unique family-friendly show featuring this legendary circus entertainer and his furry friends.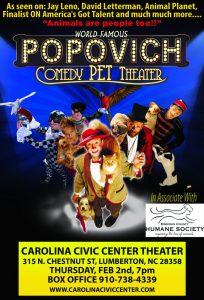 Location: Carolina Civic Center Historic Theater, 315 North Chestnut St., Lumberton, NC 28358
Date: Thurs., Feb 2. 2017
Time: 7 pm – 9 pm
Tel: 910-738-4339
carolinaciviccenter.com/event/popovich-comedy-pet-theater/#.WEg1Rn2rHfc
For Regional Accommodations, Restaurants & Attractions: lumberton-nc.com
The former Jewish Ghetto (now called Josefov) in Prague goes back to the 12th century. In fact, the oldest synagogue in Europe, the Old-New Synagogue, is still there and it is still used for its purpose, as there are regular services. An old legend says it was built of stones from the Second Temple in Jerusalem. This quarter was demolished in 1897. Today, there are 6 synagogues, the Jewish City Hall and the Old Jewish Cemetery from the 15th century. Notice the Rabbi's house has gold decorations and the clock with hebrew letters which dates to 1674.
In 1389 the biggest anti-Jewish pogrom in the Middle Ages took place here, when about 3,000 citizens of the Jewish Quarter were killed, turning the walls of the Old–New Synagogue dark with blood. Their homes were plundered and burned.
However, in the 16th century, this quarter was thriving. Some of the synagogues we can still see were built then. The Maisel Synagogue houses an exhibition of the Jewish Museum in Prague. In the 1950's, the Pinkas Synagogue became a Memorial to victims of the Holocaust. The walls of the nave, gallery and vestibule were covered with names of about 80,000 Bohemian and Moravian Jews. You can also see drawings of Jewish children made in the Terezin concentration camp between 1942 and 1944. There were more than 10,000 children under the age of 15 there. In 1577, the High Synagogue was built as a part of the Jewish City Hall, and the original vault with some Gothic features and stucco decoration still can be seen.
Nowadays, Paris St. in this area is one of the most popular places to live in Prague. If you get hungry, you can eat at the King Solomon kosher restaurant. Michelle Obama ate there when she was in town.
www.cosmos.com/Product.aspx?trip=46050