Tag Archive
activity
art
artist
Austria
Canada
children
city
CostSaver
display
Drivei-95
drive i-95
entertainment
Europe
event
exhibit
family
festival
Florida
food
France
free
fun
historic
History
landmark
live
local
London
Museum
music
performance
Restaurant
roadtrip
shop
show
sights
sightseeing
tour
tourist
Trafalgar
travel
travelblogger
USA
view
world
.
Gletschergarten Lowendenkmal is massive heartrending stone relief which was carved to remember the Swiss Guards who were massacred in 1792 during the French Revolution when defending Louis XVI. Swiss Guards were and are famous as brave sentries. Today, they still surround the Pope. When the revolutionaries stormed the Tuileries Palace in Paris, more than 800 were killed during the fighting, after surrender, or died in prison of their wounds. 300 lucky survived because they were with the detachment which King Louis XVI had sent to Normandy to escort grain convoys. Two surviving Swiss officers went on to become senior ranked guards for Napoleon.
In 1880, Mark Twain had this to say about it " His size is colossal, his attitude is noble. His head is bowed, the broken spear is sticking in his shoulder, his protecting paw rests upon the lilies of France. Vines hang down the cliff and wave in the wind, and a clear stream trickles from above and empties into a pond at the base, and in the smooth surface of the pond the lion is mirrored, among the water-lilies.
Around about are green trees and grass. The place is a sheltered, reposeful woodland nook, remote from noise and stir and confusion ­and all this is fitting, for lions do die in such places, and not on granite pedestals in public squares fenced with fancy iron railings. The Lion of Lucerne would be impressive anywhere, but nowhere so impressive as where he is."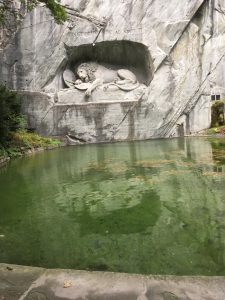 Bring your dog to Pet Source in Concord or Marlboro and make him a true artist. The special event is called Paws in Bloom and featured artist of the day is your pet.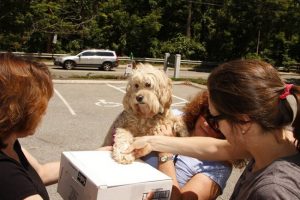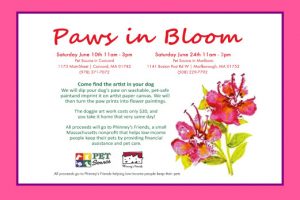 They will dip your dog's paw in washable, pet-safe paint and imprint it on a canvas. Then  they will turn the paw prints into a flower paintings. The doggie artwork will cost only $20 and you get to take it home with you the very same day.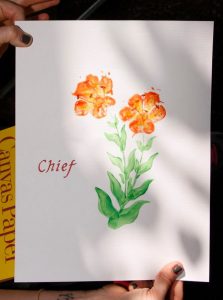 See how your dog's paw print is transformed into a beautiful painting, and best of all, you have a piece of artwork to treasure forever. No reservations needed.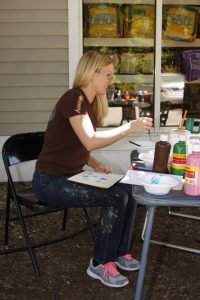 There are 2 Dates scheduled for this special  event:
June 10, 2017: 11 am – 3 pm – Pet Source -1173 Main St, Concord, MA 01742
June 24, 2017: 11 am – 3 pm – Pet Source – 1141 Boston Post Rd W, Marlboro, MA 01752
All proceeds will go to Phinney's Friends, a small Massachusetts nonprofit that helps low-income people keep their pets by providing financial assistance and pet care. Read more about this incredible organization at: phinneysfriends.org/about
Location: Pet Source, 1173 Main St, Concord, MA 01742 – June 10th,
Pet Source- 1141 Boston Post Rd W, Marlboro, MA 01752 – June 24th
Dates: June 10th, June 24th, 2017
Hours: 11 am – 3 pm
Tel: Main Street 978-371-7072, Boston Post Rd. 508-229-7792
phinneysfriends.org/events/
patch.com/massachusetts/concord/calendar/event/20170706/157136/paws-in-bloom
For Regional Accommodations, Restaurants & Attractions: concordchamberofcommerce.org