Tag Archive
activity
annual
art
artist
Canada
children
city
community
contest
country
craft
display
downtown
drive i-95
Drivei-95
drivei95
entertainment
event
family
festival
Florida
food
free
fun
game
historic
History
house
Island
live
local
Museum
music
national
North Carolina
prize
Restaurant
roadtrip
shop
show
tour
travel
travelblogger
USA
world
Downtown Smithfield is the place to be on Saturday, May 5th for the much anticipated 34th annual Ham & Yam Festival,  which occupies several blocks and attracts thousands of people.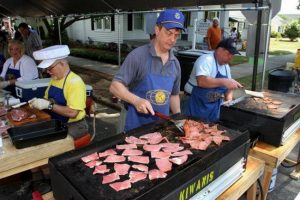 With pig races, inflatables, vendors, entertainment, and ham and yam foods, it's a fun day for the entire family.  Craft and commercial vendors line the streets, food vendors offer a variety of fair foods and menu items featuring country ham and sweet potatoes, and local bands and dance groups perform on the festival's three stages throughout the day.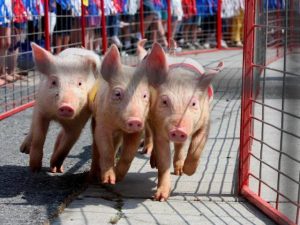 The festival features a barbecue cook-off, rubber duck race, 5k,  a petting zoo and the always popular "What's That Yam Thing?" contest; where children are encouraged to play with their food by turning sweet potatoes into works of art.  As well as the Sweet Potato Pie Eating Contest where 10 participants will eat like pigs, competing to be the fastest person to eat their sweet potato pie without using their hands.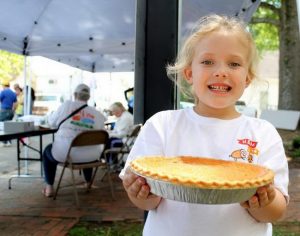 Get to Smithfield and enjoy the Ham & Yam Festival,  packed with delicious homemade ham biscuits, barbeque pork, and sweet potato pie.

Location: Neuse River Amphitheatre, 200 S. Front Street, Smithfield, NC 27577
Date: Sat,  May 5, 2018
Time: 9am – 9pm
Tel: 919-934-0887
hamandyam.com
For Regional Accommodations, Restaurants & Attractions: johnstoncountync.org
Doors open to the 27th Annual Greenland Craft Fair & Pie Sale on November 19th, where each year on the Sunday before Thanksgiving you can find a line of people waiting at the Greenland Central School.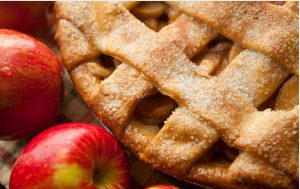 Over 500 pies are sold (and eaten!) and  the Woman's Club mans the cafe with home cooking. Expect to see more than 100 talented artisans and crafters including edibles, fiber artisans, jewelers, and many others will be selling their wares.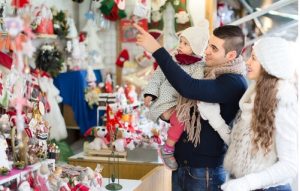 The Annual Greenland Craft Fair & Pie Sale is one of the longest running Fairs in the Seacoast. Hosted by the Greenland Women's Club, a member of the General Federation of Women's Clubs, the Fair raises funds that are used for a variety of local, national and international charitable purposes supported by the GWC. Free Admission
Plan to stay for lunch, the cafe will be serving homemade soups, quiche and of course, pie!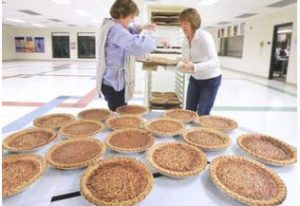 Location: Greenland Central School, 70 Post Road, Greenland, NH 03840
Date: Sun, Nov 19, 2017
Time: 10am – 3pm
Tel: 603-498-0099
greenlandwomensclub.org/pie-festival-craft-fair
For Regional Accommodations, Restaurants & Attractions: portsmouthnh.com
The 72nd Annual Howard County Fair kicks off on Saturday, August 5th through Saturday, August 12th, 2017. The fair is a  celebration of Howard County's farming past and present.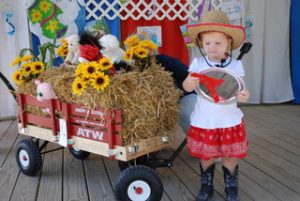 An American tradition loaded with wonderfully wholesome family fun including: magic shows, clowns, balloon artists, carnival rides and games, interactive exhibits, educational demonstrations, livestock exhibits, musical entertainment, an animal petting zoo and appetizing food.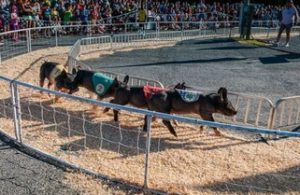 The Howard County Fair hosts horse shows, pony rides, Antique tractor pulls, and livestock competitions, 4-H shows/exhibits, Demo Derby, Rodeo, Horse-Pulling Contest, Antique Automobile Show, Pie Eating Contest,  Pig Races, Bingo, AG Displays and Farm produce. Enjoy some of the area's best live music, from rock and country, to bluegrass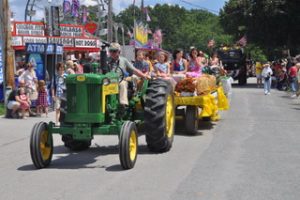 and oldies.
There is also a PRCA All American Pro Rodeo on August 8th & 9th, 7:00 pm as well as a Demolition Derby on August 9th & 12th – 7:00 pm.
Schedule of Some Featured Events:
Horse-Pulling Contest – First Saturday @ 10:00 am
Antique Tractor Pull – First Saturday @ 4:00 pm
Antique Automobile Show – Sunday from 9:00 am – 4:00 pm
Pie Eating Contest – Sunday @ 12:00 noon
Pretty Animal Contest – Sunday @ 11:00 am
Miss Howard County Farm Bureau Contest,
Future Howard County Farmer, and
Little Miss Howard County Farm Bureau Contest – Sunday @ 3:00 pm
Mule Pulling Contest – First Saturday @ 9:00 am
Coon Mule Jump – First Saturday, immediately after Mule Pull
Howard County's Got Talent – Thursday @ 7:00 pm
Baby Contest Miniature Parade – Last Saturday @ 10:00 am
Parade of Floats – Last Saturday @ 5:00 pm
Amusement Rides & Games – Hours:
Saturdays and Sunday: 12 Noon – 11 pm;
Monday through Friday: 2pm – 11pm
"Kids and Critters" Barn Hours:
10:30 a.m. – 8:30 p.m.
(CLOSED DAILY FROM 2 PM TO 4 PM)
Pig Races – 12 Noon, 3 pm, 6 pm, & 8 pm
Bingo Hall – Opens Daily at 6 pm
Pony Rides – 10 am – 10 pm
AG Displays – DAILY
Farm Produce – DAILY
Location: 2210 Fairgrounds Rd, West Friendship, MD 21794 Get Directions
Dates: Aug 5 – 12, 2017
Time: 8 AM – 11PM
Tel: 410-442-1022
howardcountyfair.org
For Regional Accommodations, Restaurants & Attractions: visithowardcounty.com
The Prince William 5k Turkey Trot and 1 Mile Fun Run is a family friendly and festive celebration of Thanksgiving Day.  The race theme  being: "Trot, Eat, Sleep!" These high energy amusing races highlight Prince William County as a healthy, fun, and active community.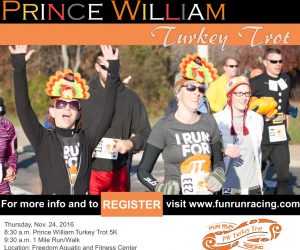 Participants are encouraged to wear their best Thanksgiving themed gear: Pilgrim, Pocahontas, Turkey, Pie, Native American and Colonial. This event will be full of festivities and most importantly tons of fun including music, best costume awards, and a chance to win a Golden Ticket: All runners receive a FRR finish line envelope, the random Golden Ticket awards – "Willy Wonka" style–  featuring a mystery gift.
Top 5 men and women receive Running Store Gift Cards – $100/$75/$50/$25/$25.
100 pumpkin pie Duck Donuts are randomly given to 100 lucky race finishers.
1 Mile Fun Run/Walk: The one mile fun run-walk is a low key non-timed event. The 1 mile race is geared toward the youth, however, runners of all ages and abilities are welcome and beginners are encourage to attend.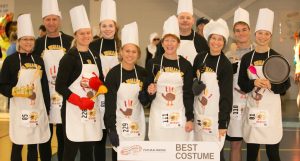 Stay Warm! The Freedom Aquatic & Fitness Center has graciously opened its facility so participants and spectators can stay 'warm' both pre and post-race. A DJ will play music from 8:00-10:30.
Location: Freedom Aquatics & Fitness Center, 9100 Freedom Center Blvd., Manassas, VA 20110
Date: Sat,  Nov 26, 2016
Time: 8:30 a.m. Prince William Turkey Trot 5K , 9:30 a.m. 1 Mile Run/Walk
funrunracing.com/the-pw-5k-turkey-trot
For Regional Accommodations, Restaurants & Attractions: discoverpwm.com
Pumpkins have many uses…as jack-o'-lanterns ,  for baking muffins or pies and believe it or not as a projectile at the signature pumpkin-launching event held each year since 1986. The World Championship Punkin Chunkin is where "backyard engineers" test the limits of pumpkin physics,  fueling innovative engineering and science-based ideas all through a three-day festival in Bridgeville, drawing thousands of visitors to the area and is aired on the Discovery Channel every Thanksiving.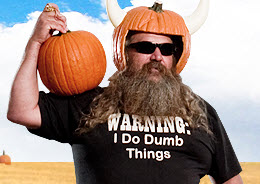 Teams compete in divisions such as air cannon, centrifugal, catapult, human power, trebuchet, theatrical and torsion. The competition is divided into three classes: Adult (18 and older), Youth (11 to 17) and Youth (under age 10).
Each category shoots 1 of their 3 competition shots each day. The firing of machines starts at 8am each day and continues until dusk. There will be a Cookin' contest,  a Punkin Chunkin Pageant, an Outlaw Punkin Chunkin Chili Cookin Competition and  awards ceremony, also local bands will provide live music on stage throughout the 3 days of the festivities.
Location: The Woodlands, 18598 Rd 591, Bridgeville, DE 19933
Date: Nov 4- 6, 2016
Time: Gates open at 7am until dusk
punkinchunkin.com
Delaware's 30th Annual Amish Country Bike Tour is held in the state's capital, Dover. It is the largest cycling event and one of the East Coast's favorite bike tours. Last year, 2,200+ cyclists from 25 states and England participated in the event.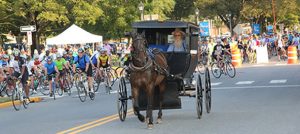 The Bike Tour starts and stops at Dover's historic open air park, Legislative Mall. The tour has five loops: 15, 25, 50, 62 and 100-mile loops through FLAT back roads, farmlands and Delaware's Amish community. Along the route, there are four food-rest stops with food and beverages, slices of locally baked pie and a fully-catered BBQ meal at the end of the tour.
The Amish Country Bike Tour is an experience that is suitable for all ages and abilities, from beginners and families to serious cyclists. The event goes on rain or shine
Location: Historic Dover, 411 Legislative Ave, Dover, DE 19901
Date: Sat, Sept 10, 2016
Time: Optional start times: 7 – 10am
Tel: 800-233-5368
amishcountrybiketour.com
For Regional Accommodations, Restaurants & Attractions: visitdover.com
drivei95.com