Tag Archive
activity
art
artist
Austria
Canada
children
city
CostSaver
display
Drivei-95
drive i-95
entertainment
Europe
event
exhibit
family
festival
Florida
food
France
free
fun
historic
History
landmark
live
local
London
Museum
music
performance
Restaurant
roadtrip
shop
show
sights
sightseeing
tour
tourist
Trafalgar
travel
travelblogger
USA
view
world
Located only 12 miles from Wilmington, Delaware, Longwood Gardens attracts visitors from around the globe to its 11,000 varieties of plants spread out across more than 1,000+ acres of gardens, meadows, woodlands and elaborate horticultural displays.
Longwood's celebration of the Main Fountain Garden, which returned in 2017 after a $90 million, more than two-year revitalization. Renowned for its spectacular Festival of Fountains, the astonishing shows gather attention from far and wide, and are a favorite among visitors of all ages.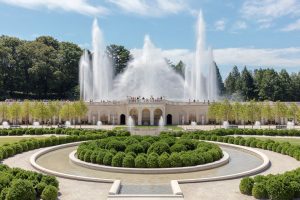 Watch in awe when the fountains dance to stirring music and water jets shoot up to 175 feet high. You don't want to miss Longwood's Illuminated Fountain Performances where you'll see an infinite mix of color, sound and music. The fountains perform daily at 11:15 a.m., 1:15 p.m., 3:15 p.m., 5:15 and extended hours for illuminated fountain performances on Thursday, Friday, and Saturday evenings at 7:15.
In addition, the wildly popular Fireworks & Fountains return with  new shows: September 29 at 8:15 pm: Solid Gold '70s – Take a bell-bottomed step back in time to the disco decade featuring iconic music from The Bee Gees, Kool and the Gang, Donna Summer, and more cool cats you'll really dig. For Tickets:  Fireworks & Fountains 2018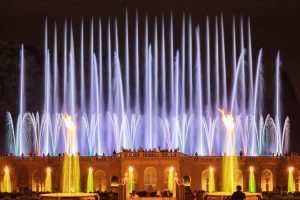 Festival of Fountains also features the Gardens in their summer splendor. The refreshed garden design invites guests to wander and discover new garden gems, including the Grotto, Pumphouse Plaza, and Historic Pumphouse display. Flowering annuals and perennials abound plus a breathtaking Waterlily Display that showcases aquatic plants from all over the world.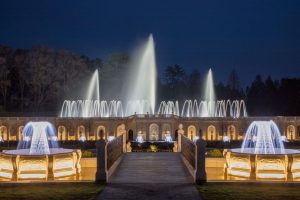 Take a hike in the expansive Meadow Garden or enjoy a shady stroll among Longwood's historic trees. The outdoor Children's Corner offers younger guests a garden designed just for them, while the Idea Garden is a showcase of plant combinations, innovative vegetable gardens, and unusual plant varieties to inspire guests to try at home.
Longwood Gardens allows a limited number of visitors per day, so purchase Tickets in advance to guarantee admission.
Illuminated Fountain Performances continue through October 27 and Daytime Fountain Performances continue through October 28 during Autumn's Colors.
Photo Credit: Daniel Traub
Location: Longwood Gardens, 1001 Longwood Road, Kennett Square, PA 19348
Dates: until – September 30, 2018 (check website for later schedule)
Time: Sun–Wed  9am–6pm, Thurs–Sat 9am–10pm
Tel: 610-388-1000
longwoodgardens.org
For Regional Accommodations, Restaurants & Attractions: visitwilmingtonde.com
Rumba on the Lumber 2018, a festival of food, movement, music and the arts, consisting of two days of events in historic downtown Lumberton with over 4000 people in  attendance.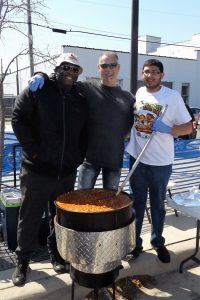 Many wonderful annual events will once again be front and center, including: The Rumba on the Lumber Festival with live music, vendors, Rumba Cross fit Games Exhibition, and the Lumbee River EMC Free Kidzone, 5K, 10K, fun run/walk, 100K ride, 20-Mile adventure ride,  Chili Cookoff and a bicycle rodeo.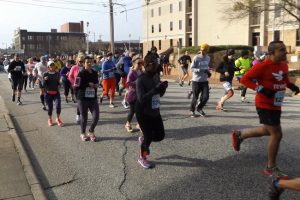 Many festival-goers agree, it's all about the chili. More than two dozen teams bring their most coveted recipes. Teams prepare a minimum of 10 gallons of chili and dole out free samples of their creations. The teams will be competing for prizes including the best tasting, Spiciest Chili, Strangest ingredient and Best chili cooking outfits. Don't miss the fun!
Saturday- Downtown Plaza/ 3rd Street:
Last chance to see Heart and Seoul: Growing Up in Korea is a new, cultural exhibit in which five modern-day Korean kids will open their hearts and invite you to take an intimate look into their lives through their diverse interests, customs and ambitions. The traveling exhibition will be in town only until end December at Stepping Stones Museum for Children.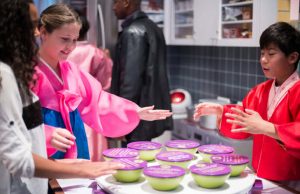 The exhibit, both fun and educational, will use traditional folktales as well as current day personal stories told by Korean children to engage visitors in learning about time-honored cultural values and life in South Korea's highly urbanized and technologically-advanced country.
Children and visitors will be able to explore gallery areas that recreate the settings that characterize the lives of typical South Korean children in Seoul, such as an apartment, classroom, taekwondo studio, and K-pop stage. Throughout the exhibit, these spaces will be embedded with traditional folktales and games to show how values like respect for parents and elders; the importance of scholarship; loyalty to family, friends and community; and hospitality are still an integral facet of 21st century Korean life.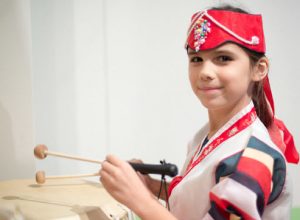 Hands-on experiences include:  an animation studio where visitors can try their hand at stop-motion animation. (The popular television series The Simpsons and Family Guy were created in Korean studios, as was the film Avatar.) Musically inclined kids will take the stage at K-Pop Stars Studio, where they can get on camera and "perform" with popular K-Pop singers. There's a Taekwondo studio, where kids can practice their moves and learn this martial art based on 2,000-year-old ancient techniques.The exhibit also includes a plaza, a restaurant, an apartment, a classroom and a Hanok guest house.
Location: Stepping Stones Museum for Children, Mathews Park,
303 West Ave, Norwalk, CT 06850 |
Dates: til the end of Dec.
Hours: Mon – Sun, 10 – 5 pm
Tel: 203-899-0606
steppingstonesmuseum.org
For Regional Accommodations, Restaurants & Attractions: visitfairfieldcountyct.com
The Wilson Whirligig Festival is a community celebration of people and art in motion held the first weekend in November, where everyone comes together for an energetic street festival focusing the whimsical North Carolina Folk Art, Vollis Simpson's Whirligigs.
Don't forget to check out the Cake Dive, the festival's MESSIEST event, held on the Courthouse plaza on Sunday at 4 pm.  Participants  "dive" into a large10 ft x 10 ft anniversary cake for a variety of prizes.

With 35,000+ attendees , over 200 vendors, 3 stages of entertainment, arts & crafts
food vendors, FREE! Whirli-Kidz Zone and lots of Special events.
This commemoration is truly family-friendly and kid focused. FREE  live performances all day long with a wide variety of dance and demonstrations, from hip hop to lyrical, from clogging to ballet, from singing to karate. Play carnival games, create a craft, slide down a giant 26 foot slide or bounce in one of the many inflatable activities. Children of all ages can enjoy a variety of activities. Kids shouldn't have all the fun! Demo's available for 16 and up. Virtual Reality is not just for gamers anymore, it is everywhere. Learn more about this technology.
Location: Historic Downtown Wilson, 112 Goldsboro E ,Wilson, NC 27893
Date: Sat, Nov 5 – Sun, Nov 6, 2016
Time: Sat 10 – 5pm, Sun Noon – 5pm
Tel: 252-289-9650
whirligigfestivalnc.org
For Regional Accommodations, Restaurants & Attractions: wilsonnc.org
Look at how insanely precise our food safety rules have become. This pinwheel ice cream sandwich from Carvel, not only has a best-before date, it has a best-before time. Will I get sick if I eat it at 4:59 pm? It's ice cream – you couldn't save it in the car and eat it later (3 months later) even if you tried to. Found at Modena New York State Travel Plaza Center at milepost 65 southbound on New York State Thruway.