Tag Archive
activity
architecture
art
artist
Austria
Canada
children
city
CostSaver
display
Drivei-95
drive i-95
entertainment
Europe
event
exhibit
family
festival
Florida
food
France
free
fun
historic
History
landmark
live
local
London
Museum
music
photo
roadtrip
shop
show
sights
sightseeing
tour
tourist
Trafalgar
travel
travelblogger
USA
view
world
Do you have what it takes to lead like Washington? Visitors to his Mount Vernon Estate now have a chance to put themselves in Washington's boots and experience first-hand the leadership challenges that he faced on the battlefield and in the presidency.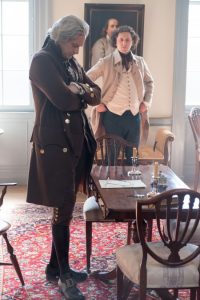 "Be Washington: It's Your Turn to Lead" is a new first-person interactive experience that allows visitors to  come face to face with a leadership challenge that George Washington also confronted as commander in chief or president. Listen to advice from his most trusted sources and make your decision.
Inside the immersive 1,200-square-foot Be Washington theater, participants take the role of George Washington as they seek to solve one of four crises that Washington faced. Events of the Revolutionary War and presidency come alive on a massive 30-foot 6K-resolution screen. Chris Jackson, the actor who played George Washington in the Broadway hit "Hamilton," will introduce each of the plots onscreen and will later describe the course of action that General or President Washington took. Each scene takes about 18 minutes to complete.
Featured scenarios include the Battle of Second Trenton, the Whiskey Rebellion, the Genet Affair and the Newburgh Conspiracy. As you learn about the situation, participants hear insights and opinions from some of the same historical advisers that Washington would have had access to, such as Thomas Jefferson, Alexander Hamilton and Henry Knox. As they sift through differing recommendations, they are asked to rate each adviser's persuasiveness.
At the end of each segment as Washington, the participants have seconds to vote for which course of action they would take to solve the crisis.  All votes are then tabulated and shared on the main screen. Washington's decisive actions at key moments helped to shape our history. Discover if you would have made the same tough choices.
Entry to the Be Washington theater is free when you purchase a general admission ticket to Mount Vernon. You can try the web-version of "Be Washington" at: play.bewashington.org
Location: George Washington's Mount Vernon, 3200 Mount Vernon Memorial Highway, Mount Vernon, VA 22121
Date: until – Dec 31, 2018
Time: 9am – 4pm
Tel: 703-780-2000
mountvernon.org/site/bewashington
For Regional Accommodations, Restaurants & Attractions: visitalexandriava.com
Walk into a medieval  fairytale and experience what a spring festival might have been like in 12th century Nottingham England. Fantasy takes flight when you step back to the past at Robin Hood's Faire. Witness singing, dancing and magic throughout the faire, listen to old world music performed live on stage and in the streets and watch Robin Hood and his Merry Men stop Prince John's villainy.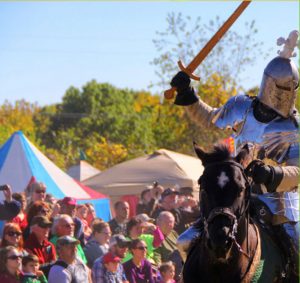 This amusing and colorful festival offers continuous themed entertainment throughout the day and some special events including:  The Mayor of Nottingham's Bingo Brunch, Princess Tea Time, Archery & Archery Tag, Opening Ceremony, Daily Tournaments, Paragon Jousting, parade, Prince John's Plot and join the Merry Men interactive show. For a complete schedule of events: robinhoodsfaire.com/shops-and-crafts/show-information/show-schedule/
The Faire has featured weekends, with activities geared to themes:
May 13, 14 – Pet Weekend– Open up a whole new world for your pet when you attend Robin Hood's Faire "Pet Weekend". Participate in daily contests with your pet to win prizes or just watch shows, shop, and enjoy the day. robinhoodsfaire.com/may-13-14-pet-weekend/
May 20-21 – Fantasy & Fairies Weekend- Anything is possible with fairy magic as visitors from a variety of places and times are pulled from the future and past to Robin Hood's Faire. Come as you are or consider dressing as a fairy or play someone from history or the future. robinhoodsfaire.com/fantasy-fairy-weekend-may-20-21/
May 27, 28, 29 – Bromance & Brew Weekend-What could be better than hanging out with your guy friends, competing against each other in manly contests, and sharing a cold craft brew? Guys will enjoy this weekend and  ladies, Sunday is a vow renewals with Friar Tuck.  robinhoodsfaire.com/bromance-brew-weekend-may-27-28-29/
Robin Hood's Faire runs every Saturday, Sunday, and Memorial Day from May 13-29, 2017 (11 am to 7pm). Tickets to the festival are available at the Faire on all days of the show. All food, drink, and games are cash only.
Location: North Haven Fairgrounds, 300 Washington Ave, North Haven, CT 06473
Dates: May 13 — 29, opened Sat, Sun & Memorial Day
Hours: 11– 7pm
Tel: 860-478-5954
robinhoodsfaire.com
For Regional Accommodations, Restaurants & Attractions: visitnewhaven.com