Tag Archive
activity
architecture
art
artist
Austria
Canada
children
city
CostSaver
display
Drivei-95
drive i-95
entertainment
Europe
event
exhibit
family
festival
Florida
food
France
free
fun
historic
History
landmark
live
local
London
Museum
music
photo
roadtrip
shop
show
sights
sightseeing
tour
tourist
Trafalgar
travel
travelblogger
USA
view
world

Some men are driven by a need for fame. Some men seek glory. Buz has always sought out the perfect barbecue. Not that par-boiled, mass-produced, liquid-smoke injected kind, either. Nothing but real barbecue will do.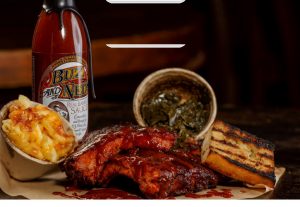 It took a NYC guy to literally work his way thru kitchens in BBQ havens in Texas, Kansas City, Memphis and Lexington KY, and then merge all that expertise with Ned's 150- year old family recipe to perfect the art of the pit and his own scrumptious BBQ.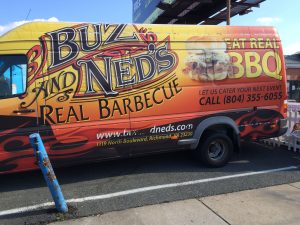 For the past 25 years, his ribs (baby back, spare or beef) have been a hit, there's hearty Brunswick stew (chock full of corn, string beans, carrots, and potatoes), killer chili, Sandra's favorite: beef brisket, and you-could-eat-alone sides of chunky smokey baked beans, cukes & onions, sweet potato fries and, of course, hush puppies. Wash 'em down with root beer and Cheerwine.
On the last Monday of every month Buz and Ned's is featuring Pig Pickin' Mondays  at their 8205 West Broad St. location only. The traditional, down-home, country PIG PICKIN' starts at 6 p.m. until 8 p.m. (or earlier , 'til they run out of pig). It's a first-come, first-serve, all-you-can-eat meal featuring an amazing 100% wood barbecued whole pig cooked slowly using only freshly-cut hickory log, served with Buz and Ned's barbecue sauce on the side. The buffet will also include: hush puppies, freshly shredded cole slaw, sandwich rolls, three bean baked beans, sour cream red skinned potato salad and freshly-brewed iced tea.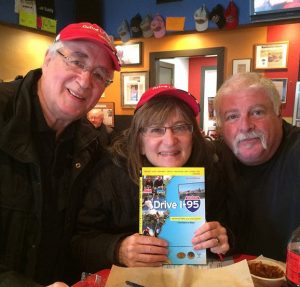 With a whole-hog knowledge of 'cue, meat-eaters will agree that Buz and Ned's Real Barbecue is a Southern authority on smoke. Go on in and eat like a local.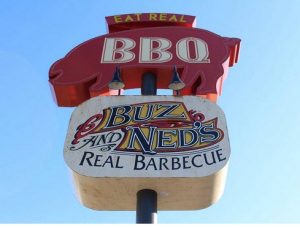 Boulevard Location: 1119 North Blvd., Richmond, VA 23230 (Directions)
Hours: Sun-Thurs: 11am-9pm · Fri-Sat: 11am-10pm
Tel: 804-355-6055
West Broad Street Location: 8205 W. Broad St., Richmond, VA 23294 (Directions)
Hours: Sun-Thurs: 11am-10pm · Fri-Sat: 11am-11pm
Tel: 804-346-4227
buzandneds.com
For Regional Accommodations, Restaurants & Attractions: visitrichmondva.com
Only in Montreal will you find this flavor of potato chips! Montreal Steak Spice is a famous blend of spices that takes steak to a new level, but can also be sprinkled on chicken, pork, hamburgers and now even potato chips. We found this bag at Le Panier, the fabulous gift shop at 300 Bord du Lac (Lakeshore Rd) in Pointe Claire.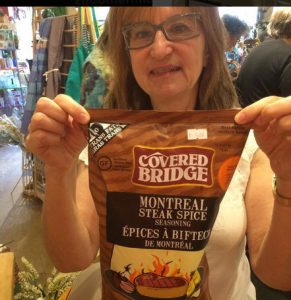 Every other shop in Bruges, it seems, is a chocolate shop – 50 or so but who's counting?  Bruges, known for its medievalness, has a playful side when it comes to tourist museums, with one for chocolate and another for fries. The chocolate museum started out as a private collection of everything to do with the history and making of chocolate.
You will learn that milk chocolate is 45% sugar, and that when chocolate made its way to Europe by the Spanish explorers, it was a drink with a secret recipe for making it – til the 1800's. The process of conching was invented around then, which made it possible to create hardened chocolate for eating. You can see the cups they drank it in, and they sure were super-sized. Fries with that?
Chips (fries) were  created in the US in 1852 in Saratoga, NY all because of a dissatisfied customer. When he complained to George Crum about his potato, Mr Crum sliced it into little pieces to annoy him. Instead he loved it! French fries were possibly misnamed during WWII when American soldiers, hearing Belgians eating fries and talking French, thought they were French food.
Potatoes around the world are covered too – see if you can find the pink and purple ones. If all this fry talk has gotten you a bit hungry, don't worry, there's a fries shop in the basement where you can have them with the traditional mayonnaise or pickle sauce, mustard or curry ketchup.