Tag Archive
activity
art
artist
Canada
children
community
contest
country
craft
display
downtown
Drivei-95
drive i-95
drivei95
entertainment
event
family
festival
Florida
food
free
fun
game
historic
History
house
Island
live
local
Museum
music
national
North Carolina
performance
prize
Restaurant
roadtrip
shop
show
tour
travel
travelblogger
USA
vendor
world
Join the Diamond State Ghost Investigators and park staff for a three-hour adventure in paranormal investigation.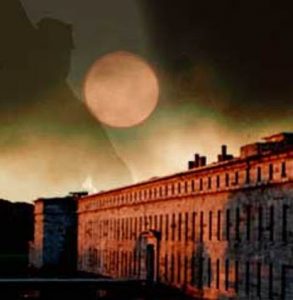 Fort Delaware, the Union fortress dating back to 1859, once housed Confederate prisoners of war. Throughout history, quite a number of people have encountered paranormal  experiences at the prison. It is believed that the spirits that haunt Fort Delaware are a direct result of the  suffering and violence that was sustained there.
Participants witness and take part in actual investigations of the haunted prison located on Pea Patch Island using electronic magnetic field detectors, data recorders, and temperature sensors visiting areas where paranormal activity has been reported.
October 29 from 9:30pm-2:30am – For hard-core ghost hunters only, participate on Halloween to take part in a five-hour investigation of Fort Delaware, in which you are a key part of the investigative team. What better way to scare the bajeebers out of you.
Participants must be 13 years old or older and should arrive 30 minutes prior to boat departure to check in at the Fort Delaware dock, 45 Clinton Street, Delaware City DE 19706. Tickets sell fast due to high demand, so book early!
Location: Fort Delaware, Pea Patch Island, Delaware City, DE 19706
( Fort Delaware State Park is accessible only by ferry, leaving from 45 Clinton Street, Delaware City DE 19706 )
Dates: Fridays, Saturdays in October – October 7, 8, 14, 15, 21, 22, 28, 29, 2016
Hours: 6:30 p.m. and 9:30 p.m. tours (exception- Oct 29 – 9:30 tour only)
Tel: 302- 834-7941
destateparks.com/ghost
For Regional Accommodations, Restaurants and Attractions: visitwilmingtonde.com
By Adele Shapiro – March 2012.
As a child I used to visit Robben Island with my grandmother. Her son, my uncle, was a warder in the prison services there. The name "Robben", despite sounding very English – is in fact the Dutch for "Seal" – and the name derives from the extensive seal colony that was found on the Island by the first Dutch settlers.
We would go to the Cape Town docks and from there, take a boat ride to the island, where we would spend the day with family. I was vaguely aware that there were bad people on the island, and that it was a prison…. but little did I know then of the role it was to play in South Africa's later history. Years passed and now as an ad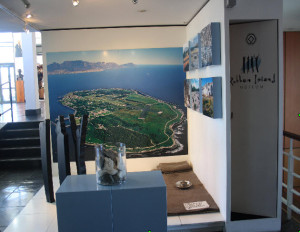 ult, I found myself revisiting the place where "the bad people" were kept, only now I realized that some were not so bad after all.
I bought a ticket for the tour some days before the trip, (advisable, as they fill up quickly) and took time out to examine the display at the Nelson Mandela Gateway at the V&A Waterfront in Cape Town.
There were many photographs of the political dissidents, the calls for boycotts, the anti-apartheid marches and there was also a prison cell that had been reconstructed for the purposes of the exhibit. I strongly recommend a visit to this exhibit before going to the island as it helps to contextualize the experience.
The trip began, as in times of old, with a boat ride from Cape Town docks, but this time instead of my uncle meeting us, we had a pleasant tour guide who told us jokes on our bus trip, whilst pointing out various sights on the island. Our bus was parked under a sign that said: "Welcome. We serve with pride." I wondered if that sign had been there when Robben Island had been a prison as it was so sharply incongruous to the environment. I hoped not.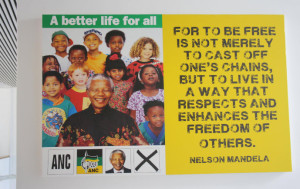 Robben Island has had a long history. First as a lighthouse to warn ships of the VOC, the Dutch East India Company (Verenigde Oostindische Compagnie), of the rocks that surround the island. But since the end of the 17th century, Robben Island has been used for the isolation of (mainly) political prisoners. The island was also used at various times as an animal quarantine station, a home for slaves, a leper colony, a hospital for the mentally ill and as a prison for French Vichy prisoners of war.
First we saw the Leper Graveyard and then house where Robert Sobukwe (Founder of the Pan Africanist Congress) had been kept separate from the other political dissidents.
It seems that Robert Sobukwe had special status in the prison. He was kept in solitary confinement at all times, but allowed certain privileges including access to books, being permitted to study, being permitted to wear civilian clothes, and being permitted bread. His children were allowed to visit him and they had their own bedroom in his "house". Robert Sobukwe was convicted of incitement for demonstrating against and defying the Pass Laws, and in particular, for his connection to the PAC demonstration (although he was not present) which became known as the Sharpeville Massacre.
The notorious Pass Laws required black people to carry a pass book at all times when outside their compounds or designated areas, and were designed to limit severely the movements of the non-white population. This legislation was one of the dominant features of the country's apartheid system.
Sobukwe was sentenced to three years in prison. After serving his sentence, he was moved to Robben Island for internment, as a new law called the General Law Amendment Act had been passed, which permitted his imprisonment to be renewed annually at the discretion of the Minister of Justice. This procedure became known as the "Sobukwe clause" and Robert Sobukwe was the only person whose imprisonment was extended under this clause. Imagine how special one has to be in order for parliament to pass a law just for you!
We also learned from our tour guide that the American politician and Pastor, Andrew Young, had fostered Sobukwe's children in the USA, while Sobukwe had been in prison.
Our tour continued to the lime quarry where the political prisoners had worked. At the entrance to the quarry we saw a small cairn, and learned its history. In February 1995, (the landmark change of government was in 1994), about one thousand former political prisoners gathered again on Robben Island, but this time as free men, and to mark the occasion, each one placed a small stone from the quarry in a pile, making a small memorial to their years of hardship and struggle.
As we continued on our bus ride, we were shown a church, a hospital, a school and a mosque, and realized that far beyond our expectations, the island had supported a whole community. We duly arrived at the prison and tumbled out of the bus for our tour of "the real thing". We were excited and filled with high spirits and I wondered for a moment where my heart would have been had I not been a tourist.
Inside we found grey walls. It was cool at midday; it was clear that at midnight it would be very cold. The communal cells were large and each had a bathroom attached.
Here we met our prison tour guide, Derrick Basson, a former political prisoner who served time on Robben Island for sabotage.
Derrick was very patient, humble and remarkably, not bitter. He answered all the insensitive questions calmly and without anger. In addition he explained the grading of the prisoners by race and also the diets that varied due to the racial classification of each prisoner. One of the curious facts he told us was that black prisoners were not given bread. As they were Africans their "natural" food was considered to be maize meal. The mixed race prisoners were allowed bread as they were considered to be more western or European and less African. The black Africans were also not allowed jam or syrup. I suppose you do not need jam if you have no bread.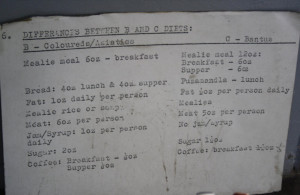 Then I remembered that Robert Sobukwe, in spite of being black, was allowed to have bread, and it struck me that this must have been because he had been a university professor, and since this is a very "European" and non-tribal job, maybe he was considered eligible to receive bread.
Derrick further explained how prisoners slept on mats on the floor and how 5 blankets had not been enough to keep them warm at night. I suddenly remembered an interview with a former Alcatraz inmate who spoke of the extreme cold and of how prisoners had learned to sleep with only their elbows and knees touching the floor, hands locked behind the head. I became very grateful for my duvet.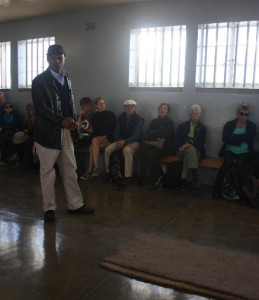 We were told that in the beginning the political prisoners had been kept with the ordinary criminals, but later on, they were, thankfully, given their own "wing" and kept together. They came to call this place "The University" as they learned many things from each other and many of them also obtained degrees while in prison.
Derrick then took us to a yard where the prisoners had chopped rocks and turned them into stones, day after day in the sun. They were told that these rocks were used for roads built on the island, but no one seemed to know if this was true or not.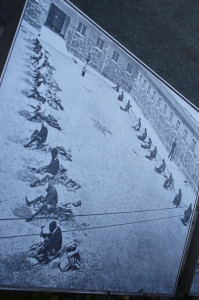 We were then taken to Nelson Mandela's cell. Mandela was a militant anti-apartheid activist, as well as the co-founder and leader of the armed wing of the African National Congress (ANC), Umkhonto we Sizwe or "Spear of the Nation". He was arrested in 1962 and convicted of sabotage, (amongst other charges), after he admitted to manufacturing explosives and acts of public violence, and was sentenced to life imprisonment. Mandela served 27 years in prison, 18 of these on Robben Island. After his release, he served as President of South Africa from 1994 to 1999.
My very first impression was of how small the cell was. No, not small, tiny. And then I thought that at least he could stand up and lie down in it, but not much more than that. At least it was larger than the dreadful box that I had heard was used in China. But there was no toilet. Just a metal bucket with a lid. At least a lid. And no tap, so no water. And if you are thirsty during the night, what should you do? And of course there was no electrical socket and no radio nor TV. And all I could think of was 27 years. TWENTY SEVEN YEARS! There was no door handle on the inside. The door was only operational from the outside, not unlike a cage. I remembered that Nelson Mandela had once remarked that the hardest and most traumatic experience he endured whilst on Robben Island for all those years was that he never ever saw, or even heard, a child. Can you imagine that? Now he insists on being photographed with children, whenever possible.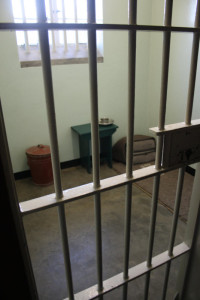 And then it was all over. We walked out to the yard, Derrick took us to the exit, and we said our goodbyes.I felt an odd mixture of elation and depression. Very happy that I had been to a UNESCO World Heritage Site of such importance, happier still that it was no longer a prison, and most happy that I was leaving. Yet also depressed and ashamed because of the suffering this place represented.
Duly subdued, we gratefully returned to our boat to ponder our feelings of inspiration and shock, enjoy the beautiful sunset cruise back to Cape Town, and watch a school of dolphins at play in the sea.
Remember when planning a visit to Robben Island, that the tours don't always run on time. There was no snack bar on the boat. Our boat was 1 hour late in leaving Cape Town harbour and then we were rushed through our tour, which was a pity as there was too little time for questions.
A suggestion would be to make no appointments after the visit as the timing can vary, and also, take a snack pack. A sun hat and sun block are also good ideas.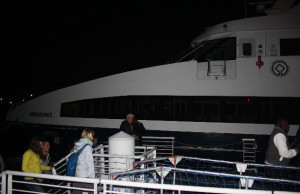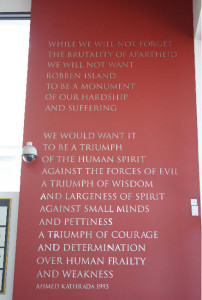 Ferries depart (supposedly) at 9am, 11am, 1pm and 3pm, weather permitting, from Nelson Mandela Gateway, at the V&A Waterfront in Cape Town. Tickets costs are R230 for adults and R120 for children (U/18). Telephone: +27 (0)21 413 4200
Fax: +27 (0)21 419 1057
A lot has changed in Yuma over the last century – but one thing that hasn't is the reliable sunshine that favors this southwestern town an average of 350 days a year. In fact, back in the day, Yuma hotels boasted that they offered "free board every day the sun doesn't shine." Now, in honor of Arizona's Centennial celebration, the whole community will renew the historic offer for twelve months beginning August 1.
"Since Yuma is America's sunniest city, we think that this is a perfect way to shine a light on our climate and celebrate a century of hospitality," said Susan Sternitzke, executive director of the Yuma Visitors Bureau. "It's a natural – literally."
True to the original promotion, the new "free board" campaign will provide complimentary meals at participating restaurants for registered guests of participating hotels. An officially sunless day – "Code Gloom" – will be declared by a committee of YVB staff, board members and meteorologists as of 5 p.m. and announced to the public when hotels place a life-sized cutout of an umbrella-toting Yuma Mayor Alan Krieger in their lobbies.
Hotels then will validate and date-stamp "free board" certificates which will be good until 5 p.m. the next day for a complimentary meal (or $10 discount) at variety of restaurants. Other area businesses are coming up with tie-in specials, discounts or giveaways, with free tastings at the local winery and complimentary admission to the historic Yuma Territorial Prison park and museum already among the offerings that'll brighten sunless days.
Is picking up the tab for what could be a party of thousands a big gamble to take? Sternitzke says no, pointing to the Guinness World Record recognizing Yuma as the sunniest place on earth – with bright skies prevailing a mean of 4,055 hours of a possible 4,456 hours every year, or 91 percent of the time.
Yuma's also prominent in the "weather extremes" tracked by the U.S. Department of Commerce's National Climatic Data Center, earning number one slots not just as "sunniest," but also driest (3.01 inches per year), least humid (annual average 22.5 percent) and having the fewest days with precipitation (16 per year average).
All that data has given at least one hotel the confidence to take the idea even further, with a special rate that will award a free room "every day the sun doesn't shine." The cost is the same as the regular room rate, explains Jeanine Rhea, general manager of the Hampton Inn, but comes with a "sunshine guarantee." You'll have to book two weeks in advance. "Sunshine is the default setting here," Rhea said. "We're pretty certain that what we're risking in comp room nights will be outshined by the warm feelings we'll generate."
So how many days a year – if any – actually pass in Yuma without at least a glimmer of sun? Despite all the statistics, no one is quite sure. But when it comes to this bright idea for the centennial celebration, gloom just isn't part of the outlook.
A longtime favorite with sun-seeking snowbirds, Yuma's population nearly doubles in the winter months, thanks to more than 23,000 spots in RV parks and resorts. The community also offers nearly 4,000 hotel rooms, conference and meeting facilities, and three casinos and of course, its  "cloudy with a chance of tacos" forecast.

www.visityuma.com or call 800-293-0100.