Tag Archive
activity
architecture
art
artist
Austria
Canada
children
city
CostSaver
display
downtown
drive i-95
Drivei-95
entertainment
Europe
event
exhibit
family
festival
Florida
food
free
fun
historic
History
landmark
live
local
London
Museum
music
Ontario
roadtrip
shop
show
sights
sightseeing
tour
tourist
Trafalgar
travel
travelblogger
USA
view
world
It's special when we can get to view a play which was honored with a Tony nomination and garnered a Pulitzer Prize.  Glengarry Glen Ross, now playing at the Mainline Theatre (produced by Acts to Grind Theatre), shows off David Mamet's ability to write profound dialogue.
This story highlights the cynical, difficult, pushy life of real estate salesmen in Chicago. I was not surprised to learn that the play is also often referred to as "Death of a Fuckin' Salesman", because it is notorious for its use of profanity. That hardly resonates in today's foul language world – on the other hand, today's politically correct society would flinch at the prejudice shown against East Indians and Polish people.
Mamet's characters are drawn down and dirty as lying, backstabbing, double-dealing tricksters willing to toss out ethical principles to justify their work. Yet they really are passionate about selling, and especially enjoy the nitty gritty details of closing a deal.  One of Mamet's goal in writing this play was to highlight the plight of so many people who go about their lives performing regular jobs yet often having to endure indignities while doing so.
Actor Zag Dorison (Shelly Levene) does an amazing job of making you feel his nervousness and despair; we twitch and pull on our lapels right along with him. Dorison, commenting on his character, "This play will always be relevant. There will always be those who exploit others and are out
for a buck at the expense of someone's savings and dignity. Although the character of Shelly Levene is down on his luck, he believes that
it's just a streak that will break; he had been a shark and wants to be one again. It is interesting that in spite of this, the audience still
sympathizes with him when his whole world comes crashing down upon him."
Michael Aronovitch (George Aaronow),  Izak Benrobi (Ricky Roma) and Jake Caceres (Dave Moss) have all been cast well for their parts, and they make their distinctive personalities apparent. Bryan Libero (John Williamson) really makes you dislike him while the company man, Olivier Ross-Parent (Blake/Baylen) is properly detestable.  Davyn Ryall (James Lingk) does well as the meek patsy trying to get his money back.
Be prepared for Mamet's long soliliquys for each of them – with the other salesmen there mostly as an audience for their rants.  Since this is a small theatre, you too feel as though you are right next to them in the room. Be careful though because as Levene says, these guys are so manipulative, they know how to sell you something you didn't even want.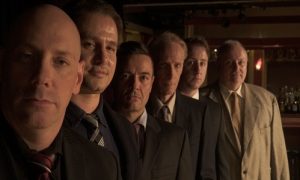 Location: MainLine Theatre, 3997 St-Laurent, 2nd floor
Dates: Presented in English: Wed-Sat Nov 7-10, 14, 15, 16, 17, at 8pm. Sun matinees Nov 11, 18, at 2 pm
Tickets: (Prices include taxes and service charge) $22 general admission; $20 Seniors; $18 Students
Tel: 514 849-3378
e-mail: boxoffice@montrealfringe.ca
www.mainlinetheatre.ca/en/spectacles/glengarry-glen-ross
youtu.be/kQOG32GINho
NOTE: mature language. Recommended ages 14+
Is there a place that can be more synonymous to Halloween then Salem, Massachusetts?  Throughout the entire month of October visitors of all ages flock there for the ultimate Halloween experience. Whether it's haunted houses, historic landmarks, costume parties, ghost tours, historic tours, events, psychic and tarot readings, witch and magical shops, Salem's Haunted Happenings, a festive celebration of Halloween and fall in New England, offers a plethora of unique one of a kind Halloween experiences.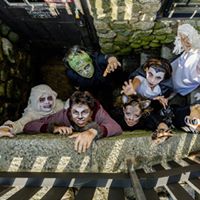 Oct 13th:
12th Annual Witch City 5K Road Race– Salem Willows Park 167 Fort Ave. 9:00 am. 12th Annual Witch City 5K Road Race. Run through Boo-tiful Historic Salem. Get your best running costume ready for this annual Salem Haunted Happenings Event. A great way to begin your day of Halloween fun in Salem. Let the kids join the Halloween costume fun with the Spooktacular Kids Broom Dash. Post-race awards, costume contest, music, photos, refreshments and more. Witch City 5K
Haunted Harmonies A Capella Festival – Haunted Harmonies is a one day A Cappella Festival. Vocal Group Competition-2pm, Tabernacle Church (50 Washington St.) Free and open to the public. Street Singing-4:30pm-6pm, Essex Street Pedestrian Mall. Free. Evening Concert-7:30pm, Tabernacle Church (50 Washington St.) See website for tickets. Haunted Harmonies
Howl-O-Ween Costumed Pet Parade – Derby Wharf, Salem Maritime Historic Site, 160 Derby St. 1 pm-2:30 pm. The event will include plenty of fun and games and a parade and costume contest with prizes. The event is free, though attendees wishing to participate in the parade will be asked to register. Further details: Howl-O-Ween Parade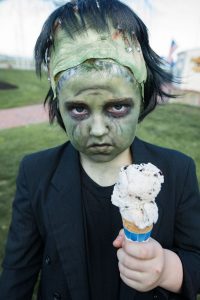 Dark Of Night At Pioneer Village– Pioneer Village, West Ave. – Forest River Park.  Starting at 7pm. In candle-lit cottages at the dark forest's edge, ghostly tales are told. An annual event for those lucky enough to experience the village in October. Seating is limited. Parking is free. Schedule and ticket purchase: Dark Of Night
Oct 14th: MDA Halloween Witch Ride- 11am. Scenic ride from Boston Harley-Davidson at 649 Squire Rd. in Revere to Shetland Park in Salem. All bikes welcome. Register
Oct 19th: Tony Moran At Count Orlok's – Oct. 19, Oct 2o, Oct 21 – Count Orlok's Nightmare Gallery 217 Essex St. (978) 740-0500 Special celebrity guest Tony Moran, known as the face of Michael Myers in the film "Halloween" will be appearing at Count Orlok's for a meet and greet and autographs. Count Orlok's Nightmare Gallery
Oct 20th: Haunted Grace – Phantom of the Opera – Grace Episcopal Church, 385 Essex St. 7:30-9:30pm. Love Gothic buildings and silent movies accompanied by spooky organ music? Haunted Grace is back with a chance to watch the original 1925 Phantom of the Opera with a live soundtrack played on the organ at local Gothic Grace Church. Info and tickets
Jerry's Fright Fair – Oct 20, Oct 21, Oct 27, Oct 28- 301 Essex St. 10am-7pm. 2 floors of vendors/artists selling mostly Halloween themed merchandise, artwork, jewelry, crafts and more! Info
An Evening with Edgar Allan Poe– Remix Church, 9 Church St – 6-7 pm  special guest, the dearly departed Edgar Allan Poe returns to Salem in a theatrically eerie setting, performing dramatic readings of "The Raven" and "A Tell-Tale Heart." Mister Poe will answer all your deepest, darkest questions about his life, his work and his mysterious death. Information and tickets
Oct 21: Trick Or Treat On The Wharf – Pickering Wharf, Derby St. at Congress St.  5pm to 7pm  Join the businesses on Pickering Wharf for this annual event that is free and open to the public. Children can give their costumes a test run at Pickering Wharf in Salem – participating establishments will be offering treats for kids.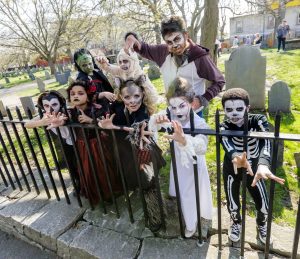 Oct 27: Devils Chase 6.66 Miler and Creepy Clown 3.33 Miler – Soccer Field, Salem Willows, Salem, Ma. (Other Side of 129 Fort Ave)  6:30am registration – 8am start time. The Devils Chase 6.66 Mile Run, named to the Top Nine Costume Runs in the World, is the best and most unique event you will run in all year long. 98% of participants dress up in devil-themed costumes. New this year,  a 3.33 Miler for our runners that want the same fun of the Devils Chase 6.66 Miler with half the run. People from all over the world venture to Historic Salem for one hell of a good time and a great run past a variety of Salem's well known landmarks.  Devil's Chase and Creepy Clown 3.33
Tales at the Witch House – The Witch House  310 Essex St. 978-744-8815. Starting at 7pm. Don't miss a macabre tales of superstition and murder. Move through the darkened rooms of the Witch House by lantern light as the story is performed by costumed actors. Stories begin every half hour and last about a half hour.  Tales At The Witch House
Haunted Grace – Nosferatu – Grace Episcopal Church, 385 Essex St. 7:30-9:30pm. Love Gothic buildings and silent movies accompanied by spooky organ music? Haunted Grace is back with a chance to watch the original 1922 Nosferatu with a live soundtrack played on the organ at local Gothic Grace Church. Info and tickets
Oct 31: 27th Annual TNW Samhain Witches Circle – The Temple of Nine Wells -ATC Ceremony at Gallows Hill Park, 5:30pm-7:30pm. Members of the Temple of Nine Wells Community, local Witches and Pagans and visitors from all over the world will gather at Gallows Hill park on Samhain Night. Dress warmly and walk with them to the site at 4:30pm from NU AEON at 88 Wharf St. After the rite, return to the heart of downtown Salem in the annual Commemorative Candle Light Walk.  Samhain Witches Circle
Closing Fireworks Display – 10:15pm Washington St./Bridge St. Overpass. Official conclusion of Salem's Halloween celebration.
On Going Events:


Imprisoned! 1692 : Essex National Heritage Area, 35 St. Peter. St. Weekends in October. Experience the horrors of the Old Witch Gaol (jail), the actual location where many accused were held during the infamous trials. There's no turning back now. On the eve of the deadliest night of the Witch Trials, the jailer will guide you to hear the stories of the convicted and their final pleas. Their fate has been chosen, but is it deserved? They will let you come to your own conclusions. Information and tickets
Witchery – Musical Play Written Just for Salem: Ames Hall, YMCA, 290 Essex St. 800-838-3006 Fridays Oct. 5 & 12 – 7pm; Saturdays Oct. 6 & 13 – 2pm & 7pm; Sundays Oct. 7 & 14 – 2pm. Witchery is a live, fun filled musical play. A lost little witch falls off her mother's broomstick on Halloween night into the land of Salem Massachusetts. Let's all help the witches, warlocks, ghosts and turkeys find her, in this fun musical for all ages. Live actors, Live music. Witchery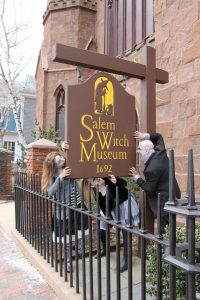 Salem Witch Museum 19 1/2 Washington Square North 978-744-1692 – Do you believe in witchcraft? At this museum get an understanding into the complex perception of witches, "from midwives and healers to witch hunts and Wiccans." Salem's most visited museum presents the witch hysteria of 1692 in an educational, thought-provoking, and a bit spooky way. You'll learn about the event leading up to the witch trials, and what life was like in Salem.salemwitchmuseum
The Tarot Experience – Moon Witch: The Witchery, 61 Wharf St. 339-203-1307  This October, immerse yourself in The Mysteries! Moon Witch is their latest Tarot Experience event, featuring live music, performance, spoken word and video. Explore witchcraft & moon magick along with themes from the tarot in new and thought-provoking ways.​ Running time is about 30 minutes. Moon Witch is a 13+ event. Schedule and tickets: Moon Witch
The Salem Haunted Magic Show – Hysteria: Oddities!: St. Peter's Church Hall Theater, 24 Saint Peter's St. September 29-November 2. A New Live 75 minute show HYSTERIA: Oddities! A unique blend of inconceivable magic, bizarre demonstrations of mind reading, wild comedy, and interactive audience participation. The show focuses on the mysterious and sometimes frightening world of the circus sideshow with incredible demonstrations of bizarre and scary magic, along with classic sideshow stunts like walking on broken glass, swallowing swords, beds of nails and eating lightbulbs . Showtimes and tickets: Salem Haunted Magic Show
Witch Mansion: 186-1 Essex Street, Museum Place Mall  978-825-1300 – Witch Mansion claims to be Salem's scariest haunted attraction. Built by a professional haunted house design firm, this eerie adventure is guaranteed to give you Chills and Thrills. Along with high-tech animations and creepy ghost illusions in 4D. You won't believe your eyes as you enter a twilight world of ghosts, beasts and banshees.  Witch Mansion
House Of Seven Gables October Performances:  October 5-27, House Of 7 Gables – 115 Derby St. 978-744-0991.SPIRITS OF THE GABLES:Get swept into Hawthorne's tale of guilt, greed and revenge as the characters from The House of the Seven Gables (1851), come to life and recount their stories while you walk through the very house that inspired Hawthorne's timeless novel. LEGACY OF THE HANGING JUDGE: Legacy of the Hanging Judge takes visitors back through Nathaniel Hawthorne's birth home to the events of the infamous Salem Witch Trials, through the eyes of the author, whose own ancestor, Judge John Hathorne had a hand to play in the tragic events of 1692. Performances begin every ten minutes in The Nathaniel Hawthorne birth house and last approximately 35 minutes. Last performance begins at closing. Combination tickets available. Reservations highly recommended. October Nights At The Gables

Whether you go by broom, by trolley or by foot, abandon all hope and surrender to the spell of Salem! There's nothing quite like spending Halloween in Salem, always jam packed with fun and spooky things to do.
Dates: Various
Times: Various
hauntedhappenings.org
For Regional Accommodations, Restaurants & Attractions: bostonusa.com
Photo Credit: John Andrews Photography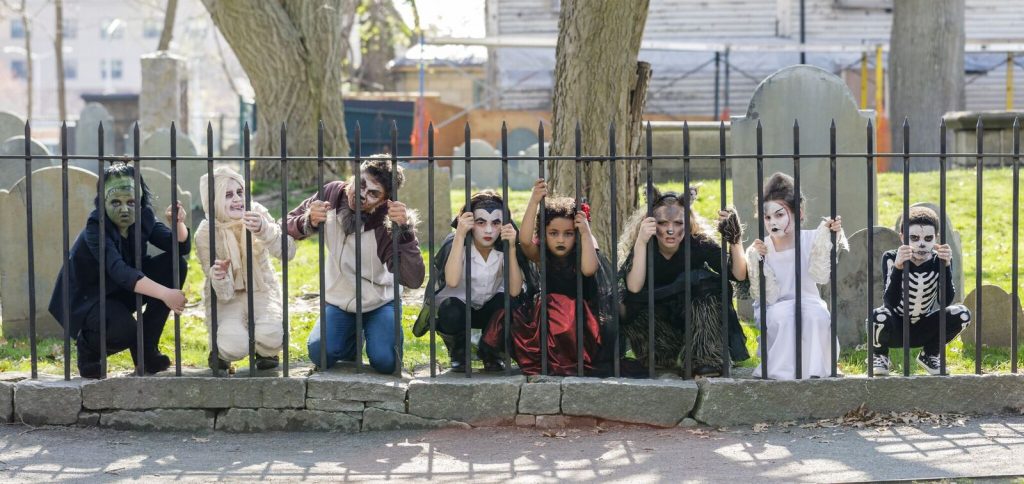 Calling all dachshunds, wiener wannabes, dachshund lovers and friends…A Cape Cod tradition continues on Main Street, celebrating everything dachshund in charming Historic Barnstable Village.
Cape Cod Doxie Day invites you to join the first ever Wiener Waddle and Waggin' Parade dachshunds in costume and decorated wagons, strollers and carts, are encouraged. Prizes will be awarded for best costume, best wagging and best waddle. Cheer on your favorite doxie in the Doxie Dash.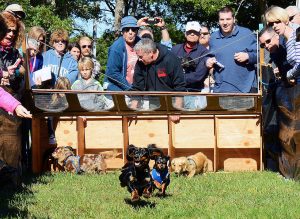 Bring Fido and help celebrate everything dachshund. Enjoy the many contest including longest doxie, teeniest weenie, best trick to name a few. Enter competitions to win prizes and bragging rights.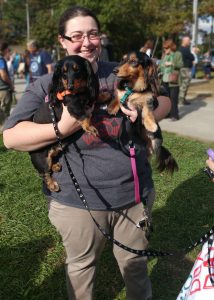 Fun for the whole family including the furry ones. Come on out and sing the official Dachs-song, mingle and meet other doxies to benefit local animal organizations. Take photos with the mini Oscar Mayer Wienermobile, and partake in the Blessing of the animals, and stop by the ask-a-vet table. There will be raffles,  silent auction and more.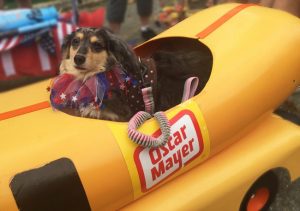 All well-behaved, on-leash dogs are welcome at Cape Cod Doxie Day. Admission is FREE and plenty of FREE parking.  Rain Date Sunday, September 30th.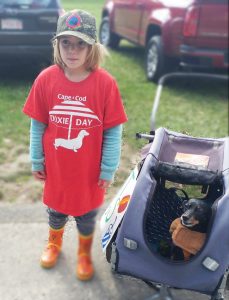 Proceeds from Cape Cod Doxie Day 2018 will benefit The Sampson Fund which helps pet owners pay for critical vet care bills which they would not have the means to do so without assistance (https://www.sampsonfund.org). They will be collecting donations packaged pet food and cat litter for Cape Cod Disaster Animal Response Team (CCDART) http://www.ccdart.org 
Location: Barnstable Village, Behind the Barnstable Courthouse, 3195 Main Street, Barnstable, MA 02630
Date: Sat, Sep 29, 2018
Time: Noon til 3pm
Tel: 508-362-8986
ccdoxieday.com
For Regional Accommodations, Restaurants & Attractions: capecodchamber.org
There's only a few more weeks for the whole family to appreciate the delightful and amusing summer long exhibition at the Ormond Memorial Art Museum & Garden. The Four Footed & Fanciful Art Exhibit showcases the work of three artists who create whimsical animal creatures.
Take a walk though the imagination of artists Adonna Khare, Cindy Burkett and Don Nedobeck and enjoy the fanciful creatures they capture.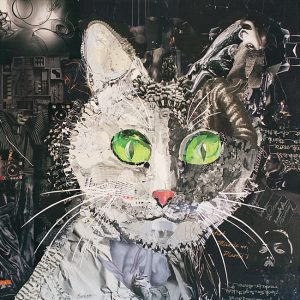 The exhibit features the artistic talents of California artist Adonna Khare, who creates large scale pieces using a carbon pencil. She was the winner of a $200,000 People's Choice prize at Art Prize.  Cindy Burkett, from New Smyrna Beach, creates intricate collages from recycled magazines and other materials for her collages that draw viewers in to find their surprising secrets and Don Nedobeck, a DeLand artist who creates fun animals, especially big fluffy cats, that he calls "caricatures in watercolor" and he has produced three children's books.                                  "Cats Eyes" collage by Cindy Burkett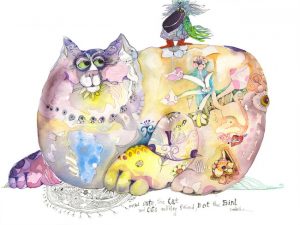 Hurry in because the exhibit only runs through Sept. 9.  Admission is free with a $2 per person suggested donation.
"Ornate Cat and Bert" Watercolor and ink by Don Nedobeck
Location: Ormond Memorial Art Museum & Garden, 78 East Granada Blvd, Ormond Beach, FL 32176
Date – until Sept 9, 2018
Time: Mon – Fri 10am – 4pm, Sat & Sun noon- 4pm
Tel: 386-676-3347
ormondartmuseum.org
For Regional Accommodations, Restaurants & Attractions: daytonabeach.com
Professional and amateur anglers and those looking for a fun, family event gather for The Greater Jacksonville Kingfish Tournament (GJKT), a contest fishing for king mackerel that spans six days every July in Jacksonville, Florida.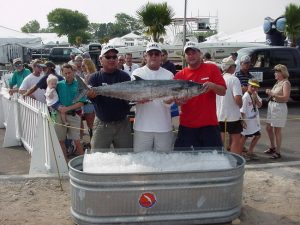 The Greater Jacksonville Kingfish Tournament, known as one of the largest kingfish tournaments in the Southeast,  is now entering its 38th year and goes way beyond the tournament itself. In addition to the General Tournament, this fishing extravaganza also includes a Junior Angler Offshore Tournament,  live entertainment, food festival, and more.
The event benefits Jacksonville Marine Charities, an organization that has proudly made an impact over the years for the local community and its economy. The grand tournament prizing structure grants cash prizes for 10 places with 1st Place Big Fish prize valued at over $86,000.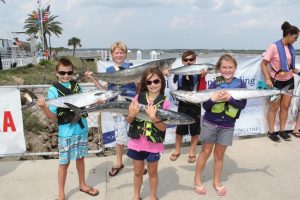 Location: Jim King Park & Boat Ramp at Sister Creek, Jacksonville, 32226
Dates: Jul 16 – 21, 2018
Time: Various – see schedule above
Tel: 904-251-3011
kingfishtournament.com
For Regional Accommodations, Rstaurants & Attractions: visitjacksonville.com
Father's Day is a special day, so why not treat Dad to a fun-filled day at A. Smith Bowman Distillery, the home of World's Best Bourbon 2016 & 2017, for their 7th Annual Father's Day Festival.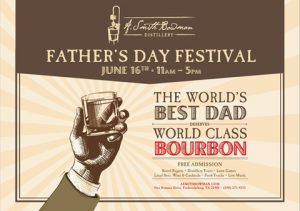 Admission is FREE to the festival and entertaining for the whole family.  Highlights include: Distillery tours on the half hour, tastings & cocktails, local beer & wine, Live music, mouthwatering food, vendors, games, and the much anticipated Annual Barrel Regatta.

The Annual Barrel Regatta is an amusing watery tradition. Taking place from  noon – 1pm, individuals or teams from around the create their own boats made from used bourbon barrels and race them in Deep Run. There will be prizes and awards for the two fastest finishes, most spirited and best sinking. You don't want to miss the race.
No pets with the exception of service animals are allowed in the festival areas.
Location: A. Smith Bowman Distillery, One Bowman Drive, At Deep Run, Fredericksburg, VA 22408
Date: Sat,  June 16th, 2018
Time: 11am – 5pm
Tel: 540-373-4555
asmithbowman.com
For Regional Accommodations, Restaurants & Attractions: visitfred.com
The paved walkways of Savannah's scenic Forsyth Park will spring to life at the 37th annual SCAD Sidewalk Arts Festival.
Watch as talented SCAD artists, alumni and high school students create colorful chalk masterpieces and compete for coveted prizes in a tradition that's nearly as old as the university itself.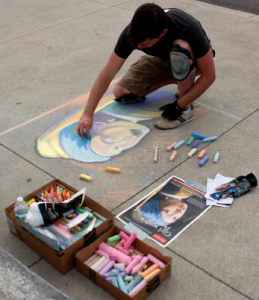 In addition to the sidewalk art, visitors can also see the art of tableaux vivants, or "living pictures" in which actors and models will silently depict a scene as if in a photo. Chalk distribution begins at 10am, drawing at 11am, with judging and results announced in the afternoon.
Who needs technology; discover just how much a simple piece of chalk can inspire.  Be amazed and mesmerized at the colorful chalk designs these artists produce on chalked-up squares along the sidewalks that weave through Forsyth Park.
Families are encouraged to bring their own chalk and let their little ones color on the squares that are not being used as part of the festival.
Free, fun and impressive, go out and be inspired, and maybe even draw a masterpiece of your own.

Location: Forsyth Park, Between Drayton and Whitaker streets, Savannah 31401
Date: Apr 28, 2018
Time: –
Tel: 800-869-7223
scad.edu/sidewalkarts
For Regional Accommodations, Restaurants & Attractions: visitsavannah.com
The New England Bear, Doll & Folk Art Show is a 1 day event being held on April 8th, 2018 at the Holiday Inn Boston Dedham Htl & Conf Ctr in Dedham, MA.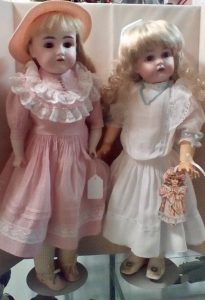 This eclectic and one-of-a-kind display showcases a spectacular selection of dolls, teddy bears and folk art including antique, collectible, fashion, Barbie, reborns & original artist dolls and bears from the 18th century to the 21st century.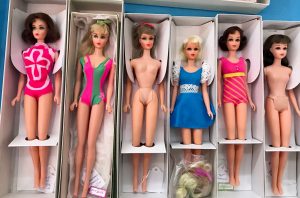 Also featured are a wide range of doll houses and miniatures based creations, plus vintage clothing & linens, furniture and doll parts, toys, American Girl clothing and much more. UFDC information table and door prizes.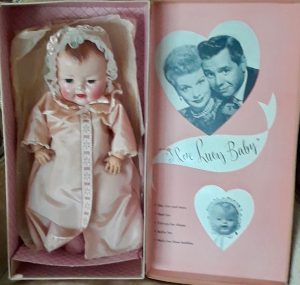 There will also be available identification, valuation, restringing and minor repairs.
Free Parking
Location: Holiday Inn Boston-Dedham, 55 Ariadne Rd, Dedham, MA 02026
Date: Sun, April 8, 2018
Time: 10am – 3pm
Tel: 603-969-1699
collinsgifts.com/events
For Regional Accommodation, Restaurants & Attraction: bostonusa.com
Now here's a unique and stylish fundraiser that I can really get behind; it's bingo, but how about Designer Handbag Bingo!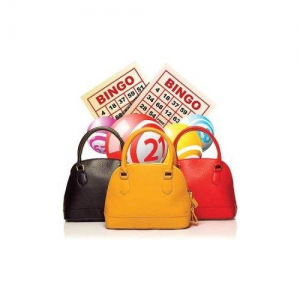 Enjoy an afternoon of Bingo fun with chances to win designer handbags from Coach, Kate Spade, Michael Kors, Vera Bradley and more. Fun festivities includes: 50/50 Raffle, Special Games, Door Prizes, Silent Auction and Concessions.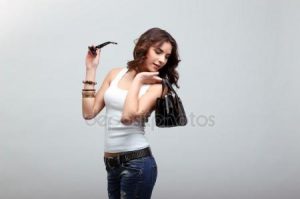 Proceeds will benefit The Bernie House and the Zonta Club of Annapolis Scholarship Foundation.
Admission includes 20 bingo games, with extra games sold at the door. Tickets are limited. To buy your ticket: whatsuptix.com/events/designer-handbag-bingo/
Location: The Annapolis Elks Lodge #622, 2 Pythian Drive, Edgewater, MD 21037
Date: Sunday, March 18, 2018
Time: 1pm (Doors open at 12 noon, Bingo starts at 1pm)
Tel: 410-573-0201
elks622.com
For Regional Accommodations, Restaurants & Attractions: visitannapolis.org
Rumba on the Lumber 2018, a festival of food, movement, music and the arts, consisting of two days of events in historic downtown Lumberton with over 4000 people in  attendance.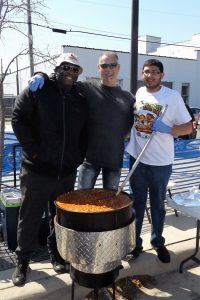 Many wonderful annual events will once again be front and center, including: The Rumba on the Lumber Festival with live music, vendors, Rumba Cross fit Games Exhibition, and the Lumbee River EMC Free Kidzone, 5K, 10K, fun run/walk, 100K ride, 20-Mile adventure ride,  Chili Cookoff and a bicycle rodeo.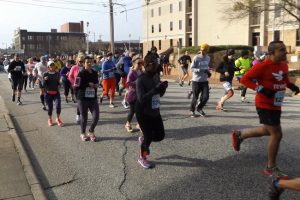 Many festival-goers agree, it's all about the chili. More than two dozen teams bring their most coveted recipes. Teams prepare a minimum of 10 gallons of chili and dole out free samples of their creations. The teams will be competing for prizes including the best tasting, Spiciest Chili, Strangest ingredient and Best chili cooking outfits. Don't miss the fun!
Saturday- Downtown Plaza/ 3rd Street: