Tag Archive
activity
art
artist
Canada
children
city
community
contest
country
craft
display
downtown
drive i-95
Drivei-95
drivei95
entertainment
event
family
festival
Florida
food
free
fun
game
historic
History
house
Island
live
local
Museum
music
national
North Carolina
performance
prize
Restaurant
roadtrip
shop
show
tour
travel
travelblogger
USA
world
Calling all dachshunds, wiener wannabes, dachshund lovers and friends…A Cape Cod tradition continues on Main Street, celebrating everything dachshund in charming Historic Barnstable Village.
Cape Cod Doxie Day invites you to join the first ever Wiener Waddle and Waggin' Parade dachshunds in costume and decorated wagons, strollers and carts, are encouraged. Prizes will be awarded for best costume, best wagging and best waddle. Cheer on your favorite doxie in the Doxie Dash.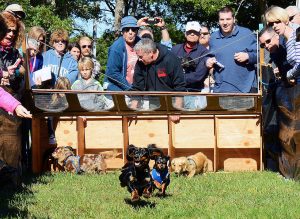 Bring Fido and help celebrate everything dachshund. Enjoy the many contest including longest doxie, teeniest weenie, best trick to name a few. Enter competitions to win prizes and bragging rights.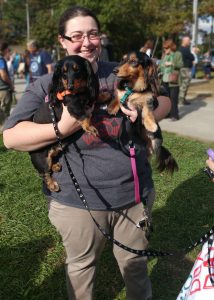 Fun for the whole family including the furry ones. Come on out and sing the official Dachs-song, mingle and meet other doxies to benefit local animal organizations. Take photos with the mini Oscar Mayer Wienermobile, and partake in the Blessing of the animals, and stop by the ask-a-vet table. There will be raffles,  silent auction and more.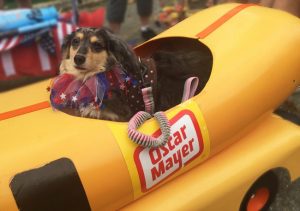 All well-behaved, on-leash dogs are welcome at Cape Cod Doxie Day. Admission is FREE and plenty of FREE parking.  Rain Date Sunday, September 30th.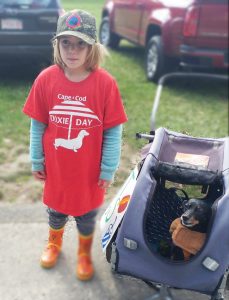 Proceeds from Cape Cod Doxie Day 2018 will benefit The Sampson Fund which helps pet owners pay for critical vet care bills which they would not have the means to do so without assistance (https://www.sampsonfund.org). They will be collecting donations packaged pet food and cat litter for Cape Cod Disaster Animal Response Team (CCDART) http://www.ccdart.org 
Location: Barnstable Village, Behind the Barnstable Courthouse, 3195 Main Street, Barnstable, MA 02630
Date: Sat, Sep 29, 2018
Time: Noon til 3pm
Tel: 508-362-8986
ccdoxieday.com
For Regional Accommodations, Restaurants & Attractions: capecodchamber.org
There's only a few more weeks for the whole family to appreciate the delightful and amusing summer long exhibition at the Ormond Memorial Art Museum & Garden. The Four Footed & Fanciful Art Exhibit showcases the work of three artists who create whimsical animal creatures.
Take a walk though the imagination of artists Adonna Khare, Cindy Burkett and Don Nedobeck and enjoy the fanciful creatures they capture.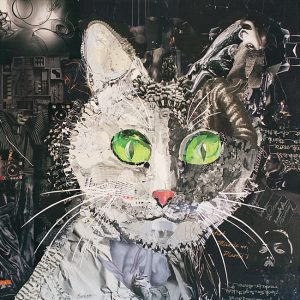 The exhibit features the artistic talents of California artist Adonna Khare, who creates large scale pieces using a carbon pencil. She was the winner of a $200,000 People's Choice prize at Art Prize.  Cindy Burkett, from New Smyrna Beach, creates intricate collages from recycled magazines and other materials for her collages that draw viewers in to find their surprising secrets and Don Nedobeck, a DeLand artist who creates fun animals, especially big fluffy cats, that he calls "caricatures in watercolor" and he has produced three children's books.                                  "Cats Eyes" collage by Cindy Burkett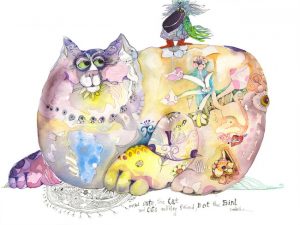 Hurry in because the exhibit only runs through Sept. 9.  Admission is free with a $2 per person suggested donation.
"Ornate Cat and Bert" Watercolor and ink by Don Nedobeck
Location: Ormond Memorial Art Museum & Garden, 78 East Granada Blvd, Ormond Beach, FL 32176
Date – until Sept 9, 2018
Time: Mon – Fri 10am – 4pm, Sat & Sun noon- 4pm
Tel: 386-676-3347
ormondartmuseum.org
For Regional Accommodations, Restaurants & Attractions: daytonabeach.com
Professional and amateur anglers and those looking for a fun, family event gather for The Greater Jacksonville Kingfish Tournament (GJKT), a contest fishing for king mackerel that spans six days every July in Jacksonville, Florida.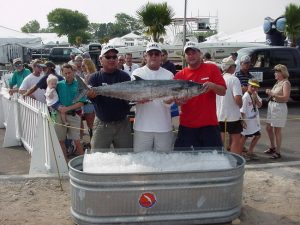 The Greater Jacksonville Kingfish Tournament, known as one of the largest kingfish tournaments in the Southeast,  is now entering its 38th year and goes way beyond the tournament itself. In addition to the General Tournament, this fishing extravaganza also includes a Junior Angler Offshore Tournament,  live entertainment, food festival, and more.
The event benefits Jacksonville Marine Charities, an organization that has proudly made an impact over the years for the local community and its economy. The grand tournament prizing structure grants cash prizes for 10 places with 1st Place Big Fish prize valued at over $86,000.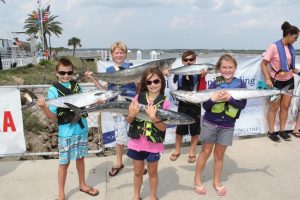 Location: Jim King Park & Boat Ramp at Sister Creek, Jacksonville, 32226
Dates: Jul 16 – 21, 2018
Time: Various – see schedule above
Tel: 904-251-3011
kingfishtournament.com
For Regional Accommodations, Rstaurants & Attractions: visitjacksonville.com
Father's Day is a special day, so why not treat Dad to a fun-filled day at A. Smith Bowman Distillery, the home of World's Best Bourbon 2016 & 2017, for their 7th Annual Father's Day Festival.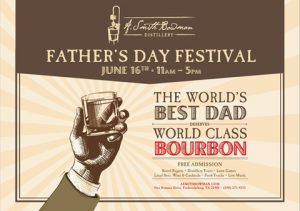 Admission is FREE to the festival and entertaining for the whole family.  Highlights include: Distillery tours on the half hour, tastings & cocktails, local beer & wine, Live music, mouthwatering food, vendors, games, and the much anticipated Annual Barrel Regatta.

The Annual Barrel Regatta is an amusing watery tradition. Taking place from  noon – 1pm, individuals or teams from around the create their own boats made from used bourbon barrels and race them in Deep Run. There will be prizes and awards for the two fastest finishes, most spirited and best sinking. You don't want to miss the race.
No pets with the exception of service animals are allowed in the festival areas.
Location: A. Smith Bowman Distillery, One Bowman Drive, At Deep Run, Fredericksburg, VA 22408
Date: Sat,  June 16th, 2018
Time: 11am – 5pm
Tel: 540-373-4555
asmithbowman.com
For Regional Accommodations, Restaurants & Attractions: visitfred.com
The paved walkways of Savannah's scenic Forsyth Park will spring to life at the 37th annual SCAD Sidewalk Arts Festival.
Watch as talented SCAD artists, alumni and high school students create colorful chalk masterpieces and compete for coveted prizes in a tradition that's nearly as old as the university itself.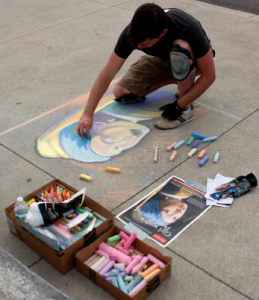 In addition to the sidewalk art, visitors can also see the art of tableaux vivants, or "living pictures" in which actors and models will silently depict a scene as if in a photo. Chalk distribution begins at 10am, drawing at 11am, with judging and results announced in the afternoon.
Who needs technology; discover just how much a simple piece of chalk can inspire.  Be amazed and mesmerized at the colorful chalk designs these artists produce on chalked-up squares along the sidewalks that weave through Forsyth Park.
Families are encouraged to bring their own chalk and let their little ones color on the squares that are not being used as part of the festival.
Free, fun and impressive, go out and be inspired, and maybe even draw a masterpiece of your own.

Location: Forsyth Park, Between Drayton and Whitaker streets, Savannah 31401
Date: Apr 28, 2018
Time: –
Tel: 800-869-7223
scad.edu/sidewalkarts
For Regional Accommodations, Restaurants & Attractions: visitsavannah.com
The New England Bear, Doll & Folk Art Show is a 1 day event being held on April 8th, 2018 at the Holiday Inn Boston Dedham Htl & Conf Ctr in Dedham, MA.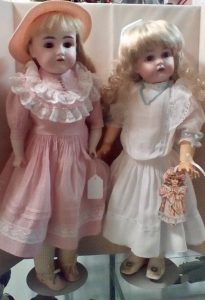 This eclectic and one-of-a-kind display showcases a spectacular selection of dolls, teddy bears and folk art including antique, collectible, fashion, Barbie, reborns & original artist dolls and bears from the 18th century to the 21st century.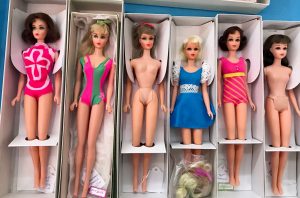 Also featured are a wide range of doll houses and miniatures based creations, plus vintage clothing & linens, furniture and doll parts, toys, American Girl clothing and much more. UFDC information table and door prizes.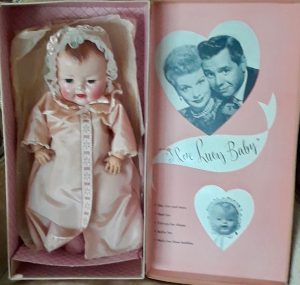 There will also be available identification, valuation, restringing and minor repairs.
Free Parking
Location: Holiday Inn Boston-Dedham, 55 Ariadne Rd, Dedham, MA 02026
Date: Sun, April 8, 2018
Time: 10am – 3pm
Tel: 603-969-1699
collinsgifts.com/events
For Regional Accommodation, Restaurants & Attraction: bostonusa.com
Now here's a unique and stylish fundraiser that I can really get behind; it's bingo, but how about Designer Handbag Bingo!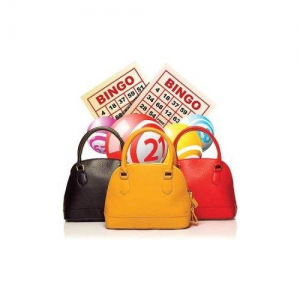 Enjoy an afternoon of Bingo fun with chances to win designer handbags from Coach, Kate Spade, Michael Kors, Vera Bradley and more. Fun festivities includes: 50/50 Raffle, Special Games, Door Prizes, Silent Auction and Concessions.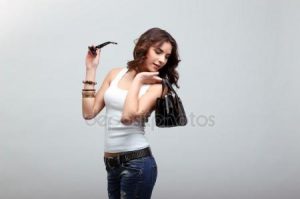 Proceeds will benefit The Bernie House and the Zonta Club of Annapolis Scholarship Foundation.
Admission includes 20 bingo games, with extra games sold at the door. Tickets are limited. To buy your ticket: whatsuptix.com/events/designer-handbag-bingo/
Location: The Annapolis Elks Lodge #622, 2 Pythian Drive, Edgewater, MD 21037
Date: Sunday, March 18, 2018
Time: 1pm (Doors open at 12 noon, Bingo starts at 1pm)
Tel: 410-573-0201
elks622.com
For Regional Accommodations, Restaurants & Attractions: visitannapolis.org
Rumba on the Lumber 2018, a festival of food, movement, music and the arts, consisting of two days of events in historic downtown Lumberton with over 4000 people in  attendance.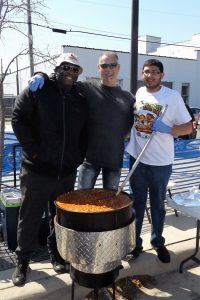 Many wonderful annual events will once again be front and center, including: The Rumba on the Lumber Festival with live music, vendors, Rumba Cross fit Games Exhibition, and the Lumbee River EMC Free Kidzone, 5K, 10K, fun run/walk, 100K ride, 20-Mile adventure ride,  Chili Cookoff and a bicycle rodeo.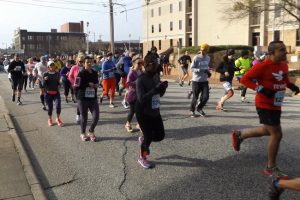 Many festival-goers agree, it's all about the chili. More than two dozen teams bring their most coveted recipes. Teams prepare a minimum of 10 gallons of chili and dole out free samples of their creations. The teams will be competing for prizes including the best tasting, Spiciest Chili, Strangest ingredient and Best chili cooking outfits. Don't miss the fun!
Saturday- Downtown Plaza/ 3rd Street:
Running into the chilly Atlantic might not be the typical way to celebrate New Year's Day, but for the last 18 years, the Tybee Polar Plunge has done just that.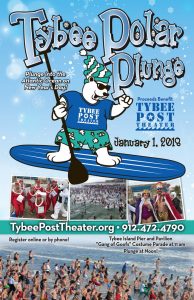 The annual Tybee Polar Plunge, is a tradition held every New Year's Day at the Tybee Island Pier and Pavilion. Join thousands of hearty and brave souls as they take a group  plunge into the into the icy Atlantic Ocean at noon or just come out and see who's crazy enough to take the plunge and cheer them on.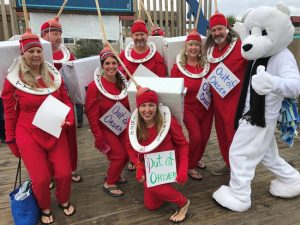 The fun kicks off with the legendary Gang of Goofs costume contest and parade on the Tybee Island Pier and Pavilion at 11 am before the plunge. So gather up your gang of goofy friends and family, dream up your wackiest costumes and compete for great cash prizes before a panel of celebrity judges.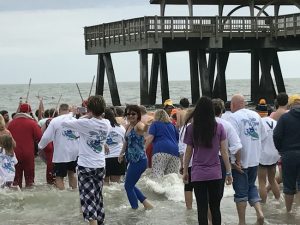 So don't hesitate, take the leap…Funds raised support the renovation of the historic Tybee Post Theater.
AVOID LONG LINES AND REGISTER IN ADVANCE!  Click Here
Location: Tybee Island Pier and Pavilion – Tybee Island, GA 31328
Date: Sunday,  January 1, 2018
Time: 10am
Tel: 912-472-4790, 912-786-5444
tybeepolarplunge.com
For Regional Accommodations, Restaurants & Attractions: visittybee.com, visitsavannah.com
This annual New Year's Eve bash takes over Old Town Alexandria with more than 150 performances at 23 indoor venues, with live music, dancing, children's face painting and games. First Night Alexandria is a celebration of the new year through the performing arts. Retail stores, hotels, museums and public buildings are turned into performance venues to showcase incredible local and regional talent.
For a small fee for adults (children 12 and under are free), you have access to all the entertainment, all evening. Everything is within easy walking distances. The afternoon's Ninth Annual Fun Hunt with all-new activities for families and pets. There's a venue at the Mount Vernon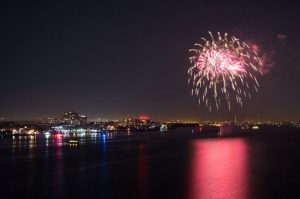 Recreation Center in Del Ray filled with fun activities for children 10 and younger, dancing in the street at the east end of King Street beginning at 10 pm and the piece de resistance is the First Night's fireworks finale with a spectacular display over the Potomac River at midnight. First Night Alexandria is so packed with entertainment, you will have a hard time deciding which performances to attend.
Event Schedule and Locations:
10:00am Noon Year's Eve – Alexandria Library – Kate Waller Barrett Branch, 717 Queen Street, Alexandria, VA 22314
12pm Watch Night at Alfred Street Baptist Church –301 South Alfred Street Alexandria
1pm George Washington Masonic Memorial Tour – George Washington Masonic Memorial, 101 Callahan Drive, Alexandria, VA, 22301
1pm Hooray For Books! – 1555 King Street, #101, Alexandria, VA 22314
1pm Olio – Oil & Vinegar Tasting – Olio Tasting Room. 1223 King Street, Alexandria, VA
1:30pm The Art League Gallery – 105 North Union Street, Alexandria, VA 22314
2pm 9th Annual Fun Hunt – Torpedo Factory Art Center, 105 North Union Street, Alexandria, VA 22314
2pm Kid's Art for Animal Adoptions – Torpedo Factory Art Center, 105 North Union Street, Alexandria, VA 22314
2pm Mobile Art Lab – Durant Arts Center, 1605 Cameron Street, Alexandria, VA 22314
2pm Pottery at the Alexandria Archaeology Museum – Torpedo Factory Art Center, 105 North Union Street, Alexandria, VA 22314
2pm TC Williams Jazz Band – Embassy Suites Hotel, 1900 Diagonal Road, Alexandria, VA
2pm Ten Thousand Villages –Ten Thousand Villages, 915 King Street, Alexandria, VA
2pm Thinkfun Family Game Room – Durant Arts Center, 1605 Cameron Street
2:30pm George Washington Masonic Memorial Tour – George Washington Masonic Memorial, 101 Callahan Drive, Alexandria, VA, 22301
4pm George Washington Masonic Memorial Tour –George Washington Masonic Memorial, 101 Callahan Drive, Alexandria, VA, 22301
5pm Amazing Clowns – George Washington Masonic Memorial, 101 Callahan Drive, Alexandria, VA, 22301
5pm Let's Make a Face – George Washington Masonic Memorial, 101 Callahan Drive, Alexandria, VA, 22301
5pm Seaworthy Small Ships –George Washington Masonic Memorial, 101 Callahan Drive, Alexandria, VA, 22301
6pm An Old Fashioned Carnival – Mount Vernon Recreation Center, 2701 Commonwealth Ave, Alexandria, VA 22305
6pm Becky's Balloon Animals – Mount Vernon Recreation Center, 2701 Commonwealth Ave, Alexandria, VA 22305
6pm Blue Sky Puppets – George Washington Masonic Memorial, 101 Callahan Drive, Alexandria, VA, 22301
6pm How-To Cowboy: Jokefest – Mount Vernon Recreation Center, 2701 Commonwealth Ave, Alexandria, VA 22305
6pm Kickoff and Drawing for Fun Hunt Prize Winners – Durant Arts Center, 1605 Cameron Street, Alexandria, VA 22314
6pm Rainbow Rock Band – Mount Vernon Recreation Center, 2701 Commonwealth Ave
6:15pm Mike Rose – Little Theatre of Alexandria, 600 Wolfe Street, Alexandria, VA 22314
6:45pm Mister Don – Mount Vernon Recreation Center, 2701 Commonwealth Avenue, Alexandria, VA 22305
6:45pm Virginia Bronze – George Washington Masonic Memorial, 101 Callahan Drive, Alexandria, VA, 22301
7pm Alexandria Singers – Washington Street United Methodist Church, 109 South Washington Street, Alexandria, VA 22314
7pm Amateur Facepainters – Washington Street United Methodist Church, 109 South Washington Street, Alexandria, VA 22314
7pm Billy & Bob Classic Country Show – George Washington Masonic Memorial, 101 Callahan Drive, Alexandria, VA, 22301
7pm Blue Moon Cowgirls –St. Paul's Episcopal Church, 228 South Pitt Street, Alexandria
7pm Blue Sky Puppets – George Washington Masonic Memorial, 101 Callahan Drive
7pm Cletus Kennelly – Alexandria's Union Station | 110 Callahan Drive, Alexandria
7pm Curtis Blues – Alexandria Library – Kate Waller Barrett Branch, 717 Queen Street
7pm Dr. Robert Band – Fraternal Order of the Eagles 871, 1015 Cameron Street
7pm Irish Breakfast Band
7pm Janna Audey & Rob Santos – Long & Foster, 400 King Street, Alexandria, VA 22314
7pm Lesson Zero – Christ Church Auditorium, 118 North Washington Street, Alexandria
7pm Mike Rose – Little Theatre of Alexandria, 600 Wolfe Street, Alexandria, VA 22314
7pm Pete Farnham – Alexandria City Hall – Vola Lawson Lobby, 301 King Street
7pm Primary Colors – Durant Arts Center, 1605 Cameron Street, Alexandria, VA 22314
7pm Ruthie & the Wranglers – American Legion Post 24, 400 Cameron Street, Alexandria,
7pm Stairwells –Old Presbyterian Meeting House, 321 South Fairfax Street, Alexandria
7pm The Glimpses – Lloyd House, 220 North Washington Street, Alexandria, VA 22314
7pm The Grandsons – Torpedo Factory Art Center, 105 North Union Street, Alexandria
7pm The Rogues – Alexandria Visitor Center, 221 King Street, Alexandria, VA 22314
7pm The Truehearts –George Washington Masonic Memorial, 101 Callahan Drive
7pm Vaughn Ambrose Trio – Principle Gallery, 208 King Street, Alexandria, VA 22314
7pm Watch Night at Alfred Street Baptist Church –301 South Alfred Street Alexandria, VA
7:30pm Battle of the Local Stars –Durant Arts Center, 1605 Cameron Street, Alexandria
7:30pm How-To Cowboy: Jokefest- Mount Vernon Recreation Center, 2701 Commonwealth Avenue, Alexandria, VA 22305
7:30pm Katherine Archer – Duchess M, 805 King Street, Alexandria, VA 22314
7:30pm Razor Hill – Refresh Yoga, 110 King Street, Alexandria, VA 22314
7:30pm Tom Teasley Duo –Imagine Artwear, 1124 King Street, Alexandria, VA 22314
7:30pm Virginia Bronze –George Washington Masonic Memorial,101 Callahan Drive
7:45pm Billy Coulter Band- Fraternal Order of the Eagles 871, 1015 Cameron Street
7:45pm Bill Kirchen –Torpedo Factory Art Center, 105 North Union Street, Alexandria
7:45pm Janine Wilson Band- American Legion Post 24, 400 Cameron Street, Alexandria
7:45pm King Teddy – George Washington Masonic Memorial, 101 Callahan Drive
7:45pm Mark Wesling –Alexandria's Union Station-110 Callahan Drive, Alexandria, VA
7:45pm Mike Rose- Little Theatre of Alexandria, 600 Wolfe Street, Alexandria, VA 22314
7:45pm Nicole Belanus –St. Paul's Episcopal Church, 228 South Pitt Street, Alexandria
7:45pm Nobody's Business –Christ Church Auditorium, 118 North Washington Street
7:45pm Not So Modern Jazz Quartet – Lyceum, 201 South Washington Street
7:45pm Sound of Sleat – George Washington Masonic Memorial, 101 Callahan Drive
7:45pmWashington Philharmonic's Woodwind Quintet –Washington Street United Methodist Church, 109 South Washington Street, Alexandria, VA 22314
8pm Al Petteway & Amy White – Old Presbyterian Meeting House, 321 South Fairfax St.
8pm Blue Sky Puppets-George Washington Masonic Memorial, 101 Callahan Drive
8pm Janna Audey & Rob Santos – Long & Foster, 400 King Street, Alexandria, VA 22314
8pm The Glimpses – Lloyd House, 220 North Washington Street, Alexandria, VA 22314
8pm The Rogues – Alexandria Visitor Center, 221 King Street, Alexandria, VA 22314
8pm Vaughn Ambrose Trio – Principle Gallery, 208 King Street, Alexandria, VA 22314
8:15pm Mister Don- Mount Vernon Recreation Center, 2701 Commonwealth Avenue
8:30pm Alexandria Singers – Washington Street United Methodist Church, 109 South Washington Street, Alexandria, VA 22314
8:30pm Billy & Bob Classic Country Show- George Washington Masonic Memorial, 101 Callahan Drive, Alexandria, VA, 22301
8:30pm Blue Moon Cowgirls –St. Paul's Episcopal Church, 228 South Pitt Street
8:30pm Cletus Kennelly – Alexandria's Union Station | 110 Callahan Drive, Alexandria
8:30pmCurtis Blues  –Alexandria Library – Kate Waller Barrett Branch,717 Queen Street
8:30pm Dr. Robert Band –Fraternal Order of the Eagles 871, 1015 Cameron Street
8:30pm Irish Breakfast Band –Lyceum, 201 South Washington Street, Alexandria, VA
8:30pm Katherine Archer- Duchess M, 805 King Street, Alexandria, VA 22314
8:30pm Lesson Zero –Christ Church Auditorium, 118 North Washington Street
8:30pm Mike Rose –Little Theatre of Alexandria, 600 Wolfe Street, Alexandria, VA 22314
8:30pm Pete Farnham- Alexandria City Hall – Vola Lawson Lobby, 301 King Street
8:30pm Razor Hill – Refresh Yoga, 110 King Street, Alexandria, VA 22314
8:30pm Ruthie & the Wranglers –American Legion Post 24, 400 Cameron Street
8:30pm The Grandsons – Torpedo Factory Art Center, 105 North Union Street
8:30pm The Truehearts  –George Washington Masonic Memorial,101 Callahan Drive
8:30pm Tom Teasley Duo- Imagine Artwear, 1124 King Street, Alexandria, VA 22314
8:45pmVirginia Bronze- George Washington Masonic Memorial, 101 Callahan Drive
9pm Janna Audey & Rob Santos- Long & Foster, 400 King Street, Alexandria, VA
9pm Stairwells – Old Presbyterian Meeting House, 321 South Fairfax Street
9pm The Glimpses  – Lloyd House, 220 North Washington Street, Alexandria, VA
9pm The Rogues – Alexandria Visitor Center, 221 King Street, Alexandria, VA 22314
9pm Vaughn Ambrose Trio –Principle Gallery, 208 King Street, Alexandria, VA 22314
9:15pm Bill Kirchen – Torpedo Factory Art Center, 105 North Union Street, Alexandria
9:15pm Billy Coulter Band – Fraternal Order of the Eagles 871, 1015 Cameron Street
9:15pm Janine Wilson Band – American Legion Post 24, 400 Cameron Street, Alexandria
9:15pm King Teddy – George Washington Masonic Memorial, 101 Callahan Drive
9:15pm Mark Wesling – Alexandria's Union Station, 110 Callahan Drive, Alexandria, VA
9:15pm Mike Rose – Little Theatre of Alexandria, 600 Wolfe Street, Alexandria, VA 22314
9:15pm Nicole Belanus –St. Paul's Episcopal Church, 228 South Pitt Street, Alexandria
9:15pm Nobody's Business – Christ Church Auditorium, 118 North Washington Street
9:15pm Not So Modern Jazz Quartet – Lyceum, 201 South Washington Street, Alexandria
9:15pm Sound of Sleat – George Washington Masonic Memorial, 101 Callahan Drive
9:15pm Washington Philharmonic's Woodwind Quintet – Washington Street United Methodist Church, 109 South Washington Street, Alexandria, VA 22314
9:30pm Curtis Blues – Alexandria Library – Kate Waller Barrett Branch, 717 Queen Street
9:30pm Katherine Archer – Duchess M, 805 King Street, Alexandria, VA 22314
9:30pm Keira Moran- Durant Arts Center, 1605 Cameron Street, Alexandria, VA 22314
9:30pm Pete Farnham – Alexandria City Hall – Vola Lawson Lobby, 301 King Street
9:30pm Razor Hill- Refresh Yoga, 110 King Street, Alexandria, VA 22314
9:30pm Tom Teasley Duo – Imagine Artwear, 1124 King Street, Alexandria, VA 22314
10pm Al Petteway & Amy White – Old Presbyterian Meeting House, 321 South Fairfax St.
10pm Alexandria Singers – Washington Street United Methodist Church, 109 South Washington Street, Alexandria, VA 22314
10pm Billy & Bob Classic Country Show- George Washington Masonic Memorial, 101 Callahan Drive, Alexandria, VA, 22301
10pm Blue Moon Cowgirls- St. Paul's Episcopal Church,228 South Pitt Street, Alexandria
10pm Christ Church Sanctuary- Christ Church Auditorium, 118 North Washington Street
10pm Cletus Kennelly – Alexandria's Union Station, 110 Callahan Drive, Alexandria, VA
10pm Dr. Robert Band – Fraternal Order of the Eagles 871, 1015 Cameron Street
10pm Irish Breakfast Band – Lyceum, 201 South Washington Street, Alexandria, VA
10pm Janna Audey & Rob Santos – Long & Foster, 400 King Street, Alexandria, VA 22314
10pm Lesson Zero – Christ Church Auditorium, 118 North Washington Street, Alexandria
10pm Mike Rose – Little Theatre of Alexandria, 600 Wolfe Street, Alexandria, VA 22314
10pm Ruthie & the Wranglers – American Legion Post 24, 400 Cameron Street
10pm Stairwells – Alexandria Waterfront, King Street, Alexandria, VA 22314
10pm The Glimpses – Lloyd House, 220 North Washington Street, Alexandria, VA 22314
10pm The Grandsons –Torpedo Factory Art Center, 105 North Union Street, Alexandria
10pm The Rogues – Alexandria Visitor Center, 221 King Street, Alexandria, VA 22314
10pmThe Truehearts –George Washington Masonic Memorial, 101 Callahan Drive
10pm Vaughn Ambrose Trio – Principle Gallery, 208 King Street, Alexandria, VA 22314
10pm Watch Night at Alfred Street Baptist Church, 301 South Alfred Street Alexandria
10:30pm Curtis Blues – Alexandria Library – Kate Waller Barrett Branch, 717 Queen St.
10:30pm Katherine Archer – Duchess M, 805 King Street, Alexandria, VA 22314
10:30pm Pete Farnham – Alexandria City Hall – Vola Lawson Lobby, 301 King Street
10:30pm  Tom Teasley Duo – Imagine Artwear, 1124 King Street, Alexandria, VA 22314
10:45pm Bill Kirchen – Torpedo Factory Art Center, 105 North Union Street, Alexandria
10:45pm Billy Coulter Band – Fraternal Order of the Eagles 871, 1015 Cameron Street
10:45pm Janine Wilson Band- American Legion Post 24,400 Cameron St., Alexandria
10:45pm King Teddy – George Washington Masonic Memorial, 101 Callahan Drive
10:45pm Mark Wesling- Alexandria's Union Station, 110 Callahan Drive, Alexandria, VA
10:45pm Nicole Belanus- St. Paul's Episcopal Church, 228 South Pitt Street, Alexandria
10:45pm Nobody's Business – Christ Church Auditorium, 118 North Washington Street
10:45pm Not So Modern Jazz Quartet – Lyceum, 201 South Washington St, Alexandria
10:45pm Sound of Sleat  – George Washington Masonic Memorial, 101 Callahan Drive
10:45pm Washington Philharmonic's Woodwind Quintet –Washington Street United Methodist Church, 109 South Washington Street, Alexandria, VA 22314
12am Fireworks on the River! – Alexandria Waterfront, King Street, Alexandria, VA 22314
Location: Old Town, Alexandria, VA
Date: Sun, Dec 31st, 2017
Times: 10am – midnight
Tel: 703-746-3299
firstnightalexandria.org
For Regional Accommodations, Restaurants & Attractions: visitalexandriava.com