Tag Archive
activity
annual
art
artist
Canada
children
city
community
contest
country
craft
display
downtown
drive i-95
Drivei-95
drivei95
entertainment
event
family
festival
Florida
food
free
fun
game
historic
History
house
Island
live
local
Museum
music
national
North Carolina
prize
Restaurant
roadtrip
shop
show
tour
travel
travelblogger
USA
world
Richmond International Film Festival (RIFF) brings more than 150 international cutting edge films to RVA, plus industry panels, Q&As, live musical performances, red carpet awards, and entertainment mixers that usher the spirit of Hollywood into Virginia's  Bowtie Cinemas, various music venues, and the historic Byrd Theater, a venue touted by USA Today as "one of the top 10 places to still see a movie in splendor in the United States."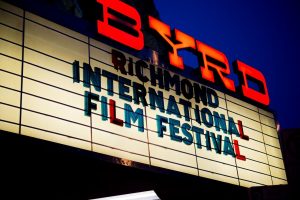 With more than 20 countries represented, the RIFF Official Selection consists of a diverse range of films (features and shorts), music videos, and screenplays across all genres.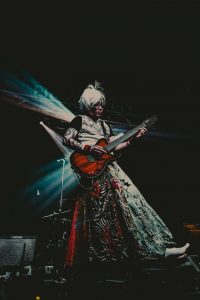 RIFF is known for placing a heavy focus on music each year. The 2018 Festival will again include more than 50 music performances, industry networking events, panels, music business roundtable discussions, industry mixers, and more. On top of providing great entertainment from some of the music industry's hottest talent, RIFF utilizes this area as a platform for filmmakers and musicians to forge new working relationships. Top awards will be given out across a variety of music categories during the annual red carpet awards.
2018 Special guests include: Kate Bosworth, Michael Polish, Danny Glover, Lee Aronsohn, Rene Balcer & Carolyn Hsu-Balcer.
It's a one-of-a-kind festival honoring some of the most singularly entertaining projects on the international film scene.
Location: Various
Date: Mon, Apr 23, 2018 – Sun, Apr 29, 2018
Tel: 804-219-0675
rvafilmfestival.com
For Regional Accommodations, Restaurants & Attractions: visitrichmondva.com

Some men are driven by a need for fame. Some men seek glory. Buz has always sought out the perfect barbecue. Not that par-boiled, mass-produced, liquid-smoke injected kind, either. Nothing but real barbecue will do.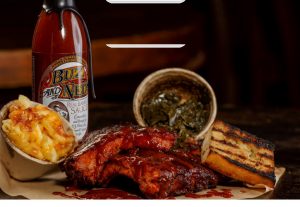 It took a NYC guy to literally work his way thru kitchens in BBQ havens in Texas, Kansas City, Memphis and Lexington KY, and then merge all that expertise with Ned's 150- year old family recipe to perfect the art of the pit and his own scrumptious BBQ.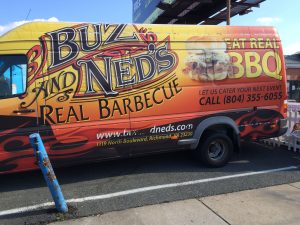 For the past 25 years, his ribs (baby back, spare or beef) have been a hit, there's hearty Brunswick stew (chock full of corn, string beans, carrots, and potatoes), killer chili, Sandra's favorite: beef brisket, and you-could-eat-alone sides of chunky smokey baked beans, cukes & onions, sweet potato fries and, of course, hush puppies. Wash 'em down with root beer and Cheerwine.
On the last Monday of every month Buz and Ned's is featuring Pig Pickin' Mondays  at their 8205 West Broad St. location only. The traditional, down-home, country PIG PICKIN' starts at 6 p.m. until 8 p.m. (or earlier , 'til they run out of pig). It's a first-come, first-serve, all-you-can-eat meal featuring an amazing 100% wood barbecued whole pig cooked slowly using only freshly-cut hickory log, served with Buz and Ned's barbecue sauce on the side. The buffet will also include: hush puppies, freshly shredded cole slaw, sandwich rolls, three bean baked beans, sour cream red skinned potato salad and freshly-brewed iced tea.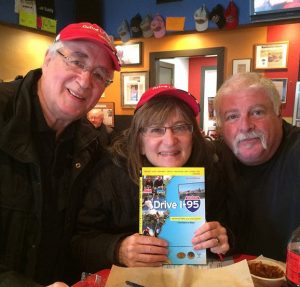 With a whole-hog knowledge of 'cue, meat-eaters will agree that Buz and Ned's Real Barbecue is a Southern authority on smoke. Go on in and eat like a local.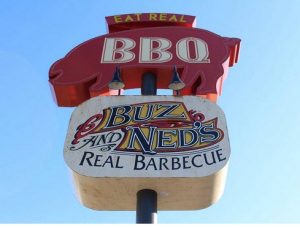 Boulevard Location: 1119 North Blvd., Richmond, VA 23230 (Directions)
Hours: Sun-Thurs: 11am-9pm · Fri-Sat: 11am-10pm
Tel: 804-355-6055
West Broad Street Location: 8205 W. Broad St., Richmond, VA 23294 (Directions)
Hours: Sun-Thurs: 11am-10pm · Fri-Sat: 11am-11pm
Tel: 804-346-4227
buzandneds.com
For Regional Accommodations, Restaurants & Attractions: visitrichmondva.com
The excitement of the fashion runway come to the Virginia Museum of Fine Arts this spring with Yves Saint Laurent: The Perfection of Style. showcasing highlights from the iconic designer's 44-year career.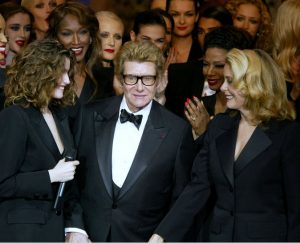 Drawn from the collection of the Fondation Pierre Bergé—Yves Saint Laurent,  and other private acquisitions, this impressive compilation offers an intimate and extensive view at the lifetime achievement of Yves Saint Laurent, one of history's most avant-garde  and influential fashion designers.
Fondation Pierre Bergé – Yves Saint Laurent,Paris.
Photo: Guy Marineau
Featuring 100 examples of haute couture and ready-to-wear garments—some never shown publicly before—this exhibition reveals Saint Laurent's artistic virtuoso, as well as his working technique, and the origins of his design inspiration. Witness his immersive operative process from his first sketch and fabric selection to the various stages of production and fitting before a final garment was realized.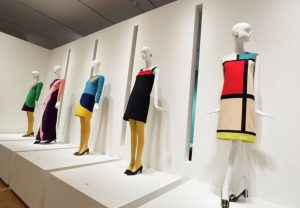 In addition to haute couture ensembles and ready-to-wear clothing, Yves Saint Laurent: The Perfection of Style also includes accessories, photographs, drawings, films, and video from the Fondation's vast archive.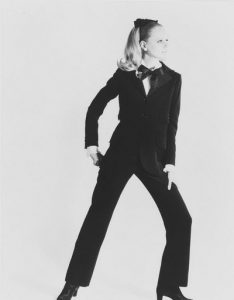 Photo by David Stover © VMFA
The exhibition traces the trajectory of Saint Laurent's style as it developed over the course of his career, beginning in 1953 with the Paper Doll Couture House that he created when he was a teenager, the exhibition is a journey from his first days at Dior in 1958, through his groundbreaking designs in the 1960s and 70s and the splendor of his final runway collection in 2002.                            
Fondation Pierre Bergé, Yves Saint Laurent, Paris. Photo: Gérard Pataa
Location:Virginia Museum of Fine Arts, 200 N. Boulevard, Richmond, VA 23220
Dates: Until August 27, 2017
Hours: Daily: 10 am – 5 pm, Thu & Fri: Until 9 pm
Tel: : 804-340-1405
vmfa.museum
For Regional Accommodations, Restaurants & Attractions: visitrichmondva.com
The Lewis Ginter Botanical Garden is an oasis on a driving trip – 82 magnificent acres which started life as Powhatanhuntinggrounds and was at one time owned by patriot Patrick Henry.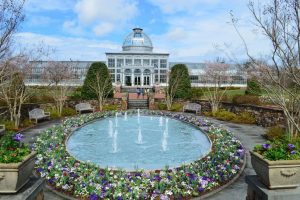 In 1884, Lewis Ginter, who was orphaned at 17 and later became a millionaire from tobacco and real estate, developed a Wheel Club House here for Richmond bicyclists (now Bloemendaal House). His niece, Grace Arents, developed the gardens, and her original design is still here.
There are more kinds of gardens than we ever knew existed: four seasons, healing, Asian, rose, wetland, azalea and a community kitchen one where they grow food for the hungry. The children's garden offers up a tree house and an activity center; there's sidewalk chalk, hula hooping, digging and watering opportunities.  They love the Kids Quest treasure hunt. For walkers, there's a "walk on the wild side" and a bird trail, and as if all that wasn't enough, there's a lush indoor conservatory with exotic plants from around the world.
Featured Events:
Location: Lewis Ginter Botanical Garden, 1800 Lakeside Ave, Richmond, VA 23228
Hours: Daily 9am – 5pm
Tel: 804-262-9887
lewisginter.org
For Regional Accommodations, Restaurants & Attractions: visitrichmondva.com
The Richmond Folk Festival carry's forward the 12-year tradition established by the hugely successful National Folk Festival celebrating the roots, richness and variety of American culture through music, dance traditional crafts, storytelling and food. The event takes place at downtown Richmond's  historic riverfront from 2nd to 7th streets and from Byrd Street to the river – including Brown's Island, The American Civil War Museum at Historic Tredegar, portions of Federal Reserve parking lots, and Tredegar Street.

Richmond Folk Festival is where over 200,000 festival goers gather for three FREE days of music, dance, food and fun. Drawing in visitors from across the country with an eclectic mix of 40 artists performing on seven different stages with continuous music and dance performances, along with a Virginia Folk-life demonstration area, children's activities, a folk arts marketplace, regional and ethnic foods.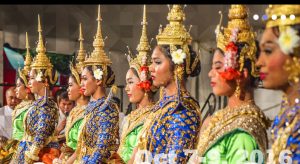 Among the artists to be featured at the 2016 Richmond Folk Festival are: Gary U.S. Bonds and Gene "Daddy G" Barge, (Norfolk Sound), Canzoniere Grecanico Salentino (Southern Italian pizzica tarantata), The Fairfield Four (African-American gospel singing quartet), Geno Delafose & French Rockin' Boogie (zydeco), Natalie MacMaster & Donnell Leahy (Cape Breton and Ontario fiddling), Joe Mullins & the Radio Ramblers (bluegrass), Homayoun Sakhi and Salar Nader (Afghan rubâb and tabla), Sheila Kay Adams (Appalachian songs, stories and ballads). Check the website for complete list of performers/schedule.richmondfolkfestival.org/docs/event_schedule
Expect lots of great food: ethnic, regional and traditional foods to delight guests and showcasing a wide variety of tempting foods to compliment the spirit of the festival. From classic festival fare to exotic flavors from around the globe, there's definitely something to tickle your tastebuds.
Location: Downtown Richmond's Riverfront, Brown's Island Park,Richmond, VA 23219
Date: Fri, Oct 07  – Sun, Oct 09, 2016
Time: Fri 6 – 10PM, Sat 12 – 9:30PM, Sun 12 – 6PM
Tel: 804-788-6466
richmondfolkfestival.org
For Regional Accommodations, Restaurants & Attractions: visitrichmondva.com
Discover Richmond's food scene by taking the Carytown Food & History Tour. Get acquainted with the neighborhood of Carytown, otherwise known as The Mile of Style, an eclectic mix of restaurants and boutiques while exploring Carytown?s food, history and culture on this 2.5-hour walking tour.
Along the way, you will be popping in and out of various restaurants, cafes, and shops. Get an insider's perspective as you sample delicious food and snacks from 5-6 local eateries including food tastings of fresh seafood, world-renowned tacos, popular Virginia peanuts. Hear from owners and chefs about how these establishments got their start. This culinary and cultural walking food tour is authentic and quirky and the perfect mix of food, history, and fun.
Walking Distance: 1 easy mile, Rain or Shine.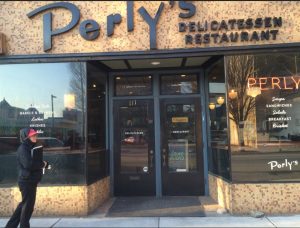 Location: Carytown, Richmond, VA 23221
Date/Time: Every Sat at 2:00pm
Tel: 804-479-8929
rivercityfoodtours.com/tours/carytown-food-tour
For Regional Accommodations, Restaurants & Attractions: visitrichmondva.com
In Richmond, BC, Canada,  mounds of swirly hurricane fries, Japanese takoyaki, and sweetly flavoured mini donuts are ready to hit the fryers. Grills are heating up in anticipation of skewered seaweed, squid pancakes, roasted yams and fresh duck wraps. Sweet treats, from mountains of sweet mango and cream to fresh dragon's beard candy, are being scooped and spun for the hot summer months ahead. Meanwhile, vendors are ready to sell their unique wares to shoppers, as performers line up to entertain you.
Richmond is home to 2 Asian night markets, bringing the Far East to the Canadian West Coast. The Richmond Night Market and the International Summer Night Market combine to bring nearly 150 food stalls and over 400 retail vendors to their sites.
With a population that is 65 per cent Asian, Richmond's two Asian night markets bring together cuisines from Vietnam, Thailand, Korea, the Philippines, Indonesia, Singapore, China, Taiwan, Japan, Germany, France, Kenya and Canadian First Nations. Snaking through the dining stalls is like being transported around the world, and offers a chance to sample some finger-licking good bites.
And, even with so much diversity, there is one element that unites all foods – the humble skewer. Look for tasty and swirly skewered potatoes dipped in flavoured salts – these night market skewers are just one of the "on-a-stick" options carried around the markets. Other stalls can be found skewering everything from spears of asparagus wrapped with bacon, to fried garlic prawns and juicy Thai chicken satay.
Vendors at both night markets bring together some of the hottest and most unique accessories – including jewelry, clothing, and everything you didn't know you needed – at street-side prices (cheap). The most popular items visitors head there for are – socks and cell phone covers. For the fanciest of footwear, look out for superheroes, animals galore and, Mr. Gangnam himself, Psy. To keep electronics safe or give them some sparkle Richmond's night markets have got it covered.