Tag Archive
activity
annual
art
artist
Canada
children
city
community
contest
country
craft
display
downtown
drive i-95
Drivei-95
drivei95
entertainment
event
family
festival
Florida
food
free
fun
game
historic
History
house
Island
live
local
Museum
music
national
North Carolina
prize
Restaurant
roadtrip
shop
show
tour
travel
travelblogger
USA
world
Do you like old cemeteries? Wanna see one after its closed to the public? Are you intrigued by Secret Societies, Old World Rituals, Freemasonry, The New World Order,  Stories of love, murder, bootlegging. root doctors, "The Book" and many other macabre and mysterious subjects that is associated with Savannah and Bonaventure Cemetery?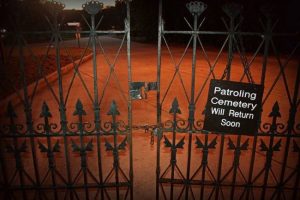 It's that time of year when Bonaventure Cemetery enchantment hours of Twilight & After Dark afford themselves like no other in this exclusive, flashlight story special with Savannah's after hours cemetery tour.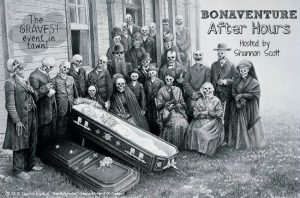 Shannon Scott conducts a 3-hour tour that reveals the hidden to the seeker,  Covering everything from Savannah's role in "The DaVinci Code,"  to a hooch runner for Al Capone, a woman drowned by one man — her hubby put to death for the crime, and the bizarre love story that ended in one murder and one electric chair moment are only the highlights of the mayhem which will  be revealed in the cemetery setting. The Spanish moss, Gothic live oaks and statues staring back come at no extra charge. Why 3 hours? Why not go and find out. Tour includes event poster.
Location: Bonaventure Cemetery, 330 Bonaventure Rd, Savannah, GA 31404
Dates: until  Mar 18, 2018
Hours: 5 – 8 pm
Tel: 912-319-5600
shannonscott.com
For Regional Accommodations, Restaurants & Attractions: visitsavannah.com
Don't miss the annual Market Square Day, this year celebrating it's 40th anniversary. Created to commemorate the renovation and beautification of downtown Portsmouth – and, in particular, Market Square. Most of Downtown Portsmouth will be vehicle-free and pedestrian-friendly from 9am 'til 5pm, with an estimated crowd of 60,000-80,000 people walking through downtown Portsmouth.
It's an all day street festival with vendors cooking delicious food, artisan booths selling handcrafted jewelry, accessories, art and  pottery by artists, craftspeople and merchants – many from the Seacoast area. Two performance stages feature local and regional musicians, where you can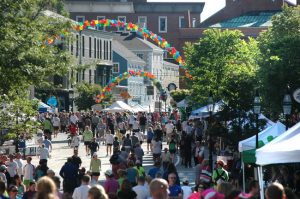 enjoy live bands and other great entertainment.
The day 'kicks off' with the Market Square Day 10K Road Race at 9am. The Start Line is in Market Square – from that point, 2,000 runners and competitive walkers make their way around town finishing at Historic Strawbery Banke.
Take this opportunity to enjoy everything that Portsmouth has to offer.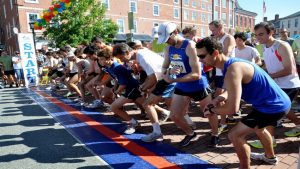 Remote Festival Parking
Pro Portsmouth runs a Free Shuttle Bus Service from 8:00am – 4:30pm on Market Square day.
To Remote Festival Parking – Fox Run Mall:
95 North, Exit 4 – To 4 & 16 – Take Exit 2 and follow the Festival Parking signs to the overflow lot (across lot and Mall Road)
95 South, Exit 5 – To 4 & 16 – Take Exit 2
Free shuttle service (Yellow school buses) transport you to the Festival area –
8:00am – 4:30pm.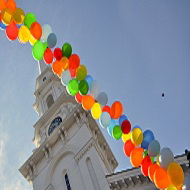 Location: Market Square, Portsmouth, NH 03801
Date: Sat, June 10th, 2017
Hours: 9am – 4pm
Tel: 603-433-4398
proportsmouth.org/MarketSquareDay.cfm
For Regional Accommodations, Restaurants & Attractions: portsmouthchamber.org
The Prince William 5k Turkey Trot and 1 Mile Fun Run is a family friendly and festive celebration of Thanksgiving Day.  The race theme  being: "Trot, Eat, Sleep!" These high energy amusing races highlight Prince William County as a healthy, fun, and active community.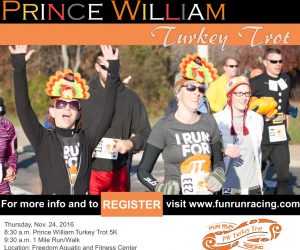 Participants are encouraged to wear their best Thanksgiving themed gear: Pilgrim, Pocahontas, Turkey, Pie, Native American and Colonial. This event will be full of festivities and most importantly tons of fun including music, best costume awards, and a chance to win a Golden Ticket: All runners receive a FRR finish line envelope, the random Golden Ticket awards – "Willy Wonka" style–  featuring a mystery gift.
Top 5 men and women receive Running Store Gift Cards – $100/$75/$50/$25/$25.
100 pumpkin pie Duck Donuts are randomly given to 100 lucky race finishers.
1 Mile Fun Run/Walk: The one mile fun run-walk is a low key non-timed event. The 1 mile race is geared toward the youth, however, runners of all ages and abilities are welcome and beginners are encourage to attend.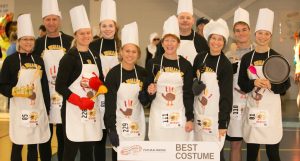 Stay Warm! The Freedom Aquatic & Fitness Center has graciously opened its facility so participants and spectators can stay 'warm' both pre and post-race. A DJ will play music from 8:00-10:30.
Location: Freedom Aquatics & Fitness Center, 9100 Freedom Center Blvd., Manassas, VA 20110
Date: Sat,  Nov 26, 2016
Time: 8:30 a.m. Prince William Turkey Trot 5K , 9:30 a.m. 1 Mile Run/Walk
funrunracing.com/the-pw-5k-turkey-trot
For Regional Accommodations, Restaurants & Attractions: discoverpwm.com