Tag Archive
activity
art
artist
Canada
children
city
community
contest
country
craft
display
downtown
drive i-95
Drivei-95
drivei95
entertainment
event
family
festival
Florida
food
free
fun
game
historic
History
house
Island
live
local
Museum
music
national
North Carolina
performance
prize
Restaurant
roadtrip
shop
show
tour
travel
travelblogger
USA
world
As you enter the side door of the Surratt House Museum you are walking in the path of John Wilkes Booth the night he killed President Lincoln, since he came here to retrieve a rifle, field glasses and supplies for his run from the law.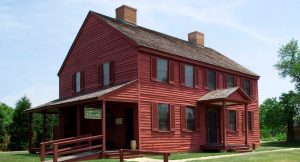 Built in 1852, this was a tavern, an inn, a post office and a polling place. It was a safe house for the Confederate underground. The massive search for Booth led them here to Mary Surratt's house, and as a result she was tried in a military court and convicted of conspiracy to assassinate the President. On July 7, 1865 Mary Surratt was the first woman to be executed by the federal government.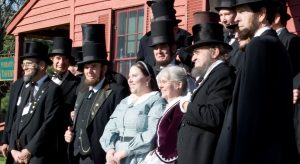 In your visit to this famous house, a docent in 1860's period clothing walks you through the typical middle class home.  History buffs can make reservations for the 12-hour "Escape Route" bus tour. Many of the same roads and houses used by Booth are still in existence and are visited on this excursion which is narrated by nationally-recognized authorities on the Lincoln assassination and John Wilkes Booth's flight.  Tour Dates for 2018: Apr 14, 21, 28 and Sept 8, 15, 22.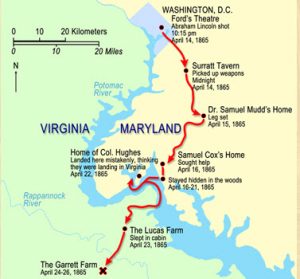 If you're in the Clinton area Sat, Dec 2 – Sun, Dec 10, stop by the Surratt House Museum for their special Christmas program- An Old Fashioned Holiday: Bringing Christmas Past to Christmas Present, celebrating the Christmas of yesteryear amid period decorations, special exhibits and seasonal histories. On the weekend of December 9 and 10, return to enjoy special activities for all ages, cookies, cider, and holiday discounts in the museum's gift shop.
Location: Surratt House Museum, 9118 Brandywine Road, Clinton, MD 20735
Hours: Wed – Fri 11am – 3pm, Sat -Sun 12 – 4pm
The Surratt House Museum is closed from Dec 12th to Jan 17th.
Tel: 301-868-1121
surrattmuseum.org
For Regional Accommodations, Restaurants & Attractions: visitprincegeorgescounty.com
Bring your dog to Pet Source in Concord or Marlboro and make him a true artist. The special event is called Paws in Bloom and featured artist of the day is your pet.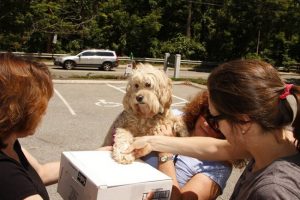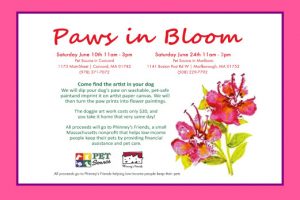 They will dip your dog's paw in washable, pet-safe paint and imprint it on a canvas. Then  they will turn the paw prints into a flower paintings. The doggie artwork will cost only $20 and you get to take it home with you the very same day.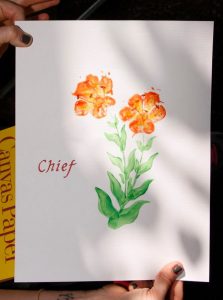 See how your dog's paw print is transformed into a beautiful painting, and best of all, you have a piece of artwork to treasure forever. No reservations needed.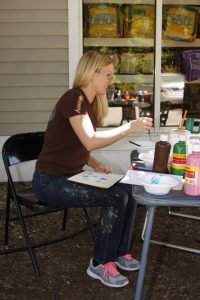 There are 2 Dates scheduled for this special  event:
June 10, 2017: 11 am – 3 pm – Pet Source -1173 Main St, Concord, MA 01742
June 24, 2017: 11 am – 3 pm – Pet Source – 1141 Boston Post Rd W, Marlboro, MA 01752
All proceeds will go to Phinney's Friends, a small Massachusetts nonprofit that helps low-income people keep their pets by providing financial assistance and pet care. Read more about this incredible organization at: phinneysfriends.org/about
Location: Pet Source, 1173 Main St, Concord, MA 01742 – June 10th,
Pet Source- 1141 Boston Post Rd W, Marlboro, MA 01752 – June 24th
Dates: June 10th, June 24th, 2017
Hours: 11 am – 3 pm
Tel: Main Street 978-371-7072, Boston Post Rd. 508-229-7792
phinneysfriends.org/events/
patch.com/massachusetts/concord/calendar/event/20170706/157136/paws-in-bloom
For Regional Accommodations, Restaurants & Attractions: concordchamberofcommerce.org