Tag Archive
activity
art
artist
Austria
Canada
children
city
CostSaver
display
Drivei-95
drive i-95
entertainment
Europe
event
exhibit
family
festival
Florida
food
France
free
fun
historic
History
landmark
live
local
London
Museum
music
performance
Restaurant
roadtrip
shop
show
sights
sightseeing
tour
tourist
Trafalgar
travel
travelblogger
USA
view
world
Located in the heart of the Chesapeake Bay, Annapolis is "America's Sailing Capital."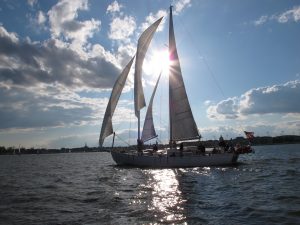 August Wine in the Wind – Along the Douro is a true sailing experience. Unwind on a two hour sail around the Chesapeake Bay while sampling wonderful wines from Portugal.  You will be able to help raise the sails, steer the boat, or simply sit back and relax with your wine and food.
The  beautiful, wooden, 74-foot schooner departs at 4:00pm and returns at 6:00 pm.  A representative from the winery will be on board to introduce you to four special wines while you are under sail. The cruise will include 3-oz samples of each of the four wines featured. Along with each wine is a delicious, perfectly paired bite (referred to as magnificent morsels) for you to enjoy with each wine.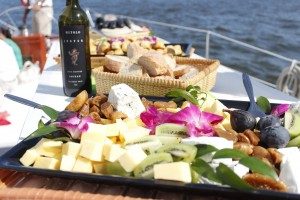 Wines being featured:
Mapreco Vinho Verde
Mapreco Vinho Verde Rose
Barao De Vilar Reserva, Douro
Noval Black Porto
You get to take-home your boat friendly, wine glass by Go Vino with the Woodwind's logo on it as a souvenir of the day.
Location: Annapolis Waterfront Hotel, 80 Compromise Street, Annapolis, MD 21401
Date: Sun, Aug 12 2018
Time: 4pm -6pm
Tel: 410-263-7837
schoonerwoodwind.com
For Regional Accommodations, Restaurants & Attractions: visitannapolis.org
Ahoy Mateys! For over 300 years, people of all ages have searched for Captain Kidd's treasure.  Sunday, June 11th, 2017 is Pirates Day in Milford.  Join Captain Kidd and his crew as they sail into Milford Harbor, 'kidnap' Mayor Blake and "take over" downtown Milford.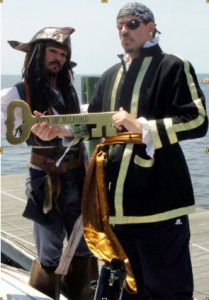 For the 13th annual Cap'n Kidd Treasure Hunt, participants will pick up a downtown treasure map, a strand of pirate beads, and a booty bag at Lisman Landing or by the Gazebo on the Green. Take part in the scavenger hunt by following the clues listed on the map, decipher the clue that matches the stop, and fill up your booty bags with treasures galore at the participating Pirate Stops.  Don't forget to get your map stamped for a chance to win a treasure chest of prizes. Here's a clue…Only the places displaying Pirate Flags will have the loot you seek.
There will be pirate-themed activities for children on the Green by the Gazebo, and  live, local bands for everyone to enjoy. Be sure to keep a look out for more crew members for great photo ops and  join Cap'n Kidd and his motley crew for a spectacular pirate parade.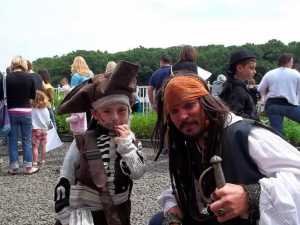 So put on your best pirate garb, learn how to talk like a pirate, and search for Cap'n Kidd's treasure. Matey, don't miss this fun, family-friendly adventure, brimming with special treasures and pirate bustle all day long … or be prepared to walk the Plank!  AAARRRGGGG…
Cap'n Kidd Pirates Day Treasure Hunt:
SUNDAY, JUNE 11th, 2017 Noon to 5:00 PM (subject to change)
Pirates Day

11:30 AM – 1:00 PM Map Distribution Lisman Landing (can also be picked up at the Gazebo – after 1 pm pick up at Gazebo on the Green only)
11:00 AM – 1:00 PM  Tim Payson & Friends
12:00 PM  Cap'n Kidd, Captain Jack, colorful pirates and pirate ship arrive at Harbor/Lisman Landing
12:15 PM   Mayor Benjamin G. Blake greets crowd, kicks off event
12:00 PM –  2:00 PM  Map Distribution continues by the Gazebo on the Green
12:30 – 2:00 PM  Pirate Rock Painting with Rock On Pirate Girls By the Gazebo on the Green  * Proceeds benefit the Get In Touch Foundation
1:00 PM  Milford Volunteers Ancient Fife and Drum Corps – Park by Café Atlantique
1:30 – 2:00 PM  Katie Gillick, musician/composer – Gazebo on the Green
2:30 – 3:00 PM  Pirates Parade on the Green by the Gazebo – everyone invited to join in
2:00 – 3:00 PM  The Elwoods (Classic Rock/Blues) Gazebo on the Green
2:30 – 3:30 PM  Pirate-related Kiddie Activities by the Gazebo on the Green and story-time by Friends of the Milford Library
3:00 – 4:00 PM  The Elwoods (Classic Rock/Blues) Gazebo on the Green
4:00 – 5:00 PM  Drop off completed maps at the DMBA Exhibit by the Gazebo on the Green, for a chance to win a Treasure Chest of prizes (one adult winner & one child winner will be chosen); event closes promptly at 5:00 PM
Location: Lisman Landing or Gazebo on the Green, Downtown Milford, CT 06460
Date: Sun, June 11th, 2017
Hours: noon – 5pm
Tel:  203-745-4946
downtownmilfordct.com/copy-of-wine-trail
For Regional Accommodation, Restaurants & Attractions: milfordct.com
Christmas is that special time of year when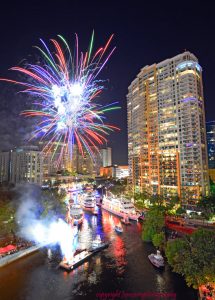 lights illuminate the night sky. In South Florida, they have an annual tradition of the Seminole Hard Rock Hotel Winterfest Boat Parade where privately owned boats and yachts take over the intracoastal waterway and display all of their Christmas glory.
The Boat Parade sets sail for 12 miles starting in downtown Fort Lauderdale heading North to Lake Santa Barbara in Pompano Beach. Approximately one million spectators view the parade, along with millions more via television and the internet, bringing national and international recognition to South Florida. The event is the Top 20th Parade in the World and considered the Greatest Show on H2O.
Private boats to the giant showboats and corporate mega yachts will be adorned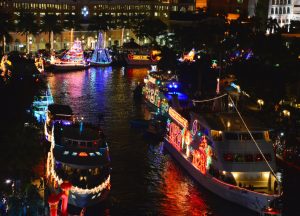 with hundreds of thousands of lights, music, entertainment, decorations, celebrities, musical groups, beauty queens and many other exciting entries. Parade highlights: Grand Marshal Showboat, Galleria Mall Reindeer Barge and the Santa Showboat.
Fun, Family entertainment. Free admission along the R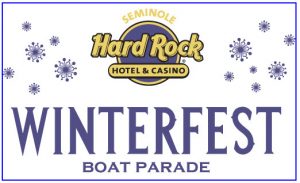 iverwalk.
Parade Route: Downtown Fort Lauderdale on the New River, heading East to the Intracoastal then North to Pompano Beach
Date: Saturday, December 10, 2016
Time: 6:30PM to 11:00PM
Tel: 954-7670-0686
WinterfestParade.com
For Regional Accommodations, Restaurants & Attractions: sunny.org