Tag Archive
activity
art
artist
Austria
Canada
children
city
CostSaver
display
Drivei-95
drive i-95
entertainment
Europe
event
exhibit
family
festival
Florida
food
France
free
fun
historic
History
landmark
live
local
London
Museum
music
performance
Restaurant
roadtrip
shop
show
sights
sightseeing
tour
tourist
Trafalgar
travel
travelblogger
USA
view
world
If you are an aficionado of cigars, bourbon and local craft beer you are going to want to head to Fredericksburg Fairgrounds on August 18th for an amazing day at the Cigar, Bourbon and Brew Festival.
The festival features 20 craft beers from local Fredericksburg Breweries,  bourbons from all across the country and some homegrown, produced in Virginia, and a select number of Virginia Wineries and Cideries, and a notable selection of cigars.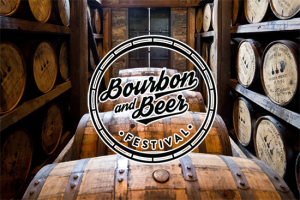 Known as Fredericksburg's premier cigar event, this festival features an impressive selection of cigar brands including: Drew Estate, Perdomo, Fartello, Romeo Y  Julieta, Montecristo, Miami Cigars and Esteban Carreras.
If you have a passion for bourbon, you will appreciate the extraordinary representation of spirits being showcased from all across the country. Over  30 different samples from 20 different distilleries including: Jack Daniel's, Woodford Reserve, Old Forester, Belmont Farm Distillery, Virginia Sweetwater Distillery, KO Distilling, Catoctin Creek, Copper Fox Distillery, Filibuster Distillery, Maker's Mark, Basil Hayden, River Hill Distillery, Reservoir Distillery, A. Smith Bowman Distillery, Buffalo Trace Distillery, Booker's, Bulleit Bourbon, Jefferson's, Baker's and Knob Creek.
Craft brewers from the around the Fredericksburg area will be on hand with 20 craft beers for sampling of some of their award winning beers. For those of you who prefer a glass of wine or hard cider there will be a select number of Virginia Wineries and Cideries sampling their award winning beverages as well.

Whether it's stogies, whiskey, craft brews, wine or hard cider, there's something for everyone including food vendors serving up some great festival style foods and craft expos as well as live music from Redneck Pool Party and  Kingbolts on the main stage. This event supports Community Outreach Inc. For Tickets: community-outreach-14908279529
 Location: Fredericksburg Fairgrounds, 2400 Airport Ave, Fredericksburg VA 22401
Date: Sat, Aug 18, 2018
Time: 4pm – 9pm
Tel: 540-373-1294
cigarbourbonbeer.com
For Regional Accommodations, Restaurants & Attractions: visitfred.com
Located in the heart of the Chesapeake Bay, Annapolis is "America's Sailing Capital."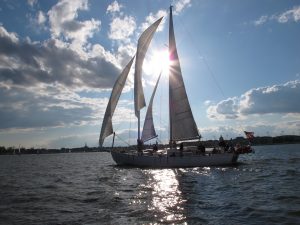 August Wine in the Wind – Along the Douro is a true sailing experience. Unwind on a two hour sail around the Chesapeake Bay while sampling wonderful wines from Portugal.  You will be able to help raise the sails, steer the boat, or simply sit back and relax with your wine and food.
The  beautiful, wooden, 74-foot schooner departs at 4:00pm and returns at 6:00 pm.  A representative from the winery will be on board to introduce you to four special wines while you are under sail. The cruise will include 3-oz samples of each of the four wines featured. Along with each wine is a delicious, perfectly paired bite (referred to as magnificent morsels) for you to enjoy with each wine.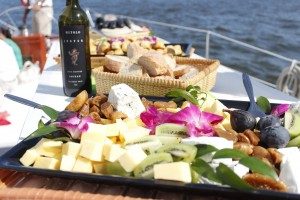 Wines being featured:
Mapreco Vinho Verde
Mapreco Vinho Verde Rose
Barao De Vilar Reserva, Douro
Noval Black Porto
You get to take-home your boat friendly, wine glass by Go Vino with the Woodwind's logo on it as a souvenir of the day.
Location: Annapolis Waterfront Hotel, 80 Compromise Street, Annapolis, MD 21401
Date: Sun, Aug 12 2018
Time: 4pm -6pm
Tel: 410-263-7837
schoonerwoodwind.com
For Regional Accommodations, Restaurants & Attractions: visitannapolis.org
Rumba on the Lumber 2018, a festival of food, movement, music and the arts, consisting of two days of events in historic downtown Lumberton with over 4000 people in  attendance.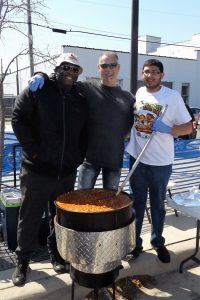 Many wonderful annual events will once again be front and center, including: The Rumba on the Lumber Festival with live music, vendors, Rumba Cross fit Games Exhibition, and the Lumbee River EMC Free Kidzone, 5K, 10K, fun run/walk, 100K ride, 20-Mile adventure ride,  Chili Cookoff and a bicycle rodeo.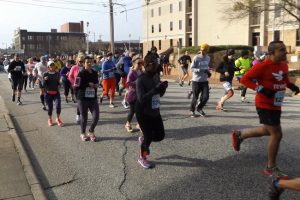 Many festival-goers agree, it's all about the chili. More than two dozen teams bring their most coveted recipes. Teams prepare a minimum of 10 gallons of chili and dole out free samples of their creations. The teams will be competing for prizes including the best tasting, Spiciest Chili, Strangest ingredient and Best chili cooking outfits. Don't miss the fun!
Saturday- Downtown Plaza/ 3rd Street:
on't miss the 10th Anniversary Military Bowl presented by Northrop Grumman Corporation, benefiting the USO of Metropolitan Washington-Baltimore (USO-Metro), a military support organization. Kick off is on Thursday, Dec. 28 at 1:30 pm at Navy-Marine Corps Memorial Stadium in Annapolis matching a team from the Atlantic Coast Conference (ACC) against an opponent from the American Athletic Conference (AAC) and will be televised nationally on ESPN.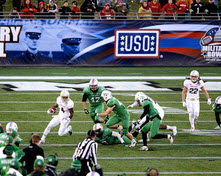 The game day festivities kicks off  at 9:30 am with one of Annapolis' newest traditions: the Military Bowl Parade, featuring The world-famous Budweiser Clydesdales.  They will lead the parade procession – along with Medal of Honor recipients, mascots, and team bands – from City Dock in downtown Annapolis to the Navy-Marine Corps Memorial Stadium as part of the many special events throughout the day.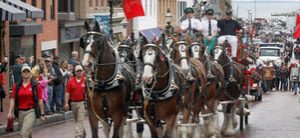 The Official Military Bowl Tailgate kicks off in the Blue Lot on the west side of Navy-Marine Corps Memorial Stadium. Admission to the tailgate is free and will feature music, games, food & beverages from fantastic Annapolis restaurants, and exciting giveaways for the first arrivals. In addition, there's also the 3rd Annual Bud & Burger Battle (held from 10:30 am-12:30 pm) where you can sample some of Annapolis' favorite burgers before voting for your favorite.
Fan Bowl Week in Annapolis:
Wednesday, December 27
Thursday, December 28
For more than 70 years, the USO (United Service Organizations) has been the way for the American people to say thank you to our nation's service men and women and their families.
To purchase tickets: militarybowl.org/tickets/#!
Location: U.S. Navy-Marine Corps Memorial Stadium, 550 Taylor Avenue, Annapolis
Date: Thurs, December 28, 2017
Time: Kick off 1:30 (doors open at 12:00)
Tel: 202-776-2919
militarybowl.org
For Regional Accommodations, Restaurants & Attractions: visitannapolis.org
Enjoy a fall Sunday afternoon in Newburyport by tasting and rating signature cocktail and appetizer samples from local restaurants in the 2nd Annual Newburyport Charity Cocktail & Appetizer Competition.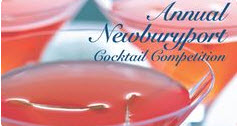 This fun-filled fundraiser will be held Sunday afternoon, October 22nd, with all proceeds benefit the nonprofit, Pennies for Poverty: 2 Cents 4 Change, a Newburyport-based charity whose mission is to promote and carry out efforts to reduce poverty in Newburyport, Massachusetts.
Newburyport Cocktail and Appetizer Competition Fundraiser
Tickets are available at:  CocktailCompetition.yapsody.com.
Here is how it works:  On the day of the event, Participants with tickets will check in at Michael's Harborside to pick up their Cocktail Competition t-shirt and a map of participating restaurants. All restaurants are within walking distance in downtown Newburyport.
After sampling cocktails at each restaurant, participants return to Michael's Harborside to vote for their favorite signature drink and appetizer. The restaurant winner will be recognized in the media and have bragging rights as the 2017 Newburyport Best Cocktail and Appetizer Competition Winner.
Location: Downtown Newburyport
Starting Point: Michael's Harborside, 1 Tournament Wharf, Newburyport, MA 01950
Date: Sun, Oct 22nd, 2017
Time: 2pm -5 pm
newburyport.com/best-cocktail-competition-fundraiser-sept-25th
For Regional Accommodations, Restaurants & Attractions: newburyport.com
The word is out pig lovers won't want to miss this one: the  DeLand Bacon and Brew Fest. Who does not like Bacon or Beer, a match made in heaven. There will be approximately 125 food and beverage vendors, variety of live music, and the event will play homage to all things bacon with a wide variety of bacon dishes, along with bacon-related and bacon inspired contests.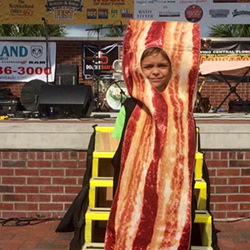 Imagine bacon, craft beer, wineries, and lots of vendors with their products. Indulge in mouth watering bacon-y deliciousness. You could buy bacon or beer jam, bacon-stuffed pretzels, sample bacon cupcakes, and purchase chocolate covered bacon—that's just for starters. Many of the regular market vendors spiked their production line to include bacon in some way, whether in fudge, a cheese dip, or a cinnamon roll—or in one of 14 different varieties of bacon itself. Bacon Eating Contest at 2pm.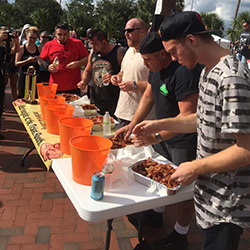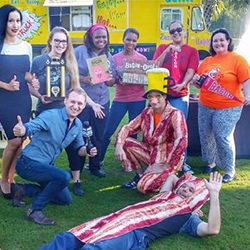 A portion of the proceeds will go to The Neighborhood Center of West Volusia, so bring on the bacon!
Location: Earl Brown Park, 750 S Alabama Ave, DeLand, FL 32724
Date: Sat, Sept 30
Time: 1 – 7pm
Tel: 386-316-2959
baconandbrewfestdeland.com
For Regional Accommodations, Restaurants & Attractions:daytonabeach.com
visitnsbfl.com
Ready for some homemade ice cream? Lucky you, it's that time again for the annual Ice Cream Churn-Off at Ashantilly Center. What a tasty idea, combining everyone's favorite dessert with a fundraiser benefiting the nonprofit Ashantilly Center.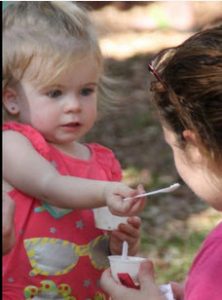 Competitors will vie for awards for a people's choice, best individual ice cream and the best ice cream from a business or organization. The competition is opened to everyone, adults and youth alike, so churners bring your churn and your primo recipe – but no raw eggs allowed, and Ashantilly will provide ice and salt.
If consuming the coveted ice cream is more your speed, you are welcome to bring your own chairs and find a shady spot to enjoy the frozen dessert and the live music. A $5 donation gets samplers two tastings, and ice cream lovers can purchase additional samples – 3/$5.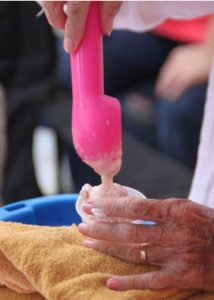 Ice cream doesn't get fresher than this! There's also Free lemonade and popcorn and great raffle prizes and live music.
Location: Ashantilly Center, 15591 GA Hwy 99, Darien, Georgia 31305
Date: Sun, Sept. 3, 2017
Time: 4PM – 6PM
Tel: 912 437-4473
ashantillycenter.org/ashantilly-events/33-10th-annual-churn-off
For Regional Accommodations, Restaurants & Attractions: visitdarien.com
The Barberville Pioneer Settlement is celebrating the end of summer with the coolest hottest event ever – Fire & Ice. Feast on delicious chili and fresh-made ice cream at this exciting fall festival that occurs on a 30-acre historic site with a village museum and over 10,000 artifacts.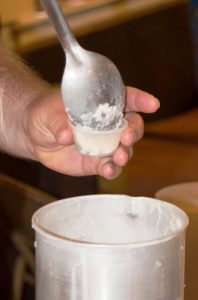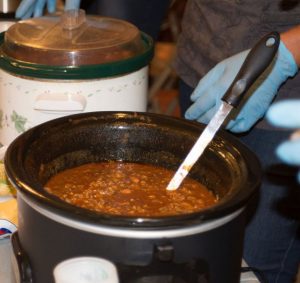 Enjoy this FREE admission festival and for only $4 you get to sample and judge chili & ice-cream, where you can cool your tongues with homemade ice cream after voting for your favorite chili. Cash prizes to be awarded to People's Choice.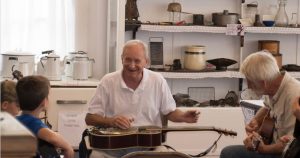 With a plethora of activities sure to keep you entertained: FREE music workshops and jam session with volunteers teaching everything from the guitar and banjo to the dobro and dulcimer, community yard sale, antique tractors and engines display, and lots more, and of course the infamous Chili Cook Off and Ice Cream Churn Off.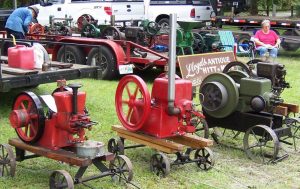 Tastings are at noon, until it's gone, so arrive early.
Location: Pioneer Settlement, 1776 Lightfoot Lane, Barberville, FL 32105
Date: Sat, Sept 2, 2017
Time: 9 – 4pm
Tel: 386-749-2959
pioneersettlement.org
For Regional Accommodations, Restaurants & Attractions: daytonabeach.com
Explore the decadent delights of the nation's oldest city on this indulgent tour of St. Augustine's finest chocolate creations. The VIP 'ALL THINGS CHOCOLATE' Tasting Tour is an especially delectable way to learn more about St. Augustine's historic district, where you will get to experience the most unique chocolate selections that St Augustine has to offer.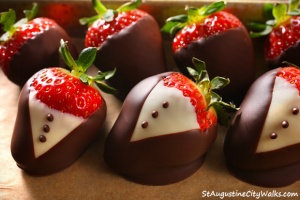 Aside from the sheer decadence, you'll discover how chocolate played a pivotal role in influencing the history and culture of the New World, while seeing unique points of interest along the way. Imagine taking in the delicious antiquity of the old city while indulging in one of man-kinds most beloved ancient tasting treasures along the way.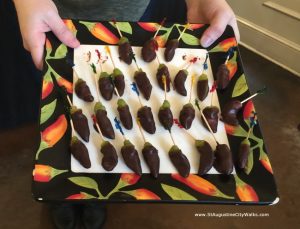 This 2+ hour tour departs from Tour St. Augustine Inc., located downtown at 4 Granada Street, on select weekend dates. Tour departs at 1 pm (check in 15 mins prior) and advance reservations are required. Visit here to book a tour.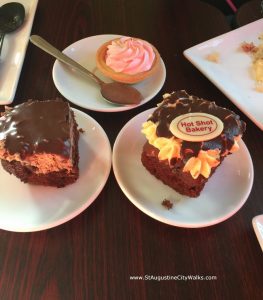 Location: The tour departs from Tour St. Augustine, 4 Granada Street, St. Augustine, FL 32084
Date and Time: The first Saturday of the month in 2017 at 1:00 pm (Aug 5, Sept 2, Oct 7, Nov 4, Dec2)
Tel: 904-825-0087
staugcitywalks.com
For Regional Accommodations, Restaurants & Attractions: floridashistoriccoast.com
The third annual Smoke in the 'Boro promises to be a mouth watering event, loaded with fun, live music, kids' activities, an Anything Butt BBQ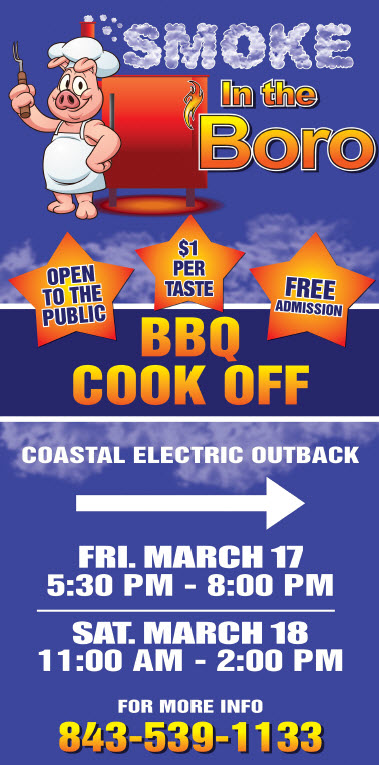 competition and a Butts Only contest.
The weekend will consist of two separate events. "Anything Butt" will be held on Friday night from 5:30-8 pm.  Cooking teams will prepare anything of their choice, from chicken wings to seafood — anything but barbecue. Local judges from Colleton County will evaluate the entries, and the winner will be revealed and prizes awarded.

The teams will then cook their Boston butts and ribs during the night for "Butts Only" , which means Pork only, as required by the SC Barbeque Association and judged by certified, sanctioned judges from around the Southeast.
The teams  present their entries to the judges on Saturday morning. At 11am the gates will be open to the public for tastings and to  partake until 2 pm.
On both Friday and Saturday, tasting tickets for $1.00 each will be available so that you can sample some heavenly food.  There will be great music both days from The Back Road and Going to the Dogs Bands. Free Admission.
Location: Coastal Electric Outback Building, 2269 N Jefferies HWY, Walterboro, SC 29488
Date: Fri March 17 – Sat March 18, 2017
Time: Fri 5:30 – 8pm, Sat 11 – 2pm
Tel: 843-539-1133
thecolletoncenter.org/events/
For Regional Accommodations, Restaurants & Attractions: walterborosc.org/visitingus