Tag Archive
activity
art
artist
Austria
Canada
children
city
CostSaver
display
drive i-95
Drivei-95
entertainment
Europe
event
exhibit
family
festival
Florida
food
France
free
fun
historic
History
landmark
live
local
London
Museum
music
performance
Restaurant
roadtrip
shop
show
sights
sightseeing
tour
tourist
Trafalgar
travel
travelblogger
USA
view
world
.
Just minutes apart, the clouds roll in and change the scene significantly in Lucerne, Switzerland.
In Innsbruck it's so easy to take the Nodkette train to the cable cars for the out-of-this world views in the Alps.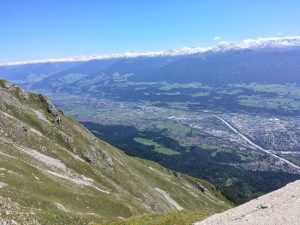 Is there a place that can be more synonymous to Halloween then Salem, Massachusetts?  Throughout the entire month of October visitors of all ages flock there for the ultimate Halloween experience. Whether it's haunted houses, historic landmarks, costume parties, ghost tours, historic tours, events, psychic and tarot readings, witch and magical shops, Salem's Haunted Happenings, a festive celebration of Halloween and fall in New England, offers a plethora of unique one of a kind Halloween experiences.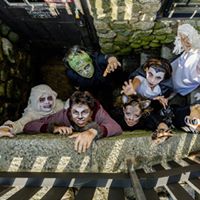 Oct 13th:
12th Annual Witch City 5K Road Race– Salem Willows Park 167 Fort Ave. 9:00 am. 12th Annual Witch City 5K Road Race. Run through Boo-tiful Historic Salem. Get your best running costume ready for this annual Salem Haunted Happenings Event. A great way to begin your day of Halloween fun in Salem. Let the kids join the Halloween costume fun with the Spooktacular Kids Broom Dash. Post-race awards, costume contest, music, photos, refreshments and more. Witch City 5K
Haunted Harmonies A Capella Festival – Haunted Harmonies is a one day A Cappella Festival. Vocal Group Competition-2pm, Tabernacle Church (50 Washington St.) Free and open to the public. Street Singing-4:30pm-6pm, Essex Street Pedestrian Mall. Free. Evening Concert-7:30pm, Tabernacle Church (50 Washington St.) See website for tickets. Haunted Harmonies
Howl-O-Ween Costumed Pet Parade – Derby Wharf, Salem Maritime Historic Site, 160 Derby St. 1 pm-2:30 pm. The event will include plenty of fun and games and a parade and costume contest with prizes. The event is free, though attendees wishing to participate in the parade will be asked to register. Further details: Howl-O-Ween Parade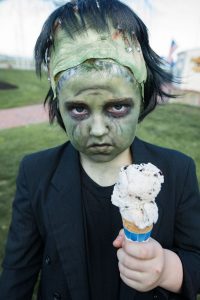 Dark Of Night At Pioneer Village– Pioneer Village, West Ave. – Forest River Park.  Starting at 7pm. In candle-lit cottages at the dark forest's edge, ghostly tales are told. An annual event for those lucky enough to experience the village in October. Seating is limited. Parking is free. Schedule and ticket purchase: Dark Of Night
Oct 14th: MDA Halloween Witch Ride- 11am. Scenic ride from Boston Harley-Davidson at 649 Squire Rd. in Revere to Shetland Park in Salem. All bikes welcome. Register
Oct 19th: Tony Moran At Count Orlok's – Oct. 19, Oct 2o, Oct 21 – Count Orlok's Nightmare Gallery 217 Essex St. (978) 740-0500 Special celebrity guest Tony Moran, known as the face of Michael Myers in the film "Halloween" will be appearing at Count Orlok's for a meet and greet and autographs. Count Orlok's Nightmare Gallery
Oct 20th: Haunted Grace – Phantom of the Opera – Grace Episcopal Church, 385 Essex St. 7:30-9:30pm. Love Gothic buildings and silent movies accompanied by spooky organ music? Haunted Grace is back with a chance to watch the original 1925 Phantom of the Opera with a live soundtrack played on the organ at local Gothic Grace Church. Info and tickets
Jerry's Fright Fair – Oct 20, Oct 21, Oct 27, Oct 28- 301 Essex St. 10am-7pm. 2 floors of vendors/artists selling mostly Halloween themed merchandise, artwork, jewelry, crafts and more! Info
An Evening with Edgar Allan Poe– Remix Church, 9 Church St – 6-7 pm  special guest, the dearly departed Edgar Allan Poe returns to Salem in a theatrically eerie setting, performing dramatic readings of "The Raven" and "A Tell-Tale Heart." Mister Poe will answer all your deepest, darkest questions about his life, his work and his mysterious death. Information and tickets
Oct 21: Trick Or Treat On The Wharf – Pickering Wharf, Derby St. at Congress St.  5pm to 7pm  Join the businesses on Pickering Wharf for this annual event that is free and open to the public. Children can give their costumes a test run at Pickering Wharf in Salem – participating establishments will be offering treats for kids.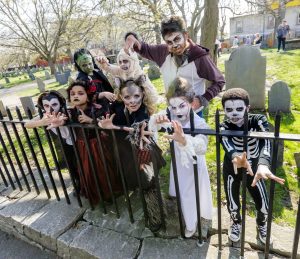 Oct 27: Devils Chase 6.66 Miler and Creepy Clown 3.33 Miler – Soccer Field, Salem Willows, Salem, Ma. (Other Side of 129 Fort Ave)  6:30am registration – 8am start time. The Devils Chase 6.66 Mile Run, named to the Top Nine Costume Runs in the World, is the best and most unique event you will run in all year long. 98% of participants dress up in devil-themed costumes. New this year,  a 3.33 Miler for our runners that want the same fun of the Devils Chase 6.66 Miler with half the run. People from all over the world venture to Historic Salem for one hell of a good time and a great run past a variety of Salem's well known landmarks.  Devil's Chase and Creepy Clown 3.33
Tales at the Witch House – The Witch House  310 Essex St. 978-744-8815. Starting at 7pm. Don't miss a macabre tales of superstition and murder. Move through the darkened rooms of the Witch House by lantern light as the story is performed by costumed actors. Stories begin every half hour and last about a half hour.  Tales At The Witch House
Haunted Grace – Nosferatu – Grace Episcopal Church, 385 Essex St. 7:30-9:30pm. Love Gothic buildings and silent movies accompanied by spooky organ music? Haunted Grace is back with a chance to watch the original 1922 Nosferatu with a live soundtrack played on the organ at local Gothic Grace Church. Info and tickets
Oct 31: 27th Annual TNW Samhain Witches Circle – The Temple of Nine Wells -ATC Ceremony at Gallows Hill Park, 5:30pm-7:30pm. Members of the Temple of Nine Wells Community, local Witches and Pagans and visitors from all over the world will gather at Gallows Hill park on Samhain Night. Dress warmly and walk with them to the site at 4:30pm from NU AEON at 88 Wharf St. After the rite, return to the heart of downtown Salem in the annual Commemorative Candle Light Walk.  Samhain Witches Circle
Closing Fireworks Display – 10:15pm Washington St./Bridge St. Overpass. Official conclusion of Salem's Halloween celebration.
On Going Events:


Imprisoned! 1692 : Essex National Heritage Area, 35 St. Peter. St. Weekends in October. Experience the horrors of the Old Witch Gaol (jail), the actual location where many accused were held during the infamous trials. There's no turning back now. On the eve of the deadliest night of the Witch Trials, the jailer will guide you to hear the stories of the convicted and their final pleas. Their fate has been chosen, but is it deserved? They will let you come to your own conclusions. Information and tickets
Witchery – Musical Play Written Just for Salem: Ames Hall, YMCA, 290 Essex St. 800-838-3006 Fridays Oct. 5 & 12 – 7pm; Saturdays Oct. 6 & 13 – 2pm & 7pm; Sundays Oct. 7 & 14 – 2pm. Witchery is a live, fun filled musical play. A lost little witch falls off her mother's broomstick on Halloween night into the land of Salem Massachusetts. Let's all help the witches, warlocks, ghosts and turkeys find her, in this fun musical for all ages. Live actors, Live music. Witchery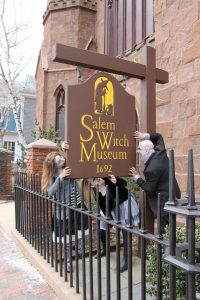 Salem Witch Museum 19 1/2 Washington Square North 978-744-1692 – Do you believe in witchcraft? At this museum get an understanding into the complex perception of witches, "from midwives and healers to witch hunts and Wiccans." Salem's most visited museum presents the witch hysteria of 1692 in an educational, thought-provoking, and a bit spooky way. You'll learn about the event leading up to the witch trials, and what life was like in Salem.salemwitchmuseum
The Tarot Experience – Moon Witch: The Witchery, 61 Wharf St. 339-203-1307  This October, immerse yourself in The Mysteries! Moon Witch is their latest Tarot Experience event, featuring live music, performance, spoken word and video. Explore witchcraft & moon magick along with themes from the tarot in new and thought-provoking ways.​ Running time is about 30 minutes. Moon Witch is a 13+ event. Schedule and tickets: Moon Witch
The Salem Haunted Magic Show – Hysteria: Oddities!: St. Peter's Church Hall Theater, 24 Saint Peter's St. September 29-November 2. A New Live 75 minute show HYSTERIA: Oddities! A unique blend of inconceivable magic, bizarre demonstrations of mind reading, wild comedy, and interactive audience participation. The show focuses on the mysterious and sometimes frightening world of the circus sideshow with incredible demonstrations of bizarre and scary magic, along with classic sideshow stunts like walking on broken glass, swallowing swords, beds of nails and eating lightbulbs . Showtimes and tickets: Salem Haunted Magic Show
Witch Mansion: 186-1 Essex Street, Museum Place Mall  978-825-1300 – Witch Mansion claims to be Salem's scariest haunted attraction. Built by a professional haunted house design firm, this eerie adventure is guaranteed to give you Chills and Thrills. Along with high-tech animations and creepy ghost illusions in 4D. You won't believe your eyes as you enter a twilight world of ghosts, beasts and banshees.  Witch Mansion
House Of Seven Gables October Performances:  October 5-27, House Of 7 Gables – 115 Derby St. 978-744-0991.SPIRITS OF THE GABLES:Get swept into Hawthorne's tale of guilt, greed and revenge as the characters from The House of the Seven Gables (1851), come to life and recount their stories while you walk through the very house that inspired Hawthorne's timeless novel. LEGACY OF THE HANGING JUDGE: Legacy of the Hanging Judge takes visitors back through Nathaniel Hawthorne's birth home to the events of the infamous Salem Witch Trials, through the eyes of the author, whose own ancestor, Judge John Hathorne had a hand to play in the tragic events of 1692. Performances begin every ten minutes in The Nathaniel Hawthorne birth house and last approximately 35 minutes. Last performance begins at closing. Combination tickets available. Reservations highly recommended. October Nights At The Gables

Whether you go by broom, by trolley or by foot, abandon all hope and surrender to the spell of Salem! There's nothing quite like spending Halloween in Salem, always jam packed with fun and spooky things to do.
Dates: Various
Times: Various
hauntedhappenings.org
For Regional Accommodations, Restaurants & Attractions: bostonusa.com
Photo Credit: John Andrews Photography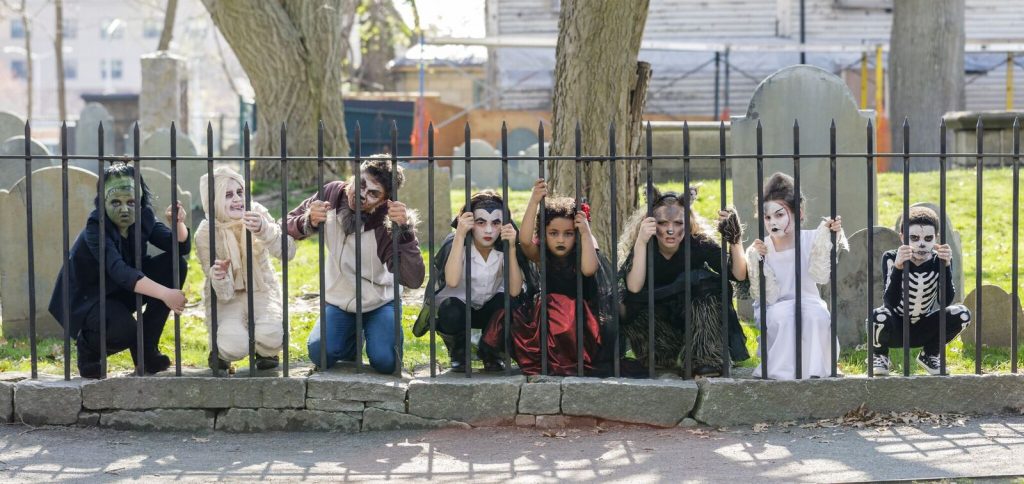 Dubbed the "World's Largest Motorcycle Event," Bike Week is a 10-day event filled with high-octane street festivals, concerts, motorcycle races, bike shows, rallies, manufacturer showcases and more.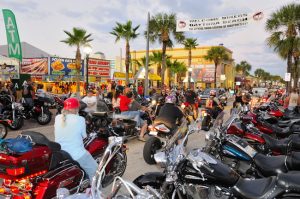 Established more than seven decades ago, nowadays over 500,000 motorcyclists make it an annual pilgrimage. Motorcycle enthusiasts from around the world enjoy spring riding in Daytona Beach along historic Main Street and Beach Streets, Scenic A1A Highway or through the best of old Florida, the Ormond Beach Scenic Loop.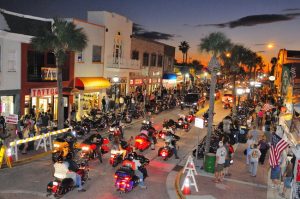 There will be celebrating at Daytona International Speedway, Bruce Rossmeyer's Destination Daytona, the U.S. 1 corridors in Daytona Beach and Ormond Beach, and at Riverfront Park in downtown Daytona Beach.
With so many events taking place, use the calendar below to make sure that you don't miss anything.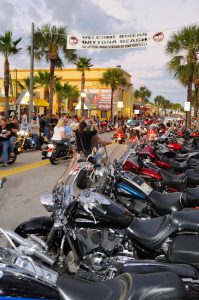 OFFICIAL BIKE WEEK CALENDAR OF EVENTS:
Photo Credits: Daytona Beach Area CVB
Location: Various
Dates: March 9 – 18, 2018
Times: various
Tel: 386-255-0981
officialbikeweek.com
For Regional Accommodations, Restaurants & Attractions: daytonabeach.com
Named among the Top 10 criterium bike races in the country by USA Cycling, the Wilmington Grand Prix will celebrate its 11th anniversary May 19-21, 2017.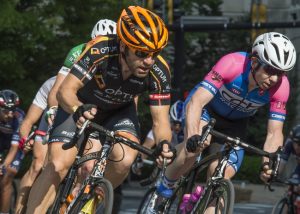 This international cycling event includes a free six-block street festival, a parade, a bucket-list recreational ride through a dozen world-class cultural attractions, sidewalk cafes, live music, demonstrations and a variety of free family rides and attractions.

The action starts Friday night (May 19) with the Monkey Hill Time Trial, a 3.2-mile race against the clock through Wilmington's Brandywine Park. Saturday (May 20) will feature two amateur races in the morning, culminating with the Women's Pro and Men's Pro races in the afternoon. Sunday (May 21) will see the return of the Seventh Annual Governor's Ride and the Sixth Annual Delaware Gran Fondo. Last year's Gran Fondo attracted cyclists from 15 states and three countries by offering them a scenic tour through the Brandywine Valley and some of Delaware's most-prized cultural attractions.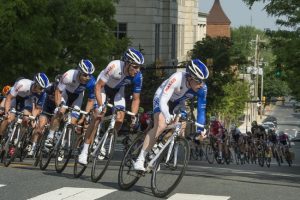 You do not have to be a cycling fan to enjoy Downtown Wilmington's largest outdoor event. Visit website for more information and schedule. Enjoy lunch and watch the races with a table right on the course. This event is held rain or shine.
Location: Downtown Wilmington, 818 Market Street, Wilmington, DE 19801
Dates: May 19-21, 2017
Hours: May 19 – 5 pm—8 pm, May 20 – 11 am —5 pm, May 21 – 8 am —5 pm
Tel: 302-655-6483
wilmgrandprix.com
For Regional Accommodations, Restaurants & Attractions: visitwilmingtonde.com
The 44th Annual Cherry Blossom Festival is a celebration of spring commemorating the planting of 72 Yoshino Japanese Cherry Blossom trees in 1973.  Hanami (cherry blossom) viewing, has been a Japanese custom since the 7th century when the aristocrats enjoyed the transient beauty of  looking at sakura (cherry trees). Sakura is a symbol of Japan, and it's said that there are over 400 varieties of cherry trees in Japan.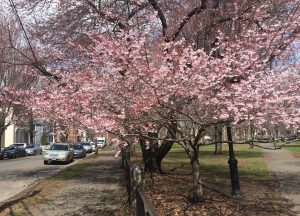 The longstanding tradition of the Cherry Blossom Festival,  takes place  in New Haven's Historic Wooster Square, and offers something for everyone in the family, including your 4 -legged family member.
Enjoy free entertainment including music, dancing, shop a flea market, food, a children and family area that includes puppet shows, arts and crafts, face painting and activities from the Peabody Museum, New Haven Free Public Library's Readmobile and a raptor-rescue organization  -Horizon Wings.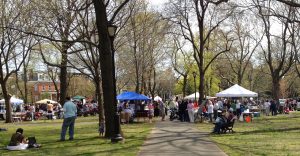 There is a Pet Friendly area, with New Haven Animal Shelter, Greater New Haven Cat Project, Little Shop of Howlers, Pups Without Partners and Veterinary Wellness Center.
With so much to do don't forget the main attraction, enjoying the scenic view of the early blooming cherry blossoms. This family-friendly festival is a great and inexpensive way to bring in spring.
Location: Wooster Square, New Haven, CT 06511
Date: Sun., April 23, 2017
Time: 12 – 5pm
Tel: 203-777-1371
historicwoostersquare.org/cherryblossomfestival.html
For Regional Accommodations, Restaurants & Attractions: visitnewhaven.com
Autumn is a beautiful time of year on the coast of Maine. Enjoy the season with a visit to the Maine Narrow Gauge Railroad Museum and a ride aboard the Pumpkin Train.
Children can explore the museum , which offers a children's play area with train tables, coloring activities, dress-up like a conductor, and child-size train station and train to climb in and the featured activity where you can paint a miniature pumpkin to bring home as a souvenir to commemorate the day.
All visitors are treated to complimentary hot cider and cookies as they travel along Portland's waterfront. The train ride lasts approximately 40 minutes and travels 1.5 miles (3 miles round trip).  Train crew and/or museum docents are  aboard with historical and site information and providing a narrative throughout the ride. Both open air cars and enclosed cars are available.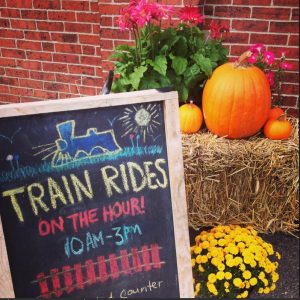 Celebrate the beauty of autumn with a ride aboard the Pumpkin Train. It's fun for the whole family and even family-friendly pets on a leash are welcome to this leisurely way to enjoy the scenic Eastern Promenade of Casco Bay. Trains operates rain or shine.
Location: Maine Narrow Gauge Railroad Co. & Museum,
58 Fore Street, Portland, ME 04101
Dates: Oct 22nd & 23rd, Oct 29th & 30th
Time: 9:30 am – 4:00 pm, Trains on the hour 10am-3pm
Tel: 207-828-0814
mainenarrowgauge.org/pumpkin-train
For Regional Accommodations, Restaurants & Attractions: visitportland.com
Daniel Boone first came to the mountains of NC in 1752, and he roamed around the area of Grandfather Mountain, which is today one of NC's top scenic attractions. This is a replica of his famous carving on a Beech tree that reads "D. Boon killed a bar o this tree 1775" which you will find in The Grandfather Mountain Nature Museum. The tree was actually in Kingsport, TN.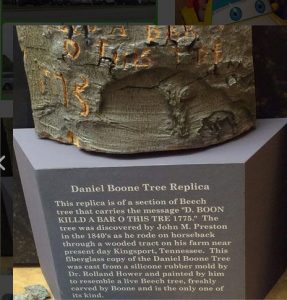 At the Nature Museum, you can find this scale model of Grandfather Mountain, which is one of NC's top scenic attractions. The museum houses more than 2 dozen exhibits about the natural history of the area, and there is a nature conservancy on the grounds.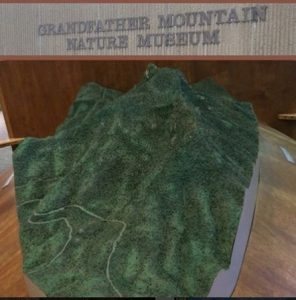 You have to admire their moxie. Contortionists are being placed inside suitcases which are then placed inside the cargo hold of buses in Spain. They then have the opportunity to go through any and all of your luggage and help themselves to whatever they want, while you are enjoying the scenic rides between popular tourist destinations. By the time you have reached the end of your journey, they (and their booty) are back inside their suitcase, ready to be plucked off the bus by an accomplice.