Tag Archive
activity
art
artist
Austria
Canada
children
city
CostSaver
display
Drivei-95
drive i-95
entertainment
Europe
event
exhibit
family
festival
Florida
food
France
free
fun
historic
History
landmark
live
local
London
Museum
music
performance
Restaurant
roadtrip
shop
show
sights
sightseeing
tour
tourist
Trafalgar
travel
travelblogger
USA
view
world
It's special when we can get to view a play which was honored with a Tony nomination and garnered a Pulitzer Prize.  Glengarry Glen Ross, now playing at the Mainline Theatre (produced by Acts to Grind Theatre), shows off David Mamet's ability to write profound dialogue.
This story highlights the cynical, difficult, pushy life of real estate salesmen in Chicago. I was not surprised to learn that the play is also often referred to as "Death of a Fuckin' Salesman", because it is notorious for its use of profanity. That hardly resonates in today's foul language world – on the other hand, today's politically correct society would flinch at the prejudice shown against East Indians and Polish people.
Mamet's characters are drawn down and dirty as lying, backstabbing, double-dealing tricksters willing to toss out ethical principles to justify their work. Yet they really are passionate about selling, and especially enjoy the nitty gritty details of closing a deal.  One of Mamet's goal in writing this play was to highlight the plight of so many people who go about their lives performing regular jobs yet often having to endure indignities while doing so.
Actor Zag Dorison (Shelly Levene) does an amazing job of making you feel his nervousness and despair; we twitch and pull on our lapels right along with him. Dorison, commenting on his character, "This play will always be relevant. There will always be those who exploit others and are out
for a buck at the expense of someone's savings and dignity. Although the character of Shelly Levene is down on his luck, he believes that
it's just a streak that will break; he had been a shark and wants to be one again. It is interesting that in spite of this, the audience still
sympathizes with him when his whole world comes crashing down upon him."
Michael Aronovitch (George Aaronow),  Izak Benrobi (Ricky Roma) and Jake Caceres (Dave Moss) have all been cast well for their parts, and they make their distinctive personalities apparent. Bryan Libero (John Williamson) really makes you dislike him while the company man, Olivier Ross-Parent (Blake/Baylen) is properly detestable.  Davyn Ryall (James Lingk) does well as the meek patsy trying to get his money back.
Be prepared for Mamet's long soliliquys for each of them – with the other salesmen there mostly as an audience for their rants.  Since this is a small theatre, you too feel as though you are right next to them in the room. Be careful though because as Levene says, these guys are so manipulative, they know how to sell you something you didn't even want.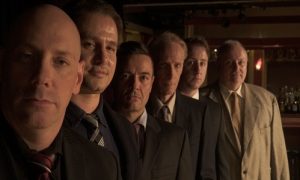 Location: MainLine Theatre, 3997 St-Laurent, 2nd floor
Dates: Presented in English: Wed-Sat Nov 7-10, 14, 15, 16, 17, at 8pm. Sun matinees Nov 11, 18, at 2 pm
Tickets: (Prices include taxes and service charge) $22 general admission; $20 Seniors; $18 Students
Tel: 514 849-3378
e-mail: boxoffice@montrealfringe.ca
www.mainlinetheatre.ca/en/spectacles/glengarry-glen-ross
youtu.be/kQOG32GINho
NOTE: mature language. Recommended ages 14+

If you love to read, then this event is definitely for you. Want to meet authors and learn of the inspiration for their works? Book 'Em North Carolina is national event that brings together brings together more than 75 authors, publishers, literary agents and publicists under one roof for one common cause; to promote literacy.

Book 'Em NC Writers Conference and Book Fair is open to readers of all ages. There are book readings and events scheduled for children from pre-school to teens, panel discussions and talks for writers trying to break into the field and  lectures and events for readers of various genres, including mysteries, romance, true adventure, historical, biographical, …
Authors will sell and sign their books, participate in panel discussions and talks, network and interact with fans one-on-one. Headlining authors include: poet LeJuane Bowen and fictional author Jill McCorkle.
A series of talks occur between 10 – 3 pm and include:
Writers Conference – for aspiring or published authors of all ages and levels
The Children's Corner – readings for younger children, arts and crafts and special activities
Panel Discussions and Talks – for readers of various fiction and nonfiction genres, including autobiographical, biographical, historical, mystery/suspense, romance, fantasy, paranormal, science fiction, horror, true crime and others
Each talk begins on the hour and feel free to attend one or all of the talks throughout the day.
The purpose of The Book 'Em Foundation and this event is to raise public awareness of the link between high crime rates and high illiteracy rates. The Book 'Em Foundation was co-founded by suspense author P.M. Terrell. Proceeds from the Book 'Em North Carolina book fair will go directly to increasing literacy in Robeson County, North Carolina and to reducing crime in the area.
 This event is FREE and open to the public.
Location: Robeson Community College, 5160 Fayetteville Rd, Lumberton, NC
Date: Sat, Sept 23, 2017
Time: 9:30 – 4pm
Tel: 910-272-3362
bookemnc.org
For Regional Accommodations. Restaurants & Attractions: lumberton-nc.com
Wouldn't it be amazing to be able to flashback to calm and pleasant airline travel of the 1970's? Well you can! We just drove from Montreal to tiny Plattsburgh Airport to take Allegiant Air to hot sunny Florida. Easily, we turned off the main road, and drove right up to the airport door. I stepped out with the luggage, and Stan just parked the car across the street.
There was NO line at the Allegiant Air desk and friendly helpful service, I was done in under two minutes. There was NO lineup at security. Since you already drove through the border, there was NO customs and immigration to deal with. In probably about 5 minutes we were going up the elevator to the waiting room.
The room had a retro counter with a man selling candy, snacks, sandwiches and drinks. When I asked him the prices, He said, "What do you want, they're all in my head?"
There weren't overhead screens to keep track of the flight. They send any changes to you to your cellphone – and call if necessary, too. The building is going through a renovation so things might be a bit more twenty-first century when you fly.
Those of you already planning your winter sunny getaways will be happy to know that Allegiant Air flying out of Plattsburgh offers low prices with just a short drive away for Montrealers who want a nonstop flight to sunshine. Just be advised that there are extra charges for luggage (even carry-on), choosing seats, and such things as printed boarding passes for you (you can do it at home for free).
Travelers who shop around will find substantial savings when flying with Allegiant, as well as good deals on hotels, rental cars and attractions. Montrealers wishing to spend their hard-earned dollars at their destination, rather than on transportation, can fly to sunny Las Vegas and Florida.