Tag Archive
activity
architecture
art
artist
Austria
Canada
children
city
CostSaver
display
downtown
drive i-95
Drivei-95
entertainment
Europe
event
exhibit
family
festival
Florida
food
free
fun
historic
History
landmark
live
local
London
Museum
music
Ontario
roadtrip
shop
show
sights
sightseeing
tour
tourist
Trafalgar
travel
travelblogger
USA
view
world
It makes sense that a bust/fountain on the Ponte Vecchio would be of a sculptor and goldsmith, Benvenuto Cellini. Cellini did not have any connection with the jewelry shops on the bridge, which are there today because when he was alive, butcher shops lined the bridge. The artist, in a shout out to Cellini, used motifs taken from the pedestal of Perseus, Cellini's masterpiece. The inscription on the monument states: "To Benvenuto Cellini ­ Master ­ The Goldsmiths of Florence."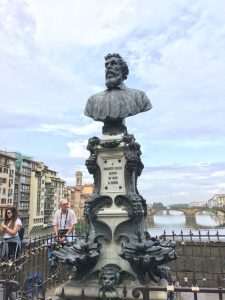 The Ponte Vecchio (old bridge) is a medieval stone bridge and the only one to cross the Arno River until 1218. This one is "newer", having been rebuilt after a flood in 1345. It's famous because it has shops built along it, as was once was the practice. Originally it was butchers, now it's jewelers, art dealers and souvenir sellers.
.
Cafe-Konditorei Fürst created a treat made of marzipan, pistachios, nougat and dark chocolate and was renowned for its perfectly round shape. Each individual bonbon is put on a small wooden stick to be dipped into the chocolate.
Paul Furst opened a confectionery shop at Brodgasse 13 on Salzburg's Alter Markt marketplace square in 1884. This shop quickly became popular with Salzburg's fashionable crowd and the crowd loved these Salzburger Mozartkugel. You can find them all over old city in Salzburg, Austria.

.
Yes, there's chocolate shops in Switzerland. Who could resist licking that running chocolate waterfall?
.
The Swiss Army marketers sure know how to make you smile, stop, take a photo, and yes, perhaps walk in and buy something. Okay we bought a Swiss Army Knife. One of my favorite gifts has been the Swiss Army card; It's the size of a credit card, fits in your wallet and has the necessary gadgets hidden in it.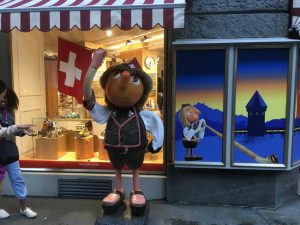 .
A stop in Lucerne gave us endless hours of browsing through watch shops. The incredible amount of creativity of what can be designed on a watch was amazing.
.
Ferries from London to Paris are way beyond what we thought. There are different restaurants, shops, arcade, and quite a number of types of seating including couches, arm chairs, banquettes and this lounger, our favorite. Two people can lie really really comfortably.
.
Pubs are inexpensive places to grab a bite and a beer in London. Some of them are hundreds of years old. Notice the wrought iron bell above The Old Bell tavern and the caricature of Punch on Punch Tavern. Many people back then were illiterate so objects were hung to create easy way for them to find shops and pubs. We passed these on Fleet Street while aboard the Hop On Hop Off Bus which was included in the London Pass.
The Bell Tavern was built by architect Sir Christopher Wren in the 1670's while he was working on the churches nearby. Since it is located on the famous Fleet street which was the epicenter of the newspaper industry, the writers and inkies(printers), penned their copy here while probably perennially hammered.
Punch Tavern got it's name in the 1840's as Punch magazine had its office here on Fleet Street. There was a pub here even before then called the Crown and Sugar Loaf.

.
When in London, kids make a pilgrimage to the Kings Cross tube station where Harry Potter left for Hogwarts on special platform numbered 9 3/4. When we first visited this spot, a decade ago, there was the simple sign on the wall. It was a real treasure hunt to find it in the station.
Nowadays, it's very easy. Just look for the giant lineup of kids and their parents willing to pay to take photos in front of it – AND- the very busy shop next door selling everything Harry Potter possible. You don't need to pay to get into the Tube to get to this part of the station.