Tag Archive
activity
art
artist
Austria
Canada
children
city
CostSaver
display
drive i-95
Drivei-95
entertainment
Europe
event
exhibit
family
festival
Florida
food
France
free
fun
historic
History
landmark
live
local
London
Museum
music
performance
Restaurant
roadtrip
shop
show
sights
sightseeing
tour
tourist
Trafalgar
travel
travelblogger
USA
view
world
Grab your spoons and mark your calendars for Scooper Bowl – all-you-can-eat Ice Cream Festival.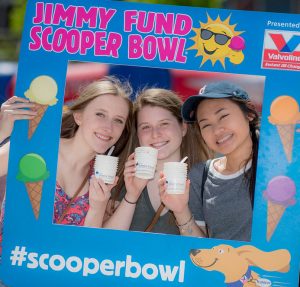 Celebrating its 36th year in 2018, the Scooper Bowl is now a three-day event that dishes out 20 tons of the summer's finest ice cream to more than 40,000 ice cream lovers from across the nation. Enjoy a lot of great entertainment and fun activities at this country's largest all-you-can-eat ice cream festival.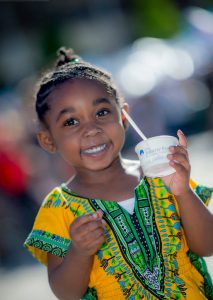 What is most impressive about the ice cream festival is that all ice cream companies donate all the ice cream, labor, scoopers, and products needed to make the event happen each year. Though they are competitors for 51 weeks of the year, during the first week of June they come together to create an event that is now known as the "unofficial start of summer" in New England.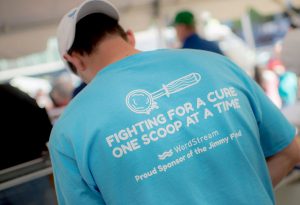 Made possible by the generous contributions of the industry's largest ice cream companies, the Scooper Bowl has raised more than $6.3 million in the past 35 years for cancer research and patient care at the world-renowned Dana-Farber Cancer Institute.
Get Your Tickets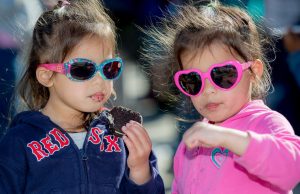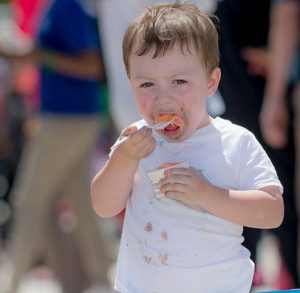 *Pricing will increase at the door – Kids under 3 are free
Whether you're a visitor to the area or professional ice-cream-eater, you play a huge part their our mission to conquer cancer.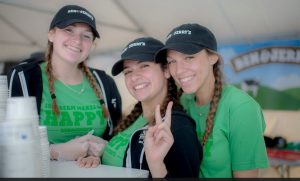 Ice Cream Flavors
Baskin-Robbins
Boston Cream Pie
Cannoli Be With You
OREO® 'n Caramel
Triple Grape Ice
Beckon Ice Cream (formerly Minus the Moo) – Thursday only, lactose-free
Vanilla
Chocolate
Espresso
Sea Salt Chocolate Chip
Mint Chip
Chocolate Candy Crunch
Strawberries & Sweet Cream
Black Raspberry
Confetti
Ben & Jerry's
Gimme Smore™
Caramel Almond Brittle non-dairy
AmeriCone Dream®
Chocolate Shake It™
Breyers
Nautral Vanilla
Oreo® Cookies & Cream
Mint Chip
Edy's
Birthday Cake
Dulce
Rainbow Sherbet
Friendly's
Triple Caramel Peanut Heaven
Hunka Chunka PB Fudge®
Rockin' Poppin'™ Cotton Candy
Cookies 'N Cream
Black Raspberry
Haagen-Dazs
Chocolate Salted Fudge Truffle Non-Dairy
Hood
Hood® New England Creamery Limited Edition Chocolate Churro
Hood® New England Creamery Limited Edition Purple Panda
Hood® Coffee Cookies 'n Cream
Hood® Chocolate Chip Cookie Dough
Lactaid – lactose-free
Lactaid® Cookies 'n Cream
Lactaid® Mint Chocolate Chip
Lactaid® Mocha Almond Chip
Lactaid® Salted Caramel
Rosev Dairy Foods
Coconut
Rum Raisin
Purple Cow
Twisted Sea Turtle
Vice Cream
Afternoon Delight
Bourbon Mash
L'Orange A Trois
Minted
Higher Grounds
Yasso

Stick Bars:

Pistachio Brittle
Fudge Brownie
Coconut Caramel
Chocolate Chip
Chocolate Peanut Butter Chip
Scoops:

Party Animal  Mint Championchip
Rolling in the Dough
Caramel Pretzelmania
Coffee Brownie Break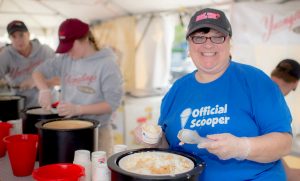 Location: City Hall Plaza, 1 City Hall Square, Boston, MA 02201
Date: June 5 – 7, 2018
Time: Noon – 8pm
scooperbowl.org
For Regional Accommodations, Restaurants & Attractions: bostonusa.com
Take a Sunset Kayak Tour at Sebastian Inlet State Park for a memorable exploration the Indian River Lagoon, home to brown and white pelicans, herons, egrets, osprey, bottle-nosed dolphin and manatee.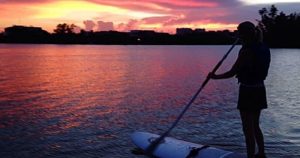 Or maybe you'd prefer the Full Moon Kayak Tours,  available on June 29, June 30,July 27, 28 and Aug 25. Under the light of the full moon, join an adventure, glow sticks in hand, through the grass flats and explore the Indian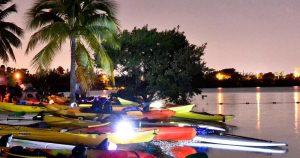 River Lagoon. After the tour, relax and enjoy Smore's and refreshments at the Marina.
Included in these tours: a kayak or paddle-board, safety vests and safety instructions.
What to bring: bathing suit, sunscreen, towels, sun protective clothing (ie. hats and sun shirts), water shoes or waterproof sandals and bug spray.
Location: BG's Bayside and Marina, 9502 S. Hwy A1A
Melbourne Beach Florida, 32951 – Located inside Sebastian Inlet State Park
Date: Sunset Tours: weekly – Sun, Wed, Thur, Fri, and Sat, Full Moon – usually only once a month,  Please check schedule
Time: Sunset Tours – 7pm, Full Moon – 7:30pm
Tel: 321-724-5424
bgsurfsidegrillandadventures.com/sunset-tours
Regional Accommodations, Restaurants & Attractions: visitspacecoast.com
This is no ordinary Bonfire, it's a 3-story community bonfire where Greater Newburyport's residents burn their well-loved Christmas trees, and boy can those babies burn and it gets hot, real hot!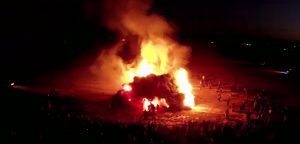 In honor of the original purchase of Newbury, MA in 1701, It's the 6th Annual Christmas Tree Burn Fundraiser/ Old Newbury Bonfire  to benefit the Newbury Volunteer Fire Department. Why not support this community and enjoy the local entertainment with music, games, food and fun at an event that is becoming a Greater Newburyport Winter tradition.
In addition to the bonfire, there will be tours of the 17th century stone and brick manor house at Spencer-Peirce-Little Farm,  and you can participate in a  flashlight treasure hunt and other children's activities. Enjoy great food and drinks from local businesses, roast marshmallows or make S'mores.  At 5 PM there's an  auction to be one of the two official bonfire lighters. Other prizes include a ride to school on a fire truck, cords of wood, local art and other surprise. Admission FREE, food and drinks available for purchase. Parking: $5 at Spencer Peirce Little Farm.
Make sure that you include a stop in Fayetteville to see the NATURE CONNECTS® Art with Lego® Bricks Exhibit at Cape Fear Botanical Garden which lasts until January 8, 2017.
Kids and kids at heart will appreciate this award-winning, record-breaking exhibition, inspired by nature and built by artist Sean Kenney, with over 500,000 colorful LEGO® bricks. The exhibit features  larger-than-life sculptures representing the complex and amazing network that interconnects all living things on Earth.
The sculptures will be displayed throughout the Garden to encourage you to walk by an 8-foot tall hummingbird, go nose-to-nose with a 5-foot bumblebee, admire a 7-foot rose, and watch an oversized koi leap about in the Cypress Pond.
Interpretative panels for each display with feature a message to connect children with the natural world and promote environmental stewardship and conservation. Adding to the exhibit will be activities for all ages, hands-on building stations, and design competitions.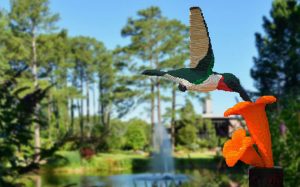 Cape Fear Botanical Gardens also offers some evening entertainment for the holidays:  Holiday Lights in the Garden – where the Garden will be transformed into a sparkling wonderland with thousands of lights illuminating plants, trees, and new exhibits.
Attractions and festivities include a synchronized show of lights and music shimmering over the Cypress Pond, a mile long stroll featuring thousands of lights aglow, photos with Santa on select evenings, S'mores roasting over the fire pit, and free crafts for children. The Garden Gift Shop, brimming with wonderful holiday selections, will be open each evening. nightly until Dec 23rd, Dec 26th – 30th, 5 – 9pm.
Take advantage of their on-line special pricing:.eventbrite.com/e/holiday-lights-in-the-garden-pre-sale-tickets-29281713393
Location: Cape Fear Botanical Garden, 536 N. Eastern Blvd., Fayetteville, NC 28301
Dates: until Sun,  Jan 8, 2017 – *Excluding holidays: Christmas Eve and Day, New Year's Eve and Day.
Hours: Mon – Sat: 10am – 4pm, Sun: 11am – 4pm *Last Admission: 3:15 pm
Tel: 910-486-0221
capefearbg.org
For Regional Accommodations, Restaurants & Attractions: visitfayettevillenc.com
Under the warm glow of lights you'll be served a FREE toasty cup of hot chocolate while you enjoy listening to music. Indulge in some family-fun, there is something for everyone including shopping, art, drinks, food,  prizes, and fun for kids of all ages and did I mention chocolate.
Take a chocolate tour along West Street with a dozens of vendors selling various chocolate specialties , including chocolate caramels, bars, truffles, fudge, cookies, rice crispies, fondue, chocolate fountain, candy apples, chocolate sushi, and even chocolate martinis. Chocoholics, get ready to binge!
Entertainment includes: Moon Bounce,  Balloon Sculptures, Face Painting, Meet Santa, McGruff the crime fighting dog, and Sparky the fire department dog, Music performances,  Comedy,  Ugly Sweater Contest, holiday shopping, the lighting of the West Street Light Canopy. You can roast marshmallows and make s'mores at the fire pit in the middle of West Street sponsored by the Annapolis Fire Department.
Chocolate, holiday vendors, music, family friendly entertainment and holiday light canopy. All this makes for a great street party in Annapolis. Support the local arts and and We Care and Friends . Suggested $5 donation to the Annapolis Arts District-Kids are free with a paid parent donation.
Location: West St and Calvert St (Intersection) ,Annapolis, MD 21401
Date: Sun, Dec 4th, 2016
Time: noon-5pm
Tel: 410-858-5884
annapolischocolatefestival.com
For Regional Accommodations, Restaurants & Attractions: visitannapolis.org