Tag Archive
activity
art
artist
Austria
Canada
children
city
CostSaver
display
Drivei-95
drive i-95
entertainment
Europe
event
exhibit
family
festival
Florida
food
France
free
fun
historic
History
landmark
live
local
London
Museum
music
performance
Restaurant
roadtrip
shop
show
sights
sightseeing
tour
tourist
Trafalgar
travel
travelblogger
USA
view
world
Join the excitement of the 14th Annual Darlington Car Hauler Parade and Racefest featuring NASCAR Monster Energy Cup Teams transporters making their way through cheering fans from the Florence Civic Center to the Darlington Square and into the track that's "Too Tough to Tame" – Darlington Raceway.
There is plenty of FUN for the whole family, beginning at the Florence Civic Center with entertainment and live music. Kids play all afternoon for FREE on the KidsZone inflatable ride and games. The Game Truck will bring a wide selection of games for Xbox360, Wii and PS3 and can accommodate up to 16 players at one time. There will be refreshments for purchase with the proceeds  supporting Camp Pee Dee Pride.
The main attraction continues to be the NASCAR transporters, which fans can take photos with with their favorite team's hauler and driver before the haulers take off. This year famous former drivers are back such as Hut Stricklin, former champ of NASCAR's Dash Series, and Donnie Allison, who won ten races in the Cup Series.
Fans will enjoy the exciting silent auction full of great NASCAR items and race memorabilia. Proceeds benefit local charities.
At 7 p.m. the parade of NASCAR haulers leave the Florence Civic Center and make the 12-mile trek to RaceFest on the Darlington Square, where there will be more entertainment, food, a car show and an incredible fireworks display. The transports will continue through Darlington until they reach the track Darlington Raceway where they can park, unload and begin preparation for the Bojangles' Southern 500 race taking place on on September 2nd.
As if it could not get any better, admission to the Darlington Car Hauler Parade is FREE.
Location: Florence Center, 3300 W Radio Dr , Florence, SC 29501
Date: Thurs, Aug 30, 2018
Time: 4pm – 7pm
Tel: 800-325-9005
darlingtoncarhaulerparade.com
For Regional Accommodations, Restaurants & Attractions: visitflo.com
On the night of April 14, 1865, President Abraham Lincoln was shot by the dashing young actor, John Wilkes Booth, at Ford's Theatre in Washington City. While Lincoln lay dying, his assassin was making his escape into Southern Maryland.
Over the next twelve days, Booth and his accomplice, David Herold, were tracked through the lower counties of Maryland and across the Potomac River into Viriginia. They were finally trapped at Garrett's Farm near Bowling Green, Virginia, where Herold was taken prisoner and Booth was shot and killed by federal troops. Herold was hanged along with Mary Surratt on July 7, 1865.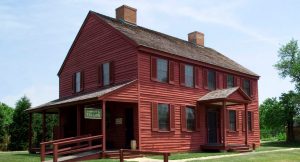 John Wilkes Booth Escape Route Tour – The Surratt Society sponsors tours each fall and spring along Booth's escape route. Many of the same roads and houses used by Booth are still in existence and are visited on this excursion which is narrated by nationally-recognized authorities on the Lincoln assassination and John Wilkes Booth's flight.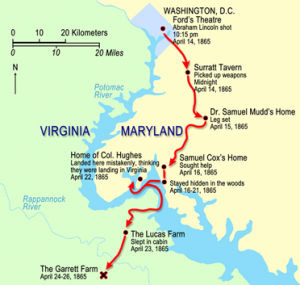 Follow the trail of President Lincoln's assassin from Ford's Theatre in Washington, D.C. to his death near Port Royal,  Virginia. Relax and enjoy the history and scenery on this
12-hour, fully narrated bus tour. The cost is $85 per person ($80 for Surratt Society members). Proceeds go toward the preservation of the Surratt House Museum which was the first stop on Booth's flight south.
To reserve your spot fill out this form.
Location: The Surratt House Museum, 9118 Brandywine Road, Clinton, MD 20735
Dates: Sat, September 8, 15 & 22, 2018
Time: 7 am –7 pm
Tel: 301-868-1121
surrattmuseum.org
For Regional Accommodations, Restaurants & Attractions: visitmaryland.org
Kingsland, GA Exit 3: Enjoy this down-home festival with crispy Southern-fried catfish and all the fixings,  festival goers can feast on this and much more at Kingsland's 35th Annual Catfish Festival.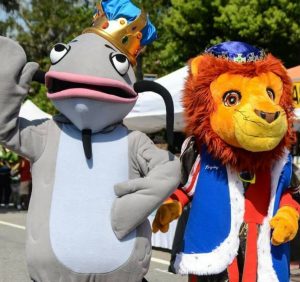 The family-fun, outdoor festival kicks off at 9am Saturday, November 18th and lasts throughout the day, concluding with annual Night Parade. Throw in arts & craft booths, a variety of  food booths, antiques and collectibles, magic show, live entertainment, a children's amusement area, 5K run and you are in for a great time.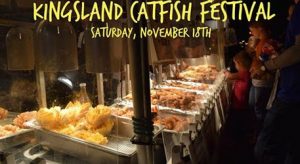 Two local bands are in the line-up this year, Milltown Road and The Bluff 5 Band along with Country music artist Keith Anderson. The night parade begins at 6pm and Keith Anderson performs after the parade at 7pm.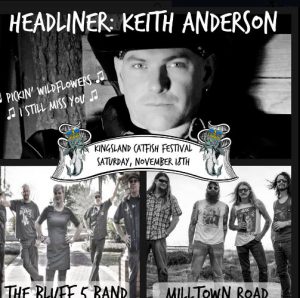 To make this experience more complete, make sure to indulge in the local grub; the famous, heavenly southern-fried catfish with grits, hush puppies, coleslaw and sweet ice tea, you will be so glad you did.
Admission FREE, dogs on leashes welcome.
Location: Downtown Kingsland, 107 South Lee Street, Kingsland, GA 31548
Date: Sat, Nov 18th, 2017
Hours: 9am – 9pm
Tel: 912-729-5999
kingslandcatfishfestival.org
For Regional Accommodations, Restaurants & Attractions: visitkingsland.com
If you are looking for fresh local seafood near Coastal Georgia, head to Clay's Sapelo Station, where the locals eat. Though this place is small in size they say its big in service and taste. Stop in the heart of historic McIntosh County and enjoy dinner in charming, rustic coastal ambiance.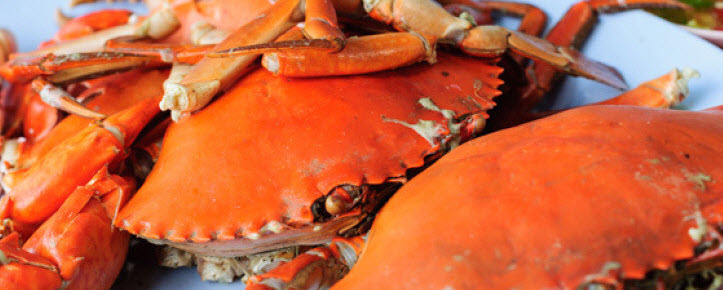 Your experience starts with the owner greeting you at the door. Treat your taste buds to the local seafood, including sweet Georgia shrimp, scallops, Sapelo Clams, oysters and a variety of fish. Or you can devour steam fresh crabs, freshly caught and steamed to order. The celebrated McIntosh County Buffalo Steaks are grilled to perfection, taking the South's flavor and the North's flair: Treat yourself to a tender buffalo steak and you'll see why this is a house favorite.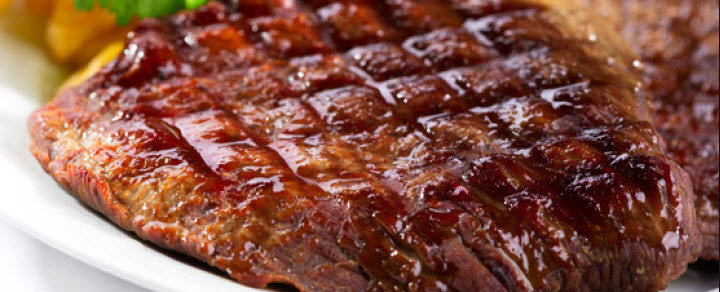 Standouts are Boom Boom Shrimp, Pecan Crusted Fish, Shrimp and Grit Cake, Crab Stew, Fish Tacos and the LCB (low country boil). Eat in the dining room, the bar area or one of the porches. Often you can enjoy live music and that's when the place gets packed with lots of dancing – and fun. Why not take a break from the road and savor their authentic warm Southern hospitality.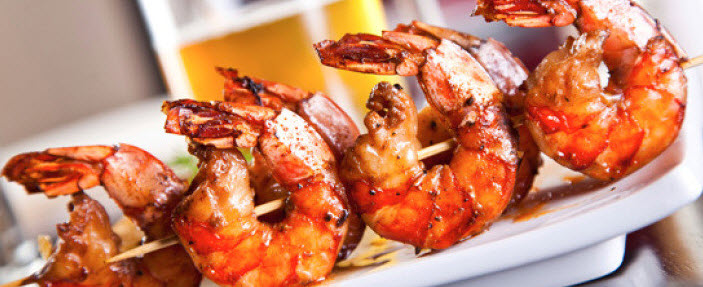 Location: Clay's Sapelo Station – 15600 US Highway 17, Townsend, Georgia 31331
Hours: Wed – Sat 5pm – 10pm,
Sun 12pm – 10pm
Tel: 912-832-2013
clayssapelostation.com
For Regional Accommodations, Restaurants & Attractions: visitdarien.com
mcintoshcountyga.com
Why not stay at a hotel that has embraces a piece of Southern history –   Inn at Mulberry Grove. Mulberry Grove was the name of the plantation where Eli Whitney arrived as a tutor for widow Mrs. Nathaniel Greene's children. Her hubby was 2nd in command to Washington, and had been given The Mulberry Grove Plantation as a gift from the spoils of the Revolutionary War.
Whitney was no average tutor. A Yale graduate, he tinkered with inventions, and recognized the need to speed up the process of separating cotton seeds from cotton fibers. He gained worldwide recognition for inventing the cotton gin, which revolutionized the South's cotton industry. During the Civil War, General Sherman burned down Greene's original house, but now you can stay in this Inn on the same land.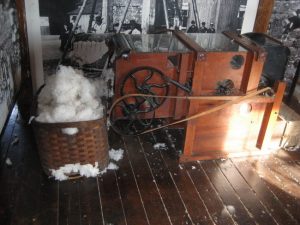 There's a touch of European elegance here, with gilded mirrors and dark wood furnishings. The hot breakfast with sausage, biscuits, grits and waffles can be taken in the courtyard. There's a guest laundry, and it's budget friendly.
Location: Inn at Mulberry Grove, 101 O'Leary Road, Port Wentworth GA 31407
Tel: 912-965-9666
innatmulberrygrove.com
For Regional Information, Restaurants & Attractions: visitsavannah.com
The Richmond Folk Festival carry's forward the 12-year tradition established by the hugely successful National Folk Festival celebrating the roots, richness and variety of American culture through music, dance traditional crafts, storytelling and food. The event takes place at downtown Richmond's  historic riverfront from 2nd to 7th streets and from Byrd Street to the river – including Brown's Island, The American Civil War Museum at Historic Tredegar, portions of Federal Reserve parking lots, and Tredegar Street.

Richmond Folk Festival is where over 200,000 festival goers gather for three FREE days of music, dance, food and fun. Drawing in visitors from across the country with an eclectic mix of 40 artists performing on seven different stages with continuous music and dance performances, along with a Virginia Folk-life demonstration area, children's activities, a folk arts marketplace, regional and ethnic foods.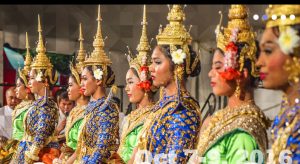 Among the artists to be featured at the 2016 Richmond Folk Festival are: Gary U.S. Bonds and Gene "Daddy G" Barge, (Norfolk Sound), Canzoniere Grecanico Salentino (Southern Italian pizzica tarantata), The Fairfield Four (African-American gospel singing quartet), Geno Delafose & French Rockin' Boogie (zydeco), Natalie MacMaster & Donnell Leahy (Cape Breton and Ontario fiddling), Joe Mullins & the Radio Ramblers (bluegrass), Homayoun Sakhi and Salar Nader (Afghan rubâb and tabla), Sheila Kay Adams (Appalachian songs, stories and ballads). Check the website for complete list of performers/schedule.richmondfolkfestival.org/docs/event_schedule
Expect lots of great food: ethnic, regional and traditional foods to delight guests and showcasing a wide variety of tempting foods to compliment the spirit of the festival. From classic festival fare to exotic flavors from around the globe, there's definitely something to tickle your tastebuds.
Location: Downtown Richmond's Riverfront, Brown's Island Park,Richmond, VA 23219
Date: Fri, Oct 07  – Sun, Oct 09, 2016
Time: Fri 6 – 10PM, Sat 12 – 9:30PM, Sun 12 – 6PM
Tel: 804-788-6466
richmondfolkfestival.org
For Regional Accommodations, Restaurants & Attractions: visitrichmondva.com
At Fatz Cafe, the motto on the menu,"Where everybody is a regular", is true and that's because they
get addicted to the warm buttery poppy seed rolls (hint of donut taste to us). Locals come for the fried Calabash
chicken, which is marinated in buttermilk and served with honey mustard, and to enjoy the oldies music and photos of
the Florence/PeeDee area in the 60's and 70's.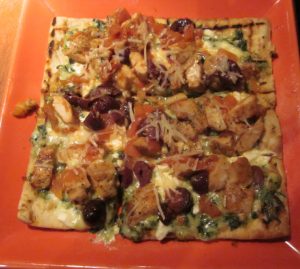 A popular starter is the fried green tomatoes on cheese grits with remoulade sauce or the shareable hot Cajun firecracker sticks stuffed with spicy shrimp, andouille sausage, onions, peppers, melted cheese in a tomato/basil tortilla. A hit of the meal was the Edisto shrimps and grits made with crumbled bacon in a mushroom burgundy gravy with Parmesan cheese. You could come in for the mahi mahi, spinach salad, ribs, pork chops, burgers or a sirloin steak marinated in hard cider, but you must leave room for the Carolina peach cobbler, which tastes like your gramma made it (vanilla ice cream and walnuts on top).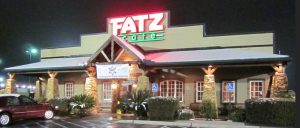 Location: 2007 W. Lucas, Florence, SC
Tel: 843-413-9186
www.fatzcafe.com
For Regional Accommodations and Attractions: www.visitflo.com
www.drivei95.com