Tag Archive
activity
art
artist
Austria
Canada
children
city
CostSaver
display
drive i-95
Drivei-95
entertainment
Europe
event
exhibit
family
festival
Florida
food
France
free
fun
historic
History
landmark
live
local
London
Museum
music
performance
Restaurant
roadtrip
shop
show
sights
sightseeing
tour
tourist
Trafalgar
travel
travelblogger
USA
view
world
Celebrating Annapolis' Diverse Arts Scene, Annapolis Arts Week was created to bring together the area's local artists and musicians for a week of art, food, block parties, events, music, and festivals.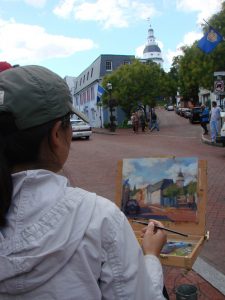 The week includes major events: Paint Annapolis, a county-wide, juried, plein air competition celebrating its 15th year with 30 distinguished artists from around the globe. The artists will create 300 landscape works, highlighting the special colonial architecture, marine atmosphere, and overall energy of Annapolis. p a i n t a n n a p o l i s . o r g

Paint Annapolis features special events every day:
Sunday, June 3: Dueling Brushes – Quick Draw at Susan B Campbell Park
Monday June 4: Artist paint in Anne Arundel County
Tuesday, June 5: Paint the Bay Reception at Annapolis Maritime Museum
6-8pm
Wednesday, June 6: Artists paint in the city of Annapolis
Nocturne at dusk – Dinner Under the Stars
Thursday, June 7: Artists paint in the historic district
Art on the Avenue, Maryland Avenue, 5-7pm
Friday, June 8: Collector's Award Reception, 6:30 – 9pm
Saturday June 9 & Sunday June 10: Reception & Sales at Circle Gallery
Mimosas & Muffins: Sunday 11am – 1pm
Here are some additional events going on throughout Annapolis Arts Week: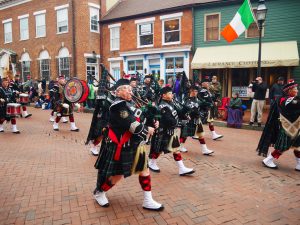 The Annapolis Irish Festival where you can enjoy traditional Celtic music and Irish rock bands on three different stages, along with workshops and exhibits. Try some delicious Irish beef stew and other Irish favorites. Little Leprechaun Land (open on Saturday only 11am– 4pm) provides pony rides, face painting and other free activities for the kids.  June 1 & 2, 2018 at Anne Arundel County Fairgrounds annapolisirishfestival.com
16th Annual First Sunday Arts Festival Shop among the creations of 130 local and regional artisans; dine at outdoor cafes; and enjoy the music of more than seven live bands. It's a great time to explore art galleries, take a game room challenge and/or create your own artwork at shops on West Street taking place on First block of West and Calvert Streets,  Sunday, June 3 – 11am – 5pm – Admission: Free firstsundayarts.com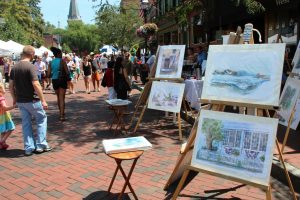 Dinner Under the Stars is a place for families and friends to come together and for couples to experience a romantic evening under the stars. Artists will paint from sundown to sunrise alongside the hundreds who come to dine, drink, and dance under the night sky. Spend Wednesday evenings dining, dancing and listening to live bands in the middle of the first block of West Street, just off Church Circle. Wednesdays, June 6, 13, 20, 27, 6pm – 10pm dinnerunderthestars.org
Photo Credit: VisitAnnapolis.org & Kenneth Tom Photography
Location: Various
Date: June 1 -10, 2018
Hours: Various
Tel: 410-268-4566
annapolisartsweek.com
For Regional Accommodations, Restaurants & Attractions: visitannapolis.org
Already a Memorial Day tradition, Country 500 draws 75,000 country-music loving fans to Daytona Beach for an unforgettable weekend of music, camping and summertime fun at one of America's most iconic sports destinations.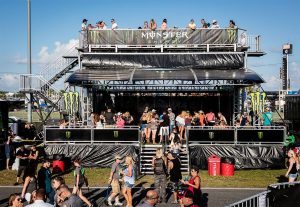 Also called "The Great American Music Fest at Daytona," the Country 500 festival features the biggest stars in country music spread over three days and nights, programmed on multiple performance stages—specially designed and built for the festival. Country 500 takes place on the infield of the world-famous Daytona International Speedway.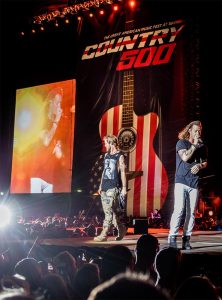 Featured artists: Sugarland, Toby Keith, Chris Stapleton, Dierks Bentley and more. For Complete Music Lineup: country500.com/schedule/#/
Fans at the festival also have the opportunity to get up close and personal with some of their favorite country stars at artist meet-and-greets located in the garages. Numerous other features—a select festival menu sold from food booths and food trucks; carnival rides; arcade games; cooling water elements; country-and-western merchandise; and more—will all be a part of the festival, as Country 500 transforms racing's greatest venue into a festival-goer's dream.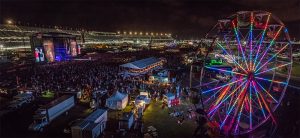 Location: Daytona International Speedway, 1801 West International Speedway Blvd. Daytona Beach, FL 32118
Date: May 25 – 27, 2018 – Memorial Day weekend
Times: Various
Tel: 504- 410-4100                        Photo Credits: Douglas Mason
country500.com
For Regional Accommodations, Restaurants & Attractions: daytonabeach.com
This annual New Year's Eve bash takes over Old Town Alexandria with more than 150 performances at 23 indoor venues, with live music, dancing, children's face painting and games. First Night Alexandria is a celebration of the new year through the performing arts. Retail stores, hotels, museums and public buildings are turned into performance venues to showcase incredible local and regional talent.
For a small fee for adults (children 12 and under are free), you have access to all the entertainment, all evening. Everything is within easy walking distances. The afternoon's Ninth Annual Fun Hunt with all-new activities for families and pets. There's a venue at the Mount Vernon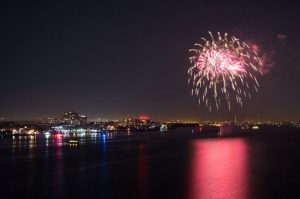 Recreation Center in Del Ray filled with fun activities for children 10 and younger, dancing in the street at the east end of King Street beginning at 10 pm and the piece de resistance is the First Night's fireworks finale with a spectacular display over the Potomac River at midnight. First Night Alexandria is so packed with entertainment, you will have a hard time deciding which performances to attend.
Event Schedule and Locations:
10:00am Noon Year's Eve – Alexandria Library – Kate Waller Barrett Branch, 717 Queen Street, Alexandria, VA 22314
12pm Watch Night at Alfred Street Baptist Church –301 South Alfred Street Alexandria
1pm George Washington Masonic Memorial Tour – George Washington Masonic Memorial, 101 Callahan Drive, Alexandria, VA, 22301
1pm Hooray For Books! – 1555 King Street, #101, Alexandria, VA 22314
1pm Olio – Oil & Vinegar Tasting – Olio Tasting Room. 1223 King Street, Alexandria, VA
1:30pm The Art League Gallery – 105 North Union Street, Alexandria, VA 22314
2pm 9th Annual Fun Hunt – Torpedo Factory Art Center, 105 North Union Street, Alexandria, VA 22314
2pm Kid's Art for Animal Adoptions – Torpedo Factory Art Center, 105 North Union Street, Alexandria, VA 22314
2pm Mobile Art Lab – Durant Arts Center, 1605 Cameron Street, Alexandria, VA 22314
2pm Pottery at the Alexandria Archaeology Museum – Torpedo Factory Art Center, 105 North Union Street, Alexandria, VA 22314
2pm TC Williams Jazz Band – Embassy Suites Hotel, 1900 Diagonal Road, Alexandria, VA
2pm Ten Thousand Villages –Ten Thousand Villages, 915 King Street, Alexandria, VA
2pm Thinkfun Family Game Room – Durant Arts Center, 1605 Cameron Street
2:30pm George Washington Masonic Memorial Tour – George Washington Masonic Memorial, 101 Callahan Drive, Alexandria, VA, 22301
4pm George Washington Masonic Memorial Tour –George Washington Masonic Memorial, 101 Callahan Drive, Alexandria, VA, 22301
5pm Amazing Clowns – George Washington Masonic Memorial, 101 Callahan Drive, Alexandria, VA, 22301
5pm Let's Make a Face – George Washington Masonic Memorial, 101 Callahan Drive, Alexandria, VA, 22301
5pm Seaworthy Small Ships –George Washington Masonic Memorial, 101 Callahan Drive, Alexandria, VA, 22301
6pm An Old Fashioned Carnival – Mount Vernon Recreation Center, 2701 Commonwealth Ave, Alexandria, VA 22305
6pm Becky's Balloon Animals – Mount Vernon Recreation Center, 2701 Commonwealth Ave, Alexandria, VA 22305
6pm Blue Sky Puppets – George Washington Masonic Memorial, 101 Callahan Drive, Alexandria, VA, 22301
6pm How-To Cowboy: Jokefest – Mount Vernon Recreation Center, 2701 Commonwealth Ave, Alexandria, VA 22305
6pm Kickoff and Drawing for Fun Hunt Prize Winners – Durant Arts Center, 1605 Cameron Street, Alexandria, VA 22314
6pm Rainbow Rock Band – Mount Vernon Recreation Center, 2701 Commonwealth Ave
6:15pm Mike Rose – Little Theatre of Alexandria, 600 Wolfe Street, Alexandria, VA 22314
6:45pm Mister Don – Mount Vernon Recreation Center, 2701 Commonwealth Avenue, Alexandria, VA 22305
6:45pm Virginia Bronze – George Washington Masonic Memorial, 101 Callahan Drive, Alexandria, VA, 22301
7pm Alexandria Singers – Washington Street United Methodist Church, 109 South Washington Street, Alexandria, VA 22314
7pm Amateur Facepainters – Washington Street United Methodist Church, 109 South Washington Street, Alexandria, VA 22314
7pm Billy & Bob Classic Country Show – George Washington Masonic Memorial, 101 Callahan Drive, Alexandria, VA, 22301
7pm Blue Moon Cowgirls –St. Paul's Episcopal Church, 228 South Pitt Street, Alexandria
7pm Blue Sky Puppets – George Washington Masonic Memorial, 101 Callahan Drive
7pm Cletus Kennelly – Alexandria's Union Station | 110 Callahan Drive, Alexandria
7pm Curtis Blues – Alexandria Library – Kate Waller Barrett Branch, 717 Queen Street
7pm Dr. Robert Band – Fraternal Order of the Eagles 871, 1015 Cameron Street
7pm Irish Breakfast Band
7pm Janna Audey & Rob Santos – Long & Foster, 400 King Street, Alexandria, VA 22314
7pm Lesson Zero – Christ Church Auditorium, 118 North Washington Street, Alexandria
7pm Mike Rose – Little Theatre of Alexandria, 600 Wolfe Street, Alexandria, VA 22314
7pm Pete Farnham – Alexandria City Hall – Vola Lawson Lobby, 301 King Street
7pm Primary Colors – Durant Arts Center, 1605 Cameron Street, Alexandria, VA 22314
7pm Ruthie & the Wranglers – American Legion Post 24, 400 Cameron Street, Alexandria,
7pm Stairwells –Old Presbyterian Meeting House, 321 South Fairfax Street, Alexandria
7pm The Glimpses – Lloyd House, 220 North Washington Street, Alexandria, VA 22314
7pm The Grandsons – Torpedo Factory Art Center, 105 North Union Street, Alexandria
7pm The Rogues – Alexandria Visitor Center, 221 King Street, Alexandria, VA 22314
7pm The Truehearts –George Washington Masonic Memorial, 101 Callahan Drive
7pm Vaughn Ambrose Trio – Principle Gallery, 208 King Street, Alexandria, VA 22314
7pm Watch Night at Alfred Street Baptist Church –301 South Alfred Street Alexandria, VA
7:30pm Battle of the Local Stars –Durant Arts Center, 1605 Cameron Street, Alexandria
7:30pm How-To Cowboy: Jokefest- Mount Vernon Recreation Center, 2701 Commonwealth Avenue, Alexandria, VA 22305
7:30pm Katherine Archer – Duchess M, 805 King Street, Alexandria, VA 22314
7:30pm Razor Hill – Refresh Yoga, 110 King Street, Alexandria, VA 22314
7:30pm Tom Teasley Duo –Imagine Artwear, 1124 King Street, Alexandria, VA 22314
7:30pm Virginia Bronze –George Washington Masonic Memorial,101 Callahan Drive
7:45pm Billy Coulter Band- Fraternal Order of the Eagles 871, 1015 Cameron Street
7:45pm Bill Kirchen –Torpedo Factory Art Center, 105 North Union Street, Alexandria
7:45pm Janine Wilson Band- American Legion Post 24, 400 Cameron Street, Alexandria
7:45pm King Teddy – George Washington Masonic Memorial, 101 Callahan Drive
7:45pm Mark Wesling –Alexandria's Union Station-110 Callahan Drive, Alexandria, VA
7:45pm Mike Rose- Little Theatre of Alexandria, 600 Wolfe Street, Alexandria, VA 22314
7:45pm Nicole Belanus –St. Paul's Episcopal Church, 228 South Pitt Street, Alexandria
7:45pm Nobody's Business –Christ Church Auditorium, 118 North Washington Street
7:45pm Not So Modern Jazz Quartet – Lyceum, 201 South Washington Street
7:45pm Sound of Sleat – George Washington Masonic Memorial, 101 Callahan Drive
7:45pmWashington Philharmonic's Woodwind Quintet –Washington Street United Methodist Church, 109 South Washington Street, Alexandria, VA 22314
8pm Al Petteway & Amy White – Old Presbyterian Meeting House, 321 South Fairfax St.
8pm Blue Sky Puppets-George Washington Masonic Memorial, 101 Callahan Drive
8pm Janna Audey & Rob Santos – Long & Foster, 400 King Street, Alexandria, VA 22314
8pm The Glimpses – Lloyd House, 220 North Washington Street, Alexandria, VA 22314
8pm The Rogues – Alexandria Visitor Center, 221 King Street, Alexandria, VA 22314
8pm Vaughn Ambrose Trio – Principle Gallery, 208 King Street, Alexandria, VA 22314
8:15pm Mister Don- Mount Vernon Recreation Center, 2701 Commonwealth Avenue
8:30pm Alexandria Singers – Washington Street United Methodist Church, 109 South Washington Street, Alexandria, VA 22314
8:30pm Billy & Bob Classic Country Show- George Washington Masonic Memorial, 101 Callahan Drive, Alexandria, VA, 22301
8:30pm Blue Moon Cowgirls –St. Paul's Episcopal Church, 228 South Pitt Street
8:30pm Cletus Kennelly – Alexandria's Union Station | 110 Callahan Drive, Alexandria
8:30pmCurtis Blues  –Alexandria Library – Kate Waller Barrett Branch,717 Queen Street
8:30pm Dr. Robert Band –Fraternal Order of the Eagles 871, 1015 Cameron Street
8:30pm Irish Breakfast Band –Lyceum, 201 South Washington Street, Alexandria, VA
8:30pm Katherine Archer- Duchess M, 805 King Street, Alexandria, VA 22314
8:30pm Lesson Zero –Christ Church Auditorium, 118 North Washington Street
8:30pm Mike Rose –Little Theatre of Alexandria, 600 Wolfe Street, Alexandria, VA 22314
8:30pm Pete Farnham- Alexandria City Hall – Vola Lawson Lobby, 301 King Street
8:30pm Razor Hill – Refresh Yoga, 110 King Street, Alexandria, VA 22314
8:30pm Ruthie & the Wranglers –American Legion Post 24, 400 Cameron Street
8:30pm The Grandsons – Torpedo Factory Art Center, 105 North Union Street
8:30pm The Truehearts  –George Washington Masonic Memorial,101 Callahan Drive
8:30pm Tom Teasley Duo- Imagine Artwear, 1124 King Street, Alexandria, VA 22314
8:45pmVirginia Bronze- George Washington Masonic Memorial, 101 Callahan Drive
9pm Janna Audey & Rob Santos- Long & Foster, 400 King Street, Alexandria, VA
9pm Stairwells – Old Presbyterian Meeting House, 321 South Fairfax Street
9pm The Glimpses  – Lloyd House, 220 North Washington Street, Alexandria, VA
9pm The Rogues – Alexandria Visitor Center, 221 King Street, Alexandria, VA 22314
9pm Vaughn Ambrose Trio –Principle Gallery, 208 King Street, Alexandria, VA 22314
9:15pm Bill Kirchen – Torpedo Factory Art Center, 105 North Union Street, Alexandria
9:15pm Billy Coulter Band – Fraternal Order of the Eagles 871, 1015 Cameron Street
9:15pm Janine Wilson Band – American Legion Post 24, 400 Cameron Street, Alexandria
9:15pm King Teddy – George Washington Masonic Memorial, 101 Callahan Drive
9:15pm Mark Wesling – Alexandria's Union Station, 110 Callahan Drive, Alexandria, VA
9:15pm Mike Rose – Little Theatre of Alexandria, 600 Wolfe Street, Alexandria, VA 22314
9:15pm Nicole Belanus –St. Paul's Episcopal Church, 228 South Pitt Street, Alexandria
9:15pm Nobody's Business – Christ Church Auditorium, 118 North Washington Street
9:15pm Not So Modern Jazz Quartet – Lyceum, 201 South Washington Street, Alexandria
9:15pm Sound of Sleat – George Washington Masonic Memorial, 101 Callahan Drive
9:15pm Washington Philharmonic's Woodwind Quintet – Washington Street United Methodist Church, 109 South Washington Street, Alexandria, VA 22314
9:30pm Curtis Blues – Alexandria Library – Kate Waller Barrett Branch, 717 Queen Street
9:30pm Katherine Archer – Duchess M, 805 King Street, Alexandria, VA 22314
9:30pm Keira Moran- Durant Arts Center, 1605 Cameron Street, Alexandria, VA 22314
9:30pm Pete Farnham – Alexandria City Hall – Vola Lawson Lobby, 301 King Street
9:30pm Razor Hill- Refresh Yoga, 110 King Street, Alexandria, VA 22314
9:30pm Tom Teasley Duo – Imagine Artwear, 1124 King Street, Alexandria, VA 22314
10pm Al Petteway & Amy White – Old Presbyterian Meeting House, 321 South Fairfax St.
10pm Alexandria Singers – Washington Street United Methodist Church, 109 South Washington Street, Alexandria, VA 22314
10pm Billy & Bob Classic Country Show- George Washington Masonic Memorial, 101 Callahan Drive, Alexandria, VA, 22301
10pm Blue Moon Cowgirls- St. Paul's Episcopal Church,228 South Pitt Street, Alexandria
10pm Christ Church Sanctuary- Christ Church Auditorium, 118 North Washington Street
10pm Cletus Kennelly – Alexandria's Union Station, 110 Callahan Drive, Alexandria, VA
10pm Dr. Robert Band – Fraternal Order of the Eagles 871, 1015 Cameron Street
10pm Irish Breakfast Band – Lyceum, 201 South Washington Street, Alexandria, VA
10pm Janna Audey & Rob Santos – Long & Foster, 400 King Street, Alexandria, VA 22314
10pm Lesson Zero – Christ Church Auditorium, 118 North Washington Street, Alexandria
10pm Mike Rose – Little Theatre of Alexandria, 600 Wolfe Street, Alexandria, VA 22314
10pm Ruthie & the Wranglers – American Legion Post 24, 400 Cameron Street
10pm Stairwells – Alexandria Waterfront, King Street, Alexandria, VA 22314
10pm The Glimpses – Lloyd House, 220 North Washington Street, Alexandria, VA 22314
10pm The Grandsons –Torpedo Factory Art Center, 105 North Union Street, Alexandria
10pm The Rogues – Alexandria Visitor Center, 221 King Street, Alexandria, VA 22314
10pmThe Truehearts –George Washington Masonic Memorial, 101 Callahan Drive
10pm Vaughn Ambrose Trio – Principle Gallery, 208 King Street, Alexandria, VA 22314
10pm Watch Night at Alfred Street Baptist Church, 301 South Alfred Street Alexandria
10:30pm Curtis Blues – Alexandria Library – Kate Waller Barrett Branch, 717 Queen St.
10:30pm Katherine Archer – Duchess M, 805 King Street, Alexandria, VA 22314
10:30pm Pete Farnham – Alexandria City Hall – Vola Lawson Lobby, 301 King Street
10:30pm  Tom Teasley Duo – Imagine Artwear, 1124 King Street, Alexandria, VA 22314
10:45pm Bill Kirchen – Torpedo Factory Art Center, 105 North Union Street, Alexandria
10:45pm Billy Coulter Band – Fraternal Order of the Eagles 871, 1015 Cameron Street
10:45pm Janine Wilson Band- American Legion Post 24,400 Cameron St., Alexandria
10:45pm King Teddy – George Washington Masonic Memorial, 101 Callahan Drive
10:45pm Mark Wesling- Alexandria's Union Station, 110 Callahan Drive, Alexandria, VA
10:45pm Nicole Belanus- St. Paul's Episcopal Church, 228 South Pitt Street, Alexandria
10:45pm Nobody's Business – Christ Church Auditorium, 118 North Washington Street
10:45pm Not So Modern Jazz Quartet – Lyceum, 201 South Washington St, Alexandria
10:45pm Sound of Sleat  – George Washington Masonic Memorial, 101 Callahan Drive
10:45pm Washington Philharmonic's Woodwind Quintet –Washington Street United Methodist Church, 109 South Washington Street, Alexandria, VA 22314
12am Fireworks on the River! – Alexandria Waterfront, King Street, Alexandria, VA 22314
Location: Old Town, Alexandria, VA
Date: Sun, Dec 31st, 2017
Times: 10am – midnight
Tel: 703-746-3299
firstnightalexandria.org
For Regional Accommodations, Restaurants & Attractions: visitalexandriava.com