Tag Archive
activity
annual
art
artist
Canada
children
city
community
contest
country
craft
display
downtown
Drivei-95
drive i-95
drivei95
entertainment
event
family
festival
Florida
food
free
fun
game
historic
History
house
Island
live
local
Museum
music
national
North Carolina
prize
Restaurant
roadtrip
shop
show
tour
travel
travelblogger
USA
world
The first annual Make Music Connecticut, a free, wild and wonderful mix of over 250 free outdoor musical events, will make its debut on Thursday, June 21.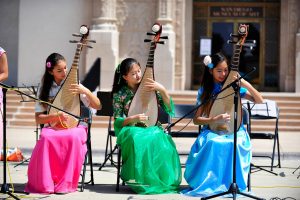 Modeled after a Parisian tradition (Fête de la Musique) that began in 1982 as a tribute to the Summer Solstice.  Each June 21st Paris is filled with musicians of all kinds performing on sidewalks, lawns, balconies, in parks, etc. for anyone to enjoy at no cost.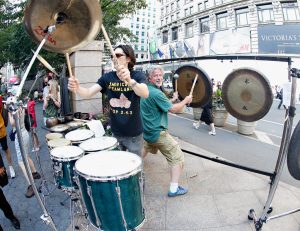 Make Music Connecticut is part of Make Music Day, a global music celebration that takes place on the summer solstice each year and brings people of all ages and skill levels together to make music. This year, more than 70 U.S. cities and the entire state of Connecticut will host thousands of Make Music performances across the country as part of the world's largest annual music event.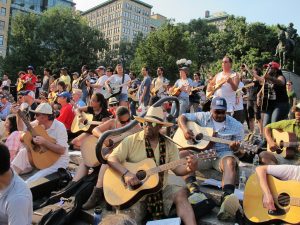 Featuring musicians of all abilities and music from any genre.  Sidewalks, parks, front porches, and public spaces throughout the region will become stages for local musicians to perform and for all to enjoy. Each region will have its own ambiance. This will be a day packed with more than 250 free musical events happening with concerts on streets, sidewalks, and parks around the state.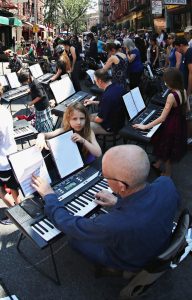 Community Jam Sessions, Dueling Drums, Battle of the Bands are some of the featured events. For a full schedule of events: MakeMusicCT.org
Location: Numerous locations throughout Southeastern CT
Date: June 21, 2018
Time: Various – see schedule
Tel: 860-460-5236
makemusicday.org/southeasternct
Grab your spoons and mark your calendars for Scooper Bowl – all-you-can-eat Ice Cream Festival.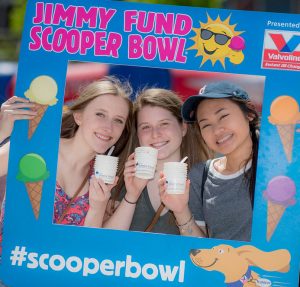 Celebrating its 36th year in 2018, the Scooper Bowl is now a three-day event that dishes out 20 tons of the summer's finest ice cream to more than 40,000 ice cream lovers from across the nation. Enjoy a lot of great entertainment and fun activities at this country's largest all-you-can-eat ice cream festival.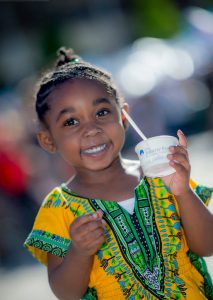 What is most impressive about the ice cream festival is that all ice cream companies donate all the ice cream, labor, scoopers, and products needed to make the event happen each year. Though they are competitors for 51 weeks of the year, during the first week of June they come together to create an event that is now known as the "unofficial start of summer" in New England.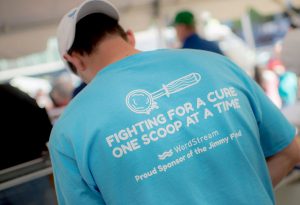 Made possible by the generous contributions of the industry's largest ice cream companies, the Scooper Bowl has raised more than $6.3 million in the past 35 years for cancer research and patient care at the world-renowned Dana-Farber Cancer Institute.
Get Your Tickets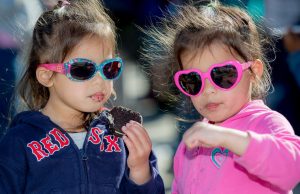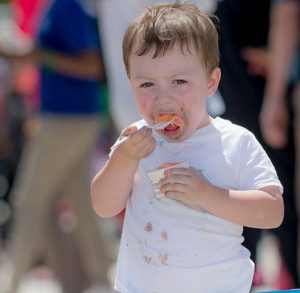 *Pricing will increase at the door – Kids under 3 are free
Whether you're a visitor to the area or professional ice-cream-eater, you play a huge part their our mission to conquer cancer.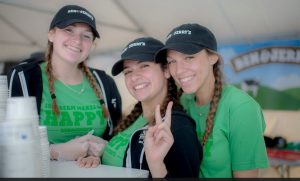 Ice Cream Flavors
Baskin-Robbins
Boston Cream Pie
Cannoli Be With You
OREO® 'n Caramel
Triple Grape Ice
Beckon Ice Cream (formerly Minus the Moo) – Thursday only, lactose-free
Vanilla
Chocolate
Espresso
Sea Salt Chocolate Chip
Mint Chip
Chocolate Candy Crunch
Strawberries & Sweet Cream
Black Raspberry
Confetti
Ben & Jerry's
Gimme Smore™
Caramel Almond Brittle non-dairy
AmeriCone Dream®
Chocolate Shake It™
Breyers
Nautral Vanilla
Oreo® Cookies & Cream
Mint Chip
Edy's
Birthday Cake
Dulce
Rainbow Sherbet
Friendly's
Triple Caramel Peanut Heaven
Hunka Chunka PB Fudge®
Rockin' Poppin'™ Cotton Candy
Cookies 'N Cream
Black Raspberry
Haagen-Dazs
Chocolate Salted Fudge Truffle Non-Dairy
Hood
Hood® New England Creamery Limited Edition Chocolate Churro
Hood® New England Creamery Limited Edition Purple Panda
Hood® Coffee Cookies 'n Cream
Hood® Chocolate Chip Cookie Dough
Lactaid – lactose-free
Lactaid® Cookies 'n Cream
Lactaid® Mint Chocolate Chip
Lactaid® Mocha Almond Chip
Lactaid® Salted Caramel
Rosev Dairy Foods
Coconut
Rum Raisin
Purple Cow
Twisted Sea Turtle
Vice Cream
Afternoon Delight
Bourbon Mash
L'Orange A Trois
Minted
Higher Grounds
Yasso

Stick Bars:

Pistachio Brittle
Fudge Brownie
Coconut Caramel
Chocolate Chip
Chocolate Peanut Butter Chip
Scoops:

Party Animal  Mint Championchip
Rolling in the Dough
Caramel Pretzelmania
Coffee Brownie Break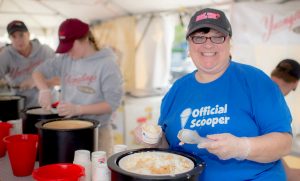 Location: City Hall Plaza, 1 City Hall Square, Boston, MA 02201
Date: June 5 – 7, 2018
Time: Noon – 8pm
scooperbowl.org
For Regional Accommodations, Restaurants & Attractions: bostonusa.com
'Tis the day after Christmas, and throughout Blithewold the beautiful decorations and a fragrance of cinnamon and cloves linger. All the hustle and bustle of the holidays is winding down, so come share the last of the season's magic with your family and friends.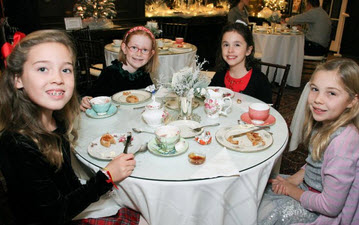 Children are welcome to come dressed in their finest pajamas and nightgowns, and enjoy goodies and treats one last time before the decorations come down. After tea sandwiches, cookies, fresh-baked scones and a warm pot of tea, children will sit around the fireplace to enjoy one last holiday story.
Blithewold is a 33-acre summer estate with grand views of Narragansett Bay and is nationally significant in American history as one of the most fully developed and authentic examples of the Country Place Era.
Seating is limited, Advance registration required.  Click to purchase your seat: Tuesday, December 26
Location: Blithewold Mansion, Gardens & Arboretum  101 Ferry Rd, Bristol, RI 02809
Date: Tues, Dec 26, 2017
Time: 5 – 6:30 PM
Tel: 401-253-2707
blithewold.org/event/tis-day-christmas-childrens-tea
For Regional Accommodations, Restaurants & Attractions: goprovidence.com
The Barberville Pioneer Settlement is celebrating the end of summer with the coolest hottest event ever – Fire & Ice. Feast on delicious chili and fresh-made ice cream at this exciting fall festival that occurs on a 30-acre historic site with a village museum and over 10,000 artifacts.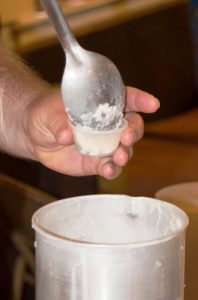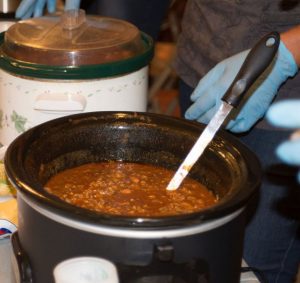 Enjoy this FREE admission festival and for only $4 you get to sample and judge chili & ice-cream, where you can cool your tongues with homemade ice cream after voting for your favorite chili. Cash prizes to be awarded to People's Choice.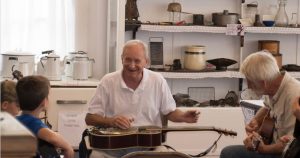 With a plethora of activities sure to keep you entertained: FREE music workshops and jam session with volunteers teaching everything from the guitar and banjo to the dobro and dulcimer, community yard sale, antique tractors and engines display, and lots more, and of course the infamous Chili Cook Off and Ice Cream Churn Off.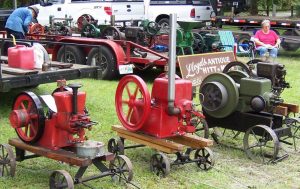 Tastings are at noon, until it's gone, so arrive early.
Location: Pioneer Settlement, 1776 Lightfoot Lane, Barberville, FL 32105
Date: Sat, Sept 2, 2017
Time: 9 – 4pm
Tel: 386-749-2959
pioneersettlement.org
For Regional Accommodations, Restaurants & Attractions: daytonabeach.com
The best fiesta of the summer is taking place at the inaugural Connecticut Taco Festival, celebrating the tacos and taco-lovers alike.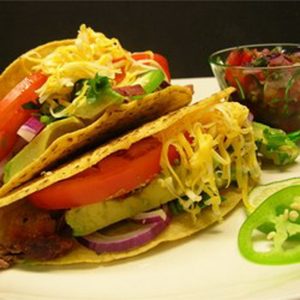 Your taste-buds will go crazy for the amazing variety of taco assortments from restaurants and food trucks around Connecticut. Tacos go hand-in-hand with a drink selection including frozen margaritas, tequila and Mexican beer.
While tacos lovers savor the eats, they can expect to be entertained by Lucha Libre Wrestling featuring Rey Mysterio and Jerry Lawler, Taco-Eating Contests, Live Music and Performances, including a Mariachi Band, Ballet Folklórico Mexicano de Yale and local music. Kids activities include face painting, piñatas, and more. A fiesta in your mouth and loads of fun entertainment for the whole family.
Admission tickets include: free tacos, two voting tickets for your favorite tacos, access to the bar with Drink Specials (drinks are not included), entry to live music, performances and wrestling, Taco-Eating Contests, Shopping, Tasting Vendors & Kids Activities, t-shirt and free giveaways, including a shot glass.
Location: Danbury Ice Arena, 1 Independence Way, Danbury, CT 06810
Date: Sat, Aug 26, 2017
Time: 10 AM – 8 PM
Tel: 203-794-1704
cttacofestival.com
For Regional Accommodations, Restaurants & Attractions: visitfairfieldcountyct.com
William Wegman (American, b. 1943) is an internationally-renowned artist with a prolific career spanning five decades. He is well known for his photographs of his beloved Weimaraners, a collaboration that began with his dog, Man Ray, in Los Angeles in 1970.
The exhibition of William Wegman: Improved Photographs at Telfair Museums – Jepson Center for the Arts highlights his use of humor to find unexpected and surprising ideas within everyday objects and scenarios. So much fun to see the dogs all dressed up or in unusual poses all done with incredible artistry.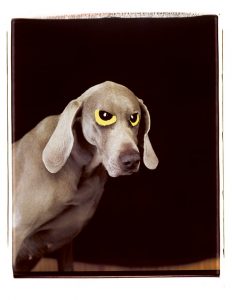 Included in the exhibition are drawings, paintings, altered photographs, 20 x 24 inch Polaroids and a selection of early videos from the 1970s to present day.  Across all these media, Wegman demonstrates a continual interest in working and reworking his imagery, thus "improving" it with his particular sense of logic and play.
On August 5th,  1 – 4pm,  is William Wegman Free Family Day at the gallery.  Say goodbye to the "dog days" of summer and kick off the start of the school year with a family day devoted to the art of William Wegman. Participate in gallery activities, make your own altered photos and postcards, and find out more about Savannah dogs available for adoption.
Photo Credit: William Wegman Eye-on, 1997 Color Polaroid 24 x 20 inches
Location: Jepson Center for the Arts, 207 West York St., Savannah, 31401
Date: Until Aug 13, 2017
Hours: Sun -Mon 12-5pm. Tues-Sat 10 – 5pm
Tel: 912-790-8800
telfair.org/wegman
For Regional Accommodations, Restaurants & Attractions: visitsavannah.com
Voiles en Voiles is a family-oriented park in the Old Port of Montreal, based on a pirate ship and consisting of aerial climbing, zipping, wall climbing and inflatable bouncing games.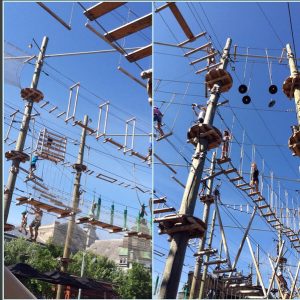 This is an idea of what you are up against at Voiles en voiles.
Here is the SeaRay, which is one of those pirate ship rides you see at amusement parks. You can ride it for free at the street festival at Just for Laughs in Montreal. You can also play board games and video games and human Foosball.
Over the top Christmas decorations on a private home in Whitestone. This is the same private home in summer and winter. What a difference!