Tag Archive
activity
art
artist
Austria
Canada
children
city
CostSaver
display
Drivei-95
drive i-95
entertainment
Europe
event
exhibit
family
festival
Florida
food
France
free
fun
historic
History
landmark
live
local
London
Museum
music
performance
photo
roadtrip
shop
show
sights
sightseeing
tour
tourist
Trafalgar
travel
travelblogger
USA
view
world
.
Heading down the Boulevard des Capuchines toward the Opera de Paris is still one of those OMG moments. It is way grander than you imagined.
Francophiles and Lafayette enthusiasts, this concert is for you.  On Jan. 11, the Fayetteville Symphony will explore the area's heritage with the concert "The French Connection." The first chamber concert of the season at St. John's Episcopal Church will feature the Fayetteville Symphony String Quartet as they perform Ravel's String Quartet, a piece that is a cornerstone composition of French Impressionism.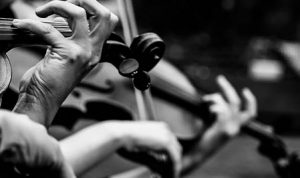 Founded in 1956, the Fayetteville Symphony Orchestra holds the distinction of being the oldest continuously-funded community orchestra in North Carolina. Fifty-one years later, their mission remains: To Educate. To Entertain. To Inspire.
Location: St. John's Episcopal Church, 302 Green Street, Fayetteville, NC 28301
Date: Thurs, Jan 11, 2018
Time: 7:30 – 9:30 pm
Tel: 910-433-4690
www.fayettevillesymphony.org/2017-2018-concerts
For Regional Accommodations, Restaurants & Attractions: visitfayettevillenc.com
The Wittelsbach dynasty ruled the German territories of Bavaria from 1180 to 1918 – that's 738 years,  pretty impressive.  Munich Residenz,  their former royal palace, is  located right in the center of Munich and very much open to the public. After 4 centuries of building it, the giant palace is made up of  many styles: late Renaissance, Baroque, Rococo and Neo-Classicism.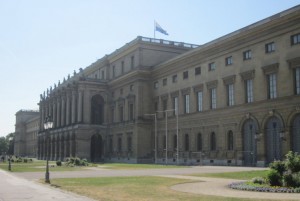 Though spartan on the outside, it is very opulent inside. You can tour it for its architecture, over-the-top room decor (130 rooms), and displays from the former royal collections. After WWII, the Cuvilliés Theatre was built into the Festsaalbau wing. You can also catch the Bavarian Radio Symphony Orchestra in Hercules Hall. In his time, Mozart performed in this palace.
The Treasury houses the jewels of the Wittelsbach dynasty and spans 1,000 years, from the early Middle Ages to Neo-classicism, and includes: crowns, swords, golden objects, rock crystal, ivory, goblets, icons, tableware and toiletries.
The palace suffered huge damages during WWII, but the curators managed to store furnishings, art and  details of its architecture in mines. When you are wandering around the 10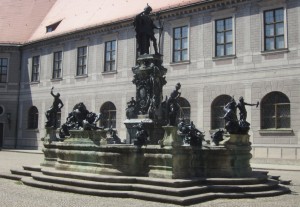 courtyards, see if you can find this fountain with statues of  fire, water, earth and air on its corners.
The Wittelsbach family's head, since 1996, is Franz, Duke of Bavaria, and he still hangs out in Munich. During WWII, the Wittelsbachs were anti-Nazi and were arrested when Franz was 11. He spent time in several Nazi concentration camps. After the war, he studied at the University of Munich and became a collector of modern art. Some of his collection is on loan to the Pinakothek der Moderne Museum (see other post).