Tag Archive
activity
art
artist
Austria
Canada
children
city
CostSaver
display
drive i-95
Drivei-95
entertainment
Europe
event
exhibit
family
festival
Florida
food
France
free
fun
historic
History
landmark
live
local
London
Museum
music
performance
Restaurant
roadtrip
shop
show
sights
sightseeing
tour
tourist
Trafalgar
travel
travelblogger
USA
view
world
A fall tradition at the Roger Williams Park Zoo, is the Jack-O-Lantern Spectacular, attracting more than 100,000 visitors for this truly "spectacular" event.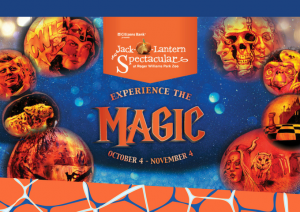 Don't miss this year's show that includes more than 5,000 intricately carved pumpkins featuring scenes of wizards, fairytales, and the luminaries of great myths and legends, alongside superheroes, and historical figures who changed the world. Revel in the sights and sounds of the season, and celebrate this otherworldly experience. This seasonal art show aims to delight and amaze the whole family, and not to scare anyone. – Tickets on-sale now
You can also experience the Soaring Eagle Zip Ride during the Jack-O-Lantern Spectacular. From 115 feet above riders enjoy an aerial view of the park and admire the plethora of jack-o-lanterns from above. Get an eagles-eye view over Providence and into Narragansett Bay in comfortable side-by-side seats.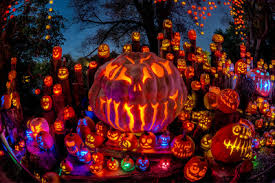 There are also a number of Special Events taking place which are included in the price of admission (with the exception of Spooky Zoo and Boo at the Zoo Family Overnight). Kids and adults are encouraged to wear costumes; masks are not permitted for teens/adults over age 12.

Children's Fairy Tale Nights – Wed and Thurs, Oct 10th & 11th @ 5:30pm-8pm: Meet beloved children's fairy tale characters.  Take pictures with Peter Pan, Cinderella, Snow White, Robin Hood and favorite Dr. Seuss characters such as the Cat in the Hat and the Grinch.  As the sun sets, find your favorite fairy tales characters intricately carved on the pumpkins.
Wizarding Nights – Wed and Thurs, Oct 17th & 18th @6pm-8pm:
Wizards and witches get your wands, mount your brooms and fly on over to meet some of the characters from J.K. Rowling's beloved series.  Before you embark on the pumpkin trail, try a butter beer or a chocolate frog.  Then travel the pumpkin trail, and identify characters and scenes from the wizarding world.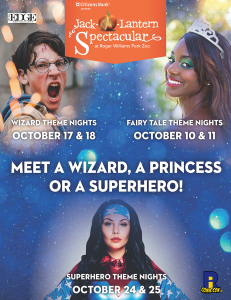 Super Hero Nights – Wed and Thurs, Oct 24th & 25th @6pm-8pm:
Comic book fans might meet Black Panther, Captain America, Iron Man, Spider Man, and the gang, take a photo, and find out how they all save the world.  As the heroes go back out to fight evil, find your hero's pumpkin on the pumpkin trail.
Spooky Zoo – Sat and Sun, Oct 27th & 28th:
Spooky Zoo is back, offering daytime outdoor autumn activities for the whole family.  Come trick-or-treat (while supplies last)  beginning at 10:30 am on the Treat Trail by the red wolf exhibit. Kids and adults will enjoy a packed schedule of seasonal activities. Activities are free with Zoo admission and all children 12 and under dressed in costume get in for half price.
Boo at the Zoo Family Overnight – Sat, Oct 20th and Sat, Oct 27th, 2018:
Snooze at the Zoo for the wildest family overnight adventure in town. The night begins with pizza and ice cream before educators engage you and your children in an owl pellet dissection, program animal encounters, and give you VIP access to the world famous Jack-O-Lantern Spectacular. Set up your sleeping bags in the Meller-Danforth Education Center with popcorn and a movie to snooze to. You'll need your zzzzs before waking up with the animals. A light breakfast will be provided before a morning Zoo tour.
The Jack-O-Lantern Spectacular takes place 7 days a week. Take advantage of Value Nights, Mon-Thurs, which will save you a bit of money and are usually less crowded.

Location: Roger Williams Park Zoo, 1000 Elmwood Ave, Providence, RI 02903
Dates: Oct 4 – Nov 4, 2018
Times: 6 – 11 p.m. (last admission at 10pm)
Tel: 401-785-3510
rwpzoo.org/plan-your-visit/events/jack-o-lantern-spectacular
For Regional Accommodations, Restaurants & Attractions: goprovidence.com
Calling all dachshunds, wiener wannabes, dachshund lovers and friends…A Cape Cod tradition continues on Main Street, celebrating everything dachshund in charming Historic Barnstable Village.
Cape Cod Doxie Day invites you to join the first ever Wiener Waddle and Waggin' Parade dachshunds in costume and decorated wagons, strollers and carts, are encouraged. Prizes will be awarded for best costume, best wagging and best waddle. Cheer on your favorite doxie in the Doxie Dash.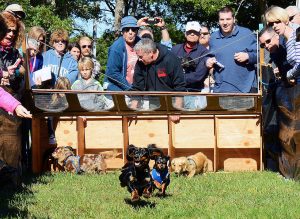 Bring Fido and help celebrate everything dachshund. Enjoy the many contest including longest doxie, teeniest weenie, best trick to name a few. Enter competitions to win prizes and bragging rights.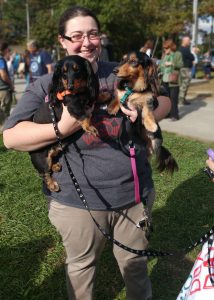 Fun for the whole family including the furry ones. Come on out and sing the official Dachs-song, mingle and meet other doxies to benefit local animal organizations. Take photos with the mini Oscar Mayer Wienermobile, and partake in the Blessing of the animals, and stop by the ask-a-vet table. There will be raffles,  silent auction and more.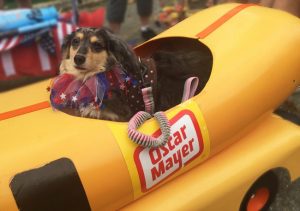 All well-behaved, on-leash dogs are welcome at Cape Cod Doxie Day. Admission is FREE and plenty of FREE parking.  Rain Date Sunday, September 30th.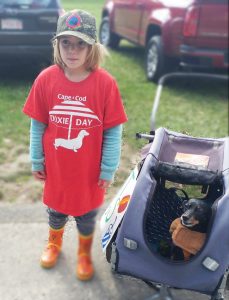 Proceeds from Cape Cod Doxie Day 2018 will benefit The Sampson Fund which helps pet owners pay for critical vet care bills which they would not have the means to do so without assistance (https://www.sampsonfund.org). They will be collecting donations packaged pet food and cat litter for Cape Cod Disaster Animal Response Team (CCDART) http://www.ccdart.org 
Location: Barnstable Village, Behind the Barnstable Courthouse, 3195 Main Street, Barnstable, MA 02630
Date: Sat, Sep 29, 2018
Time: Noon til 3pm
Tel: 508-362-8986
ccdoxieday.com
For Regional Accommodations, Restaurants & Attractions: capecodchamber.org
 For some good wholesome family fun you aren't going to want to miss the 73rd Annual Howard County Fair. An American tradition,  the fair is a celebration of Howard County's farming past and present.
The Howard County Fair offers something for all ages including: interactive exhibits, livestock exhibits, agricultural displays, petting zoo, contests, entertainment, amusement rides and games, food and loads of family-oriented fun.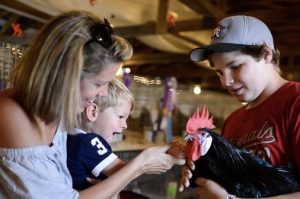 Featured events at the fair are: horse shows, pony rides, Antique tractor pulls, and livestock competitions, 4-H shows/exhibits, Demo Derby, Rodeo, Horse-Pulling Contest, Antique Automobile Show, Pie Eating Contest, Pig Races, Bingo, AG Displays and Farm produce. Enjoy some of the area's best live music, from rock and country, to bluegrass.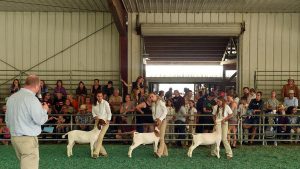 Schedule of Some Featured Events:
Pig Races – 12pm, 3pm, 6pm, & 8pm
Bingo Hall – Opens Daily at 6pm
Pony Rides – 10am – 10pm
AG Displays – Daily
Farm Produce – Daily
Mule Pulling Contest First Sat @ 9am
Coon Mule Jump – immediately after the Mule Pulling Contest
Horse Pulling Contest – First Sat- @ 10am
Antique Tractor Pull – First Sat @ 4pm
Draft Horse & Mule Show – Sun @ 8:30 am
Pretty Animal Contest – Sun @ 11am
Pie Eating Contest-Sun @ 12:30
Sheep Dog Demonstrations – Sun – 4, 6, & 8pm.
Kids and Critters – Barn Hours @ 10:30 am – 2pm & 4pm – 8:30pm
Parade of Floats -Sat, Aug 11 @ 5pm
Auto Demolition Derby#1– Wed, Aug 8 @ 7pm
Auto Demolition Derby#2 – Sat, Aug 11@ 6pm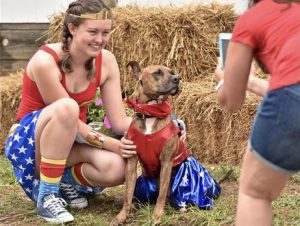 For a complete schedule of events: HowardCountyFair.org
Family time that's  so much fun and affordable. Parking for the Howard County Fair is always FREE!
Location: Howard County Fairgrounds, 2210 Fairgrounds Rd, West Friendship, MD 21794
Date: Aug 4th – 11th, 2018
Time: daily from 8am – 11pm
Tel: 410-442-1022
howardcountyfair.com
For Regional Accommodations, Restaurants & Attractions: visithowardcounty.com
The first annual Make Music Connecticut, a free, wild and wonderful mix of over 250 free outdoor musical events, will make its debut on Thursday, June 21.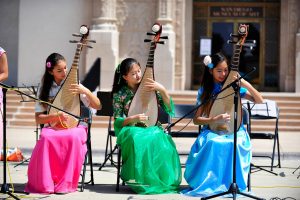 Modeled after a Parisian tradition (Fête de la Musique) that began in 1982 as a tribute to the Summer Solstice.  Each June 21st Paris is filled with musicians of all kinds performing on sidewalks, lawns, balconies, in parks, etc. for anyone to enjoy at no cost.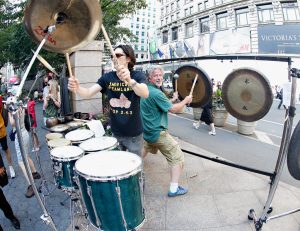 Make Music Connecticut is part of Make Music Day, a global music celebration that takes place on the summer solstice each year and brings people of all ages and skill levels together to make music. This year, more than 70 U.S. cities and the entire state of Connecticut will host thousands of Make Music performances across the country as part of the world's largest annual music event.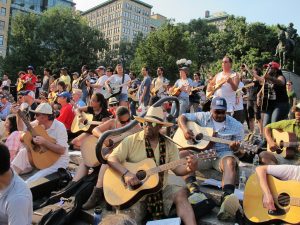 Featuring musicians of all abilities and music from any genre.  Sidewalks, parks, front porches, and public spaces throughout the region will become stages for local musicians to perform and for all to enjoy. Each region will have its own ambiance. This will be a day packed with more than 250 free musical events happening with concerts on streets, sidewalks, and parks around the state.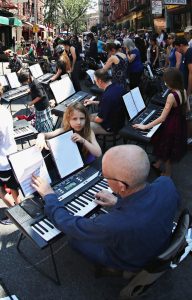 Community Jam Sessions, Dueling Drums, Battle of the Bands are some of the featured events. For a full schedule of events: MakeMusicCT.org
Location: Numerous locations throughout Southeastern CT
Date: June 21, 2018
Time: Various – see schedule
Tel: 860-460-5236
makemusicday.org/southeasternct
Father's Day is a special day, so why not treat Dad to a fun-filled day at A. Smith Bowman Distillery, the home of World's Best Bourbon 2016 & 2017, for their 7th Annual Father's Day Festival.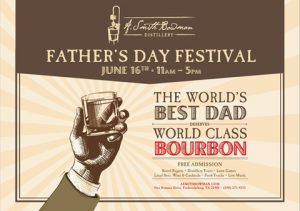 Admission is FREE to the festival and entertaining for the whole family.  Highlights include: Distillery tours on the half hour, tastings & cocktails, local beer & wine, Live music, mouthwatering food, vendors, games, and the much anticipated Annual Barrel Regatta.

The Annual Barrel Regatta is an amusing watery tradition. Taking place from  noon – 1pm, individuals or teams from around the create their own boats made from used bourbon barrels and race them in Deep Run. There will be prizes and awards for the two fastest finishes, most spirited and best sinking. You don't want to miss the race.
No pets with the exception of service animals are allowed in the festival areas.
Location: A. Smith Bowman Distillery, One Bowman Drive, At Deep Run, Fredericksburg, VA 22408
Date: Sat,  June 16th, 2018
Time: 11am – 5pm
Tel: 540-373-4555
asmithbowman.com
For Regional Accommodations, Restaurants & Attractions: visitfred.com
For over 40 years the Georgia Sea Islands Festival on St. Simons Island, Georgia has celebrated the African American musical traditions, crafts, and food of the coastal barrier islands.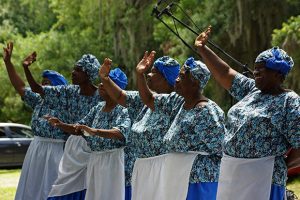 Each year the highlight of the festival are the musicians – young, old, and some "with an old heart" — who perform traditional spirituals, work songs, and plays handed down by their ancestors. Live entertainment includes The Geechee Gullah Ring Shouters.
There will be cuisine such as  smoked mullet, fried fish, sweet potato pone, homemade ice cream, and demonstrations of traditional Gullah Geechee knitting cast net and sweet grass baskets.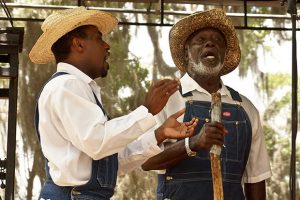 The Georgia Sea Islands Festival is FREE and filled with fun and entertainment for the whole family.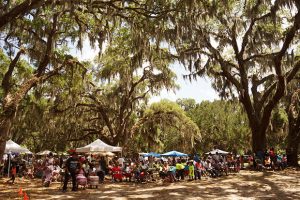 Location: Gascoigne Bluff Park, 1000 Arthur J Moore Dr, St Simons Island, GA 31522
Date: Sat, June 2, 2018
Time: 11am – 6pm
Tel: 912- 634-0330
ssiheritagecoalition.org/2018/02/16/georgia-sea-islands-festival-2018
For Regional Accommodations, Restaurants & Attractions: goldenisles.com
Imagine the setting, Henry Flagler's Gilded Age estate in Palm Beach, a National Historic Landmark, the epitome of elegance and sophistication.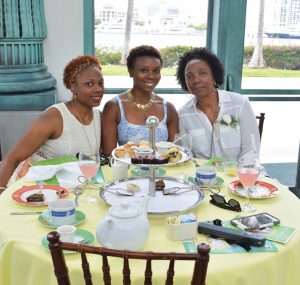 The celebration of Mother's Day began during the Gilded Age when in May of 1914 Congress established Mother's Day as a national holiday. In the spirit of this tradition, the Flagler Museum invites all mothers and their families to enjoy a Mother's Day weekend celebration in the Café des Beaux-Arts. In honor of Mother's Day, each mother will receive a special flower corsage.
The Museum's Café des Beaux-Arts will open specially for Mother's Day weekend on Saturday, May 12th, from 11:30 am to 2:30 pm, and Sunday, May 13th from 12:00 pm to 3:00 pm. Tickets include museum admission (and tax, gratuity), so your family can explore the famed Whitehall mansion and get a taste for some of the finer things in turn-of-the-century life.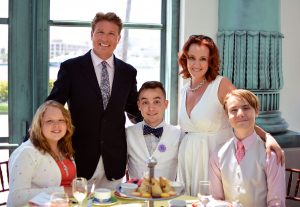 Space is limited so advance ticket purchase is required. flaglermuseum.us/museum-store/mothers-day-tea-tickets
Photo Courtesy of: © Flagler Museum
Location: One Whitehall Way, Palm Beach, FL 33480
Date & Time: Sat., May 12, 11:30am -2:30pm, Sun, May 13, 12pm – 3pm
Tel: 561- 655-2833
flaglermuseum.us
For Regional Accommodations, Restaurants & Attractions: thepalmbeaches.com
Already a Memorial Day tradition, Country 500 draws 75,000 country-music loving fans to Daytona Beach for an unforgettable weekend of music, camping and summertime fun at one of America's most iconic sports destinations.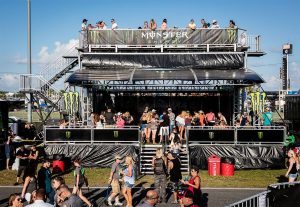 Also called "The Great American Music Fest at Daytona," the Country 500 festival features the biggest stars in country music spread over three days and nights, programmed on multiple performance stages—specially designed and built for the festival. Country 500 takes place on the infield of the world-famous Daytona International Speedway.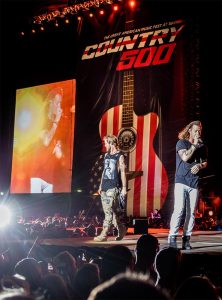 Featured artists: Sugarland, Toby Keith, Chris Stapleton, Dierks Bentley and more. For Complete Music Lineup: country500.com/schedule/#/
Fans at the festival also have the opportunity to get up close and personal with some of their favorite country stars at artist meet-and-greets located in the garages. Numerous other features—a select festival menu sold from food booths and food trucks; carnival rides; arcade games; cooling water elements; country-and-western merchandise; and more—will all be a part of the festival, as Country 500 transforms racing's greatest venue into a festival-goer's dream.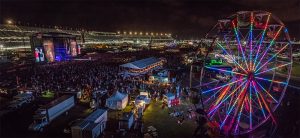 Location: Daytona International Speedway, 1801 West International Speedway Blvd. Daytona Beach, FL 32118
Date: May 25 – 27, 2018 – Memorial Day weekend
Times: Various
Tel: 504- 410-4100                        Photo Credits: Douglas Mason
country500.com
For Regional Accommodations, Restaurants & Attractions: daytonabeach.com
The paved walkways of Savannah's scenic Forsyth Park will spring to life at the 37th annual SCAD Sidewalk Arts Festival.
Watch as talented SCAD artists, alumni and high school students create colorful chalk masterpieces and compete for coveted prizes in a tradition that's nearly as old as the university itself.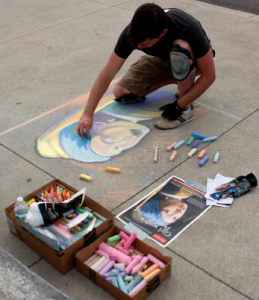 In addition to the sidewalk art, visitors can also see the art of tableaux vivants, or "living pictures" in which actors and models will silently depict a scene as if in a photo. Chalk distribution begins at 10am, drawing at 11am, with judging and results announced in the afternoon.
Who needs technology; discover just how much a simple piece of chalk can inspire.  Be amazed and mesmerized at the colorful chalk designs these artists produce on chalked-up squares along the sidewalks that weave through Forsyth Park.
Families are encouraged to bring their own chalk and let their little ones color on the squares that are not being used as part of the festival.
Free, fun and impressive, go out and be inspired, and maybe even draw a masterpiece of your own.

Location: Forsyth Park, Between Drayton and Whitaker streets, Savannah 31401
Date: Apr 28, 2018
Time: –
Tel: 800-869-7223
scad.edu/sidewalkarts
For Regional Accommodations, Restaurants & Attractions: visitsavannah.com