Tag Archive
activity
art
artist
Austria
Canada
children
city
CostSaver
display
Drivei-95
drive i-95
entertainment
Europe
event
exhibit
family
festival
Florida
food
France
free
fun
historic
History
landmark
live
local
London
Museum
music
performance
Restaurant
roadtrip
shop
show
sights
sightseeing
tour
tourist
Trafalgar
travel
travelblogger
USA
view
world
Join the The Biggs Museum of American Art to kick-off the holiday season with their 2nd annual Happy Holidays Dover celebration. This event, which takes place from 9 a.m. – 5 p.m., will coincide with the Downtown Dover holiday celebration and it will end with the start of the Downtown Dover holiday parade.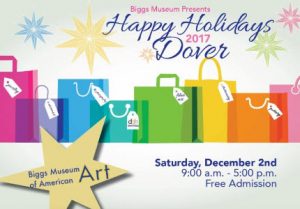 This all day family fun event offers a Special "Kids Only" Holiday Shop, where children ages 4-12  can purchase gifts (ranging from $1-$10) for their friends and family and decorate their own gift bags/gift cards. Items include handmade ornaments, jewelry, key chains and  bookmarks.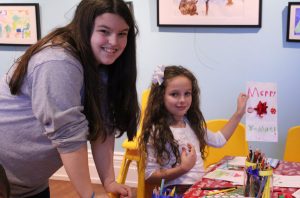 Highlights will include:  crafts,  live artist/craftsmen demonstrations, an expanded gift shop of handmade holiday items, food trucks, performances from children's choirs, and a  special display of miniature holiday themed dollhouses.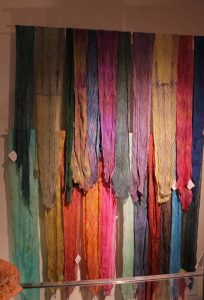 Tentative Schedule of Events: TBD – 9:30 -10 AM
Christ Church Dover Children's Choir – 10-10:30 AM
Smyrna High School Select Group Choir – 10:45-11:15 AM
Smyrna High School Jazz Band – 11:30-12 PM
En Pointe Studio, selections from "The Nutcracker" -12:15-12:45 PM
Smyrna Church of Christ and Christian School Choir – 1-1:30 PM
Campus Community School First State Club "Mummer's Play"- 1:50-2:15
Campus Community School Choir – 2:30 PM – 3 PM
TBD – 3:15-3:45
TBD – 4-4:30 PM
Free Admission
Location: Biggs Museum of American Art, 406 Federal St., Dover, DE 19901
Date: Sat, Dec 2nd, 2017
Time: 9 – 5 pm
Tel: 302-674-2111
biggsmuseum.org
For Regional Accommodations, Restaurants, & Attractions: visitwilmingtonde.com
Wilson, NC Exit 121: The North Carolina Whirligig Festival is a 2-day hometown annual arts and crafts festival features arts of the region, including the giant Whirligigs created by late local artist, Vollis Simpson. Like the whimsical outsider art, the Wilson Whirligig Festival,  in Historic Downtown Wilson, is a community celebration of people and art in motion.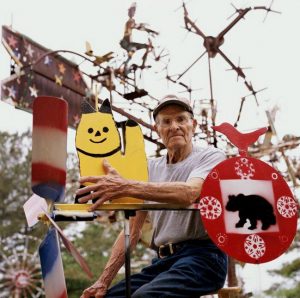 The Vollis Simpson Whirligig Park is hosting their Grand Opening the Thursday before the festival weekend, Nov. 2nd starting at 4 pm.
With Over 200+ vendors, 3 stages of live entertainment, a showcase of local and interactive art,  delicious food, beer gardens, Non-Profit organizations, free Whirli-Kidz Zone, Special events, 5K Whirli-Run, Whirli-Kidz Stage & Choir, Cup Cake Challenge, Photo Contest. New this year is a Ninja Whirligig Warrior Zone where you can meet local American Ninja Warriors, watch them compete and get a chance to test out the course yourself.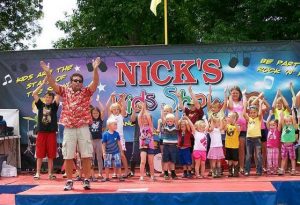 The ever popular cake dive is back, Sun @4pm: witness the festival's messiest event, a "dive" into a large 10 ft x 10 ft anniversary cake for a variety of prizes.
Touch-A-Truck is a fun event for the whole family, allowing children three + an all access pass to explore, climb and touch city of Wilson trucks and emergency response vehicles. Kids can sit in vehicles, honk the horn and talk with the equipment operators. Horn free hours will be offered throughout the day for kids with noise sensitivity.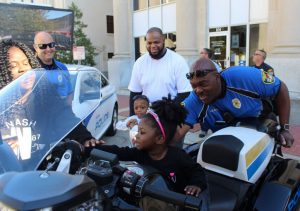 Douglas Street will transform into a space to build, create, and envision. With Brick Scholars, Greenlight, and Imagination Station Science & History Museum. Kids five + will be able to make Lego creations, even a whirligig! Showcase your creation with the onsite photo booth.
It's a colorful 2-day celebration that sparks creativity in the people of Wilson, so get inspired and take part in the community's largest celebration. (rain or shine)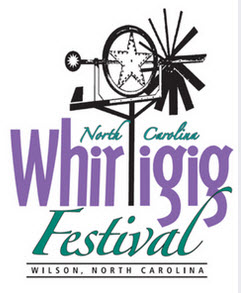 Location: Historic Downtown Wilson,NC 27893
Dates: Nov 4 – 5, 2017
Times:  Sat, Nov 4 -10 am – 5 pm , Sun, Nov 5  noon – 5 pm
Tel: 252-289-9650
whirligigfestivalnc.org
For Regional Accommodations, Restaurants & Attractions: wilson-nc.com
Now in its 18th year, the Rhode Island Chinese Dragon Boat Races & Taiwan Day Festival is an extraordinary event for the whole family to enjoy.  Join the thousands of people who attend each year for exciting competition, family-fun, and a great opportunity to learn more about Chinese culture.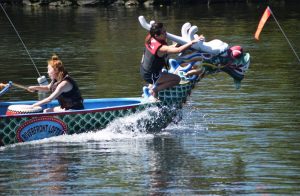 Racers continue to use the fiberglass Taiwanese-style dragon boats gifted to them from the Republic of China (Taiwan)  and incorporate the skill of flag-catching in each race.
The course length is 1,000 feet long up the Pawtucket River, with three boats racing at a time. A unique element to the races is the larger Taiwanese-style dragon boats, wood paddles, and the flag-catching in each race. If the flag is missed a penalty is added to their time.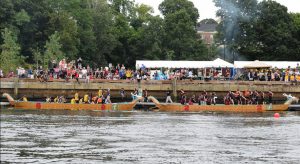 Sanctioned by the Eastern Regional Dragon Boat Association, the RI Chinese Dragon Boat Races consist of two divisions: the Mixed Division, which requires a minimum of 6 female paddlers, and the Open Division that has no gender restrictions.
In addition to the exciting boat races, under the giant tent you will find Taiwan Day festivities with some top notch entertainment including  cultural performances, many art & crafts tables, and the ever-popular dumpling eating contest. The festival also has a great selection of vendors, interactive activities, and food trucks.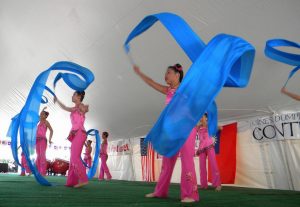 Don't miss the great entertainment throughout the day including: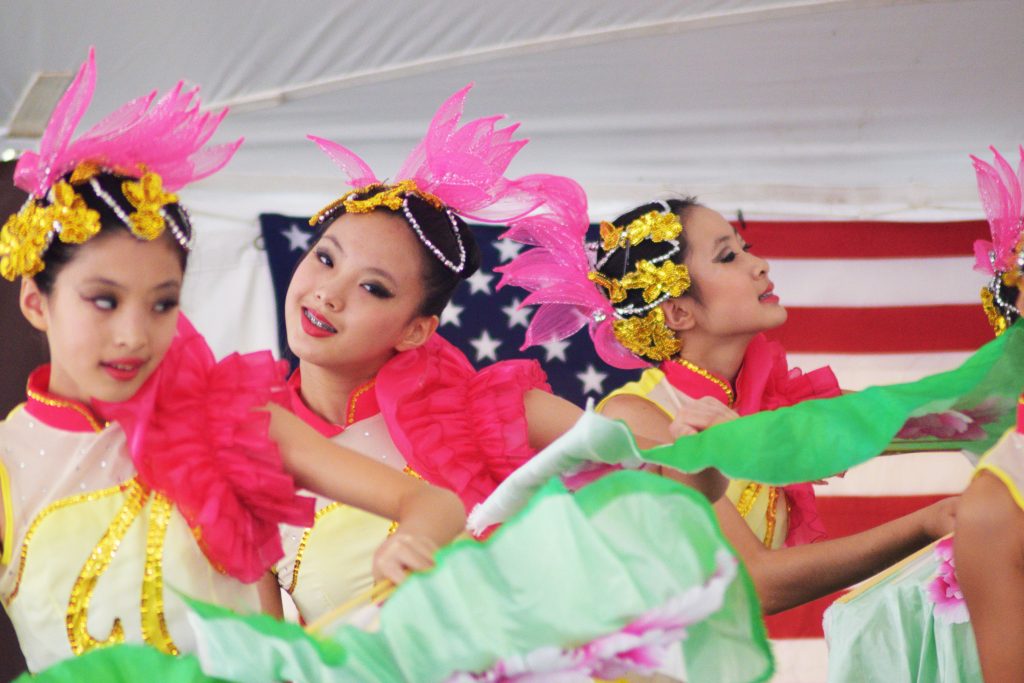 The popular Chinese dumpling eating contest
Taiwanese arts & crafts tables
Lion dancers
Yo-yo performances
Interactive games and activities
A fun (and messy) watermelon eating contest
Food trucks
Vendors
With so much to see and do…the Taiwan Day Festival is truly a great opportunity to witness some wonderful traditional Chinese and Taiwanese entertainment.
Parking and shuttle buses: Parking and shuttles for teams and attendees will be located at the Blackstone Valley Visitor Center's lot, 175 Main Street, Pawtucket, RI. Shuttle buses will start at 7:00 am and run until the awards ceremony has been completed.
Photo credit: James Toomey/Blackstone Valley Tourism Council
Location: Festival Pier, Pawtucket River, Pawtucket, Rhode Island.
Date: Sat, September 9, 2017
Time: 8am – 5pm
Tel: 401-724-2200
dragonboatri.com
For Regional Accommodations, Restaurants & Attractions: tourblackstone.com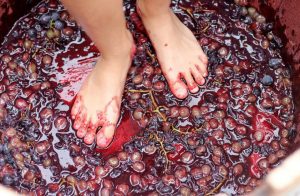 Located in the rural heart of Maryland's Eastern Shore, the family-owned  Crow Vineyard & Winery will be holding their 3rd annual CrowFest. It celebrates the bounty of the Eastern Shore and the beginning of the harvesting of their grapes on Sunday, September 10, 2017 from 11 – 5PM.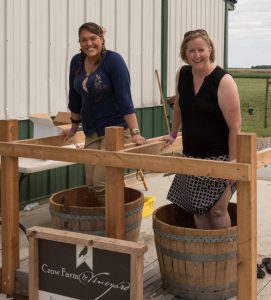 Spend the day enjoying the award winning Crow wines and the talents of additional Eastern Shore vendors.  The event includes wine tastings, live music provided by Phil Dutton and the Alligators, food samplings, local vendors, cooking demonstrations, seminars, grape stomping (who wouldn't love to stomp on grapes), hayrides through the vineyards and  numerous children's activities.
Local vendors will include: Painted Sky Alpaca Farm, Barrel Smith Designs, Beachin' Glass, Melting Down Creations, Chainsaw Carving by Josh, and local food offerings from Haass' Family Butcher Food Truck, Kilby Ice Cream MooTruck, Orchard Point Oyster Co., Chester River Aronia, Nolia Chocolates, Oksana's Produce Farm, Red Acres Lettuce, and Lockbriar Farms.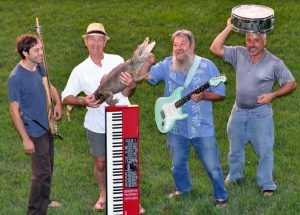 Tickets are on sale now and can be purchased by clicking here.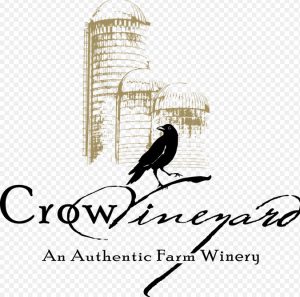 Location: Crow Vineyard & Winery, 12441 Vansant Corner Rd, Kennedyville 21645
Date: Sun, Sept 10, 2017
Time: 11 – 5pm
Tel: 302-304-0551
crowvineyardandwinery.com
For Regional Accommodations, Restaurants & Attractions: kentcounty.com


It is really hard to take the boring authenticity-proving side of the modern art world and make it into a delightful audience loving (2 standing ovations on opening night) theatre piece.
Stephen Sachs, the playwright, took on the true story of Terry Horton, a former truck driver who scavenged a painting for $5 at a second-hand shop as a gift for a friend who needed cheering up. Maude Gutman, as she is called in this play, is a lover of kitsch – her trailer is overwhelmed by it (A congratulatory shout out here for the jam-packed shelves created by set and costume designer Pam Johnson, who really needed my Smart Shopping Montreal book to find all that stuff!). At a yard sale, the local art teacher noticed the painting and mentioned it might be a Jackson Pollock; and so begins the tale. Somehow Gutman managed to get a major art house in NYC to send an expert over to check out her claim.
And therein lies this sparring pied-a-deux. A foul-mouthed bourbon drinking trailer park madam vs. the snooty elitist artsy gentleman. Human authenticity versus art authenticity is set to be proven. Nicola Cavendish walks the walk and talks the talk. Her sneaker grounded stalking moves her around the trailer while her expert verbal comedic timing keeps the pace going. She even manages to give the garbage pail "a line".
Jonathan Monro (Lionel Percy), himself a renaissance man (competitive swimmer, piano prodigy, singer, director, lyricist, actor), glides around her, expertly dodging her verbal and physical attacks. My take-away forever (as a former NYC art teacher) is the exuberant and sexually suggestive way in which Monro teaches us the how and why a Jackson Pollock painting is important – and not just a bunch of paint splashes on a canvas.

Though Percy always trusts his "first blink", it is Nicola Cavendish who summed it up brilliantly when she observed Pollock's paintings, "You can see that what emerges is layers and layers and layers. I think it's a lesson on how we can learn to look more closely, whether we are talking about a piece of art or whether we're talking about the woman who lives across the street who's offensive." Modern art is beyond the understanding of the ordinary citizen, and this play opens the door a crack as to what it is all about, how it works and doesn't work. The show makes it all fun and drives Maude's trailer expertly to the end to find out if she goes from rags to riches.
Location: 453 St-Francois Xavier
corner: Notre-Dame
Tel: 514-288-3161
Dates: Jan 31-Feb 26, 2017
Prices $28- $51
www.centaurtheatre.com
Metro: Place d'Armes
Monster Jam® brings high-octane entertainment to fans around the country, offering a most action-packed live event on four wheels.
Celebrating 25 years of adrenaline-fueled family amusement, Monster Jam combines spontaneous entertainment with the ultimate off-road, motorsport competition.   World-class drivers compete in front of capacity crowds in both monster truck racing and freestyle competitions.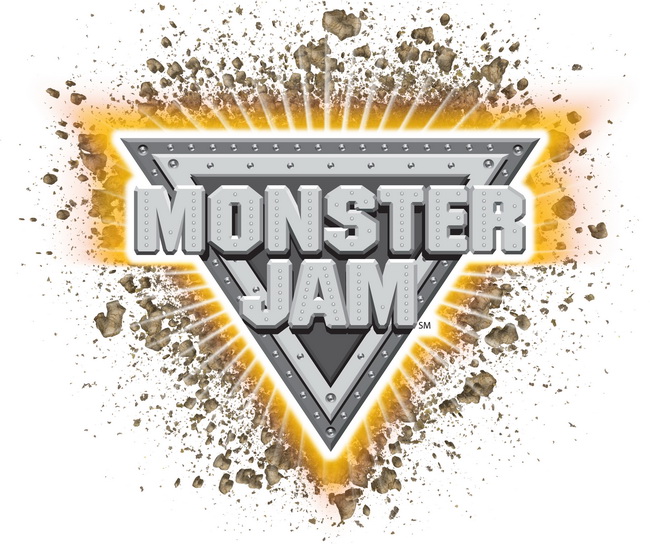 Monster Jam features some of the most recognizable trucks around including Grave Digger®, Max-DTM, El Toro Loco® and Monster Mutt®, Bad News Travels Fast, Aftershock,  Krazy Train and Mechanical Mischief.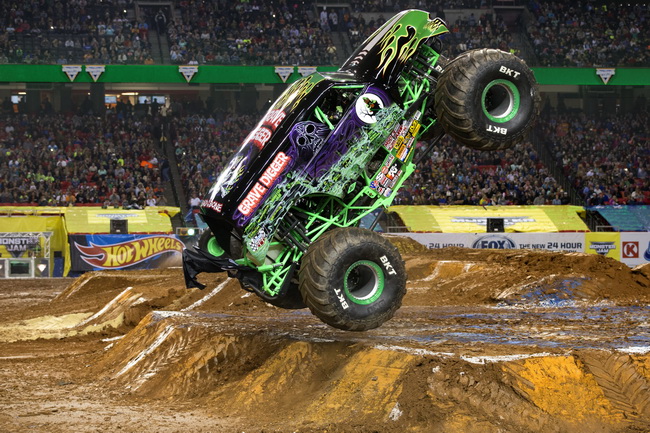 These Monster Jam scenes leave you on the edge of your seat, with competitors performing jaw-dropping displays of gravity-defying feats,  thrilling fans with freestyle, racing, donuts, wheelies and exhilarating action.
For the ultimate Monster Jam® motorsports experience, consider the Pit Party which provides unprecedented access to the Monster Jam trucks and drivers – you can meet the drivers, get their autographs, take photos and see the trucks up close. Pit Passes are sold separately in addition to your admission ticket and is available for the Saturday, February 4th 1 pm performance only.
To buy tickets: ticketmaster.com/venueartist/114999/1542376?brand=florencecc&camefrom=cfc_florence_website_MonsterJam17
photo credit: Feld Entertainment
Location: Florence Civic Center, 3300 West Radio Dr., Florence, SC 29501
Dates & Times: Friday, Feb 3rd: 7pm, Sat, Feb 4th: 1 pm & 7pm
Tel: 843-679-9417
florenceciviccenter.com
monsterjam.com
For Regional Accommodations, Restaurants & Attractions: visitflo.com
Why not have loads of belly laughs on your next trip? There are a few ways to cut costs and take in the hysterical Montreal Just for Laughs comedy festival inexpensively. Here's all the FREE events:
On July  21st, Weird Al Yankovic is doing a free outdoor concert as part of  "The Mandatory World Tour". The Scène Vidéotron will be presenting various free activites at 7pm every day and shows at 9pm.
The Street Arts Festival has acts performing for free in and around Place des Arts. Starting at 1 pm each day, the colorful Place de la famille le Lait will offer its load of shows and activities including a merry-go-round for kids and all the family
Also for your family entertainment, the Labyrinthe V8 will be open from 6pm during weekdays and from noon during weekends.
Every night from 4pm-3am, the Melting Pot, set on the Esplanade de la Place des Arts, invites party goers to enjoy great music presented by various international DJs.
From July 23rd to July 25th, the Zoofest Festival will take place on the Parterre des artistes. Nicknamed Le Spot, this 3-days outdoor celebration will feature the craziest, funniest and talented emerging artists.
At the Le Mondial des Jeux Loto-Québec set on Maisonneuve Blvd, you can get to play various table games and board games. In the center of the Complexe Desjardins, you are invited to discover and play the latest and the classic video games. Plus, you will have the opportunity to show off your skills in friendly competitions. Kids and grown-ups will also be able to show their talents at the Complexe Desjardins in a drawing contest.
www.hahaha.com
http://mondialdesjeux.com/en/

TICKET DEALS
The best deal by far is the OFF-JFL pass. It costs $49.50 and you get to choose 3 tickets to any of the 100 or so OFF-JFL shows. Also included is that each day from July 22-25, you get an additional free ticket for an OFF-JFL show.
OFF-JFL has a lineup of artists performing at smaller venues where the shows are much more intimate, The lineup this year is absolutely incredible. I really laughed at Ethnic Show headliners Alonzo Bodden, Ahmed Ahmed and Gina Yashere who are on this list.
There are a number of package deals for tickets. There are the tourism packages in which you can stay overnight in a hotel, be right downtown in the midst of all the action, and take in the Gala of your choice starting at only $200 (for 2). There are also multi-show passes available which cuts costs.
Last minute tickets can be purchased at the box office on the corner of Jeanne Mance and Sainte-Catherine.
FOOD

Bouffons! Mtl is a gourmet novelty set on Sainte-Catherine street so festival-goers have the chance to experience a full range of new flavors that will definitely live up to anyone taste buds. Meet chefs, enjoy local products and taste delish dishes from the best food-trucks in the city. The festivities will start at noon every day, inside and outside. For the inside action, look for the Bouffons sign near Clark.
At the Melting Pot on the Esplanade de la Place des Arts, there will be a DJ set every evening and look for the 2 for 1 deal on the burger trio. At Arthur,  during Happy Hour 5-7, you can find 2 for one liquid deals.
President Eisenhower signed the law establishing the Interstate Highway System on June 29, 1956. It spurred a gigantic building boom and connected cities like never before, shortening cargo transits and expanding family road trips. It caused a major overhaul of the trucking industry, put new pressure on rail and air service, but was a huge boon to commerce in general. It stands as one of the greatest public works projects in history, anywhere.