Tag Archive
activity
art
artist
Austria
Canada
children
city
CostSaver
display
Drivei-95
drive i-95
entertainment
Europe
event
exhibit
family
festival
Florida
food
France
free
fun
historic
History
landmark
live
local
London
Museum
music
performance
Restaurant
roadtrip
shop
show
sights
sightseeing
tour
tourist
Trafalgar
travel
travelblogger
USA
view
world
The first annual Make Music Connecticut, a free, wild and wonderful mix of over 250 free outdoor musical events, will make its debut on Thursday, June 21.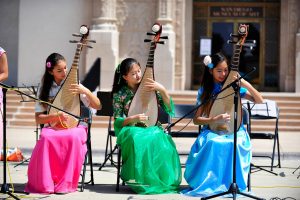 Modeled after a Parisian tradition (Fête de la Musique) that began in 1982 as a tribute to the Summer Solstice.  Each June 21st Paris is filled with musicians of all kinds performing on sidewalks, lawns, balconies, in parks, etc. for anyone to enjoy at no cost.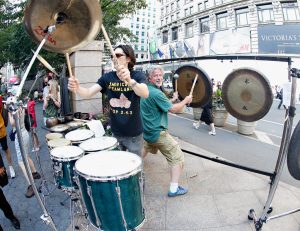 Make Music Connecticut is part of Make Music Day, a global music celebration that takes place on the summer solstice each year and brings people of all ages and skill levels together to make music. This year, more than 70 U.S. cities and the entire state of Connecticut will host thousands of Make Music performances across the country as part of the world's largest annual music event.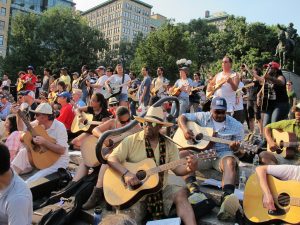 Featuring musicians of all abilities and music from any genre.  Sidewalks, parks, front porches, and public spaces throughout the region will become stages for local musicians to perform and for all to enjoy. Each region will have its own ambiance. This will be a day packed with more than 250 free musical events happening with concerts on streets, sidewalks, and parks around the state.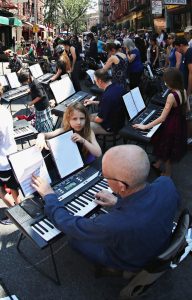 Community Jam Sessions, Dueling Drums, Battle of the Bands are some of the featured events. For a full schedule of events: MakeMusicCT.org
Location: Numerous locations throughout Southeastern CT
Date: June 21, 2018
Time: Various – see schedule
Tel: 860-460-5236
makemusicday.org/southeasternct
Presented by Henry Morrison Flagler Museum, the first museum exhibit devoted to the image of the World War I pilot-hero, Knights of the Air honors the daredevil pilots who risked everything for the cause at the dawn of aviation.
Imbued with a sense of adventure and fierce patriotism, aviators became the face of the War efforts back home. Works of art, souvenirs, postcards, and newspapers celebrated their valiant efforts. After the War, the romance of flight was embodied in new types of daring aviators, such as barnstorming aerial acrobats, air mail pilots, and bootleggers.
Popular pulp magazines such as George Bruce's Squadron and Hollywood films like Wings (1927) capitalized on the appeal of the brave World War I aviator, inspiring many future pilots who would serve America in commercial aviation and future military conflicts.
Organized by the Flagler Museum in commemoration of the 100th anniversary of America's entry into World War I in 1917, Knights of the Air features works of art, artifacts, and printed materials on loan from the private collection of Jean S. and Frederic A. Sharf, and other private and public collections.
Guided exhibition tours will be offered Wednesdays at 10:30 a.m. and 3:30 p.m., beginning October 25. The exhibition and tours are free with Museum admission. The Flagler Museum will offer free Museum admission to active duty, reserve, and retired U.S. Military each Wednesday for the duration of the exhibition (proper identification required).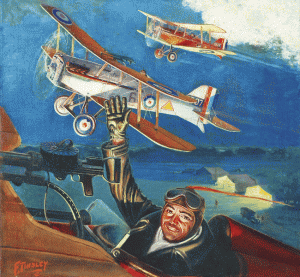 Illustrated Lecture
11:30 a.m. and 2:30 p.m. on Saturday, November 11, 2017
Free with Museum Admission
Space is limited, reservations are required.
Join exhibition curator Janel Trull on Veteran's Day for an illustrated lecture about Knights of the Air: Aviator Heroes of World War I, to learn about these heroic pilots and their lasting legacy.
Image: Collection of Jean S. and Frederic A. Sharf
Location: Henry Morrison Flagler Museum,One Whitehall Way
Palm Beach, FL 33480
Dates: until Dec 31, 2017
Hours: Sun – 12pm – 5pm, Tues – Sat – 10am – 5pm
Closed Mondays, Thanksgiving Day, Christmas Day, and New Year's Day.
Tel: 561- 655-2833
flaglermuseum.us
For Regional accommodations, Restaurants & Attractions: thepalmbeaches.com
Imagine an attic full of personal memorabilia of many submariners, and you get the feel of this homey museum.
The St. Marys Submarine Museum gives visitors a real feel for life aboard a submarine. The museum's 5,000 square feet of exhibition and displays feature real and working shipboard equipment. A ship's control panel, ballast control panel, periscope, and working sonar panels give exciting visuals of the interior of a submarine.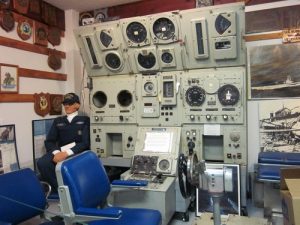 At St. Marys Submarine Museum a wide variety of Submarine artifacts, memorabilia and information are available for viewing. You can see early submarine designs (pig boats) right up to nuclear ones, consoles, a working Type-8 periscope, listings of boats built and lost in WW II and tons of command plaques.
For the truly addicted, submarine movies play all day, and you are invited
to read actual files of each U.S. submarine or support commands. More than 99% of all WWII Patrol Reports and their command history files are here (even previously classified documents); these are not usually seen by the average person or submarine veteran.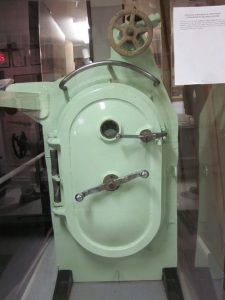 Location: St. Marys Submarine Museum, 102 W. St. Marys St., St. Marys, GA 31558
Hours: Tues-Sat 10am – 5pm, Sun 12pm – 5pm
Tel: 912-882-2782
stmaryssubmuseum.com
For Regional Accommodations, Restaurants & Attractions: visitkingsland.com