Tag Archive
activity
art
artist
Austria
Canada
children
city
CostSaver
display
drive i-95
Drivei-95
entertainment
Europe
event
exhibit
family
festival
Florida
food
France
free
fun
historic
History
landmark
live
local
London
Museum
music
performance
Restaurant
roadtrip
shop
show
sights
sightseeing
tour
tourist
Trafalgar
travel
travelblogger
USA
view
world
Grab your spoons and mark your calendars for Scooper Bowl – all-you-can-eat Ice Cream Festival.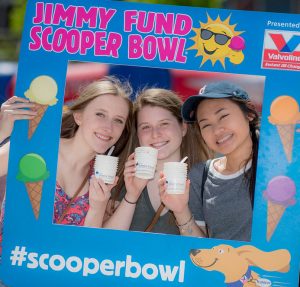 Celebrating its 36th year in 2018, the Scooper Bowl is now a three-day event that dishes out 20 tons of the summer's finest ice cream to more than 40,000 ice cream lovers from across the nation. Enjoy a lot of great entertainment and fun activities at this country's largest all-you-can-eat ice cream festival.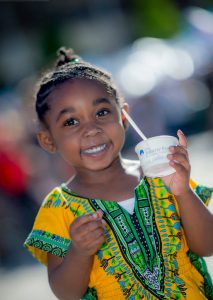 What is most impressive about the ice cream festival is that all ice cream companies donate all the ice cream, labor, scoopers, and products needed to make the event happen each year. Though they are competitors for 51 weeks of the year, during the first week of June they come together to create an event that is now known as the "unofficial start of summer" in New England.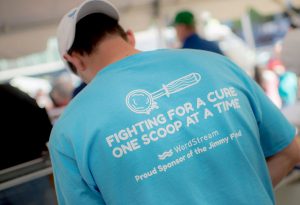 Made possible by the generous contributions of the industry's largest ice cream companies, the Scooper Bowl has raised more than $6.3 million in the past 35 years for cancer research and patient care at the world-renowned Dana-Farber Cancer Institute.
Get Your Tickets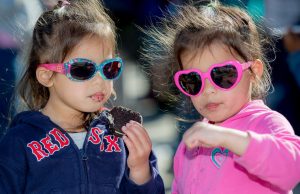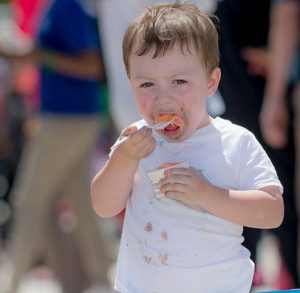 *Pricing will increase at the door – Kids under 3 are free
Whether you're a visitor to the area or professional ice-cream-eater, you play a huge part their our mission to conquer cancer.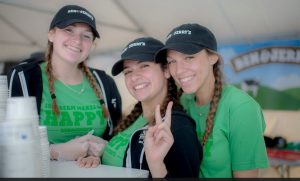 Ice Cream Flavors
Baskin-Robbins
Boston Cream Pie
Cannoli Be With You
OREO® 'n Caramel
Triple Grape Ice
Beckon Ice Cream (formerly Minus the Moo) – Thursday only, lactose-free
Vanilla
Chocolate
Espresso
Sea Salt Chocolate Chip
Mint Chip
Chocolate Candy Crunch
Strawberries & Sweet Cream
Black Raspberry
Confetti
Ben & Jerry's
Gimme Smore™
Caramel Almond Brittle non-dairy
AmeriCone Dream®
Chocolate Shake It™
Breyers
Nautral Vanilla
Oreo® Cookies & Cream
Mint Chip
Edy's
Birthday Cake
Dulce
Rainbow Sherbet
Friendly's
Triple Caramel Peanut Heaven
Hunka Chunka PB Fudge®
Rockin' Poppin'™ Cotton Candy
Cookies 'N Cream
Black Raspberry
Haagen-Dazs
Chocolate Salted Fudge Truffle Non-Dairy
Hood
Hood® New England Creamery Limited Edition Chocolate Churro
Hood® New England Creamery Limited Edition Purple Panda
Hood® Coffee Cookies 'n Cream
Hood® Chocolate Chip Cookie Dough
Lactaid – lactose-free
Lactaid® Cookies 'n Cream
Lactaid® Mint Chocolate Chip
Lactaid® Mocha Almond Chip
Lactaid® Salted Caramel
Rosev Dairy Foods
Coconut
Rum Raisin
Purple Cow
Twisted Sea Turtle
Vice Cream
Afternoon Delight
Bourbon Mash
L'Orange A Trois
Minted
Higher Grounds
Yasso

Stick Bars:

Pistachio Brittle
Fudge Brownie
Coconut Caramel
Chocolate Chip
Chocolate Peanut Butter Chip
Scoops:

Party Animal  Mint Championchip
Rolling in the Dough
Caramel Pretzelmania
Coffee Brownie Break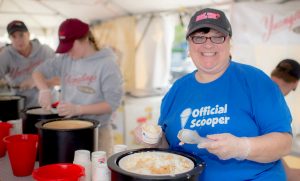 Location: City Hall Plaza, 1 City Hall Square, Boston, MA 02201
Date: June 5 – 7, 2018
Time: Noon – 8pm
scooperbowl.org
For Regional Accommodations, Restaurants & Attractions: bostonusa.com
At Fatz Cafe, the motto on the menu,"Where everybody is a regular", is true and that's because they
get addicted to the warm buttery poppy seed rolls (hint of donut taste to us). Locals come for the fried Calabash
chicken, which is marinated in buttermilk and served with honey mustard, and to enjoy the oldies music and photos of
the Florence/PeeDee area in the 60's and 70's.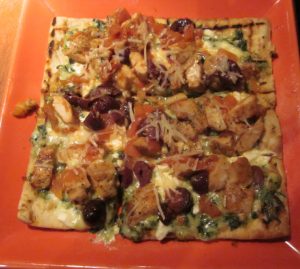 A popular starter is the fried green tomatoes on cheese grits with remoulade sauce or the shareable hot Cajun firecracker sticks stuffed with spicy shrimp, andouille sausage, onions, peppers, melted cheese in a tomato/basil tortilla. A hit of the meal was the Edisto shrimps and grits made with crumbled bacon in a mushroom burgundy gravy with Parmesan cheese. You could come in for the mahi mahi, spinach salad, ribs, pork chops, burgers or a sirloin steak marinated in hard cider, but you must leave room for the Carolina peach cobbler, which tastes like your gramma made it (vanilla ice cream and walnuts on top).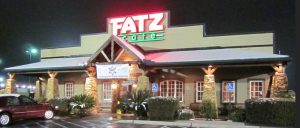 Location: 2007 W. Lucas, Florence, SC
Tel: 843-413-9186
www.fatzcafe.com
For Regional Accommodations and Attractions: www.visitflo.com
www.drivei95.com
Michelin listed Ghent restaurant t'Pakhuis (www.pakhuis.be) takes the concept of farm right to table so seriously that they bought the farm – in Bresse, France. So now they breed and serve famous and flavourful Bresse chickens, guinea fowl, Hampshire down lambs, and Bayeux pigs. From home in Belgium, they get special tomatoes, their herbs, and even "lost and forgotten" vegetables
Located in a former ironworks factory with painted cast-iron pillars and a soaring wrought-iron balcony now filled with light from the huge roof skylight, the noisy chattering happy diners, both inside and out might be enjoying the beers and fancy cocktails at the bar or on the large terrace. In keeping with it's slick metallic theme, it has the coolest bathroom lock I've ever encountered and I challenge you to try to turn on the tap without having to ask!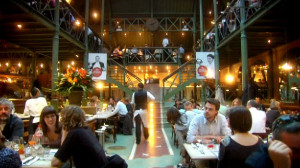 And the food – my liver screamed for mercy but my mouth was bathed in smiles. Though you could start with  a lighter lobster soup or beef carpaccio, if you dare, the foie gras plate had the most generous hunk of silky foie we have ever encountered accompanied by sage apple cream and dates. Had I stopped there, it would have been a perfect dinner.
But yet we ventured on to the grilled duck breast in pea cream with baby veggies and mashies that were so smoothly whipped that they could have been served for a dessert sorbet. The asparagus risotto with lemon butter was so yummy, it alone could turn me into a vegetarian.
We could have ended the meal with a locally favorite flavor, gingerbread, in cheesecake with vanilla sauce or gone lightly with some sorbets, but we took it to the max with a silky creme brûlée. Sigh.