Tag Archive
activity
art
artist
Austria
Canada
children
city
CostSaver
display
Drivei-95
drive i-95
entertainment
Europe
event
exhibit
family
festival
Florida
food
France
free
fun
historic
History
landmark
live
local
London
Museum
music
performance
Restaurant
roadtrip
shop
show
sights
sightseeing
tour
tourist
Trafalgar
travel
travelblogger
USA
view
world
Located only 12 miles from Wilmington, Delaware, Longwood Gardens attracts visitors from around the globe to its 11,000 varieties of plants spread out across more than 1,000+ acres of gardens, meadows, woodlands and elaborate horticultural displays.
Longwood's celebration of the Main Fountain Garden, which returned in 2017 after a $90 million, more than two-year revitalization. Renowned for its spectacular Festival of Fountains, the astonishing shows gather attention from far and wide, and are a favorite among visitors of all ages.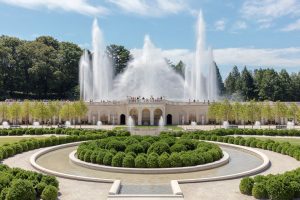 Watch in awe when the fountains dance to stirring music and water jets shoot up to 175 feet high. You don't want to miss Longwood's Illuminated Fountain Performances where you'll see an infinite mix of color, sound and music. The fountains perform daily at 11:15 a.m., 1:15 p.m., 3:15 p.m., 5:15 and extended hours for illuminated fountain performances on Thursday, Friday, and Saturday evenings at 7:15.
In addition, the wildly popular Fireworks & Fountains return with  new shows: September 29 at 8:15 pm: Solid Gold '70s – Take a bell-bottomed step back in time to the disco decade featuring iconic music from The Bee Gees, Kool and the Gang, Donna Summer, and more cool cats you'll really dig. For Tickets:  Fireworks & Fountains 2018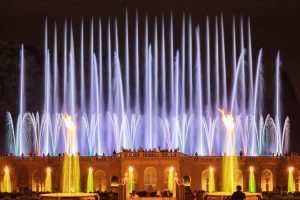 Festival of Fountains also features the Gardens in their summer splendor. The refreshed garden design invites guests to wander and discover new garden gems, including the Grotto, Pumphouse Plaza, and Historic Pumphouse display. Flowering annuals and perennials abound plus a breathtaking Waterlily Display that showcases aquatic plants from all over the world.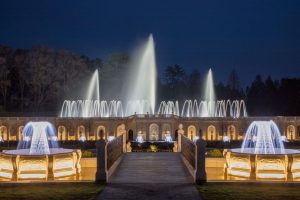 Take a hike in the expansive Meadow Garden or enjoy a shady stroll among Longwood's historic trees. The outdoor Children's Corner offers younger guests a garden designed just for them, while the Idea Garden is a showcase of plant combinations, innovative vegetable gardens, and unusual plant varieties to inspire guests to try at home.
Longwood Gardens allows a limited number of visitors per day, so purchase Tickets in advance to guarantee admission.
Illuminated Fountain Performances continue through October 27 and Daytime Fountain Performances continue through October 28 during Autumn's Colors.
Photo Credit: Daniel Traub
Location: Longwood Gardens, 1001 Longwood Road, Kennett Square, PA 19348
Dates: until – September 30, 2018 (check website for later schedule)
Time: Sun–Wed  9am–6pm, Thurs–Sat 9am–10pm
Tel: 610-388-1000
longwoodgardens.org
For Regional Accommodations, Restaurants & Attractions: visitwilmingtonde.com
Nestled among fields of corn and soybeans, this dynamic 65-acre garden is set in the rural Pee Dee region near Lake City, South Carolina. Moore Farms Botanical Garden is the perfect learning environment. They also host classes and professional workshops.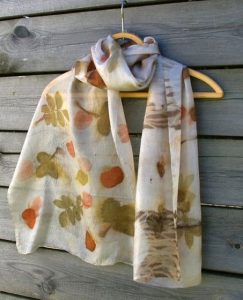 Join Caroline Harper at Moore Farms Botanical Garden on Thursday, September 28, 2017 for an artful day in the garden at a workshop creating Eco Print Scarves.
Eco printing is basically a direct contact printing method, drawing out pigments from plants to make interesting and often surprising marks on protein (silk) fibre. In this class accomplished artist Caroline Harper will show you how to create 2 silk scarves with foraged leaves, flowers, vegetable skins and other objects found from the garden.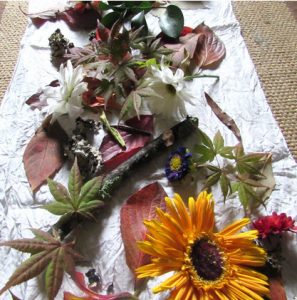 The unique colors and shapes that occur from these materials will make your scarf a one-of-a-kind masterpiece. Silk and organic material will be provided but please bring anything you would like to add to embellish your dazzling scarves. Registration is limited to 20 participants. $60 per person
Location: Moore Farms Botanical Garden, 100 New Zion Road, Lake City, SC 29560
Date: Thurs, Sept 28, 2017
Time: 1:30 pm to 4:30 pm
Tel: 843-210-7582
moorefarmsbg.org
For Regional Accommodations, Restaurants & Attractions: lakecitysc.com/visiting visitflo.com
Michelin listed Ghent restaurant t'Pakhuis (www.pakhuis.be) takes the concept of farm right to table so seriously that they bought the farm – in Bresse, France. So now they breed and serve famous and flavourful Bresse chickens, guinea fowl, Hampshire down lambs, and Bayeux pigs. From home in Belgium, they get special tomatoes, their herbs, and even "lost and forgotten" vegetables
Located in a former ironworks factory with painted cast-iron pillars and a soaring wrought-iron balcony now filled with light from the huge roof skylight, the noisy chattering happy diners, both inside and out might be enjoying the beers and fancy cocktails at the bar or on the large terrace. In keeping with it's slick metallic theme, it has the coolest bathroom lock I've ever encountered and I challenge you to try to turn on the tap without having to ask!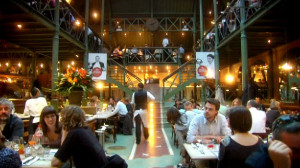 And the food – my liver screamed for mercy but my mouth was bathed in smiles. Though you could start with  a lighter lobster soup or beef carpaccio, if you dare, the foie gras plate had the most generous hunk of silky foie we have ever encountered accompanied by sage apple cream and dates. Had I stopped there, it would have been a perfect dinner.
But yet we ventured on to the grilled duck breast in pea cream with baby veggies and mashies that were so smoothly whipped that they could have been served for a dessert sorbet. The asparagus risotto with lemon butter was so yummy, it alone could turn me into a vegetarian.
We could have ended the meal with a locally favorite flavor, gingerbread, in cheesecake with vanilla sauce or gone lightly with some sorbets, but we took it to the max with a silky creme brûlée. Sigh.