Tag Archive
activity
art
artist
Austria
Canada
children
city
CostSaver
display
drive i-95
Drivei-95
entertainment
Europe
event
exhibit
family
festival
Florida
food
France
free
fun
historic
History
landmark
live
local
London
Museum
music
performance
Restaurant
roadtrip
shop
show
sights
sightseeing
tour
tourist
Trafalgar
travel
travelblogger
USA
view
world
.
The Residence Square, where you can find this baroque fountain, is the heart of the old city center of Salzburg, Austria. In the film, "The Sound of Music", Maria (played by Julie Andrews) walked across the square singing "I Have Confidence" while on her way to the Trapp family home for the first time.
Residence Fountain at 15 metres high is the largest baroque fountain outside of Italy. It was built between 1658 and 1661, and enjoyed its 15 minutes of fame when Maria stopped there to splash water at the horses while singing "I Have Confidence". The song was not from the original Broadway show but added for the film version. I would remember this as I saw the Broadway show 13 times as my Dad worked there.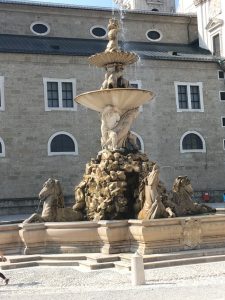 .
The riverside promenade on the Chapel Bridge in Lucerne has pretty views. You can see St.Peterskapelle (St. Peter's Chapel) in the background.
.
There's a pretty riverside promenade in Lucerne. Chapel Bridge is one of the oldest wooden bridges in Switzerland as it was mentioned in writing around 1367. As you walk it, look up underneath the roof and you will be surprised to see paintings there. A prominent Water Tower here had been used as a dungeon, an archive, and a treasury vault. These were parts of the oldest medieval city ramparts of Lucerne. You can also take a peek into St. Peter's Chapel.
.
Leave time for outdoor wows at Swarovski Crystal World, Austria. The Mirror Pool surrounded by Crystal Clouds was gorgeous in itself – and then the music started…..
.
If you think life is tough, think of all the sailors that went out into the unknown seas. The shipwrecked Madusa, was left with 115 out of the original 400 sailors on board. There was very little food and water but lots of wine which led to heavy drinking, murder, mutiny and cannibalism. When rescued, only 15 were left alive. This work by Theodore Gericault's was a seismic shift in art from the stiff neo-classicism of the past to the dramatic and emotional Romanticism in art. It is more of the most macabre painting in the Louvre.
Located only 12 miles from Wilmington, Delaware, Longwood Gardens attracts visitors from around the globe to its 11,000 varieties of plants spread out across more than 1,000+ acres of gardens, meadows, woodlands and elaborate horticultural displays.
Longwood's celebration of the Main Fountain Garden, which returned in 2017 after a $90 million, more than two-year revitalization. Renowned for its spectacular Festival of Fountains, the astonishing shows gather attention from far and wide, and are a favorite among visitors of all ages.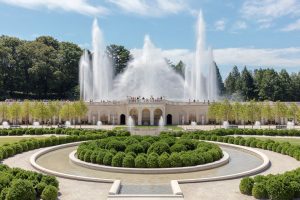 Watch in awe when the fountains dance to stirring music and water jets shoot up to 175 feet high. You don't want to miss Longwood's Illuminated Fountain Performances where you'll see an infinite mix of color, sound and music. The fountains perform daily at 11:15 a.m., 1:15 p.m., 3:15 p.m., 5:15 and extended hours for illuminated fountain performances on Thursday, Friday, and Saturday evenings at 7:15.
In addition, the wildly popular Fireworks & Fountains return with  new shows: September 29 at 8:15 pm: Solid Gold '70s – Take a bell-bottomed step back in time to the disco decade featuring iconic music from The Bee Gees, Kool and the Gang, Donna Summer, and more cool cats you'll really dig. For Tickets:  Fireworks & Fountains 2018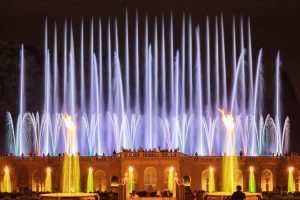 Festival of Fountains also features the Gardens in their summer splendor. The refreshed garden design invites guests to wander and discover new garden gems, including the Grotto, Pumphouse Plaza, and Historic Pumphouse display. Flowering annuals and perennials abound plus a breathtaking Waterlily Display that showcases aquatic plants from all over the world.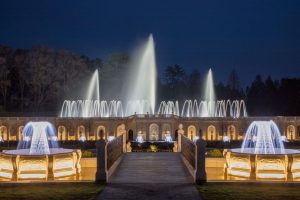 Take a hike in the expansive Meadow Garden or enjoy a shady stroll among Longwood's historic trees. The outdoor Children's Corner offers younger guests a garden designed just for them, while the Idea Garden is a showcase of plant combinations, innovative vegetable gardens, and unusual plant varieties to inspire guests to try at home.
Longwood Gardens allows a limited number of visitors per day, so purchase Tickets in advance to guarantee admission.
Illuminated Fountain Performances continue through October 27 and Daytime Fountain Performances continue through October 28 during Autumn's Colors.
Photo Credit: Daniel Traub
Location: Longwood Gardens, 1001 Longwood Road, Kennett Square, PA 19348
Dates: until – September 30, 2018 (check website for later schedule)
Time: Sun–Wed  9am–6pm, Thurs–Sat 9am–10pm
Tel: 610-388-1000
longwoodgardens.org
For Regional Accommodations, Restaurants & Attractions: visitwilmingtonde.com
Love ocean sports? Why not soak up the beach vibe as Daytona Beach hosts the Pan American Masters Championship – the largest ocean swim competition to be held in Daytona Beach to date.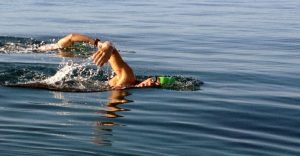 Swimmers from all over the world – from youth to adult and novice to Olympian – will descend upon the white sand beaches and the inviting waters of Daytona Beach to compete in the Open Water (1.5K and 5K).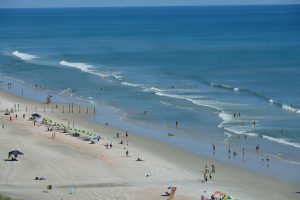 Starting and finishing at the Hilton Daytona Beach Oceanfront Resort, check out the map and schedule for the best vantage points along the coast to watch the event. Admission FREE.
Discover Daytona Beach, where you have a 500-foot sandy backdrop to unplug, unwind and reconnect with one another.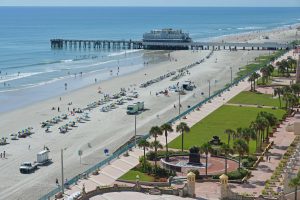 Location: Hilton Daytona Beach Oceanfront Resort, 100 North Atlantic Avenue Daytona Beach, FL 32118
Date: Sun, Aug 5, 2018
Time: Starting at 7am
2018panammasters.com
For Accommodations, Restaurants & Attractions: daytonabeach.com