Tag Archive
activity
annual
art
artist
Canada
children
city
community
contest
country
craft
display
downtown
drive i-95
Drivei-95
drivei95
entertainment
event
family
festival
Florida
food
free
fun
game
historic
History
house
Island
live
local
Museum
music
national
North Carolina
prize
Restaurant
roadtrip
shop
show
tour
travel
travelblogger
USA
world
Wilson, NC Exit 121: The North Carolina Whirligig Festival is a 2-day hometown annual arts and crafts festival features arts of the region, including the giant Whirligigs created by late local artist, Vollis Simpson. Like the whimsical outsider art, the Wilson Whirligig Festival,  in Historic Downtown Wilson, is a community celebration of people and art in motion.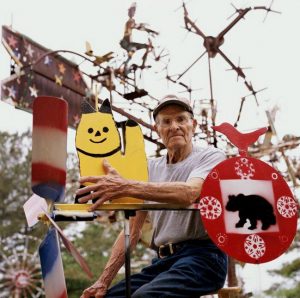 The Vollis Simpson Whirligig Park is hosting their Grand Opening the Thursday before the festival weekend, Nov. 2nd starting at 4 pm.
With Over 200+ vendors, 3 stages of live entertainment, a showcase of local and interactive art,  delicious food, beer gardens, Non-Profit organizations, free Whirli-Kidz Zone, Special events, 5K Whirli-Run, Whirli-Kidz Stage & Choir, Cup Cake Challenge, Photo Contest. New this year is a Ninja Whirligig Warrior Zone where you can meet local American Ninja Warriors, watch them compete and get a chance to test out the course yourself.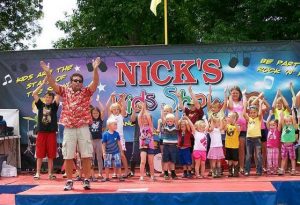 The ever popular cake dive is back, Sun @4pm: witness the festival's messiest event, a "dive" into a large 10 ft x 10 ft anniversary cake for a variety of prizes.
Touch-A-Truck is a fun event for the whole family, allowing children three + an all access pass to explore, climb and touch city of Wilson trucks and emergency response vehicles. Kids can sit in vehicles, honk the horn and talk with the equipment operators. Horn free hours will be offered throughout the day for kids with noise sensitivity.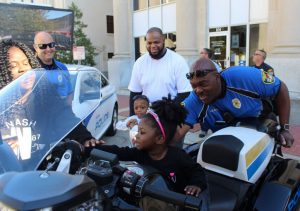 Douglas Street will transform into a space to build, create, and envision. With Brick Scholars, Greenlight, and Imagination Station Science & History Museum. Kids five + will be able to make Lego creations, even a whirligig! Showcase your creation with the onsite photo booth.
It's a colorful 2-day celebration that sparks creativity in the people of Wilson, so get inspired and take part in the community's largest celebration. (rain or shine)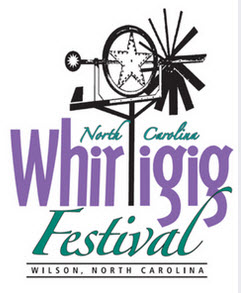 Location: Historic Downtown Wilson,NC 27893
Dates: Nov 4 – 5, 2017
Times:  Sat, Nov 4 -10 am – 5 pm , Sun, Nov 5  noon – 5 pm
Tel: 252-289-9650
whirligigfestivalnc.org
For Regional Accommodations, Restaurants & Attractions: wilson-nc.com
Light City is a FREE festival that transforms Baltimore with large-scale light installations, performances, music and innovation. Central to Light City is the BGE Light Art Walk along Baltimore's Inner Harbor, featuring more than 50 attractions including visual arts such as illuminated sculptures, projections, interactive technologies, performances, concerts, food vendors and a children's area.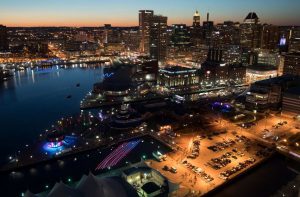 Performance artists bring Light City to life with entertaining acts including fire (a showcase of fire and LED performances utilizing dance, flow arts, circus arts, and music), illuminated puppets, projections, stilt walkers, dance, musical entertainment at the Inner Harbor Amphitheater and along the BGE Light Art Walk.
Inner Harbor Skyline Photo Courtesy of Baltimore Office of Promotion and Arts
Music is a major attraction at Light City. The festival features a full schedule of FREE concerts including local, regional and renowned DJs, bands and musicians across every genre.
Families can visit Mini Light City in Pierce's Park for hands-on, illuminated craft activities in a youth makers' tent, children's entertainers and whimsical snacks such as lighted cotton candy. The park is home to a sound garden by artist David Hess.
Congregation_KMA_Photo by: Tom Wexler
From the south shore of the Inner Harbor to Harbor East, festival -goers can explore 1.5 miles of world-class installations – all free, accessible and open to the public.
Attendees of the Light City Baltimore festival are encouraged to download the free app prior to their visit to see all that the festival has to offer including the festival map, schedule and general festival information. lightcity.org/light-city-baltimore-app
The Pool  Photo by Jen Lewin.
Location: Baltimore's Inner Harbor – lightcity.org/map
Date: Fri, Mar 31 – Sat, Apr 8, 2017
Hours: lightcity.org/schedule
Tel: 410-752-8632
lightcity.org
For Regional Accommodations, Restaurants & Attractions: visitbaltimore.org
The Wilson Whirligig Festival is a community celebration of people and art in motion held the first weekend in November, where everyone comes together for an energetic street festival focusing the whimsical North Carolina Folk Art, Vollis Simpson's Whirligigs.
Don't forget to check out the Cake Dive, the festival's MESSIEST event, held on the Courthouse plaza on Sunday at 4 pm.  Participants  "dive" into a large10 ft x 10 ft anniversary cake for a variety of prizes.

With 35,000+ attendees , over 200 vendors, 3 stages of entertainment, arts & crafts
food vendors, FREE! Whirli-Kidz Zone and lots of Special events.
This commemoration is truly family-friendly and kid focused. FREE  live performances all day long with a wide variety of dance and demonstrations, from hip hop to lyrical, from clogging to ballet, from singing to karate. Play carnival games, create a craft, slide down a giant 26 foot slide or bounce in one of the many inflatable activities. Children of all ages can enjoy a variety of activities. Kids shouldn't have all the fun! Demo's available for 16 and up. Virtual Reality is not just for gamers anymore, it is everywhere. Learn more about this technology.
Location: Historic Downtown Wilson, 112 Goldsboro E ,Wilson, NC 27893
Date: Sat, Nov 5 – Sun, Nov 6, 2016
Time: Sat 10 – 5pm, Sun Noon – 5pm
Tel: 252-289-9650
whirligigfestivalnc.org
For Regional Accommodations, Restaurants & Attractions: wilsonnc.org