Tag Archive
activity
art
artist
Canada
children
city
community
contest
country
craft
display
downtown
Drivei-95
drive i-95
drivei95
entertainment
event
family
festival
Florida
food
free
fun
game
historic
History
house
Island
live
local
Museum
music
national
North Carolina
performance
prize
Restaurant
roadtrip
shop
show
tour
travel
travelblogger
USA
world
Presented by Henry Morrison Flagler Museum, the first museum exhibit devoted to the image of the World War I pilot-hero, Knights of the Air honors the daredevil pilots who risked everything for the cause at the dawn of aviation.
Imbued with a sense of adventure and fierce patriotism, aviators became the face of the War efforts back home. Works of art, souvenirs, postcards, and newspapers celebrated their valiant efforts. After the War, the romance of flight was embodied in new types of daring aviators, such as barnstorming aerial acrobats, air mail pilots, and bootleggers.
Popular pulp magazines such as George Bruce's Squadron and Hollywood films like Wings (1927) capitalized on the appeal of the brave World War I aviator, inspiring many future pilots who would serve America in commercial aviation and future military conflicts.
Organized by the Flagler Museum in commemoration of the 100th anniversary of America's entry into World War I in 1917, Knights of the Air features works of art, artifacts, and printed materials on loan from the private collection of Jean S. and Frederic A. Sharf, and other private and public collections.
Guided exhibition tours will be offered Wednesdays at 10:30 a.m. and 3:30 p.m., beginning October 25. The exhibition and tours are free with Museum admission. The Flagler Museum will offer free Museum admission to active duty, reserve, and retired U.S. Military each Wednesday for the duration of the exhibition (proper identification required).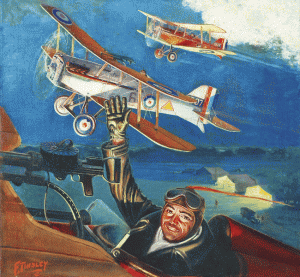 Illustrated Lecture
11:30 a.m. and 2:30 p.m. on Saturday, November 11, 2017
Free with Museum Admission
Space is limited, reservations are required.
Join exhibition curator Janel Trull on Veteran's Day for an illustrated lecture about Knights of the Air: Aviator Heroes of World War I, to learn about these heroic pilots and their lasting legacy.
Image: Collection of Jean S. and Frederic A. Sharf
Location: Henry Morrison Flagler Museum,One Whitehall Way
Palm Beach, FL 33480
Dates: until Dec 31, 2017
Hours: Sun – 12pm – 5pm, Tues – Sat – 10am – 5pm
Closed Mondays, Thanksgiving Day, Christmas Day, and New Year's Day.
Tel: 561- 655-2833
flaglermuseum.us
For Regional accommodations, Restaurants & Attractions: thepalmbeaches.com
The third annual Smoke in the 'Boro promises to be a mouth watering event, loaded with fun, live music, kids' activities, an Anything Butt BBQ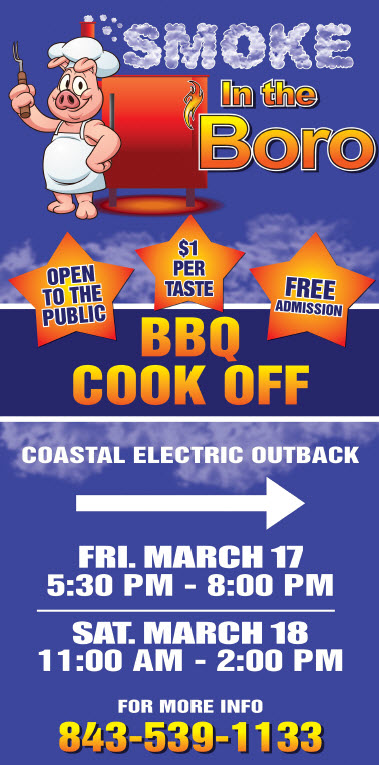 competition and a Butts Only contest.
The weekend will consist of two separate events. "Anything Butt" will be held on Friday night from 5:30-8 pm.  Cooking teams will prepare anything of their choice, from chicken wings to seafood — anything but barbecue. Local judges from Colleton County will evaluate the entries, and the winner will be revealed and prizes awarded.

The teams will then cook their Boston butts and ribs during the night for "Butts Only" , which means Pork only, as required by the SC Barbeque Association and judged by certified, sanctioned judges from around the Southeast.
The teams  present their entries to the judges on Saturday morning. At 11am the gates will be open to the public for tastings and to  partake until 2 pm.
On both Friday and Saturday, tasting tickets for $1.00 each will be available so that you can sample some heavenly food.  There will be great music both days from The Back Road and Going to the Dogs Bands. Free Admission.
Location: Coastal Electric Outback Building, 2269 N Jefferies HWY, Walterboro, SC 29488
Date: Fri March 17 – Sat March 18, 2017
Time: Fri 5:30 – 8pm, Sat 11 – 2pm
Tel: 843-539-1133
thecolletoncenter.org/events/
For Regional Accommodations, Restaurants & Attractions: walterborosc.org/visitingus