By glenda. Filed in
Art
,
celebration
,
Children
,
Drive I-95
,
Entertainment
,
Exhibition
,
Family Fun
,
Festival
,
Food
,
Health
,
Leisure
,
Nature
,
North Carolina
,
Special Event
,
United States
,
USA
|
Hippie Tribe Fest is where the Bohemians roam. Created to bring community together, and to bring out the fun and free spirit in all of us; to create an experience for attendees to enjoy nature, to see incredible works of art, natural products, hand-made, Bohemian and Fair-Trade, amazing creations from local artisans and to enjoy performances by talented musicians.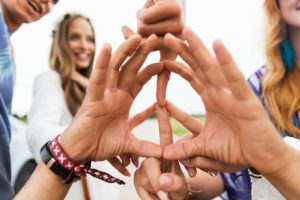 At the main stage, there will be six hours of top notch musical artists and performers. Gifted buskers/solo artists will be performing throughout the festival and at the Feeling Groovy tent. At the Flower Child tent you will find an array of children activities and fun for the whole family.
Throughout the Hippie Tribe festival you can discover some of the most talented body artists including  Henna, Face Painting. One of the highlights featured is a one hour Drum Circle, where drummers, dancers and hoopers are welcome and encouraged to participate, sharing the energy and heartbeat of Mother Earth.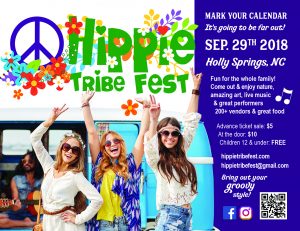 Delicious food available from local food vendors and food trucks. Attendees are encouraged to bring out their Hippie style, folding lawn chairs, blankets, drums and other instruments, as well as an umbrella; this is a rain or shine event. All parking will be on site and FREE.
Advance Entry Tickets $5 ($10 at the door); Children 12 and under – FREE. Tickets Here
Location: Sugg Farm Park at Bass Lake, 2401 Grigsby Ave, Holly Springs, NC 27540
Date: Sat, Sept. 29 2018
Time: Noon – 7pm (rain or shine)
Tel: 919-825-1122
hippietribefest.com
For Regional Accommodations, Restaurants & Attractions: rockymounttravel.com
Tags: activity, art, artisan, artist, blanket, body artist, Bohemian, busker, chair, children, circle, community, creation, dancer, drive i-95, drum, drum circle, drummer, earth, energy, face painting, Fair-Trade, fairtrade, family, festival, folding, food, food truck, fun, fun. free spirit, hand-made, heartbeat, henna, Hippie Tribe Fest, hippy, Holly Springs, hooper, instruments, local, Mother Earth, musical, musican, natural, Nature, North Carolina, participate, performance, performer, product, Raleigh, solo, spirit, style, syage, talent, talented, tribe, umbrella, vendor