By glenda. Filed in
Architecture
,
Art
,
Europe
,
History
,
Italy
,
Religion
,
Rome
,
Trafalgar Costsaver European Delight
,
Travel
,
worship
|
St. Peter's Basilica is the largest church in the world with the tallest dome in the world. This Renaissance architecture was designed over the centuries by Donato Bramante, Michelangelo, Carlo Maderno and Gian Lorenzo Bernini.
On 1 January 1547, Michelangelo, then in his seventies, was Pope Paul III's 3rd choice to be the superintendent of the building program. So way beyond the Sistine Chapel, he was the principal designer of most of the building as you see it today.
 Michelangelo, who did not want this job, wrote "I undertake this only for the love of God and in honour of the Apostle." In order to take the assignment, he insisted he be given a free hand to achieve his ultimate design by whatever means he saw fit.
The Basilica is supposedly the burial site of Saint Peter, first Bishop of Rome whose tomb is supposedly directly below high altar.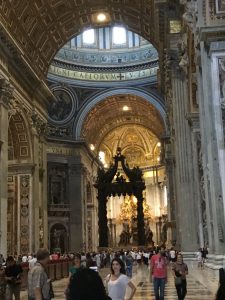 Tags: altar, apostle, architecture, assignment, Basilica, Bernini, Bishop, Bramante, building, burial, burial site, Carlo Maderno, century, church, design, designer, dome, Donato Bramante, Europe, History, hitory, Italy, landmark, Maderno, Michelangelo, Pope Paul, Pope Paul III, principal, program, Renaissance, Rome, Saint Peter, sights, sightseeing, Sistine Chapel, st peters basilica, St. Peter's, superintendent, tomb, tour, tourist, travel, travelblogger, world